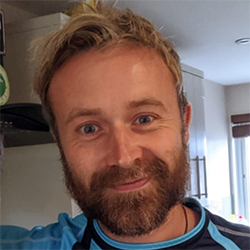 Richard Knight
Nature lover and city explorer
I've been a keen traveller ever since I was a youngster, absolutely fascinated by different cultures, and I'm lucky enough to say I've visited six of the seven continents - one day I'll get to Antarctica!
The one country I've never been to but definitely remains on my bucket list, is travelling across Russia from west to east.
My love of travelling extended into my studies too, and I read French, Spanish and Portuguese at university, before doing a post-grad course in Italian.
After graduation, over the next decade, I lived in Madrid, Valencia, Las Palmas, Lisbon, Cologne, Paris, and Nice, before returning to the UK in 2014. However, I still travel a lot and get away as much as I can to write about my experiences and the fascinating things I see wherever I go.
Cuba is the most amazing place I've ever seen, and my love for this Caribbean island goes beyond 1950s American cars and Mojitos.
Cuba is probably the most nuanced place I've ever visited and the more I write about it, the more interesting it becomes on a multitude of different levels. There are a myriad of things which bewitch me about Cuba, and I find everything, from the history, the architecture, the geography and geology, the flora and fauna, and lastly the people, truly beautiful.
In my opinion, there's no better way to see this layered island than by bicycle. It's a great way to get up close and personal with the kind and friendly "Cubanos", with whom I've forged many lasting friendships.
Lastly, music is my other great passion, so you can probably imagine that Cuba suits me well musically too! It's a country whose foot constantly taps along to the rhythm of the impossibly catchy music it produces, and I love how stoic, carefree, tragic, profound, and joyous the lyrics and melodies are.
You'll never visit Cuba just once. It's impossible not to go back again and again.
Read more
Read less
Recent articles by Richard Knight

Nov 28, 2020

News

The Daily Mail

Nov 24, 2020

News

The Telegraph
Travel expert recommends Cuba for post-lockdown travel

Cuba
Renowned UK broadsheet The Telegraph has recommended Cuba as the perfect holiday destination post-lockdown. The island's airports are now open again for international tourism, and the Caribbean island has comprehensive plans in place to ensure safe holidays for all.

Nov 23, 2020

Blog Post

Direct from Cuba
Beaches and Havana Club: The perfect way to end lockdown

Cuba
With lockdown in England set to conclude on 2nd December, many people across the country will be looking for some Christmas cheer by any means possible. What better way to spend the festive period than in Cuba with warm sunshine, music and cocktails?
Our Cuba bloggers
If you like traveling, share experiences and knowledge of our Cuba Bloggers