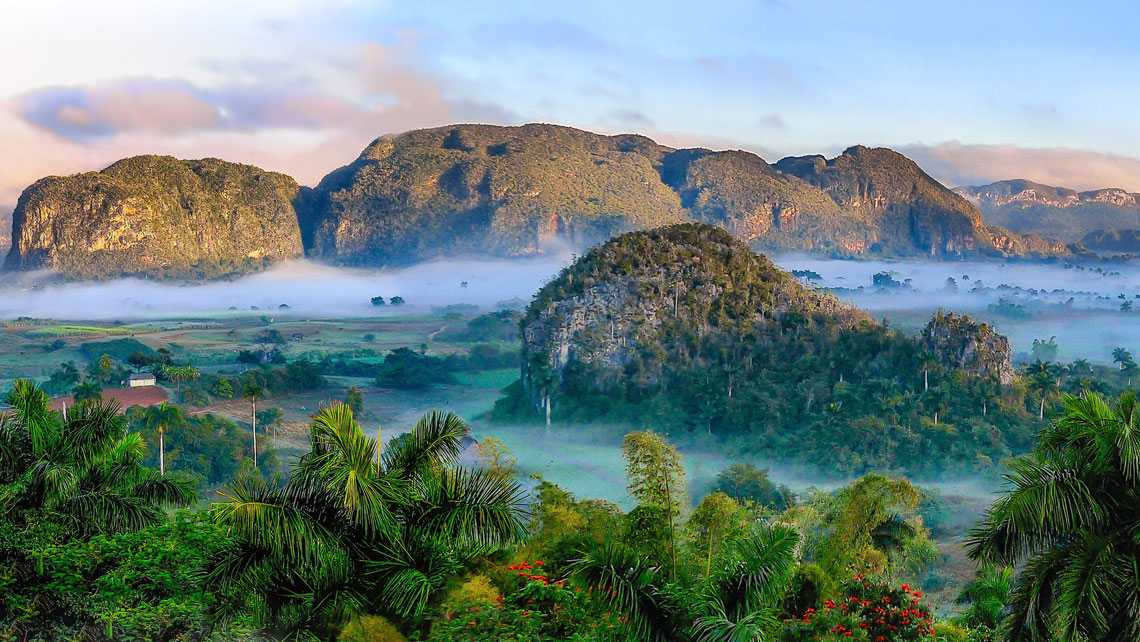 Located in the heart of Pinar del Rio, Viñales is an area of outstanding natural beauty, where tobacco is grown for the Cuban cigar industry. The valley itself is a designated UNESCO World Heritage Site and is peppered with strange and unique "mogotes" – a series of tall, rounded hills which seem to pop out of the ground. As well as walking, the area is great for photography, bird-watching, cycling and horse riding. There are plenty of unique activities on offer, including boat-rides through the Cave of the Indian, tours of tobacco plantations, and an immersive experience in the Palenque de los Cimarrones - a former hideout for runaway slaves.
If this is your first time planning a trip to Cuba, then you may be wondering how to fit Viñales into your schedule. So we've put together the ultimate itinerary - expertly crafted by Cuban-born specialists - for a 48 hour trip!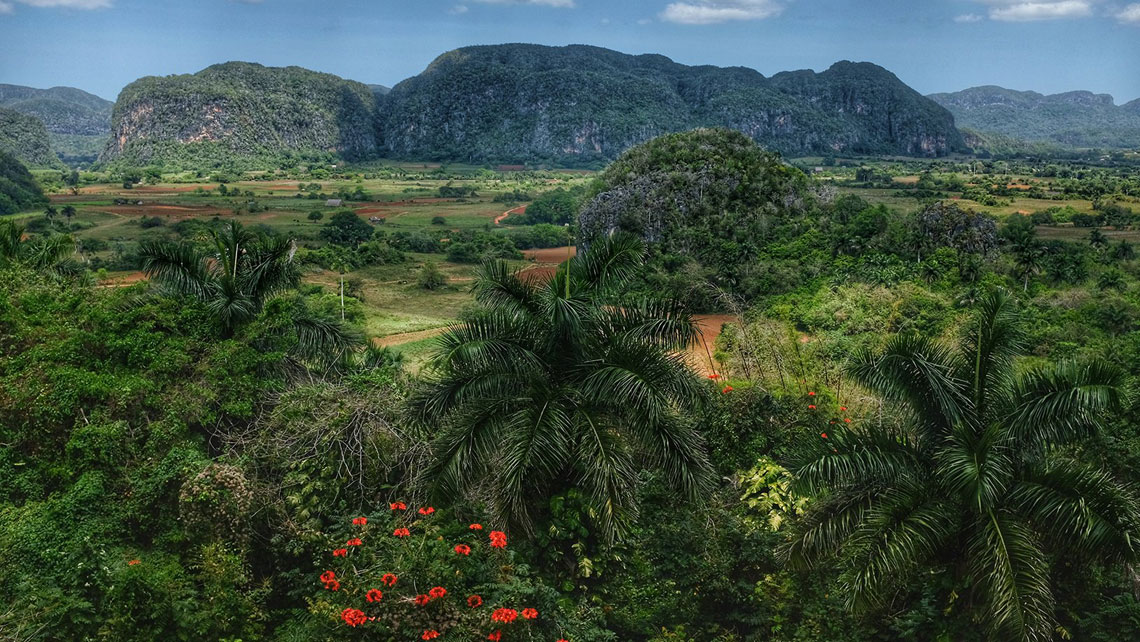 DAY 1
Set off from Havana early in the morning
With stunning landscapes and amazing wildlife, a visit to Viñales is the perfect antidote after the frenetic energy of the capital. Viñales is just over 100-miles west from Havana, so it's best to set off early in the morning. Travel by coach, or hire an English-speaking drive/guide for a private guided tour.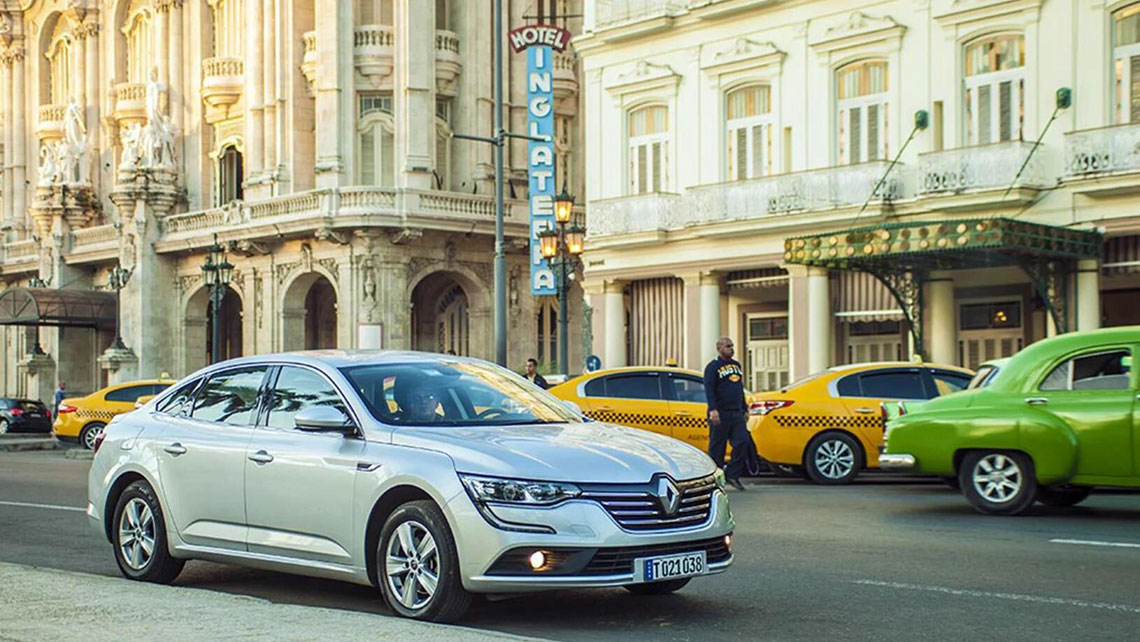 Stop Over at Soroa to Visit the Waterfall & Orchid Garden
Break up the 2-hour drive to Viñales with a stop-over in the beautiful oasis of Soroa. Known as the "rainbow of Cuba", Soroa is a mesmerizing Biosphere Reserve. Stand beneath a 22m- high waterfall for a pounding hydro-massage, followed by a refreshing swim.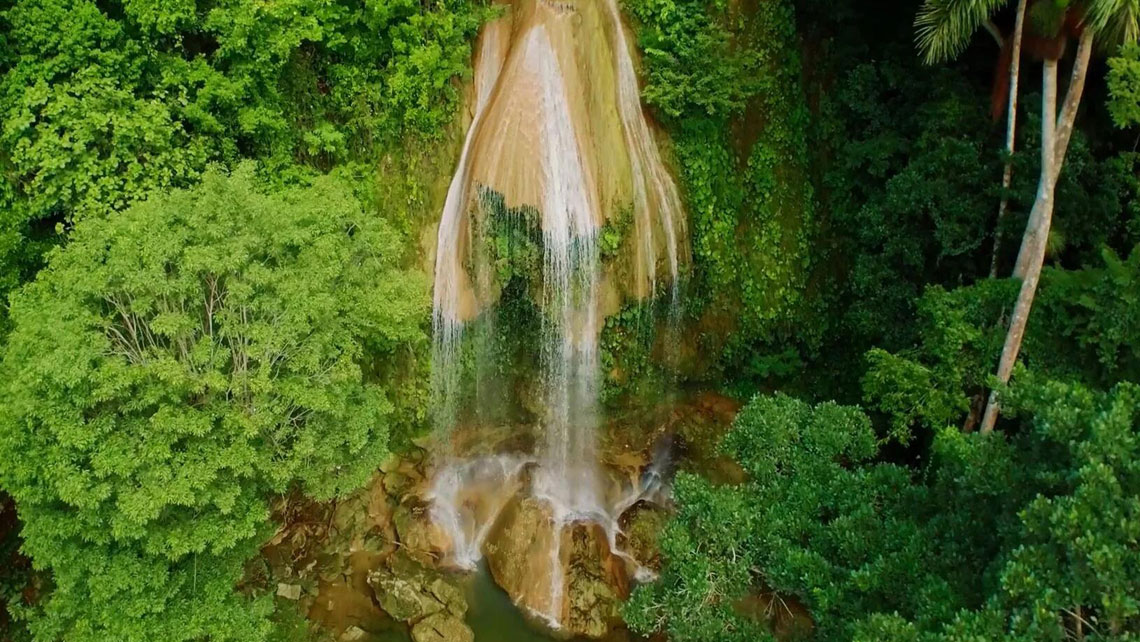 You can also climb up a viewpoint to look over the panorama of Viñales valley. Finish off your visit with a roam around Soroa's colourful Orchid gardens, which feature over 700 species of orchids!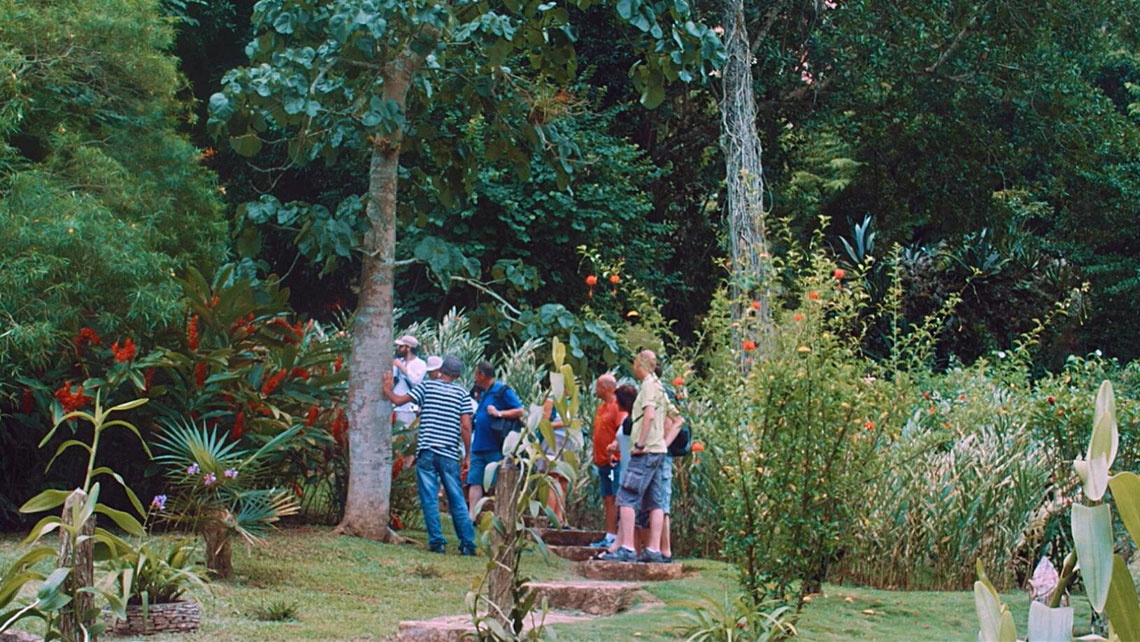 Take a motorboat trip through the Cueva del Indio
Just before reaching the town of Viñales, you'll come across the Cueva del Indio (Cave of the Indian) - a spectacular limestone cave. Discovered in 1920, this subterranean cave is home to fossils, butterfly bats, and albino fish that swim in underground rivers and streams. Take a motorboat tour for a fascinating experience!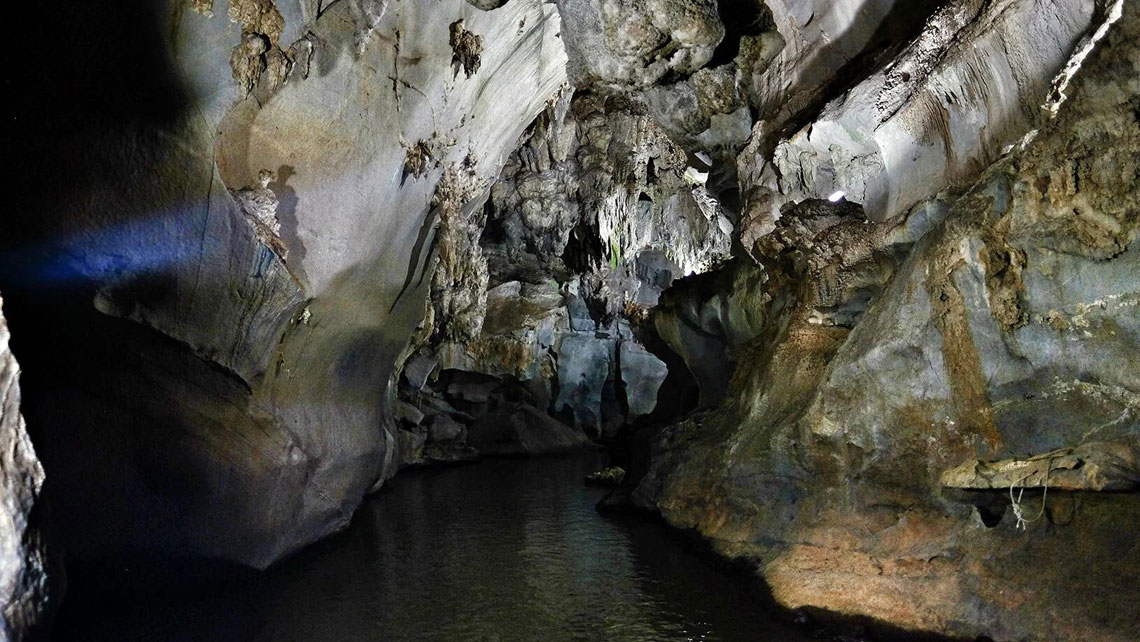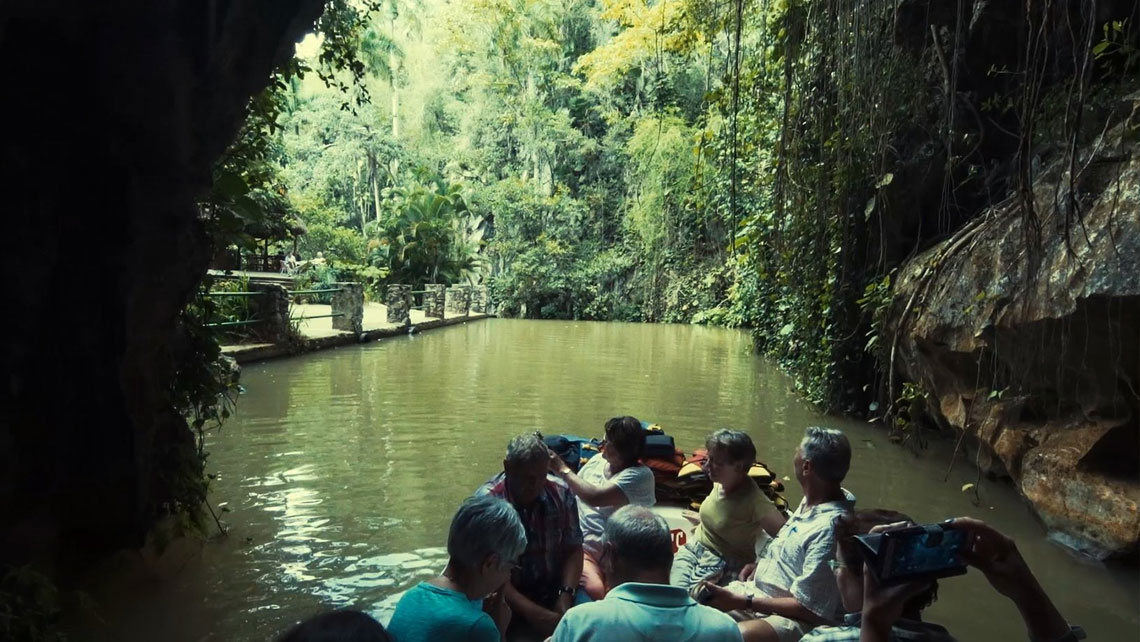 Take a Stroll Through the Village of Viñales
Stretch your legs out and take a stroll through the picturesque village of Viñales. Strung out along one main street, Viñales has retained its original layout. It includes many interesting examples of vernacular architecture: simple one-storey homes made from local, natural materials. You can also take the opportunity to drop off your bags at your hotel or casa particular while you're in the village (we recommend staying at Casa Jorge y Ana Luisa - for more info see the bottom of this post).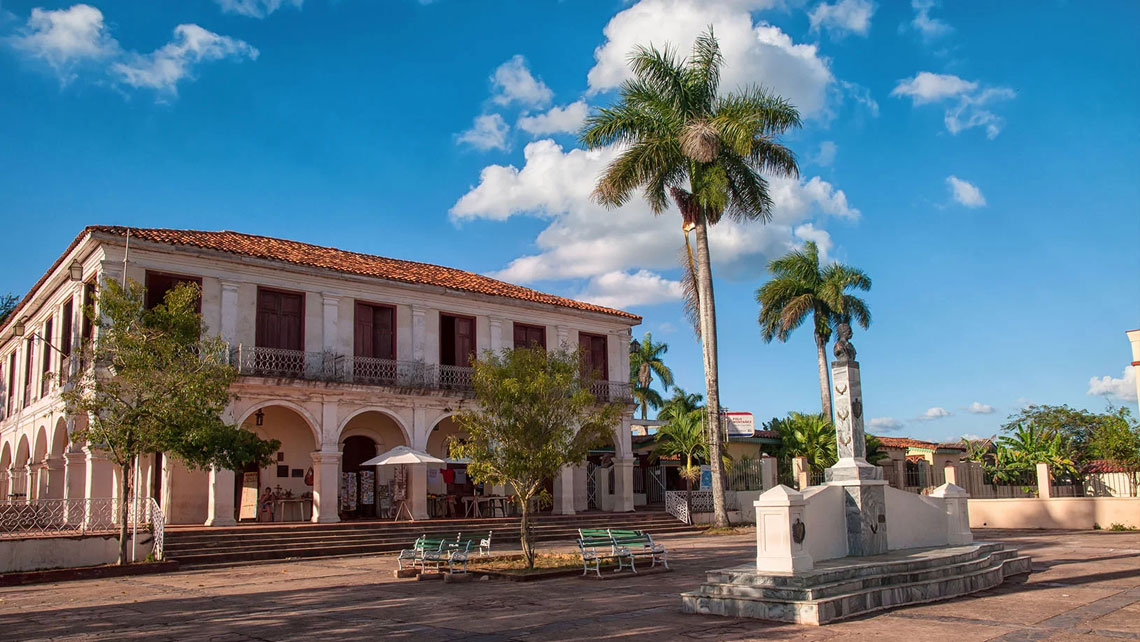 Have Lunch by the Mural of Prehistory
Just a 10-minute drive from the village is the Mural de la Prehistoria, an impressive painting on the side of a mountain. Created by Leovigildo Gonzalez, a pupil of Mexican muralist Diego Rivera, the mural alludes to the evolution of Man through the depiction of dinosoars and indigenous figures. Located just by a ranch, you can enjoy an authentic Cuban meal and refreshing mojito with this magnificent backdrop.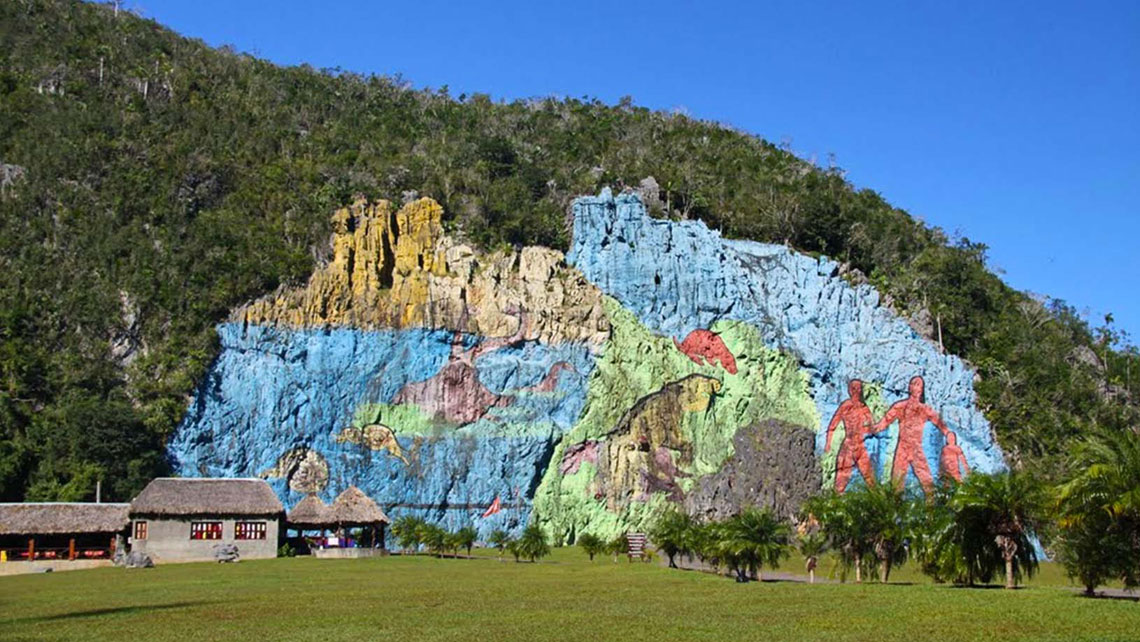 Hit the town for what will quite possibly be the best night of your life!
Make sure to visit the Centro Cultural Polo Montanez, a sensational nightclub where tourists and locals come together to dance the night away. The sheer energy and vitality at the Centro Cultural will have you joining locals in spirited dance to the rhythms of salsa, rumba, and even old-school classics like Kool & The Gang!
DAY 2
Kick back and smoke a fine Cuban cigar at a Tobacco Farm
Start off your morning with a visit to an emblem of the Pinar del Rio region: the Casa del Veguero plantation, just outside of town. This is where most of the magic in the tobacco production take place. Here, you will receive a full explanation of the process: the plantation, the harvest, the curing, the grading and you will witness the rolling of a Cuban cigar.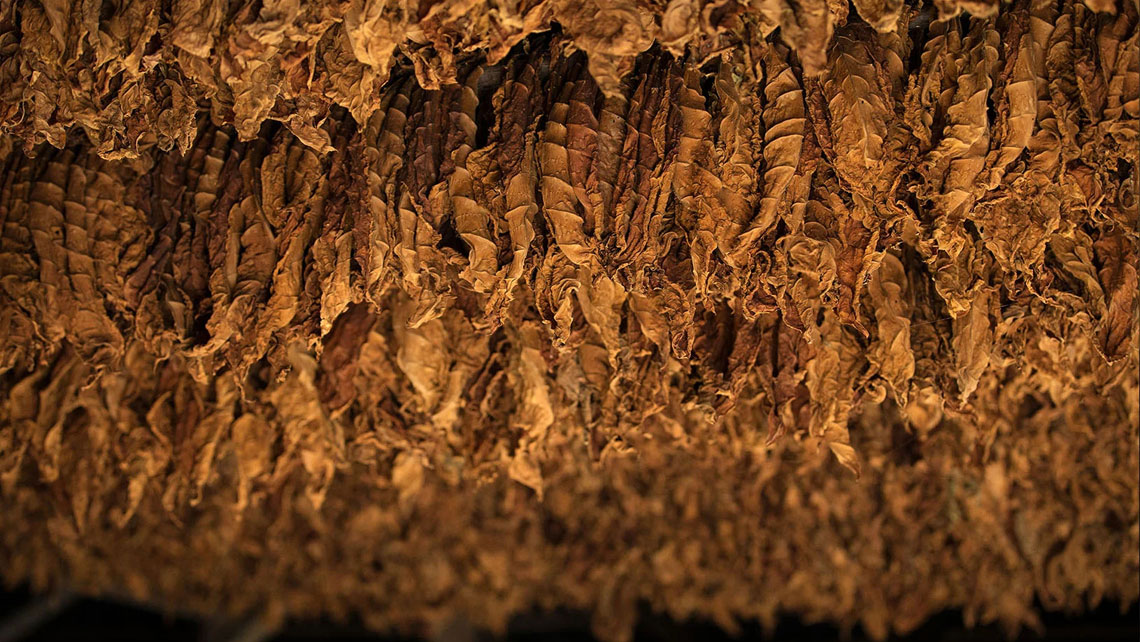 You can wander through rows of tobacco plants, chat with farmers and learn how the crop is nurtured before being harvested, dried and cured. Viñales boasts some of Cuba's (and the world's!) finest tobacco, achieved through a combination of traditional farming methods and a favourable growing climate.
One of the most specialised parts of the process is the hand-rolling of the cigars. The preparation of a premium cubano requires years of practise and a signifcant level of skill. Master cigar rollers, called torcedores, command a great amount of respect in these parts.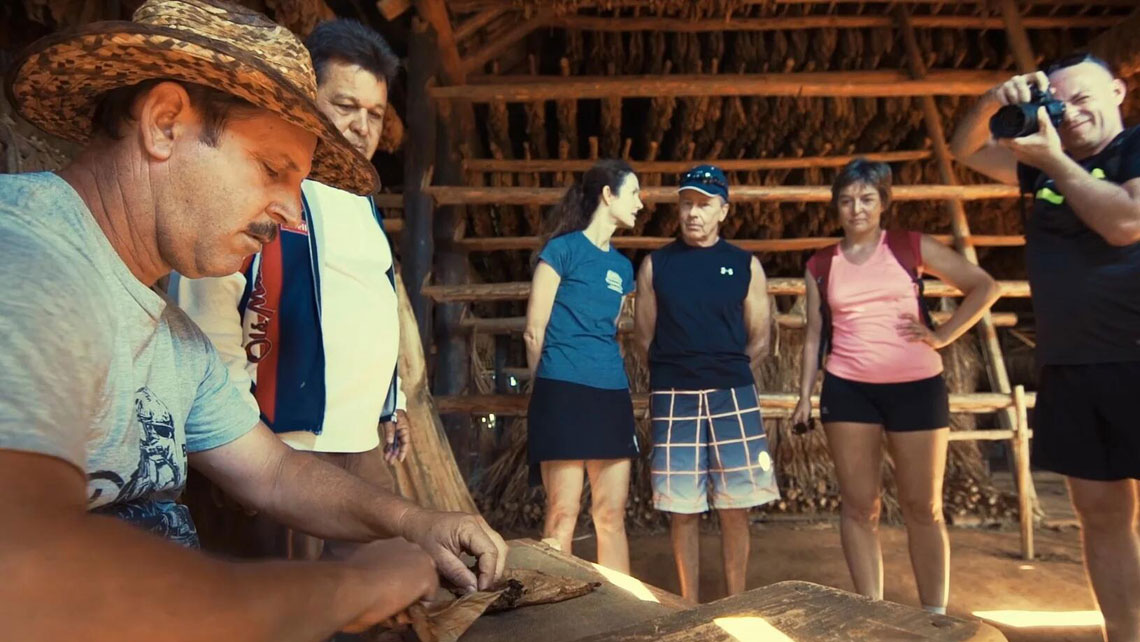 Explore the Palenque de los Cimarrones
After your morning visit to the tobacco farm, travel back in time to the Palenque de los Cimarrones, a secret hideaway used by runaway slaves who were fleeing their abusive masters back in colonial times. Today, the cave houses a cultural-recreational centre and an ethnographic museum, which recreates a cimarron (runaway slave) settlement, honouring Cuba's dark history of slavery and colonisation.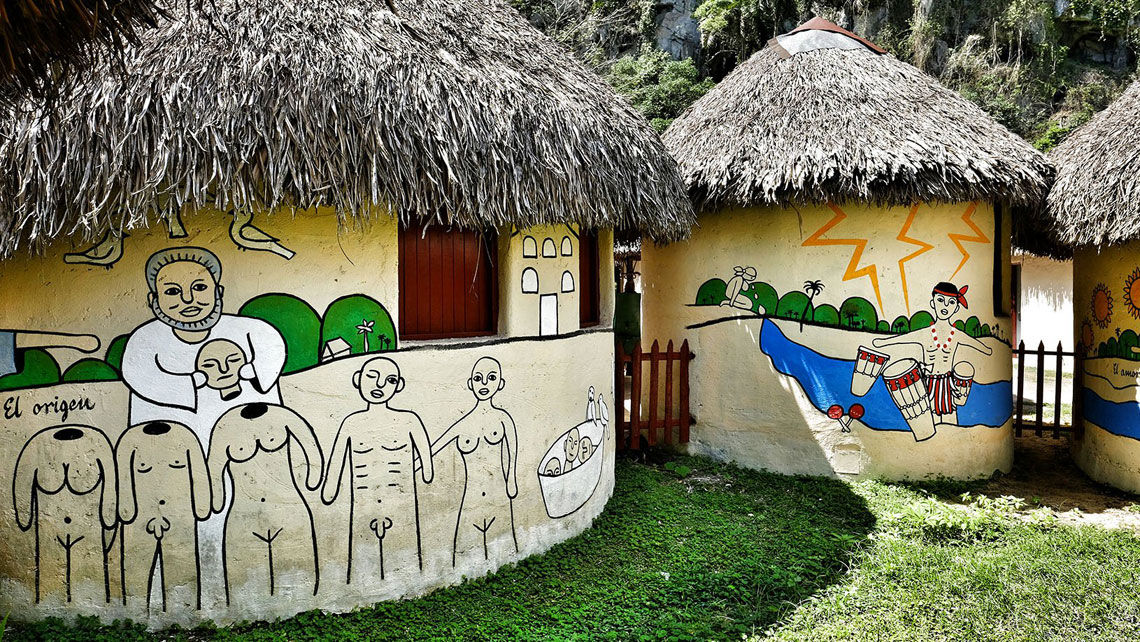 Settle for lunch at the curious Palenque Restaurant, which features a series of open huts joined by corridors in the style of old African villages. The restaurant has a rich offering of creole Cuban food, as well as a programme of folkloric dance shows by local artists. Make sure to try their specialty cocktail, "Oshun", named after the patron Afro-Cuban saint!
Explore the Valley by Horse
Take a guided tour through the valley by horse - Pinar del Rio's local mode of transport! You'll first be taught the basics of horse-riding, before you trot off into the sunset through emerald valleys, craggy caves, towering mountains and vast lakes. There's no better way to explore this UNESCO World Heritage landscape.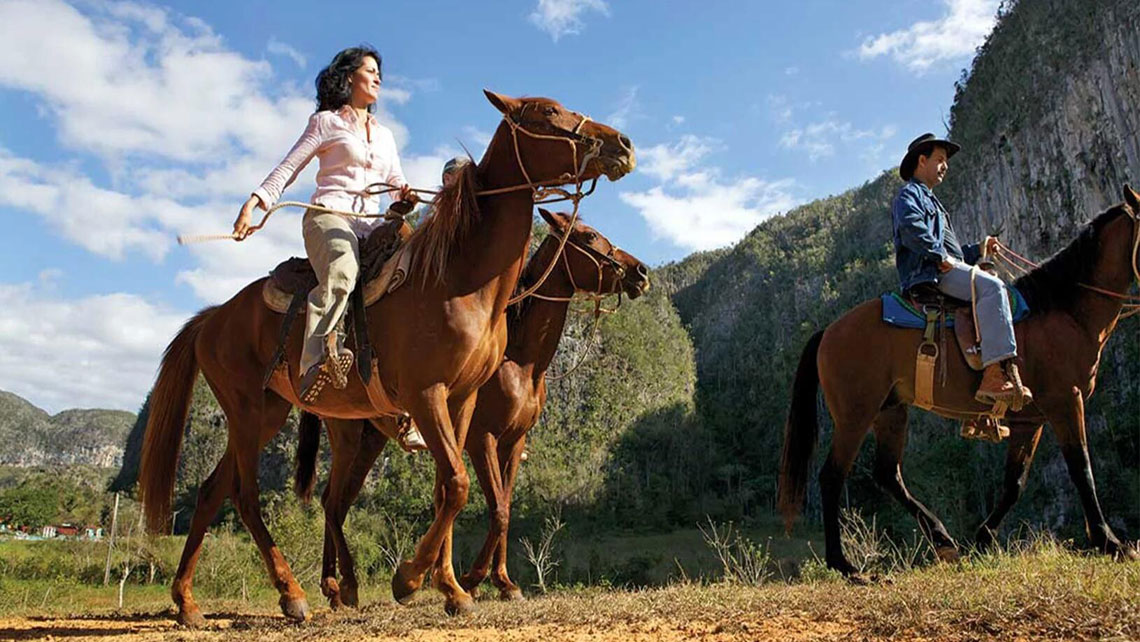 Spend a Second Night in Viñales
We recommend staying 2 nights in Viñales, so that you can get an early head-start the next morning to your next destination. Venture off to colonial Trinidad or head to the coastal town of Cienfuegos!
Where to stay: Villa Jorge y Ana Luisa
For an authentic insight into Cuban life and culture, and for a taste of the unparalleled warmth of local viñaleros, we recommend staying at a casa particular (private homestay). One of our favourite casas in Viñales is Villa Jorge y Ana Luisa, hosted by a charming local couple, and just a four-minute walk from the village centre. The villa offers 3 private rooms with air conditioning, an outdoor ranch area (including a fridge stocked with cold beers!) and a swimming pool. Ana is known to make a great home-cooked meal upon request, so we recommend dining in both nights and asking for Ana's lobster special!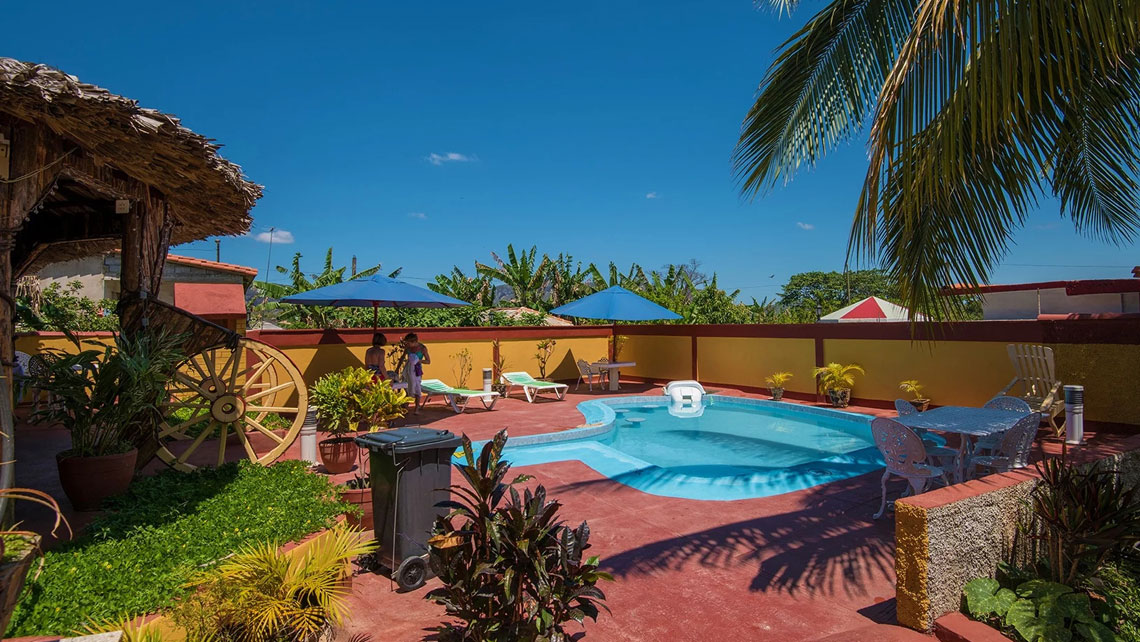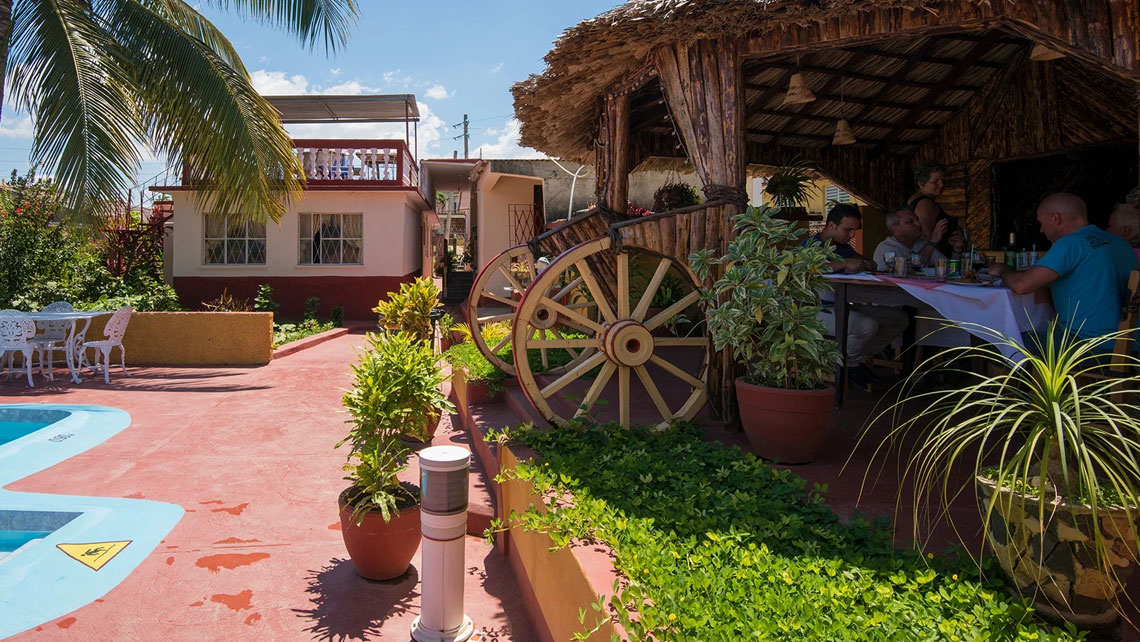 Download a Playlist for the Ride!
We've put together the perfect soundtrack for your road-trip to Viñales, featuring some of our favourite artists from the Pinar del Rio region: Celia Cruz, Willy Chirino, Polo Montañez, and Frank Delgado. If you're feeling inspired, you can download the playlist here, or check out some of our award-winning holidays!
Looking for more information? Check out our Viñales Destination Guide, or speak to one of our Cuban-born travel consultants. Simply call 0207 148 3042 or use our Contact Us form to get in touch.