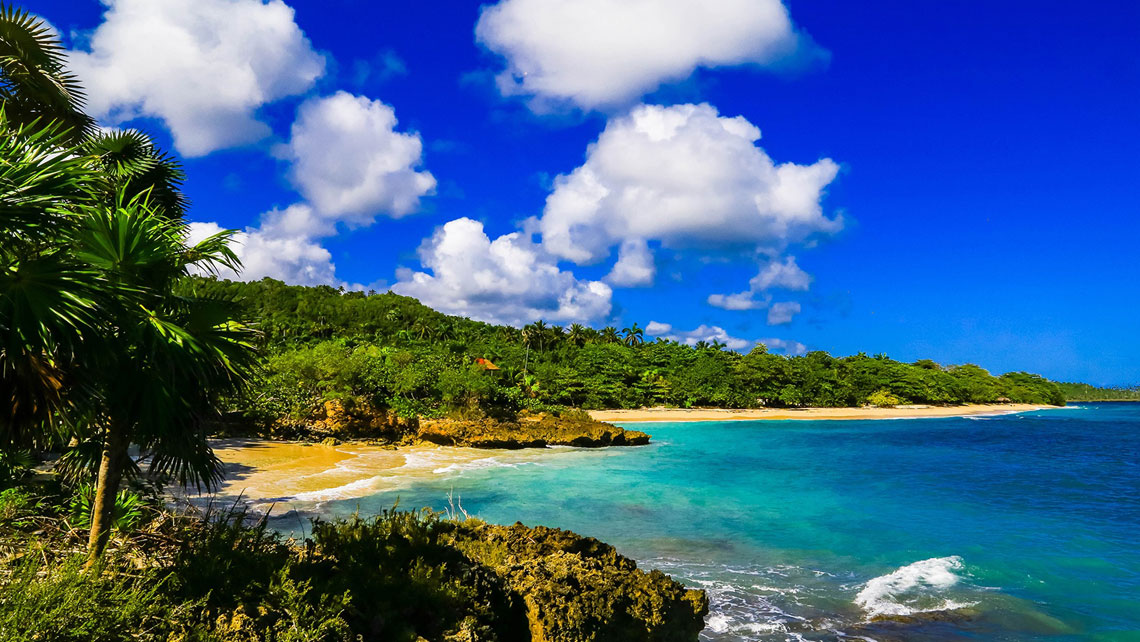 A bucket list for Cuba almost always includes the famous beaches of Varadero, Cayo Santa María, Cayo Coco, or Guardalavaca. But there's a handful of other truly unspoilt, off-the-radar sandy paradises, waiting to be discovered all over the island. Absent from most travel guides, and a long way off being "conquered" by tourist busloads, the 10 beaches listed below are recommendations from our Travel Consultant Liam, an avid-traveller who loves to venture off the beaten path. He spent three years sating his wanderlust in Cuba and, on his travels, discovered these gems.
Playa María La Gorda, Pinar del Río

Perched on the western tip of Cuba, this mecca for scuba divers is also home to one of the most remote beaches in the country. Surrounded by a 155-m2 National Park teeming with wildlife, there is only one place to stay (Hotel María La Gorda) and nothing but sand, sea and lush foliage for miles around. Though it will take you the best part of a day to reach there from Havana, you'll be rewarded with some 50-plus dive sites featuring abundant marine life, colourful corals, tunnels, caves and even the remains of Spanish galleons, making it one of the most exciting scuba diving spots in the Western Hemisphere. Between June and August, there's a high chance of turtle-watching on the southern beaches, where green turtles arrive to nest.

PS: María la Gorda ("Fat Mary") bares its name due to a chubby slave allegedly brought here by Spanish pirates in the 17th century.

Cayo Levisa, Pinar del Río

About an hour north of the popular rural town Viñales, you'll need to take a short ferry journey to reach this gorgeous little island. Once there it is a haven of relaxation with just one small hotel to stay at (Hotel Cayo Levisa) which serves meals on the beach. The hotel gets booked up many months in advance by those in the know so anyone wanting to stay on the island should get in contact as far in advance as possible. Short on time? Daytrips from Viñales are also an option.

Read more about what to do and see in Viñales: 48 Hours in Viñales

Playa Larga, Matanzas

This small fishing village facing the famous Bay of Pigs is one of the only places in Cuba where you can stay in private guesthouses perched directly on the beach. The lively little town hosts a couple of bars and restaurants right on the sand and several lovely casas that Cuba Direct has worked with for many years. The region has some of the best snorkelling in Cuba – with an astounding 300-metre coral wall – and the town is adjacent to the Ciénaga de Zapata, one of Cuba's most wildlife-rich national parks. Experienced divers will be keen to visit El Jaruco, a shipwreck sitting on the seabed. Just a few hours from Havana and only a little more than an hour from the city of Cienfuegos, Playa Larga is one of the more accessible beaches on our list.

Read more about Cuba's Best Kept Secret: La Ciénaga de Zapata

Playa Jibacoa, Havana

A short-drive from Havana, Playa Jibacoa is home to Memories Jibacoa, one of Cuba's best quality all-inclusive resorts, according to TripAdvisor. But that is basically all it is home to – a complete contrast to the 70-odd resorts that are found in Varadero, a short way further up the coast. Memories Jibacoa has its own private beach cove and whilst it is an upscale option it is certainly a place that will appeal to those who want a bit of secluded luxury.

Read more about Where to Stay in Cuba: Our Favourite High-End Picks

Playa Ancón, Trinidad

Perfect for travellers on a tight budget, this little piece of paradise sits just outside the Unesco-listed city of Trinidad, well-worth a visit in its own right and easily reached by bus from Havana. From the city, it is just a short hop by taxi down to Playa Ancón, where the Hotel Brisas Trinidad del Mar is one of the more affordable beach front options in the country. With more than twenty dive sites, the beach is perfect for snorkeling and diving enthusiasts. This area is also an important archaeological reserve, with countless boats and galleons scattered along the seabed, sunken as a result of privateer warfare!

Read more about the UNESCO-listed city of Trinidad: 10 Reasons You Have To Visit Trinidad

Playa Santa Lucía, Camaguey

Playa Santa Lucía is more developed than the other beaches on our list with a grand total of four resorts in the area to choose from – all facing a stunning white sand beach that very few British tourists ever visit. Indeed, to the best of our knowledge Cuba Direct is the only company in the UK currently offering visits to Playa Santa Lucía which is located a short drive from the wonderful city of Camaguey, an often-overlooked, but incredibly charming, Unesco World Heritage Site. Of the resorts in the area our top pick is Brisas Santa Lucía, an all-inclusive hotel with the outstanding staff.

Read more about Camaguey: 5 Hidden Gems in Cuba

Playa Covarrubias, Las Tunas

Located on the north coast, between the cities of Camaguey and Holguín, this makes a great stop off if you're travelling the length of the island. A beautiful white sand beach with just one low rise resort (Brisas Covarrubias), this is the perfect spot for those who want a secluded all-inclusive experience where it's easy to find a bit of beach all to yourself.

Cayo Saetía, Holguín

The fascinating island of Cayo Saetía is possibly the only place in Cuba where you can go on a safari! The island, located in the northern coast of Holguin, is home to buffalo, antelope, ostriches, zebras, and a whole host of other animals brought here as gifts from African countries after Cuba helped in the wars against apartheid in the 1970s and 80s. Villa Cayo Saetía is the only accommodation on the island and is a five-minute walk from the main beach. The island is dotted with idyllic stretches of white sand and is the sort of place where, if you're lucky and not afraid to explore, you can find a beach entirely to yourself.

Playa Cazonal, Santiago de Cuba

Those looking for a beach in the east of the island will be delighted by the unspoiled Playa Cazonal located less than an hour outside of Cuba's second city Santiago. Despite its proximity to the city, we've never known it to get crowded and whilst the small all-inclusive Club Amigo Carisol Los Corales certainly couldn't be called a luxury resort, it is a perfectly nice spot to spend a few days surrounded breathtaking scenery, at a very reasonable price.

Playa Maguana, Baracoa

Hidden down at the far eastern tip of Cuba, 45-minutes from the picturesque little town of Baracoa, Playa Maguana is a palm-fringed beach cove lapped by turquoise waters. The adjacent food kiosks are a great place to try some eastern specialities. Very few tourists make it this far, as it is at the end of a mainly rough road. Whilst rustic, the lovely Villa Maguana is the place to stay, with rooms that face right onto the beach.
Looking for more inspiration? Give us a call or fill in our free quote form, to start designing your holiday. Your dedicated Cuba specialist will use their in-depth knowledge of Cuba to create a bespoke itinerary tailored to you.