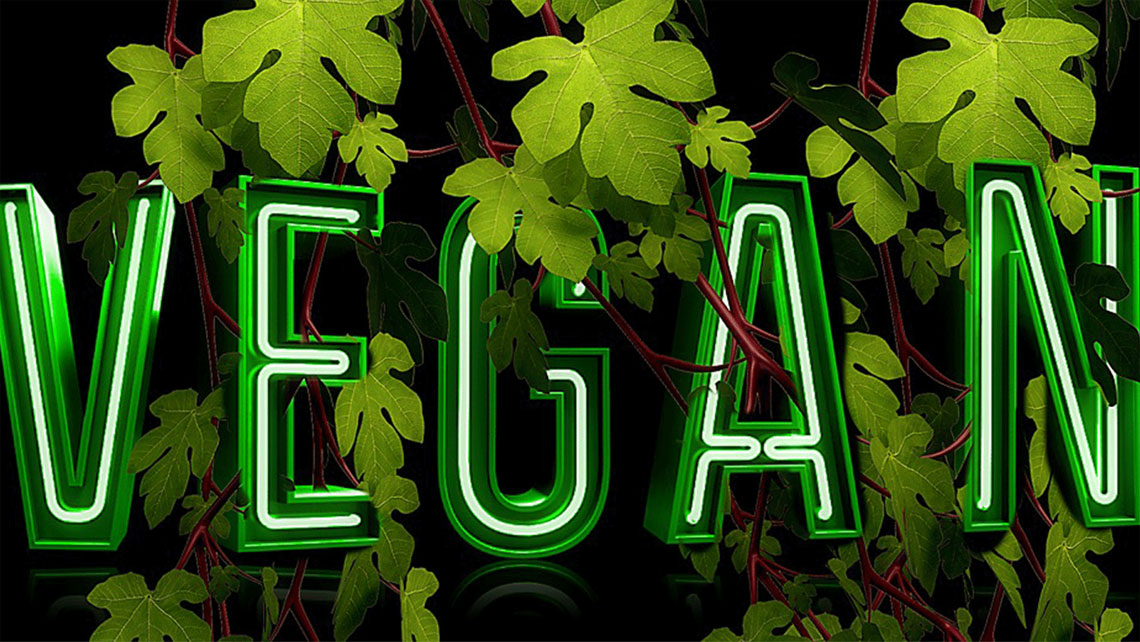 Let's face it, travelling anywhere as a vegan can be stressful. Even in a country where you speak the language it can be hard to gauge what's vegan and what's hiding a sprinkling of cheese, spoonful of honey or some egg bind. Besides, without your trusty stores of hummus and baked beans... won't you topple over and die of protein deficiency? Well, never fear, we've got you covered. If you've always dreamed of going to Cuba but have worried about what on earth you'll eat – then this blog post is the one for you.
Even though Cuba's most well-known dishes are meat based, such as Ropa Vieja, Picadillo a la Criolla and Arroz con Pollo, the island's geographical location and political situation mean that meat and dairy products are expensive and hard to come by. Day to day, most Cubans eat a lot of plant-based food, which is delicious... and very cheap! So not only will you be able to find these dishes with ease, but you'll save money and have a much more authentic experience.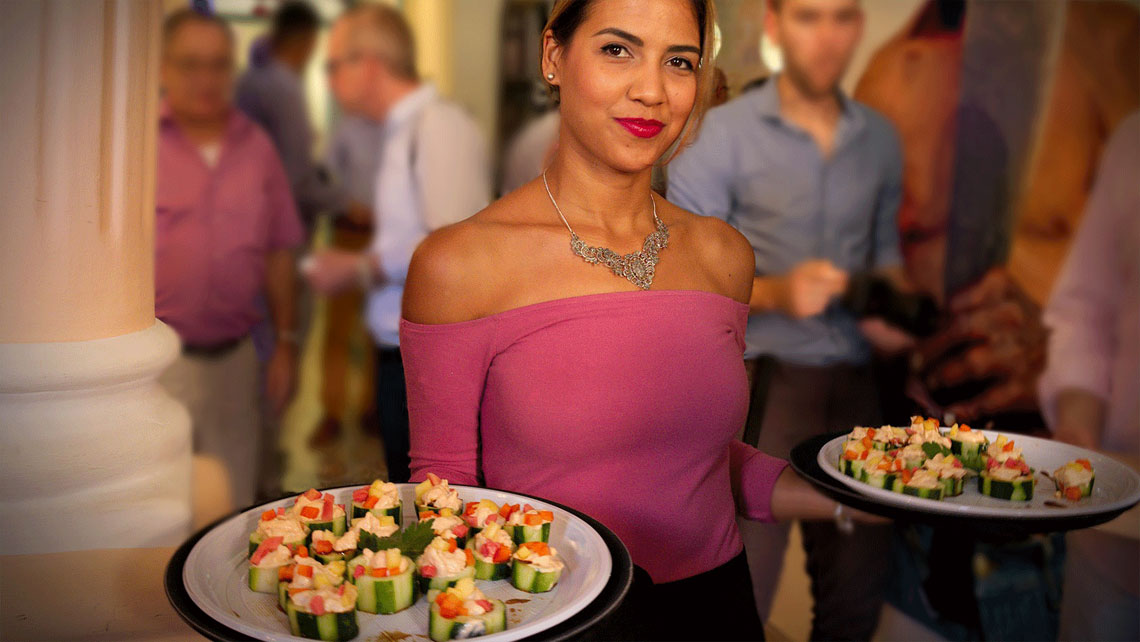 Useful Phrases
Firstly, we would recommend learning a few phrases to ensure that you and whoever is serving your food are on the same page about your dietary requirements. While there are many great vegan dishes, we recommend that you always check as you're ordering that the food is vegan-friendly, just to be on the safe side. Here are a few phrases to help you along the way:
Yo soy vegano/a – I am vegan
No como ningún producto de origen animal – I don't eat any animal products
¿Este plato contiene carne/ lácteos/ huevo/ pescado? – Does this dish contain meat/ dairy/ egg/ fish?
¿Puedo pedir esto sin...?- Can I order this without...?
¿Usted me puede cocinar...? - Could you please cook...?
Yo no como nada que tiene una cara – I don't eat anything with a face (perfect for when waiters insist you must eat chicken, fish etc. which might not be considered "real meat"
Casas Particulares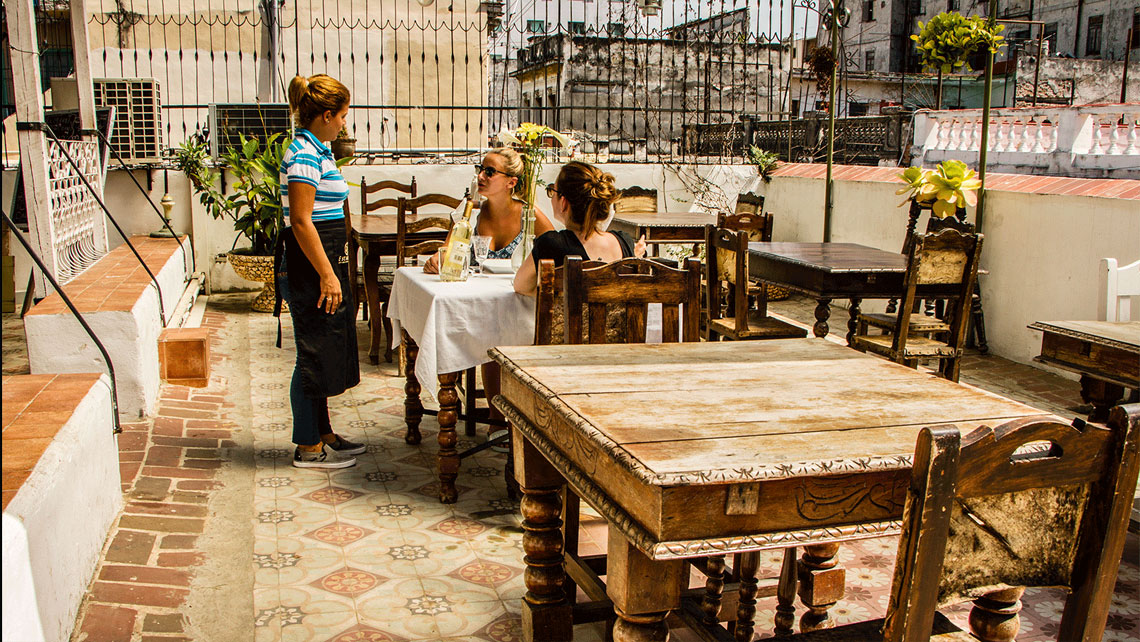 There are lots of reasons we recommend staying in casas particulares. They are considerably cheaper than hotels and are a great way to enjoy an authentic Cuban experience, whilst simultaneously helping out the local communities. For vegans, they're a fantastic option as you'll often be able to enjoy home cooked meals and will be able to specify what you do and do not eat. As meat, fish and dairy are so expensive, the casas will happily make you vegan dishes. Here is a selection of amazing vegan dishes that you can request...
Vegan Cuban Dishes
While everyone cooks each dish their own way, here is a list of dishes which are nearly always vegan. But remember, vegan food is common - the concept of veganism isn't - and people may find this slightly confusing at first. If you have any doubts, you can always double check using the phrases above.
Frijoles – Beans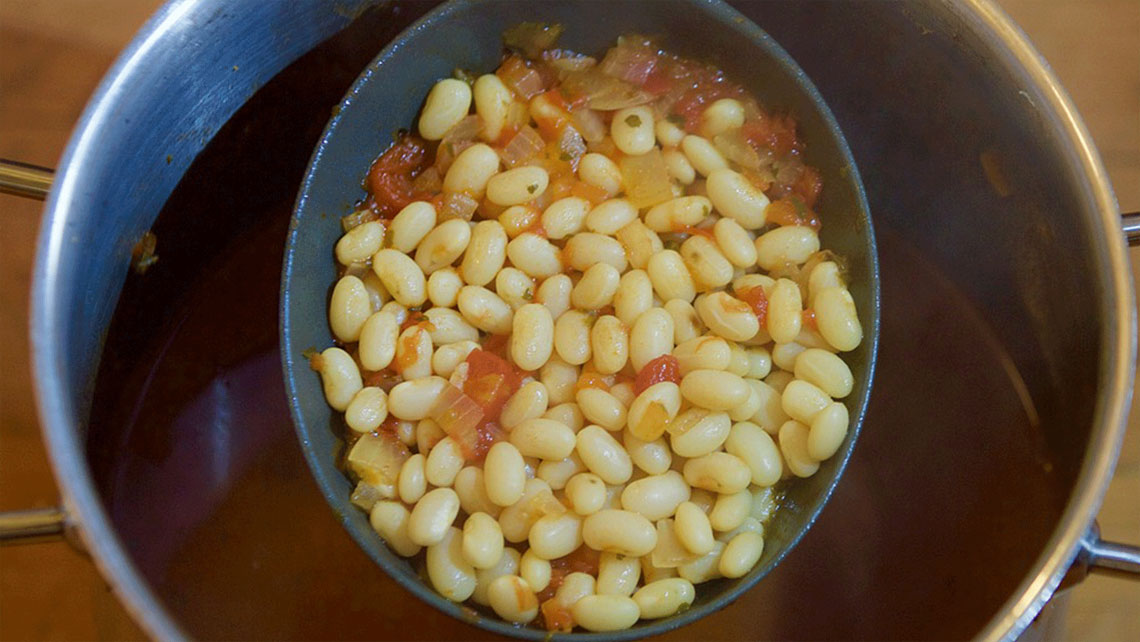 Where do I even start with beans? If there were such a thing as bean connoisseurs, then Cubans would be the greatest experts you'll ever meet. Black beans (frijoles negros), white beans (judias), kidney beans (frijoles colorados), not to mention all the various lentils (lentejas) and chickpea (garbanzos) dishes you can enjoy out there - the bean possibilities really are endless. They're super cheap, delicious and a great source of protein. The Spanish word for stew is caldo, so try requesting a caldo de frijoles sin carne (Bean stew with no meat), the results will be delicious.
Arroz congri – Rice and beans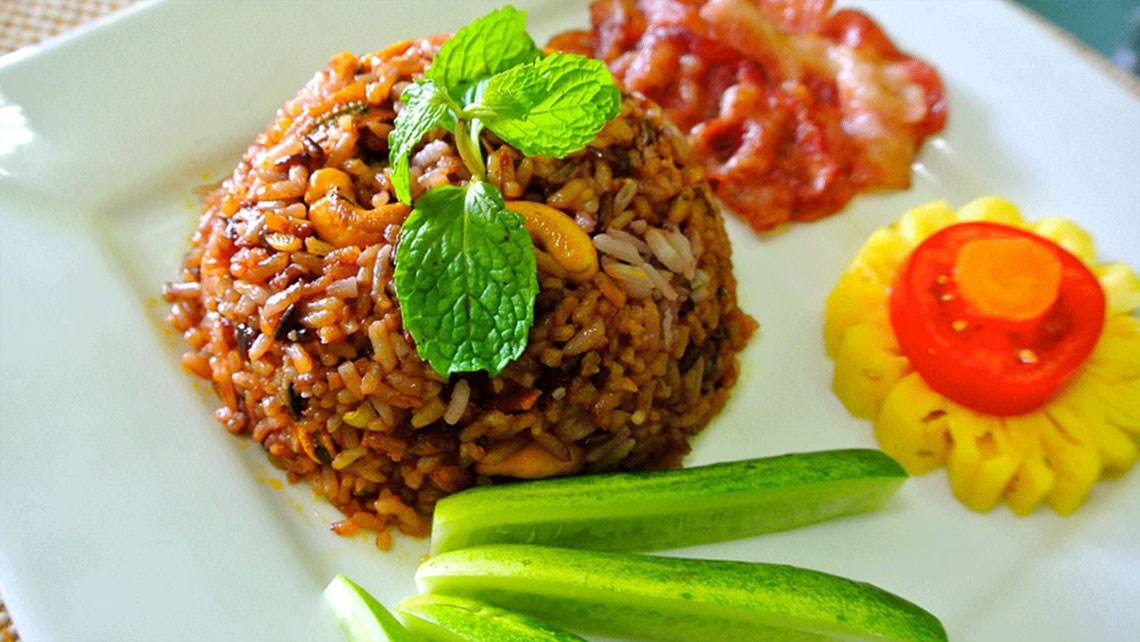 As beans are a very popular ingredient in Cuba it only makes sense that a lot of Cuban dishes revolve around them. However, arroz congri isn't merely rice and beans, the two ingredients are slowly cooked together (this is what gives the rice the distinctive brown colouring), and mixed with peppers, garlic, onion and sazón seasoning- a delicious mix of herbs, including coriander, cumin and oregano. This dish is a staple in any Cuban diet and can be found in most restaurants and casas particulares. Though this dish is usually vegan, some variations include small pieces of bacon - so make sure to check before you order!
Yuca con mojo – Cassava root in special sauce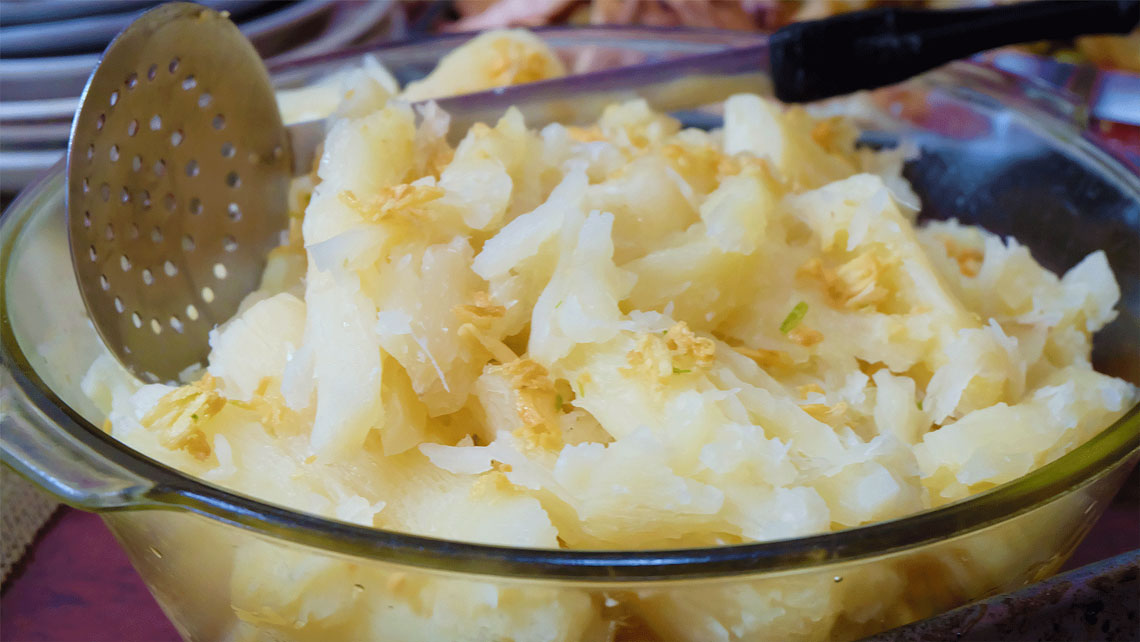 This is another classic Cuban dish that you'll find all over Cuba. Cassava is a root vegetable, not dissimilar from a potato. It is rich in carbohydrates and a great source of fibre, perfect for filling your boots before a big excursion! For this dish, the root is peeled and boiled in salted water until it gets nice and soft, then fried in oil with onion, lemon and lots of garlic. Once plated, the citrusy, garlicy oil is then poured back over the soft yuca- mouth-wateringly good! For a crunchier alternative, try yuca frita, a deep fried take on cassava that's perfect for snacks or starters.
Platano – Plantain
The word platano literally translates as banana, however in Cuba it is used to refer to delicious plantains. The two most common ways to eat plantain in Cuba are as "tostones" (salty deep-fried plantain chip wheels) and as "platano maduro frito" (sweet, deep-fried ripe plantain). Cubans also make plantain chips, which are known as chicharritas or mariquitas. I'll be honest, none of these cooking methods are particularly healthy as they involve deep frying the plantain in copious amounts of oil, but the results are delicious and a true flavour of the Caribbean! And besides... you're on holiday!
Boniato – Cuban sweet potato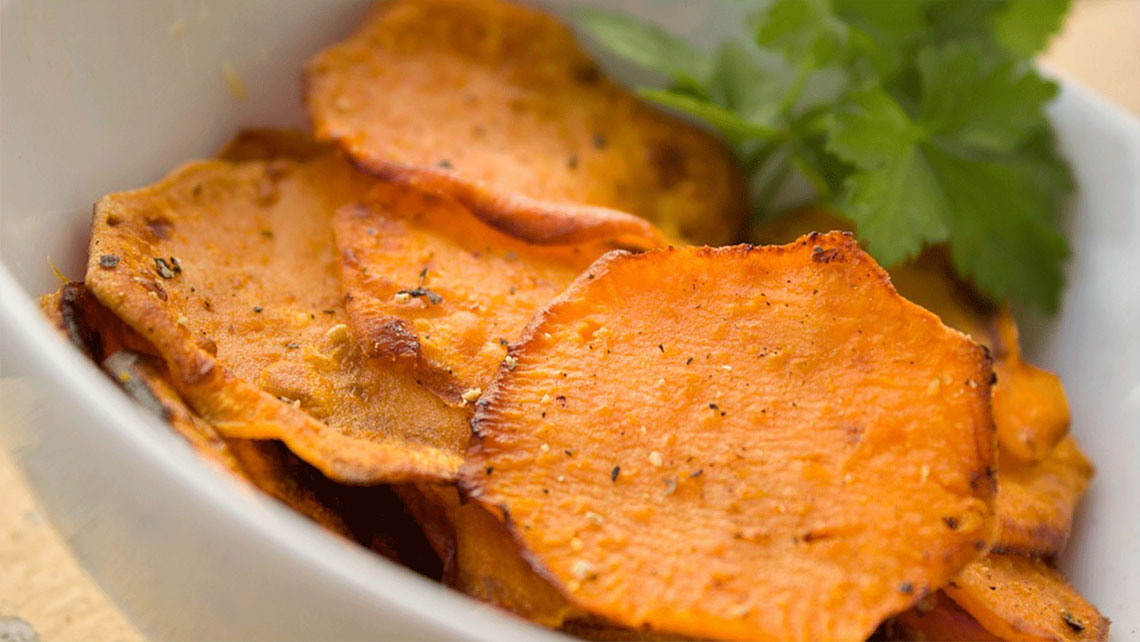 The Cuban boniato is slightly different to the classic sweet potatoes we see in the UK. They tend to be smaller and have a purple colouring, though the taste is very similar (if not better, why don't you be the judge?). Cubans serve this potato in a variety of ways, from deep fried as chips to blended with herbs and water into a purée, though the most common way is probably served as wedges that look almost like British roast potatoes! As vegan foods are limited, the versatility of the boniato is perfect.
Cocido de garbanzos – Chickpea stew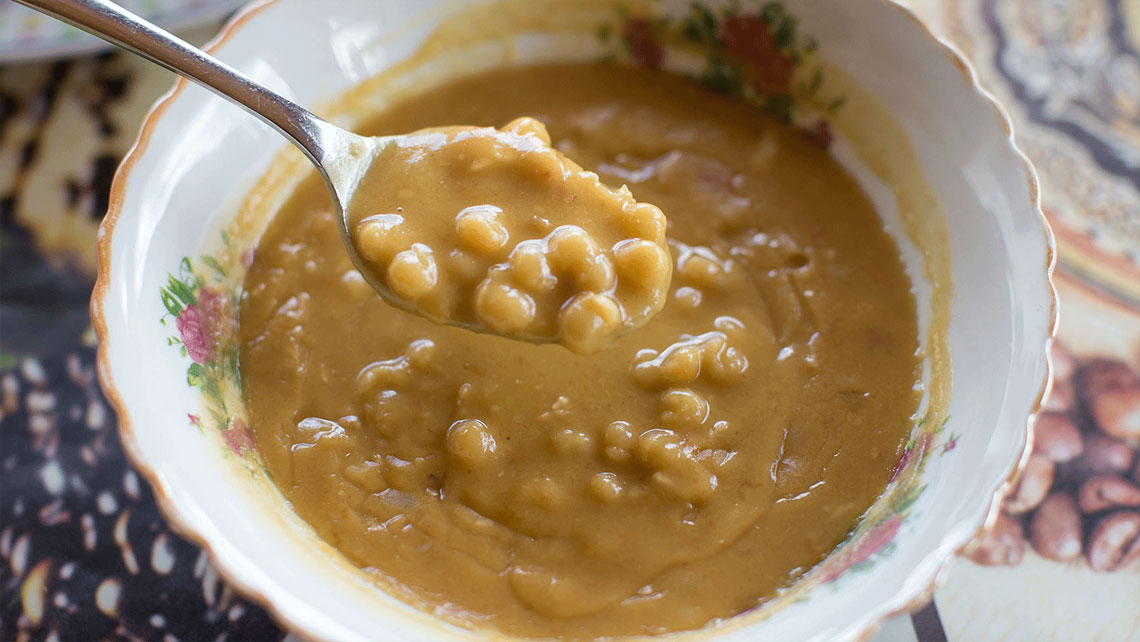 Chickpeas are basically hummus, right? You'll have to be careful with this one as Cubans often serve their stews with chunks of chorizo sausage, so make sure you specify that you want it vegan. When vegan, cocido de garbanzos is a delicious, homey stew, made with lots of tomato and boniato (remember those purple sweet potatoes), a great way to end a busy day exploring.
Arroz – Rice
Ahh, humble rice, it might not sound very interesting but vegan or not, all visitors to Cuba eat a lot of rice. It isn't the national dish, but it might as well be as Cubans eat rice with almost every meal. It's cheap, it's healthy, it's filling, and you can dress it up with all kinds of yummy vegetables and sauces.
Frutas y verduras – Fruits and vegetables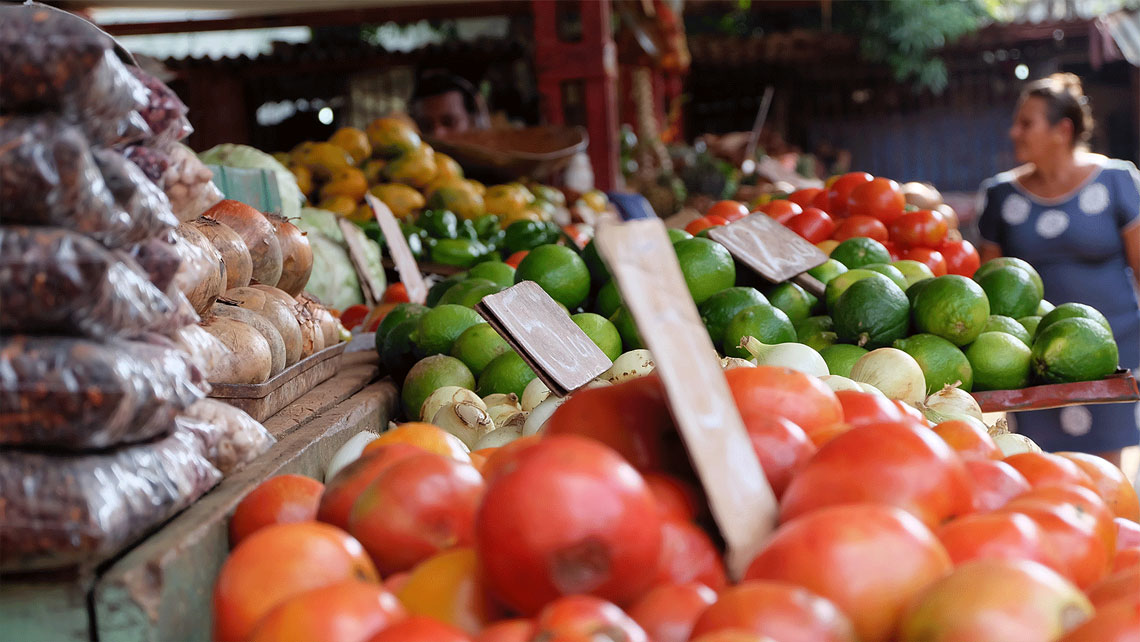 While this isn't a specific dish, the tropical fruits and vegetables in Cuba are not to be missed! Not only are they delicious but they are also fresh from the trees and full of vitamins and minerals. The mangos and avocados are three times the size of the ones we see in British supermarkets and the pineapples are fat and sweet. Cubans love salad and serve most dishes with a side of cabbage and cucumber, occasionally dotted with sweet beetroots and tomatoes. "Con ensalada por favor" ("With salad please") is a great phrase to learn.
Yogur de Soya – Soy yogurt
Not the most interesting food on the list I'll admit but a great thing to request for breakfast in Cuba as most casas will serve eggs. Soy yogurt is very common and quite cheap, most casas will happily provide it for you . I would recommend mixing in some dulce de guayaba, (a jam-like paste made from guava and sugar) with some fruit and pan Cubano (Cuban bread) on the side – breakfast fit for a vegan king!
Turrón de Maní – Peanut paste
For all the peanut butter-loving vegans out there, this will be heavenly. Turrón de Maní is basically hard peanut paste and is made from peanuts and sugar. Some of them contain milk, so look out for the packets that say "100% mani"! In Havana, there is a market that only sells the vegan turrón on the corner of Calle 17 y Avenida de los Presidentes. Another option is Turrón de Ajonjolí, a sweet and sticky bar of sesame seeds and sugar which can be found in most markets alongside the Turrón de Maní. These are both fantastic snacks that you can take on any excursion. What's more, you'll be buying them from the local markets and helping the local communities.
Postres – Desserts
Admittedly there aren't many dessert options for vegans in Cuba, but other than flan there aren't many traditional Cuban desserts, so you're not really missing out. However, there is one sweet thing you'll be able to sink your teeth into, the delightful mermaladas de fruta. The literal translation would be fruit jam but these dishes are much chunkier than classic British jam and are eaten out of a bowl rather than spread on toast. While each cook has their own method, these dishes are normally made from a fruit (such as pineapple, mango, guava etc.) boiled in sugar and cinnamon and served with a few fresh chunks of the same fruits on top and occasionally, a sprinkle of desiccated coconut. A great way to satisfy your vegan sweet tooth!
Vegan-Friendly Dining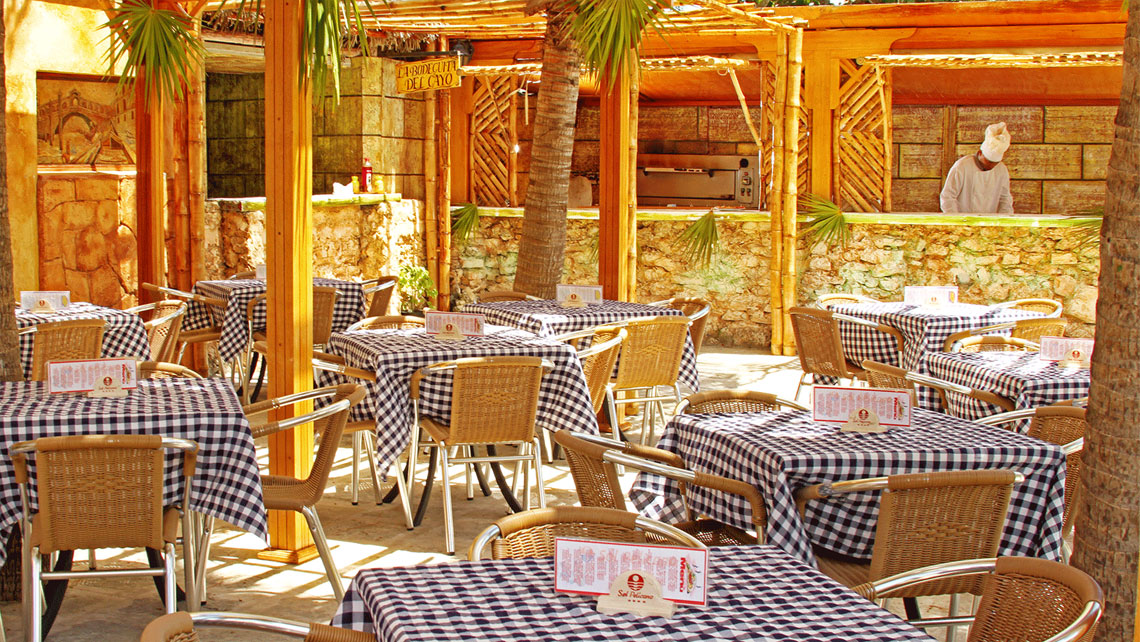 While we've not managed to track down any strictly vegan restaurants in Cuba just yet (if you know one, please let us know in the comments section!), there are a number of vegetarian and omni spots that we're confident all you plant-powered travellers will love.
El Bambú (Havana)

This hidden treasure can be found in Havana's stunning Botanical Gardens. The restaurant is open air, so you're mixed in with nature and the vegetarian buffet includes plants and flowers straight from the greenhouses. The buffet is all you can eat and charged in Cuban Pesos (find an explanation about the two currency system here), and so is amazingly good value for money.

La Berengena (Viñales)

Viñales is considered the most beautiful valley in Cuba. A day trip there can range from trekking up a mountain, horse-riding or visiting a waterfall. One must do for any vegan visitor to the beautiful town is a visit to this restaurant. The menu includes over 20 flavours of natural, vegan smoothies and the menu is jam packed with fresh, healthy vegan dishes (along with a few deep fried ones, for balance).

El Romero (Las Terrazas)

El Romero is known for two things, great vegetarian food and funny designs in the soup. This restaurant, which overlooks the stunning valley has a wide variety of vegan and vegetarian options along with lots of fun, quirky cocktails. The menu includes lots of fresh vegetables soups, don't be surprised if they come served with a love heart made from puree in the centre!

El Café (Havana)

Controversially, El Café is not a vegan or vegetarian restaurant but bear with me, it'll be worth it. This restaurant is one of the only places in Cuba that offers a full vegan breakfast and has a great selection of vegan toasties and vegan sandwiches. What's more, it's in a great location, just around the corner from the famous Capitolio.

And there you have it, the vegan guide to Cuba, a gift to all our vegan Cuba enthusiasts - so that you can enjoy your holiday without worrying about dying of protein deficiency. With these dishes you'll be able to try lots of new things and won't have to miss out trying the traditional dishes! Buen Provecho!
Vegan travel tip: Let your travel consultant know that you're vegan, so that we can ensure that we match you with the best possible host family!
Looking for more inspiration? Subscribe to our newsletter for more travel tips or fill in our free quote form to start designing your Cuba holiday. Want to know more about travelling around Cuba? Give us a call us and your dedicated Cuba specialist will use their in-depth knowledge of Cuba to help you design a bespoke multicentre itinerary tailored to you.