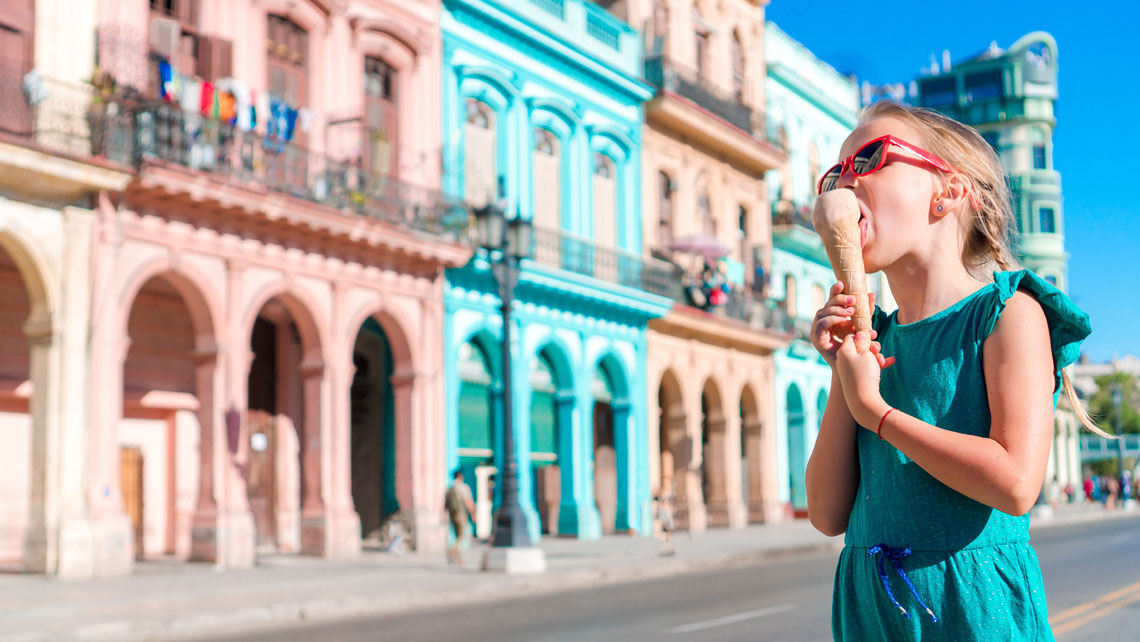 Travelling with kids can feel daunting, particularly in places like Cuba where there are a lot of unknowns for first-time travellers. What most people don't realise, is that Cuba is quite the family-friendly destination, especially since Cubans are so welcoming and kind to children. In fact, you'll often find Cubans quoting their national hero and poet, Jose Marti, who famously said that "children are the hope of the world, because they truly know how to love". To help you get the most out of your family trip to Cuba, we've spoken to our Cuban travel specialists to get the ultimate advice and insider tips.
4 Reasons Why Cuba is the Ultimate Family Destination
Cuba is very safe

You've got little to worry about if you're concerned about safety in Cuba since the island is generally considered very secure. With relaxed, low-traffic streets, you'll often find children playing freely around their neighbourhoods, with DIY carts and makeshift baseball bats.

It's a great learning opportunity for kids

Cuba is such an enigmatic nation – from its customs and culture, to its history and politics – that children usually find themselves fascinated by the country. No more dragging your kids around museums – they'll actively engage in cultural activities! Travelling to Cuba is quite an eye-opening experience for anyone (regardless of age). There are some important life lessons to be learnt in seeing the resilience and vivaciousness of a people who have had to get by under such difficult circumstances.

You'll get your kids off their phones

With such limited Wi-Fi access, you'll be travelling back in time to the good old days where phones and tablets didn't form a regular part of family dinner time. A trip to Cuba will open your children's eyes to a society that has not yet adjusted to the internet-crazed world we live in today. Cubans still enjoy the simple things in life, and so can you and your kids.

You don't need to worry about your children being mischievous

Cuban children are curious, confident and loud. So unlike other destinations, you won't need to worry about your kids speaking that bit too loudly or being that little bit too exuberant. Under Cuban cultural norms, your child will be able to let out their mischievous and inquisitive sides like never before!
Tips for Travelling with Children
Buy all your supplies before you go

With the US embargo and general economic hardship in Cuba, essential supplies tend to be seasonal on the island. Cuba does not have a wide selection of shops, and finding things as essential as baby milk, wet-wipes and sun-screen can prove extremely difficult. Not only are essential products scarce, but you'll also find they're more expensive than back home. That's why it's important you pack well before going to Cuba. Here's a list of the most important things to pack when travelling to Cuba with kids:

Sunscreen

Zika-resistant mosquito repellant

Medicine (prescribed medications, Calpol tablets, bandages, nappy rash cream etc.)

Nappies

Formula for babies

Long-life milk (If you're not staying at a hotel resort, and you think your kids won't be able to do without milk, it might be worth bringing some long-life milk. It can be difficult to find pasteurized milk in Cuba, and locals usually drink powdered milk instead).

Non-perishable snacks (you won't find vending machines or corner-shops in Cuba, so if local fresh fruit and nuts are an unlikely hit with your child, bring some non-perishable snacks with you on your trip).

Pram and car seat (prams and car seats can be taken free of charge on flights to Cuba from the UK. Whilst these items are not always essential, you might find them useful - particularly since not all cars in Cuba have seat-belts)!

Check out Conan O'Brien's adventure in a Cuban supermarket!

Venture beyond the beach

It can be tempting to stick with a beach resort when travelling as a family. It's a safe option, you can have peace of mind, and there's guaranteed entertainment for parents and children alike. However, families who are looking for truly unforgettable experiences and stimulating family-friendly activities will find that Cuba has so much more to offer. Our best tip is that you try and combine the best of three worlds – beach, city and nature – to make your trip as worthwhile as possible. Travelling around Cuba really isn't that difficult as long as you book your transfers in advance. You'll find that there's a variety of wide-ranging activities you can do with your children, which can make your trip ten times more memorable than a classic beach holiday. Here are just a few of the family-friendly experiences we recommend:

Ride around Havana in a Chevrolet, 1950s-style

Swim in the tropical waterfalls of El Nicho, Cienfuegos

Pet (and eat!) crocodiles in Guamá, Ciénaga de Zapata

Zipline through the treetops of Las Terrazas, a UNESCO Biosphere Reserve in Artemisa

Drink freshly pressed sugar-cane juice in the valley of Viñales, Pinar del Rio

Swim with dolphins in Holguin

Visit the nightly canon-firing ceremony in El Morro Castle, Havana

Dance to live bands in the streets of Old Havana

Dip into the cave-waters of Cueva de Saturno, Matanzas

Book a homestay rather than an all-inclusive resort

Many of our Cuban specialists prefer staying in casas particulares (homestays/private guesthouses) when touring Cuba with the kids in tow. On the whole, travellers tend to feel more fulfilled by homestays than they do by all-inclusive hotels. Whilst hotels aren't exactly a bad option, there are several advantages to staying with a Cuban family when you're travelling with kids:

You'll often find an extra motherly hand to help you out

Cuban host families tend to be extremely caring and obliging. Host women usually take on a motherly role with their guests, and will no doubt be extremely helpful in the morning rush to get your kids ready. In fact, many tourists return to Cuba again and again, purely because of the lasting relationships they forge with host families.

Many host families have children of their own

When staying with another family, your kids will have the opportunity to make friends and get a closer look at life on the island. Guests at homestays often find their children having a go at pon (hopscotch) in the neighborhood, or even joining local kids for a street-side game of baseball!

There are lots of entertainment options for kids

Although beach-side hotels are well-equipped with entertainment facilities, city hotels are a whole other story. Evening rests in urban hotels can be somewhat boring for energetic children. There are usually more entertainment opportunities at homestays, especially since Cuban families commonly keep small pets! Whether it's a little dog, a turtle or even a parrot, your child will most likely have a little furry friend at home to keep them busy while you're having a much-deserved afternoon nap.

Casa Osmar y Alberto, Trinidad, Cuba
For more advice on travelling to Cuba with kids, feel free to personally contact our team of Cuban experts or get in touch using our Contact Us form. With more holiday experts of Cuban origin than any other British tour operator, our specialists really do know Cuba inside-out.