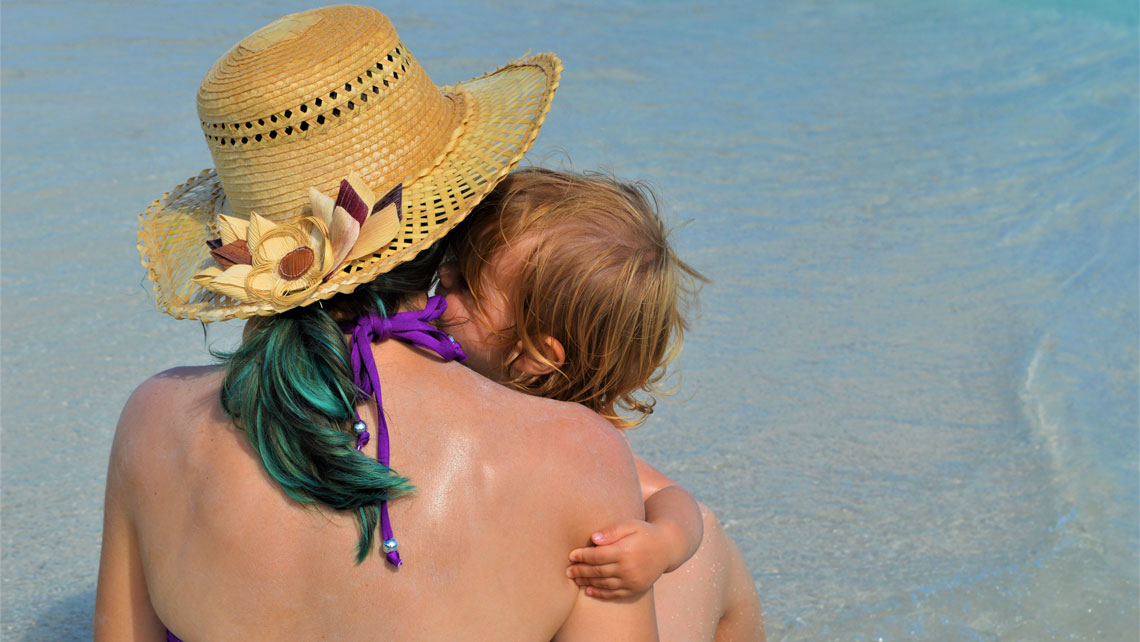 Are Cuba holidays suitable for families? Is Cuba a good destination for kids (toddlers, babies, teenagers and everything in between)? Are you wondering if you should make Cuba your next family holiday destination? To answer these and many more questions, this is the blog you need to read! Not only do we tell you why family holidays in Cuba can make for great, unforgettable adventures, we also give you tips to help adjust your expectations and navigate the island's peculiarities when it comes to travelling with kids.
Is Cuba a child-friendly destination?
Despite what you may hear or what you may fear, Cuba is actually an excellent destination for families. Yes, it does have its shortcomings in terms of shops not always stocking up on baby essentials (like nappies, nappy cream or baby food) but if you come prepared, it can make for the experience of a lifetime and help you create family memories to forever cherish.
Note: This post is illustrated with the author's own family holiday photos in Cuba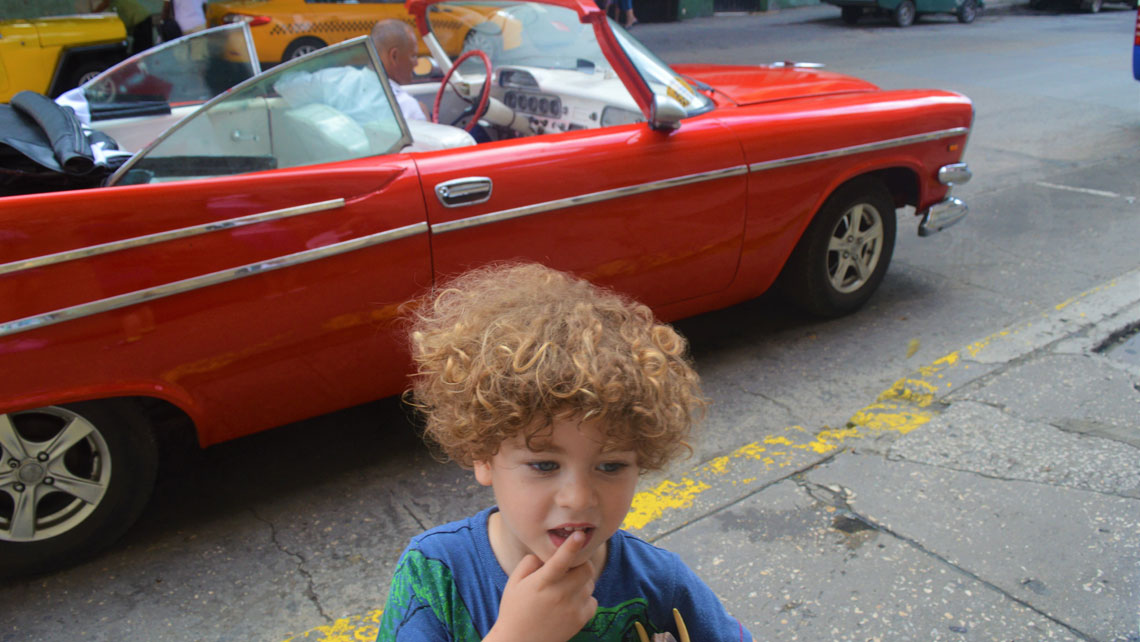 Cubans adore kids and babies. Children are not seen as a nuisance, they're mostly viewed as cute and adorable (especially babies and toddlers) and you'll quickly notice how Cuban kids are taken everywhere with their parents, whether that's museums, carnivals or dance parties (hint* that's why Cubans are such great dancers, they start young!).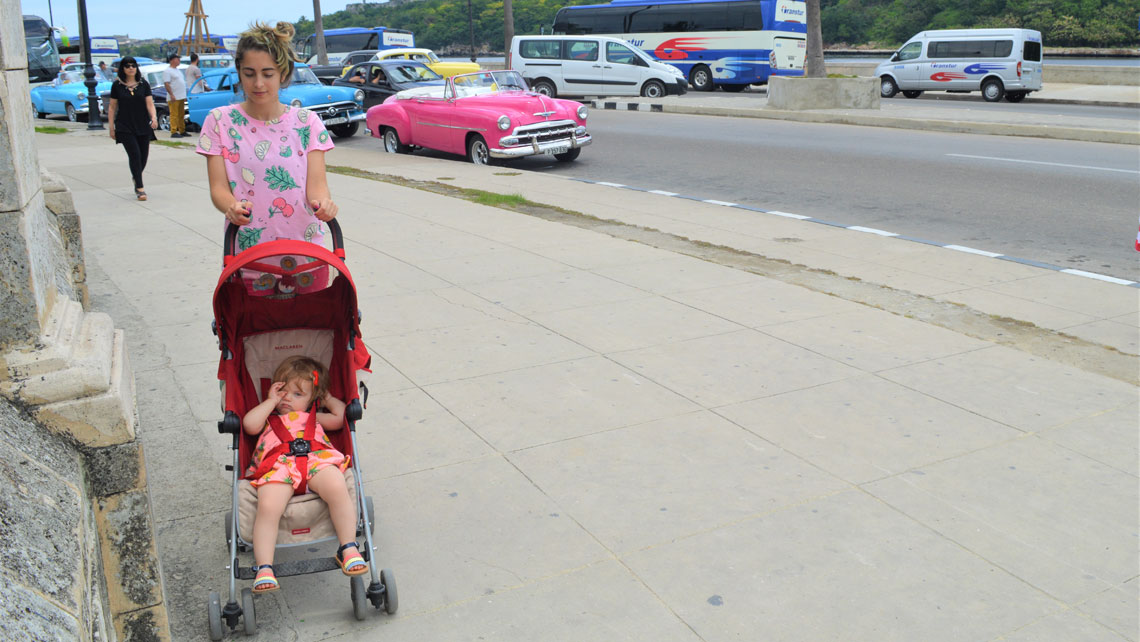 In Cuba, you'll also notice how strangers may approach you to compliment your little ones or coo over them. Please don't be offended if they pat your child's head or gently brush their cheeks, they mean well and it's commonly accepted (even expected!). We understand that you or your kids might not like the attention, but just don't freak out, it's not weird over there. You may, of course, decline and explain that your little one doesn't like being touched or approached by strangers, in which case they will smile and understand or pull a funny face and walk away thinking you're raising unsociable kids…but again, just think that it's a different culture! And always remember that they mean well and it comes from the heart - yes, Cubans are touchy-feely.
Eating out with kids in Cuba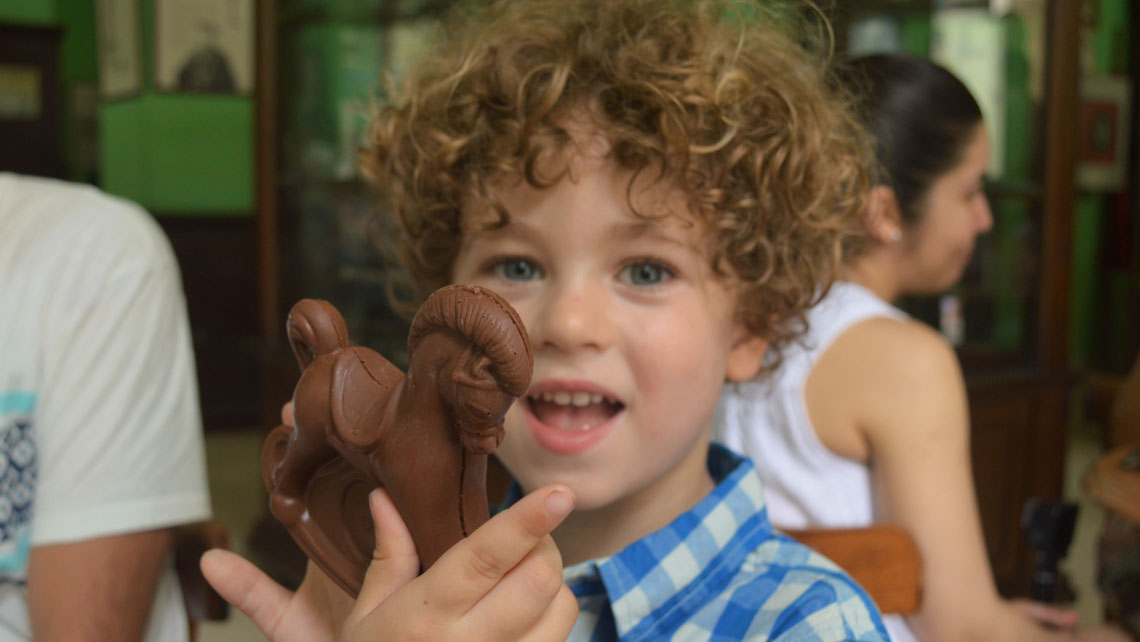 Kids and babies are welcome in restaurants and bars across all of Cuba (unless specified like in some beach resorts with adult-only areas) and waiters will go out of their way to make the youngest members in the family smile. While it's true that there aren't any fast food chains your kids may be familiar with (no McDonalds or Burger King anywhere), you'll find plenty of kid-friendly options in menus (if in doubt, you can stick to tapas like croquetas). You might even see it as an advantage not having a fast-food chain in sight during your Cuba holiday (there are burger joints and pizza places, just not chains of them!), giving you the chance to introduce your youngsters to other world flavours.
"La esperanza del mundo"
Childhood is regarded as a golden period of Cubans' life and a pivotal one in shaping up the adults of the future. You'll often hear Cubans say "los niños son la esperanza del mundo" meaning that kids are the world's future hope, so the government, the national education system and parents all work towards ensuring a healthy childhood and the creation of a healthy environment for kids to grow up in. Cubans are, generally-speaking very proactive in protecting childhood and letting kids be kids.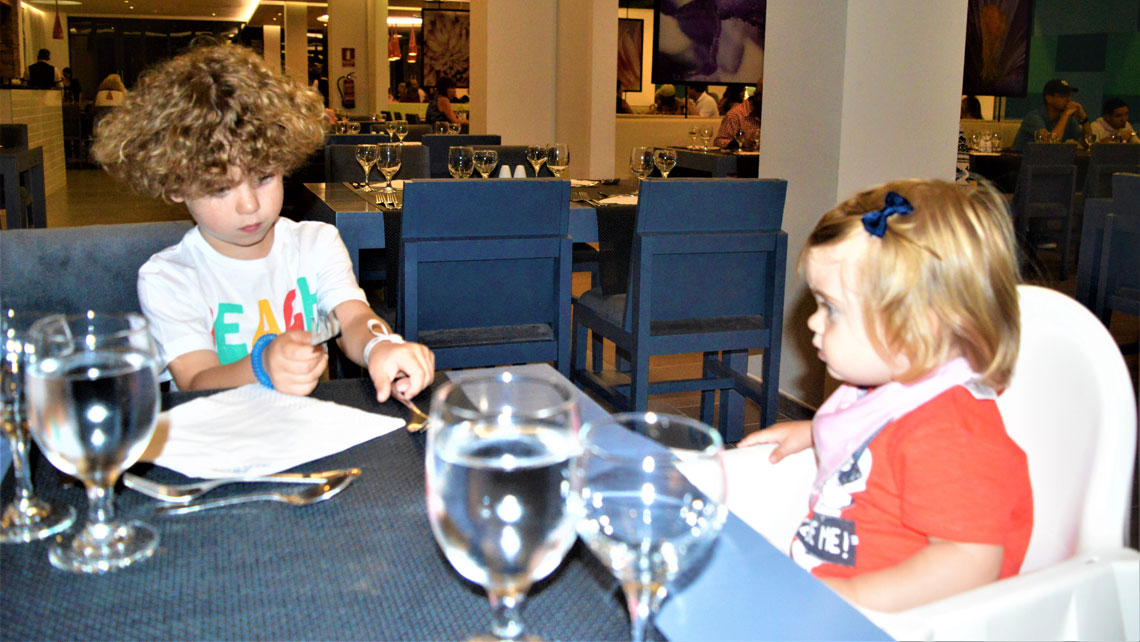 It is true, however, that not all attractions and restaurants in Cuba will have specific facilities for younger children like highchairs or kids' menus. But more and more do, especially the newer private restaurants - a.k.a. paladares - which are getting more sophisticated and strive to cater for a more varied audience, but it's still not widespread or that common to find highchairs or seat boosters.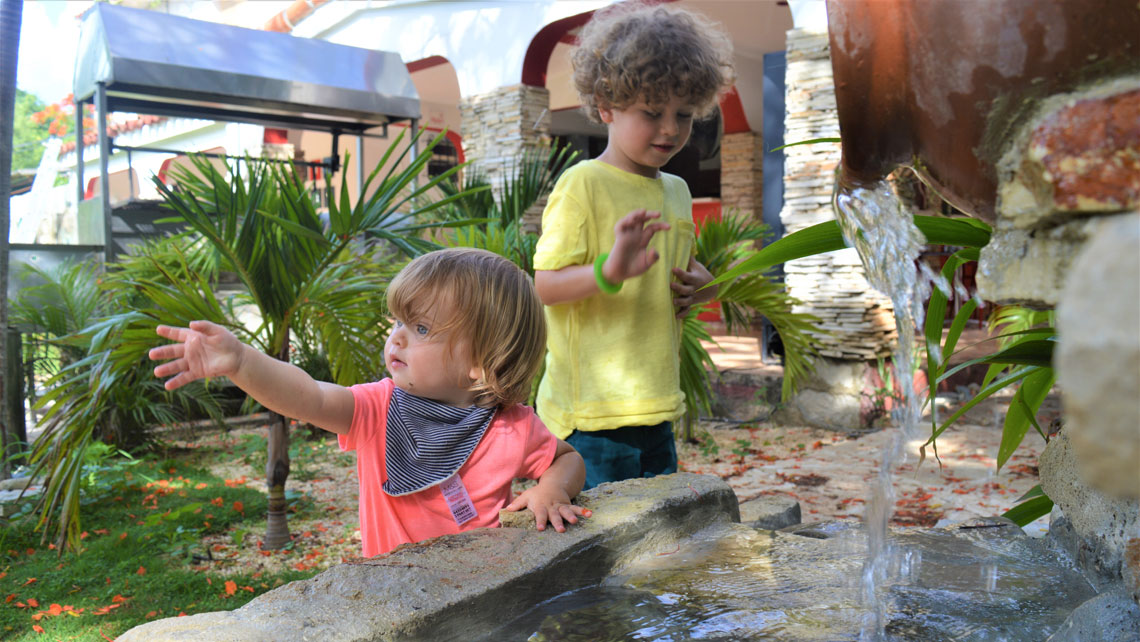 In any case, if you bring children along for a family lunch or dinner, any restaurant you go to (especially privately-owned ones) will be extra accommodating and try to make up for any shortcoming.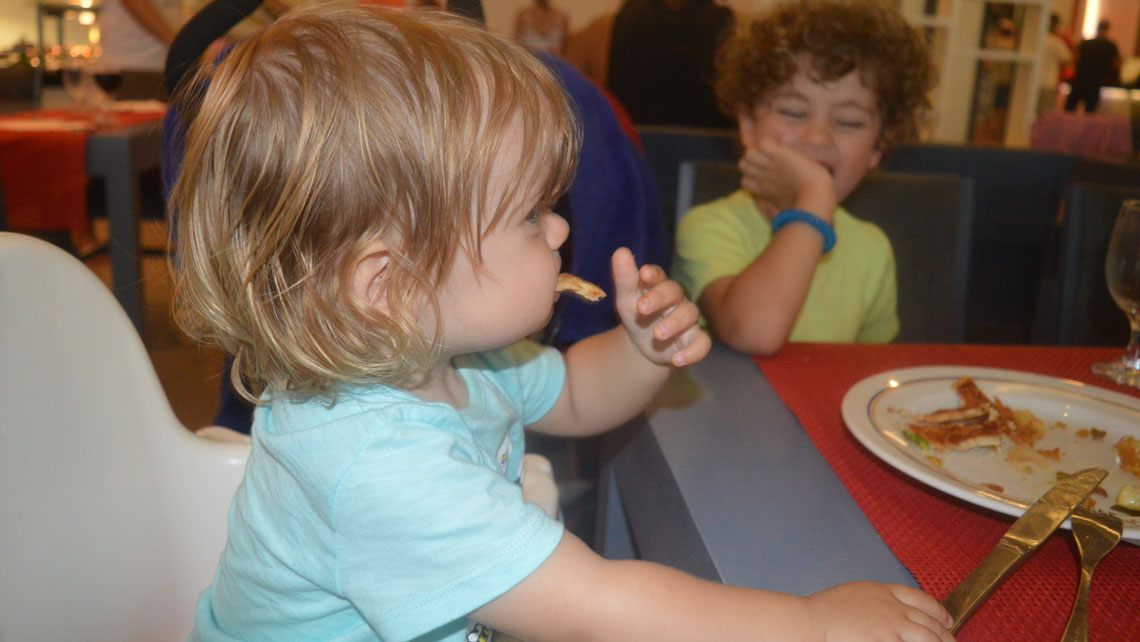 You might leave surprised at what a great family meal you had despite any initial setback...kids are unpredictable however, so we can't promise a relaxing or tantrum-free experience. But, hey! You're in Cuba, you're on holiday, let it be and try not to stress too much about it. Cubans won't bat an eyelid if our offspring are being boisterous if they cry they might attempt to cheer them up but won't hate your guts if you're unsuccessful at soothing them. They know, they're only kids, you're doing your best. And again, you're on holiday!
Availability of baby products - bring your own just in case!
The other most common issue to keep in mind when travelling to Cuba with small children is the lack of certain baby products you might consider essential, like nappies which frequently do run out of stock (and whose brands you may not be familiar with), baby lotion, nappy cream, formula or baby food. That said, more and more hotels (especially beach resorts) are making efforts to ensure their onsite shops are always stocked up with nappies in a variety of sizes as well as other baby essentials. Still, they do run out of things frequently, and if you have a brand of preference, bring any baby products that you normally use and which, most likely, you won't be able to find in Cuba.
Why Cuba holidays are great for kids (and why they'll turn out much better than you expected)
OK, so now you know that there are certain things you must bring to Cuba to ensure a smooth, worry-free holiday if you travel with babies or toddlers, but it's all easier and simpler than it looks. If your Cuba holiday plans include an infant, make sure to bring enough formula to last your trip, and likewise for nappies. If you breastfeed, rest assured that breastfeeding in public in Cuba is commonplace and won't get you any stares (disapproving or otherwise), you'll likely spot other mums nursing.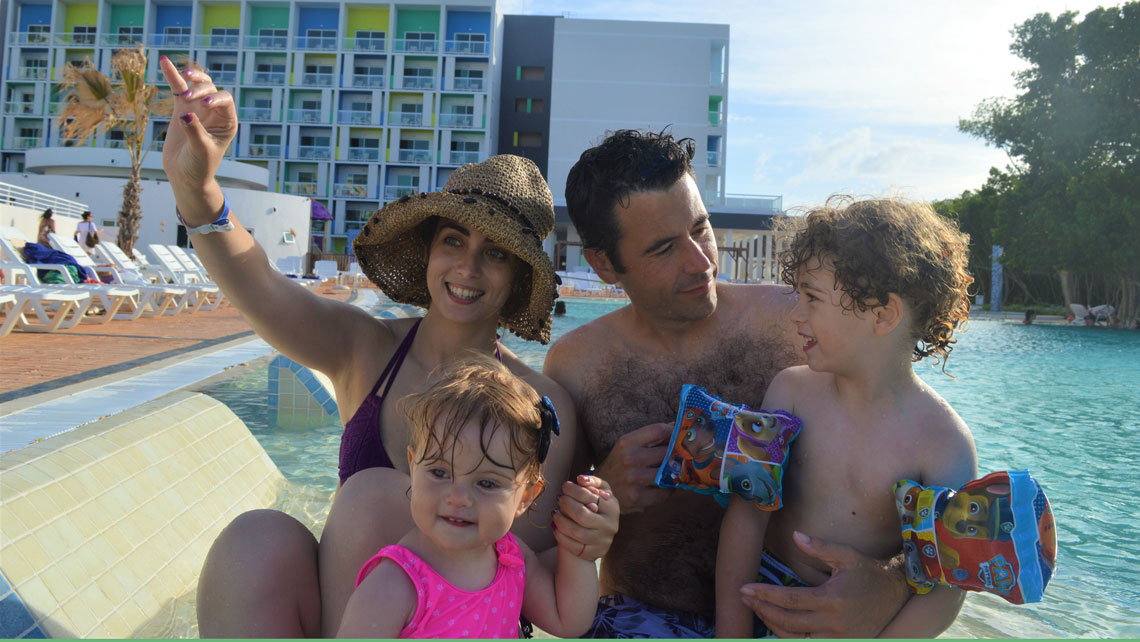 But travelling to Cuba with kids (and the fact that there are certain essentials you must bring as availability in Cuba isn't guaranteed) doesn't mean you'll need to fork out on additional luggage. Remember that most airlines allow around 20 kg per child, so that should give you enough room for their clothing and other essentials. Also, remember that you're allowed to take a buggy or stroller for free onboard, which will come handy if you plan long walks touring cities or cultural districts (and there's plenty of those in Cuba!). If you've got older children and they're adventurous there are plenty of trekking, hiking and waterfall-dipping excursions to choose from, they'll have a blast!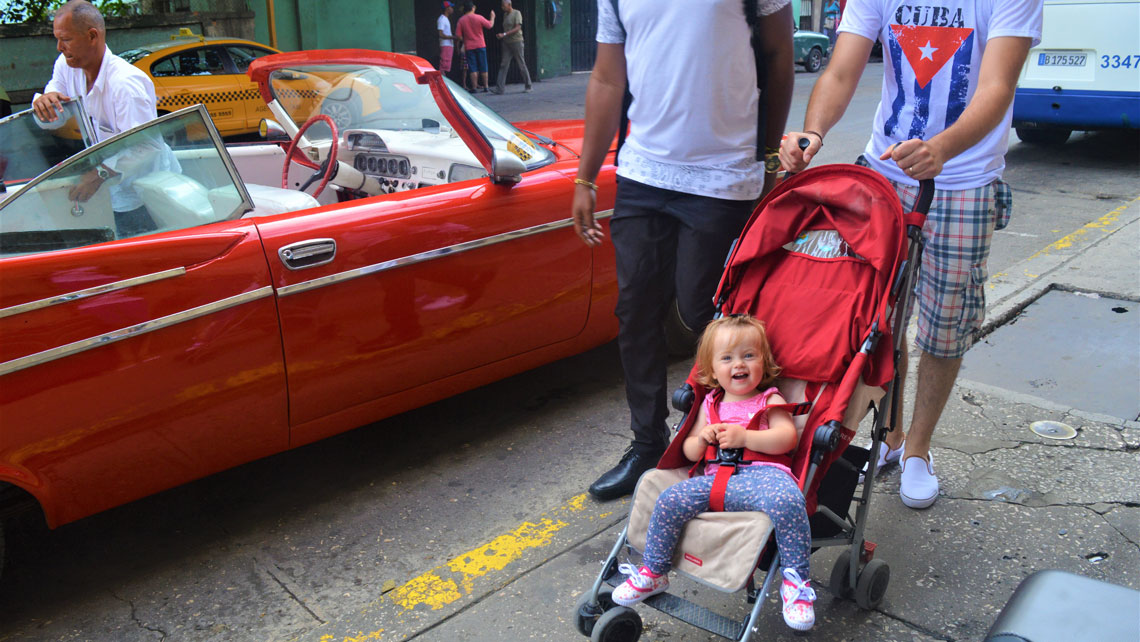 Like we said, travelling with kids is totally doable and your Cuba holiday doesn't necessarily need to be a beach getaway in an all-inclusive resort where you do nothing but bask in the sun while your kids enjoy the activities at the onsite kids club (although that's a perfectly valid option if all you want to do is shut out the world and relax with your family). But during a family holiday to Cuba you can tour, you can do some sightseeing, you can check out cool bars and enjoy live performances, all with your baby, toddler small child in tow. If walking tires your child, there are shorter routes we can recommend and if they have any special interests (like holding a baby crocodile in Guamá or visiting a turtle nesting site), Cuba can deliver in ways that might surprise you. Whatever you do or wherever you go, if you come to Cuba with kids and teens it's an adventure they won't forget! And if bring babies or tiny tots, it will make for a family adventure that you'll forever treasure!
What makes Cuba a great family holiday destination?
If its exotic allure weren't enough for older kids, teens and pre-teens, babies and toddlers will also have a blast splashing about in paradisiacal shallow beaches and paddling pools at Cuba's selection of stunning beach resorts, from Guardalavaca's laidback feel to Cayo Santa Maria's Robinson Crusoe-style appeal. Older kids and teens in Cuba might appreciate the beauty of the picturesque architecture, the old classic cars that look as though taken out of a film or "vintage" magazine, they might marvel at the vibrancy of the culture and the extrovert, candid locals, the dancing-singing lifestyle and generally the beauty of the largest of the Antilles.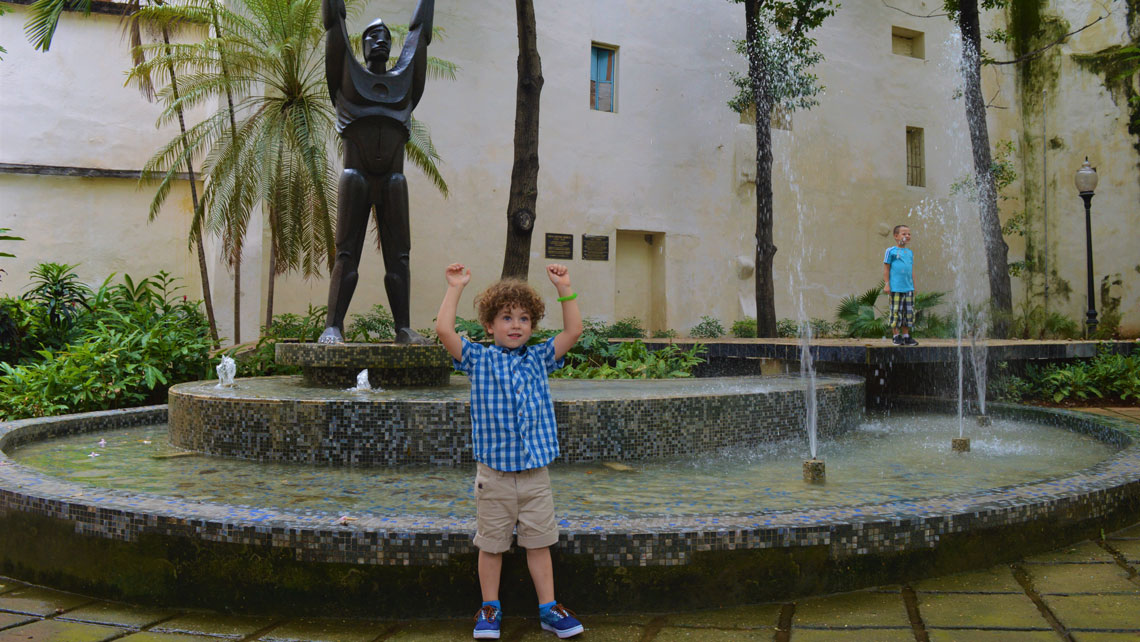 If you have an ambitious itinerary, your Cuba family holiday can adapt, although, depending on the age of your kids it might be better to leave out some adventures. In general, the vast majority of activities and cultural attractions in Cuba are child-friendly. I can recommend some of the best places in Havana to take kids to (but that will be in a future blog) and likewise the best Cuba tours and excursions for families.
I have two kids, now aged 6 and 3. The last time I went to Cuba (in 2017) they were 4 and 18 months old, respectively. I didn't leave anything out of my travel itinerary just because they were kids, but it's also true that I myself I'm Cuban and having grown up in Cuba I figured my kids could walk about, play around and explore just as I had, even if they were born in the UK and were not accustomed to the heat (I travelled there in mid June).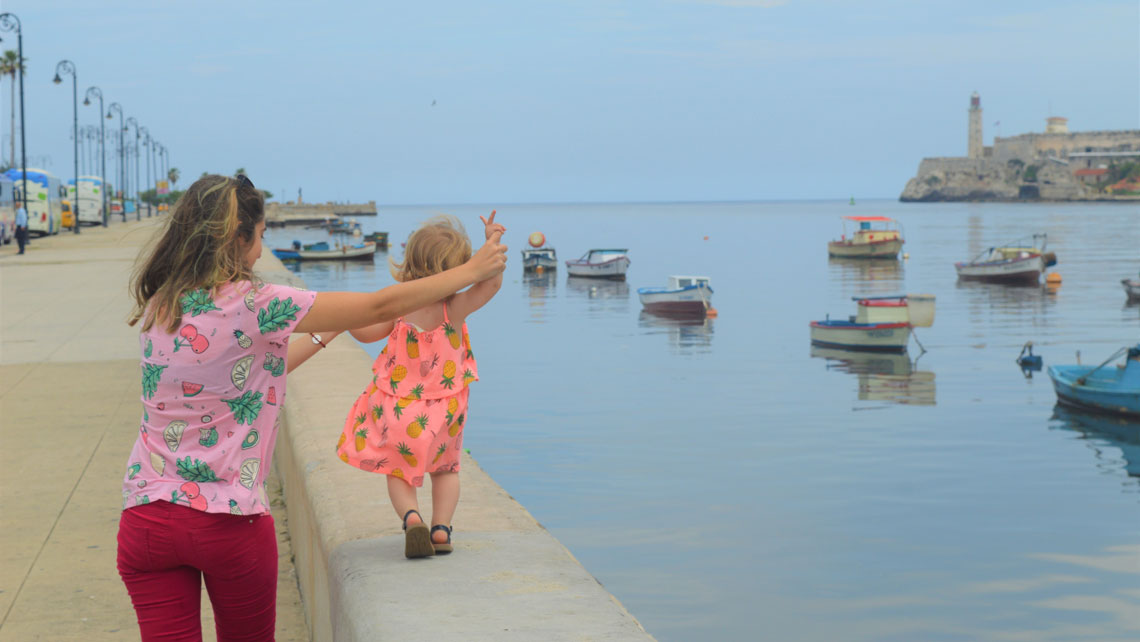 I kept things light and didn't walk around for hours. I did short routes, trying my best to get them excited as I showed them the sights and they did not complain once. They actually really enjoyed it and my photos (shown below) are proof.
The only thing I did differently (and that you should do too) was slap on a heavy layer of sunscreen to protect their delicate skins, something my parents never did with me as back in those days I'm not even sure Cubans knew of the existence of SPF!
The sights
Just walking along Old Havana will be a treat for kids of all ages. Mine enjoyed it, even the youngest whom at just 18 months old was still a wobbly walker.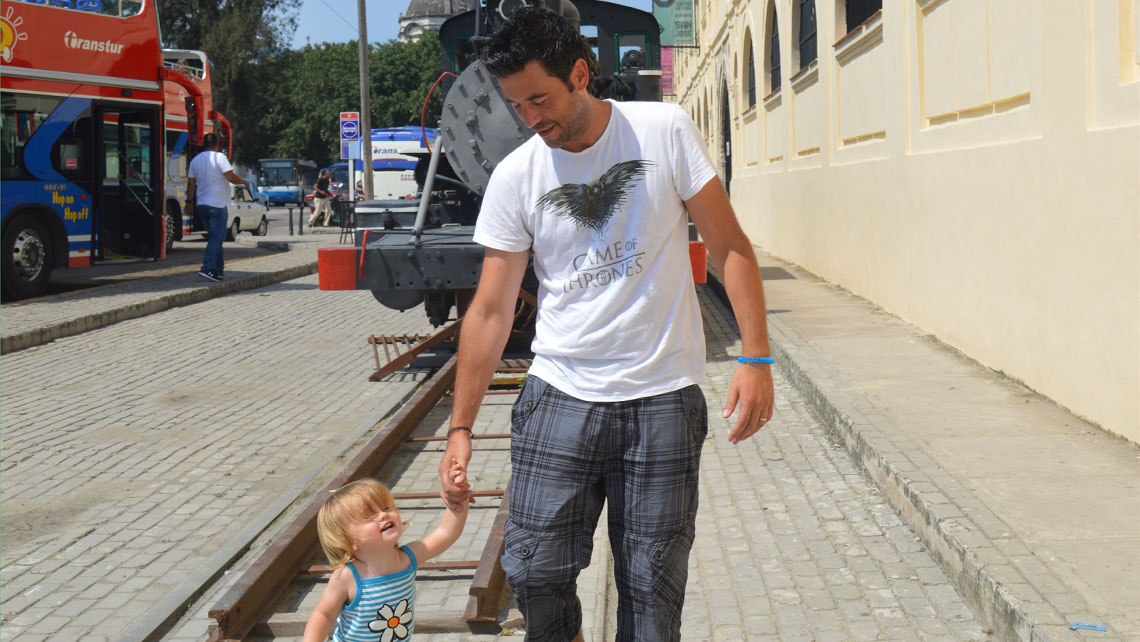 But you don't have to restrict your walking expeditions to Havana's historic centre, you can journey beyond and explore around Vedado (where many leafy trees will provide shade) and walk along the Malecon, climbing the wall to get a closer sea view. Kids will surely like this (mine did!) but it's best to stick to early morning hours or late afternoon to avoid the scorching midday sun.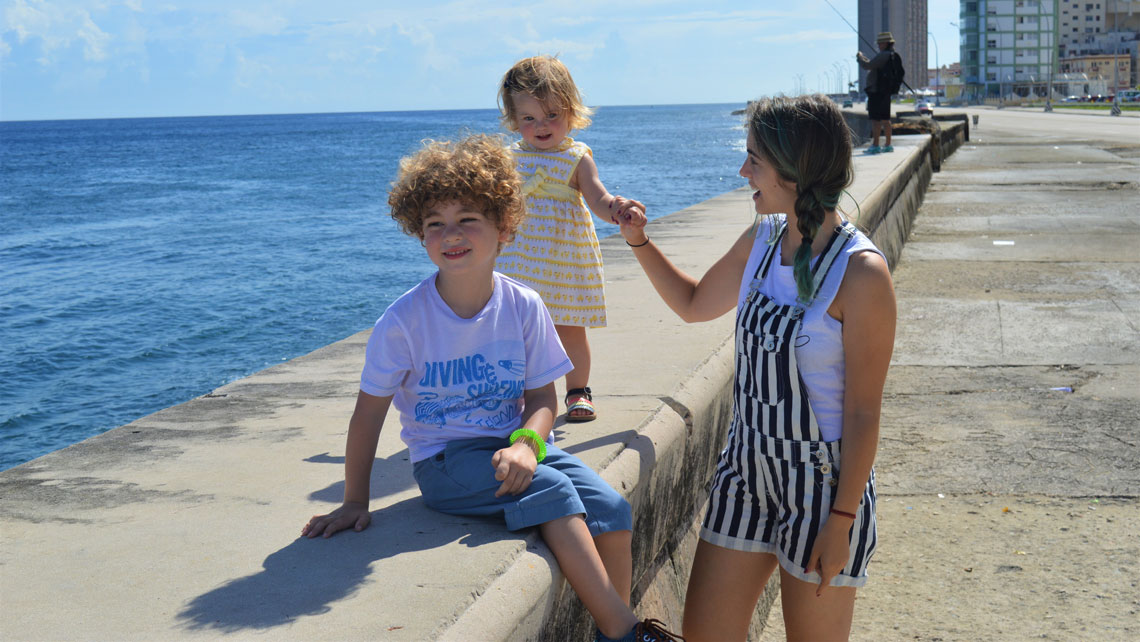 We only did a short stroll because (my bad!) we reached the Malecon by around midday and from there had lunch just across the street (there are many sea-facing restaurants along the Malecon's 8-kilometre stretch.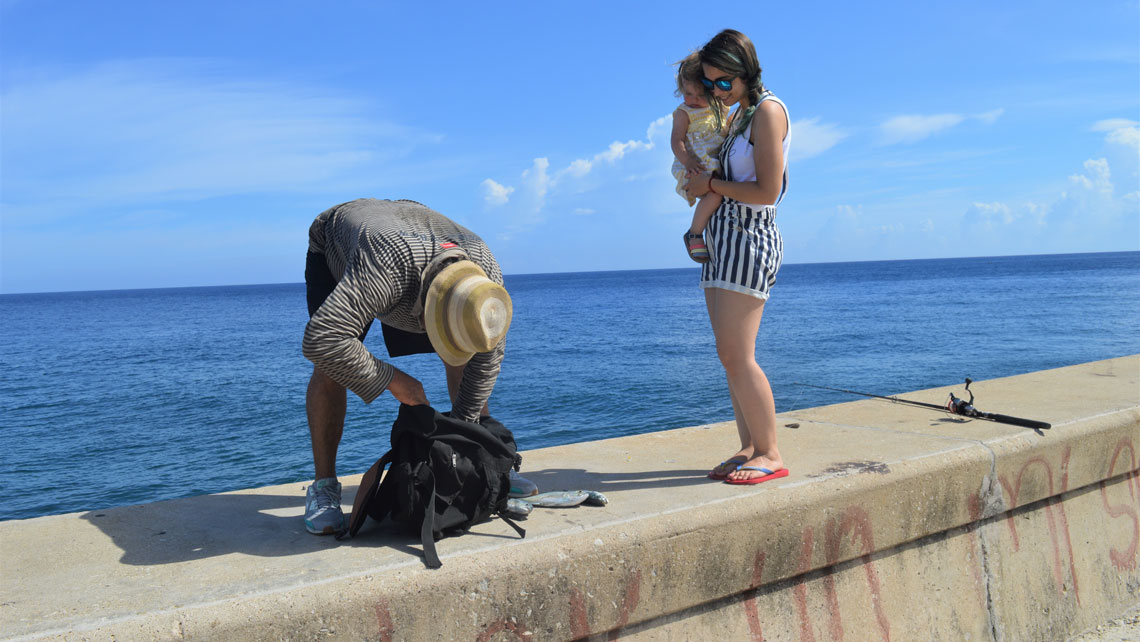 As you can see in the pictures, we even came across a fisherman who happily opened his bag to show us his catch of the day.
The culture
Soaking up Cuban culture can be great fun for your kids. Just strolling along Old Havana will expose them to brightly-painted colourful colonial buildings, cobblestone streets, small leafy parks with fountains and even mini-carnival parades like the ones pictured below.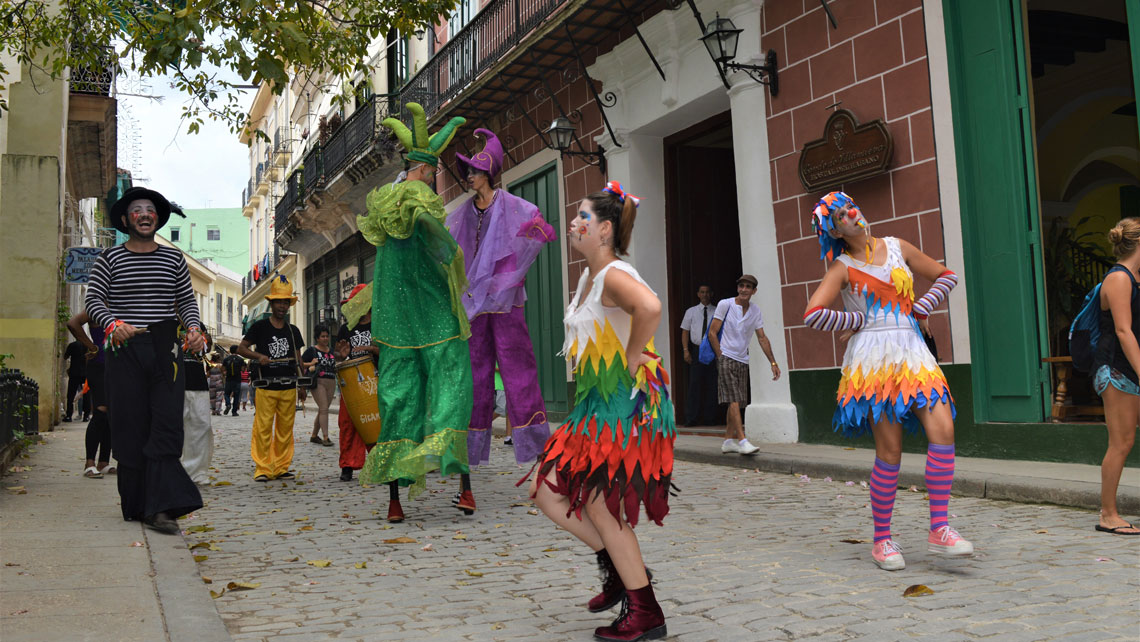 The music, the sounds, the colours, it all adds to the experience and little ones' excitement. Don't think Cuba holidays for kids belong at the beach, they'll have good fun exploring cultural highlights too.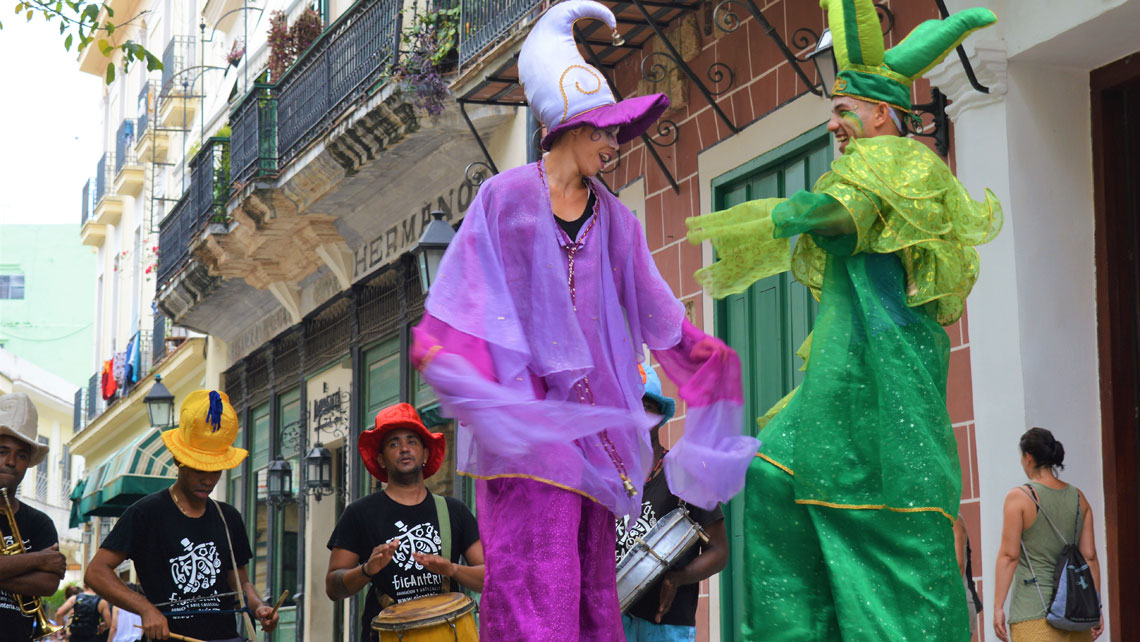 Yes, you will tweak the itinerary and make things light (no long guided museum visits for example) but doing things at your own (and your kids') pace can be incredibly rewarding. Just adjust your expectations and go with the flow.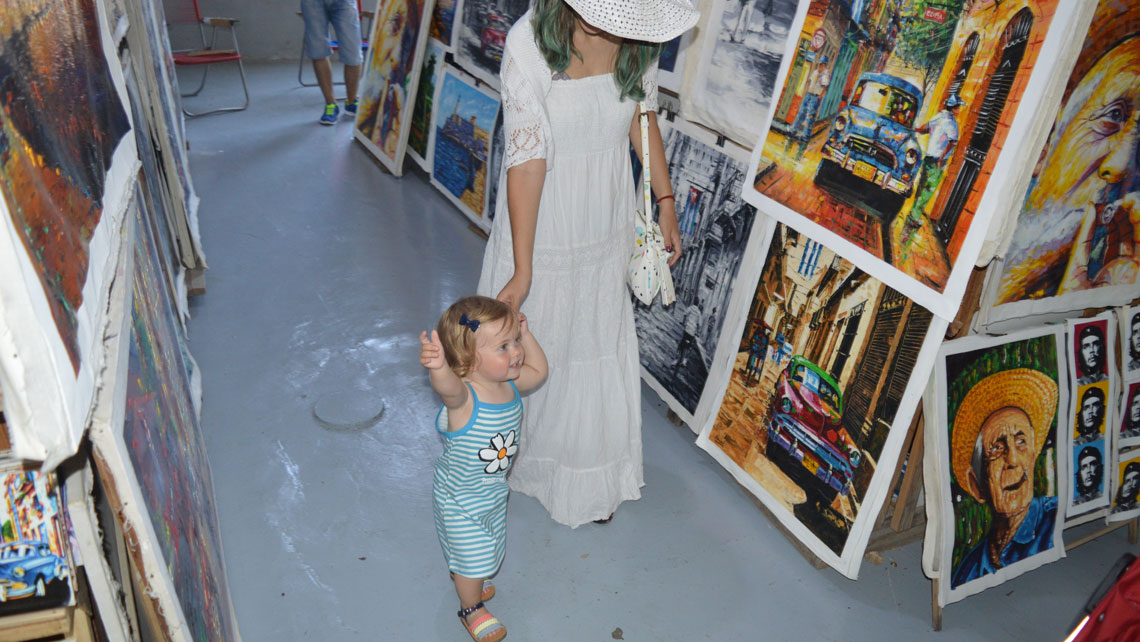 Don't make your sightseeing plans overly ambitious or complicated, and when they start whining about being hungry buy them ice cream, churro or treat form a local vendor. It all adds to the experience!
The food - trying out new things
Travelling to Cuba with kids, toddlers or babies doesn't mean having to stick to favourites to please them. It's alright to do so, you'll find crowd pleasers like pasta, pizza and sandwiches almost everywhere in Cuba, but your Cuba holidays bring about a great opportunity to introduce your youngsters to new flavours.
Cuban food (unlike its Caribbean counterparts) is not spicy at all, mostly influenced by Spanish cuisine, making it ideal for little mouths (which tend to prefer blander or at least not super hot bites). Most kids enjoy savoury Cuban staples like fried plaintain and black beans (on their own or mixed with rice). My two kids ate a lot of black beans and rice, both in the "moros con cristianos" version and the cooked alternative (congrí).
At the all-inclusive beach resort I stayed in (in Varadero) they had lots of choices and ate well. Yes, they stuck to pasta and pizzas on most meals, but they ate a portion of blacks beans and rice virtually every day.
The beaches
Well, what can I say...words fail and images perfectly illustrate it. Kids of all ages will love basking, splashing and swimming on Cuban beaches.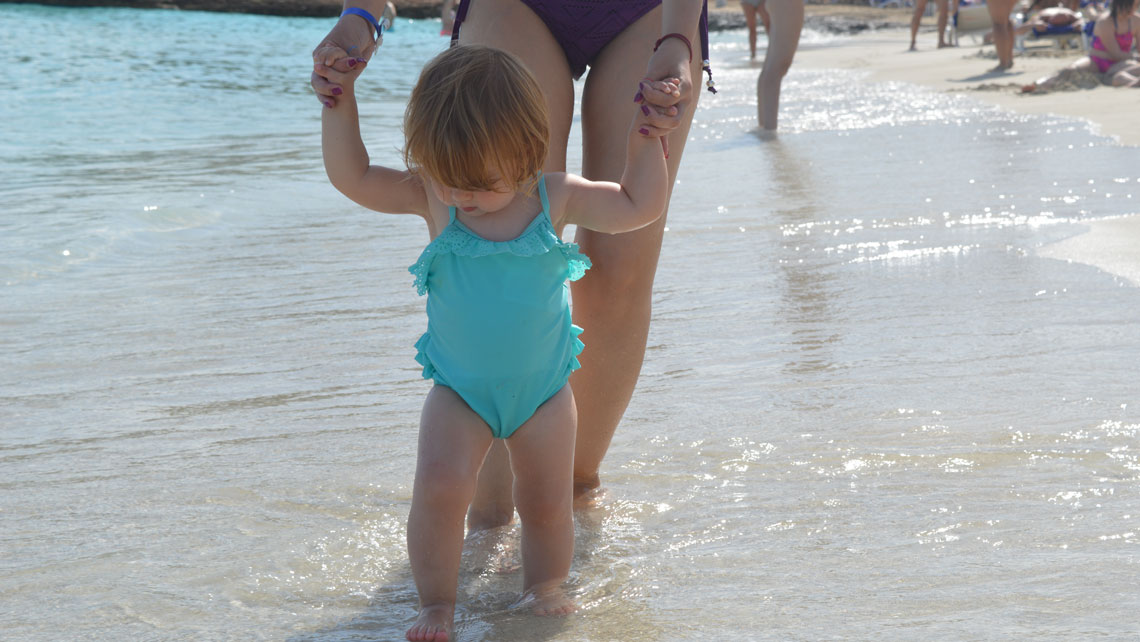 The water is always calm, crystalline and shallow, the sand is powdery soft, like a cushioned blanket,vthe surf is gentle to non-existent...It's almost like a pool but thriving with life underneath. In the summer months you'll easily spot tiny little fish swimming very close to the shore...why practically in the shoreline!
And, of course, it's not just kids that will love it, beach-combing adults of all ages will succumb to Cuban beaches' irresistible allure with a mojito in hand and a book on your lap.