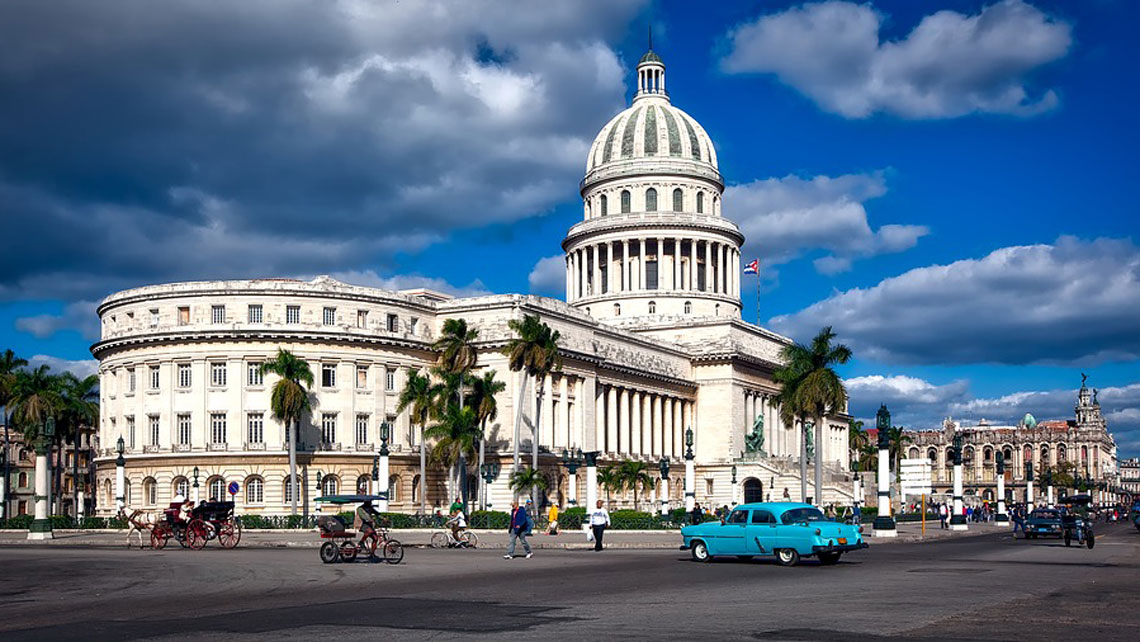 Classic images of Havana usually involve vintage North American cars driving along old backstreets, perhaps with a musical instrument or someone smoking a cigar in the background. If the photographer or the artist decides to choose an iconic building to feature in the backdrop, they usually go for "El Capitolio". Its enormous dome is iconic, marking the Havana skyline like St Paul's Cathedral marks London or St Peter's Basilica marks Rome.
El Capitolio has dominated Havana's cityscape since the 1920s and is still one of the most important landmarks of the city. A visit to Havana is incomplete without walking or driving past it, and since the invention of the "selfie", it has become one of the Havana spots to take a selfie too. But it is more than just a photogenic building. Here are 10 fun facts about Havana's Capitol Building.
My ten fun facts about Havana's Capitol Building
It took three years, two months and 20 days to build

Considering the scale of the building, this was a remarkably fast achievement for that era. Between 1926 and 1929 five thousand workers helped complete the construction. Five workers died in the process, and they are still remembered today by a stone plaque inside.

It became the tallest building in Havana upon completion

Nothing on this scale had been built in Havana before El Capitolio. At 92 metres (302 feet) tall, it was a big statement for the city, a symbol of the prosperity and grandioseness of the times. It wasn't overtaken as the tallest building until 30 years later, when in the 1950s the radio and television network building FOCSA was constructed, which still today stands as Havana's tallest building.

The dome was once the third-largest in the world

Measuring at 62 metres (203 feet) and made of granite and limestone, this dome changed forever the panorama of Havana. And whilst over the past 90 years its size has been far surpassed by many other buildings around the world, its scale and beauty still impress visitors to the city today. At night it is light up, taking on a more shiny and dreamy appearance.

It houses the world's third-largest indoor statue

Situated in the "Salon de los Pasos Perdidos" (Room of the Lost Steps) is an 11-metre tall bronze woman, representing a mythic guardian of work and virtue. As sizes of indoor statues go, it is surpassed only by the Abraham Lincoln statue in Washington DC, USA, and a Buddha statue in Nara, Japan.

It officially marks kilometre zero for Cuba

Distances from Havana are measured from this building. To be very precise, the exact spot is marked in the centre of the main hall by a replica diamond. Why a replica? The original 24-carat diamond, thought to have originally belonged to the Russian Tsar Nicholas II, was stolen in 1946. It was returned later that year, but it was wisely decided not to have such a valuable item on display that could tempt thieves to steal it again.

It is NOT a copy of the US Capitol Building

Contrary to many beliefs, at first sight, El Capitolio is not a copy of the US Capitol Building in Washington DC, USA. In fact, according to El Capitolio's chief architect, Eugenio Rayneri Piedra, the inspiration for the dome came from the Panthéon in Paris, which itself was inspired by Tempietto in Montorio, Rome, Italy.

But sure, comparisons are still made with the US Capitol Building, as both designs come from a similar architectural genre. But the most important comparison to remember, as people will not hesitate to tell you, is that El Capitolio is taller than the US Capitol Building - by one metre! El Capitolio is also much more ornate and with elements related to Cuba. For example, the magnificent doors at the main entrance are made of ornamented bronze and depict scenes from Cuban history.

It is visible from Ernest Hemingway's old house

A popular trip to make during a visit to Havana is to travel ten miles to the outskirts of the city to visit Ernest Hemingway's old house. Whilst peering through the window of his old pad is a curious bit of voyeurism into Hemingway's life in Havana, take a look into the distance towards the centre and El Capitolio is there, still dominating the skyline. Considering Hemingway spent much of the last 20 years of his life in Havana, one can only imagine how many times he gazed at El Capitolio.

The gardens were designed by the French architect who designed the park surrounding the Eiffel Tower

Jean-Claude Nicolas Forestier was in his 60s when he moved to Havana for 5 years with some new assignments. One of them was for El Capitolio. Surrounding the building is some elegant gardens. Whilst Forestier brought some French influences with him to Havana, he was also respectful of using Caribbean elements, such as adorning the gardens with local trees.

His influence in Havana can also be felt today by walking along the northern end of Paseo del Prado, a promenade which he helped design. Today it is officially titled "Paseo de Martí", but most people still use the old name, which curiously derives not from its similarity to a Parisian promenade but to Prado in Madrid.

For over 50 years it was used as an academic building

In 1959 the congress that was sitting in El Capitolio was abolished. A new government building was subsequently built in "Plaza de la Revolución" (Revolution Square). With so much empty space left inside El Capitolio, from 1962 its use was given to the Cuban Academy of Sciences and the National Library of Science and Technology. In recent years it has been undergoing restoration with the intention of gradually rehousing the Cuban parliament.

It has recently re-opened to visitors

For a small fee parts of the building can be visited today. As there are still construction works, and as the building is sometimes used for special functions, be prepared for partial openings and sporadic closures. But it is well worth trying to go in to experience the opulence of the interior. And even if you can't get in, it's still worth a look from outside, and at such a central location you'll be well located to visit many other interesting sites too.