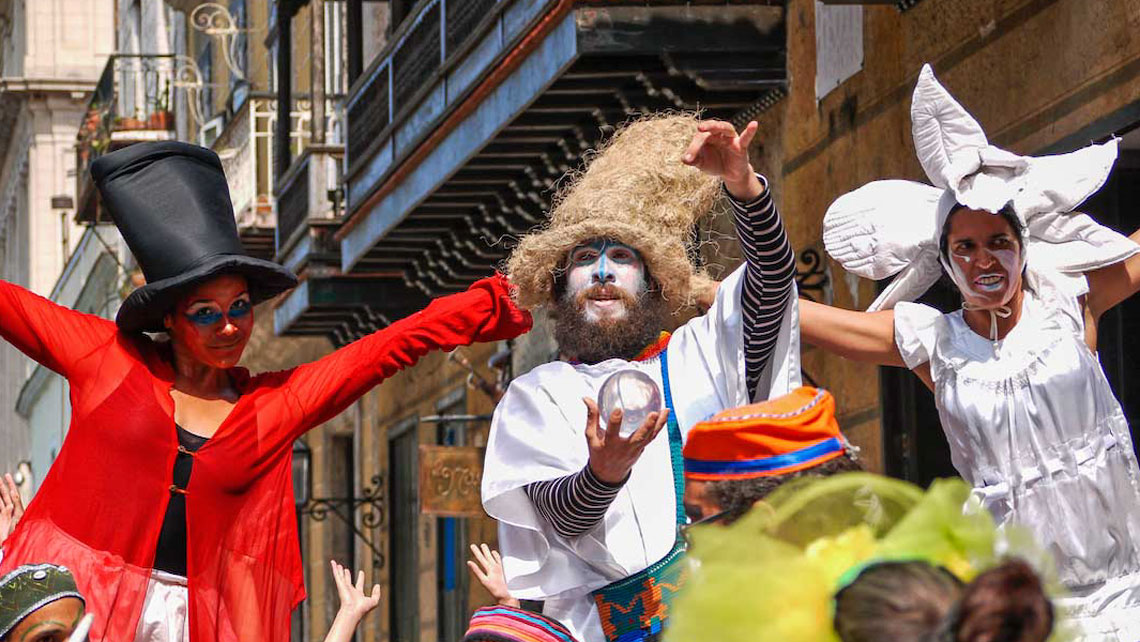 All-inclusive beach resorts seem like the perfect plan for a holiday. Varadero, the most coveted beach destination in Cuba, ticks all the boxes: amazing beach, white-powdery sand, and perfect weather all year long. But, trust us, after four to five days of an all-inclusive buffet, after seeing the same people lying under the umbrellas at the beach, and after saying "Hi" to the same folks in the hotel lift, you'll be screaming for a day break like... now!
You might start to wonder what's going on in the nearest city, or what's so special about that city tour people are talking so much about. "Oh man, the mojitos were great in Trinidad", or "OMG, Havana's old town was unbelievably beautiful!" is all you're hearing at the lobby bar. That's why we've hand-picked the best day trips you can do from Varadero. Read on to find out.
CubaDirect TM offers all of these day tours as part of your tailor-made holiday itineraries to Cuba – you can reserve any of them during your booking process or at your welcome briefing with one of our representatives.
Soak up Havana's vibrant culture

Spend a day exploring Havana for a more accurate idea of Cuba's cultural backgrounds. Declared a Unesco World Heritage Site in 1982, Old Havana hosts the Caribbean's most important historical landmarks, including a series of fortresses and castles from the 16th and 17th centuries. Don't miss Castillo de la Fuerza and Castillo de los Tres Reyes del Morro.

Colonial mansions turned into museums are remarkable doorways to the relics, architecture, and traditions that shape the city's identity. A walking tour around the four colonial plazas (Plaza San Francisco de Asís, Plaza de la Catedral, Plaza de Armas and Plaza Vieja) is a good starting point before choosing to take a cocktail break at the Museo del Ron (Rum Museum) or at the Hemingway-favorite La Bodeguita del Medio.

A day tour to Havana is better completed with a ride to the modern part of the city (it's not that modern but is certainly newer than the old town!), with a stop at Plaza de la Revolución, home to many of Havana's mass events. If you have a particular interest in tobacco traditions, ask for a stop at one of Havana's iconic cigar factories, where guests are introduced to the process of hand-picking, rolling and aging of the tobacco leaves.

Read more about combining Havana and Varadero: A Holiday Itinerary to the Best of Cuba

Mix historical cities with nature: Cienfuegos & Trinidad

Most tourists miss the real Cuba, especially those who choose to stay at a beach resort for the full length of their holiday. If you're more into interacting with locals, eating local food, and exploring natural landscapes, book yourself a guided tour to the nature reserve of El Nicho, via Cienfuegos or Trinidad (or both!).

A tour guide will pick you up early in the morning and take you all the way from Varadero to Cienfuegos, cruising along smaller urban centres such as Cárdenas city and Jovellanos, making a quick stop at Aguada de Pasajeros. Start off with a visit to Cienfuegos city centre, a French-inspired village that is among the "youngest" of those founded by Spaniards during the colonial governance – it's only 200 years old! Then, it's a one-hour drive to Trinidad, which is (only) 505 years old.

Read more about in Our guide to Trinidad

Trinidad was Cuba's economic centre during the sugar boom of the 16th and 17th century, making it a grandiose village, surrounded by the Valle de los Ingenios (the Valley of the Sugar Mills), also a Unesco-listed site. Make a stop at La Canchánchara for a cocktail of rum and sugarcane juice. Thankfully, you don't have to pronounce it right to get one!

Finally, embark on the adventurous part of the trip, discovering the Cumanayagua mountains and enjoying the beautiful scenery of Cuba's central area. Once at El Nicho, trek through Sendero de Las Mariposas (the Butterflies Trail) before arriving to the gorgeous waterfalls and water ponds (pocetas in Spanish).

Read more in our blog 8 Things to do in Cienfuegos

Learn about wildlife conservation in Guamá

Located in Cuba's largest wetland, the Ciénaga de Zapata, Guamá sports the largest crocodile hatchery in the island as well as a centre for breeding Cuban cotorras (Amazona leucocephala). The entire area is a biosphere reserve and deserves a full day of exploration, with chances to photograph endemic species such as the Cuban hummingbirds and the endangered Manjuarí (Cuban gar fish).

Don't miss a chance to go snorkelling to the nearby Punta Perdiz, where glassy waters allow for watching colourful tropical fishes, sponges and corals.

Enjoy Cuba's best bird-watching in Ciénaga de Zapata

There's no need to be a professional birder in order to enjoy a day in the forests of Ciénaga de Zapata. Choose among a number of trails and enjoy the precious gift of wildlife in its natural environment. Salinas de Brito, Enigma de la Roca, Soplillar and Los Hondones are among the trails to follow for spotting flamingos, spoonbills, spatula, ibis and herons. You may also see some endemic species, such as the Zapata Sparrows and Bee Hummingbirds. This trip allows to observe birds on their migratory route from November to March.

Cuba hosts over 360 species of birds, 28 endemic (including the world's smallest, the Bee Hummingbird) and 60 endemic subspecies. It is said that 22 of them live in Ciénaga de Zapata!

Read more about Cuba's Best Kept Secret: Ciénaga de Zapata

Explore Viñales' mogotes and tobacco-related traditions

Awe-inspiring landscapes, hiking trails, tobacco plantations and ridiculously kind people is pretty much what makes Viñales a favourite place among travelers to Cuba.

A day tour to the tranquil (and spectacularly beautiful!) Viñales Valley usually starts with a visit to Los Jazmines viewpoint, where travellers take the best panoramic photos before continuing with a tour to a tobacco plantation and a farmer's house. It's a great way to understand the origin of tobacco in Cuba, and the agricultural process of cultivation, sowing, harvesting, curing and manufacturing cigars. Also, it's easy to visit one of the many secaderos (drying houses) along the way, where you'll see how the wet leaves eventually turn into cigars.

There's also a number of limestone caves, a huge prehistory-themed Mural and lots of small restaurants to enjoy some of the best Cuban creole food.

More about it in our blog 48 hours in Viñales
Travel Tip: You may opt to use these excursions as transfer-tours to connect two destinations on your itinerary. Ask your REP for help on arranging this for you.