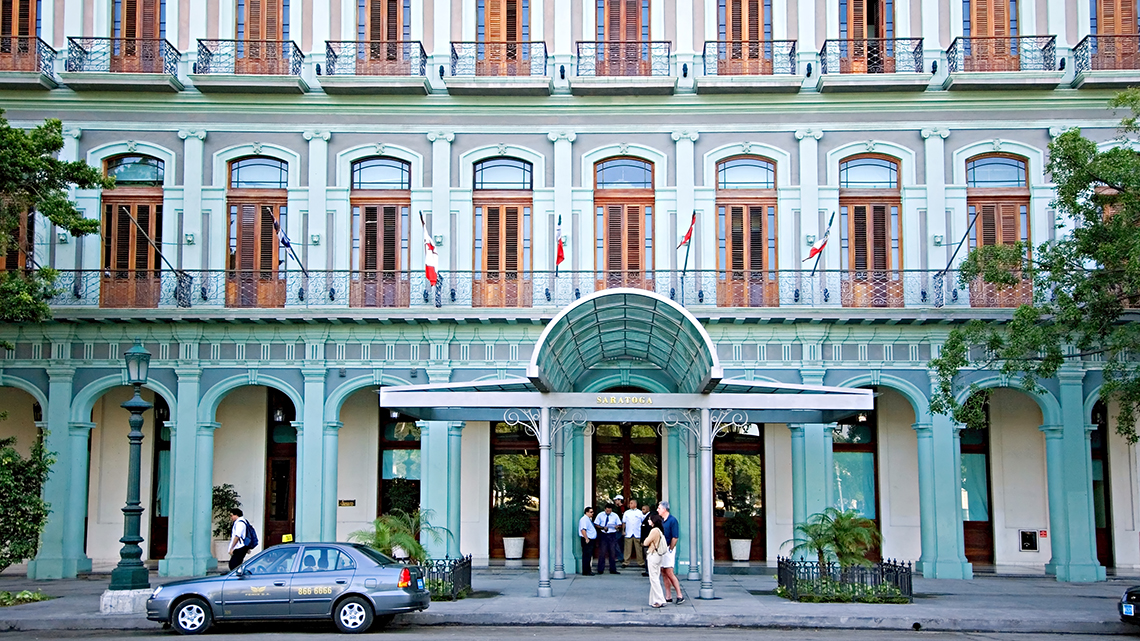 One of the perks of hotels in Cuba is that they offer a range of services to tourists, even if you are not staying at the hotel. Almost all reputable hotels have restaurants, cafés and bars. Meanwhile, there are many other amenities, such as shops, travel services and internet facilities available too. On top of all of this, the hotels tend to be overstaffed, which means there are many people at hand that can try and help you with whatever it is you need.
For nearly 150 years Havana has had some outstanding hotels, and many of these grand and captivating places are available to stay at today. From the outside they are usually an architectural statement to the world around them. And inside, they tend to be charming too. So if you're looking for hotels with atmosphere and history, here are 5 places that have a lot to offer.
Hotel Inglaterra

This is Havana's oldest hotel. It first opened in December 1875. "Inglaterra" is the Spanish word for England, and you'll notice that a British flag is flying at the top of the building. Meanwhile, on the street beside the hotel (San Rafael) you'll see a London Underground sign with the world "England". Whilst the name of the hotel is not thought to be due to a direct connection with England, it is worth noting that Winston Churchill stayed here in 1895. Back then he was working as a journalist, reporting on military developments during Cuba's War of Independence.

The hotel has played various roles in Cuba's history. For example, back in 1890 General Antonio Maceo stayed here for six months. Maceo was one of the important heroes of the Cuban war of independence, and there are various statues, parks and street names in his honour across Cuba.

An interesting idiocyncracy of Hotel Inglaterra is the contrast between the exterior and the interior. The facade is in a classical order - refined, symmetrical, harmonious. Considering the name of the hotel, it wouldn't be out of place in England. However, step inside and the interior is lusciously decorated in an exuberant style that far more Moorish than English.

It is also a great place to go for live music, both the ground floor terrace and the rooftop bar have bands every night.

Hotel Nacional

Since its competition in 1930, this has always been one of Havana's largest and most prestigious hotels. A place where over the years innumerable well known people from around the world have chosen to stay. Prior to the 1959 revolution notable guests included Marlon Brando, Walt Disney, Frank Sinatra and Ava Gardner. Following the revolution it hosted famous people who were sympathetic to the cause, such as the author Gabriel Garcia Marquez, and the Soviet astronaut Yuri Gagarin. In recent years it has hosted the Russian President Vladmir Putin, the Chinese President Xi Jinping and former US President Jimmy Carter.

What makes this hotel so special is that whilst it is one of the most equipped hotels in the city, it still retains much of the original decor and ambience. The lobby is delightfully decorated by the original Cuban mahogany and antique clocks, whilst much of the furniture is well in keeping with the age of the hotel.

The hotel backs onto the Malecón, providing a lovely sea view. And if that's not enough, step out into the gardens and you'll discover that you are standing on the historic Hill of Taganana, with old coastal artillery from the historic "Santa Clara Battery" on display. This spot was used again in 1962 during the Cuban Missile Crisis. You can even do guided tours to visit the underground tunnels that were built under the hotel.

Hotel Sevilla

Built in 1908, from both outside and inside this place has "got it". From outside the hotel takes the eye. It is designed in a style that is often termed "Cuban eclecticism", combining lots of different elements, both native and foreign. This particular building clearly has some influences from old Moorish designs, among others.

When entering the building one is instantly dazzled by the ornate tiling patterns and a space so wide that you could happily just stroll around the lobby for a while. Alternatively, take a seat and relax. It's much more serene than in yesteryears - had you been here during the 1940s and 1950s, its casino (no longer in use) was very popular with the mafia in Havana. Small wonder, then, that Grahame Greene chose to feature this building in his classic novel Our Man in Havana.

The hotel includes a rooftop restaurant that, whilst only four stories high, has one of the best view of the dome of the iconic El Capitolio.

Hotel Saratoga

This building was completed in 1888. Interestingly, it was originally built with the intention of having the ground floor as a store and tobacco warehouse, the second floor for housing and the third floor as a guest house. By 1911, though, the whole building became the Hotel Gran Alcázar, and in 1933 it changed its name to Hotel Saratoga. Between the 1960s and the late 1990s it ceased to be a hotel, and was instead used as multifunctional local neighbourhood building.

In the late 1990s it was restored to a hotel, and has had a lot of renovation work done. It has kept many of the old features, but also added lots of modern aspects, especially the rooftop swimming pool and various 5-star facilities. It therefore simultaneously has a feeling that is both old and new. This hotel has won multiple travel awards in recent years. Small wonder, then, that The Rolling Stones stayed here in 2016, and Madonna and Will Smith the following year.

Hotel Plaza

Whilst the other hotels listed above pride themselves on having internationally acclaimed hotel standards, this place lags a bit behind. But so long as you're not expecting super luxury and want to encounter an atmosphere that takes you back in time, then come here. This is the kind of place one can imagine Sean Connery's James Bond staying at. It was completed in 1909, and by the 1950s had a casino inside it that was partly owned by the infamous mobster Angelo Bruno. As with Hotel Saratoga, this came to an end with the Cuban Revolution in 1959. In the late 1980s the building was restored, and has been open to guests since 1991.

Hotel Plaza can lay a solid claim to having had one of the most intelligent guests in history. For it was here that Albert Einstein stayed during his trip to Cuba in December 1930, a fleeting visit to the island lasting just 30 hours!