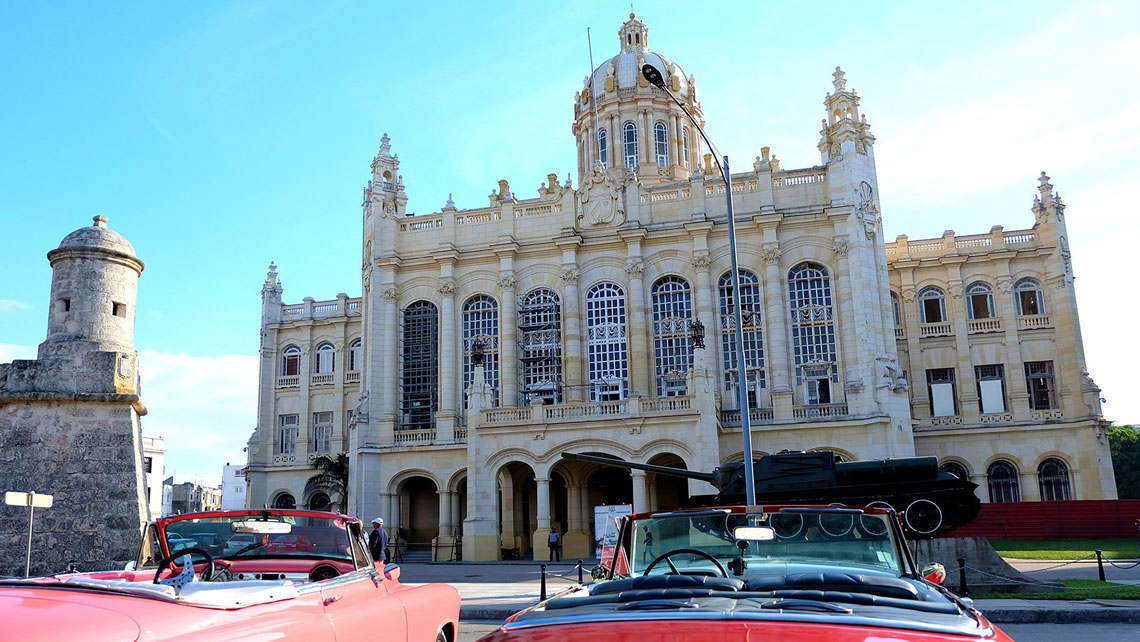 When it comes to museums, one is spoilt for choice in Havana. At current count, Havana has over 50 museums, plus many places which are effectively museums in all but name. Havana is one of the cultural capitals of the world, and whilst the city's nightlife is second to none, during the daytime the museums of Havana can provide equally memorable experiences.
Havana's top museums, our recommendations
One of the joys of going to museums in Havana is that, unlike in large European cities, there are rarely huge crowds of people swarming around the galleries. Cuban museums tend to be well looked after, and there are usually staff at hand who can be very informative. With so many places to choose from, the list below is not definitive, but should you be in the city, then a visit to any of these museums should provide plenty of food for your mind.
Museum of the City (Museo de La Ciudad)

Being located in such a strategically important part of the Caribbean, Havana has been an epicentre of activity for 500 years. As one of Latin America's most unique and culturally rich cities, this museum is a great place to start to get to know the city. It is full of lots of different artefacts from the past, such as random personal possessions from years ago, and 19th-century horse carriages. The photographs also give you a glimpse into bygone Havana but also demonstrate how, compared with many other cities, much of Havana's old architecture still remains, albeit in varied conditions.

Along with Havana-centric displays, there are plenty of artefacts related to Cuba's struggle for independence. You can see what is thought to be Cuba's first flag, that was first used in 1850, canons captured from the Spanish during the independence wars, and a boat used by the independence hero General Antonio Maceo. Should this diverse range of objects not be enough, the building itself is a gem, once the seat of the Spanish government, and dating back to the 1770s. It is a great example of Cuban baroque architecture.

Museum of the Revolution (Museo de la Revolución)

This enormous museum focuses on Cuban history, especially from a political perspective. Its vast size is due to the fact it is housed in a former presidential palace, built over 100 years ago. There are displays going back to pre-Columbian Cuba, though one of the main focuses of the museum, as the name suggests, is the Cuban Revolution of 1959. The revolution defined Cuban modern history and had worldwide reproductions. The museum also has a section on the 19th Century independence movement, that eventually led to Cuba freeing itself from Spanish colonial rule.

Should you be short of time, or happen to arrive at the museum when it is closed, the building is still worth strolling past from the outside. Not just to enjoy the splendour of the palatial architecture, but also to because in front of the museum you can see tanks, rockets, planes and cars that were all used by the Cuban revolutionaries.

National Museum of Fine Arts (Museo Nacional de Bellas Artes)

This place houses by far the largest art collection in the Caribbean. It is so enormous that it has to be separated into two buildings. The building dedicated to international art is called "Centro Asturiano", whilst the building dedicated to Cuban art is called "Palacio de Bellas Artes".

The Centro Asturiano has everything from Ancient Roman mosaics to Spanish baroque paintings, including works by Diego Velasquez and José de Ribera. This is certainly worth a visit if you are a lover of historic works of art. The real special gem, though, is the Palacio de Bellas Artes. If you only have time to visit one of the buildings, choose this one. It is very unique to Cuba, displaying an extensive range of Cuban artwork that does not exist anywhere else in the world.

Set over three floors and ordered chronologically, it spans 500 years of artistic heritage. As well as displaying older works of art, there are also lots of eccentric and powerful pieces made in recent decades too. With so much to see you could spend many hours here. A good way to navigate your way through the multitude of artworks is to use one of the museum's tour guides, who are great at picking out certain pieces and giving them context and further elucidation.

This museum is particularly worth a visit on a sweltering hot day, as it is very well air-conditioned.

Taquechel Pharmacy Museum (Museo Farmacia Taquechel)

Whereas you could spend hours and hours in the museums mentioned above, this is the best place to go for a quick in-and-out visit. It provides a fascinating glimpse into an old pharmacy that was created in 1898. The interior still retains the most magnificent woodwork, including shelves made of mahogany and cedar that span from the floor to the ceiling. The displays include medical jars and instruments dating back to the 19th century that were used in the city. Interestingly, the space is not just used as a museum but also functions today as a working pharmacy, with various drugs available including Cuban made natural products.

Ernest Hemingway Museum (Museo Ernest Hemingway)

It is called a museum, but to be more specific it is the former house of the American writer Ernest Hemingway, who lived much of the last 20 years of his life here. It was here that Hemingway wrote some of his acclaimed works, including much of "For Whom the Bell Tolls" and parts of "The Old Man and the Sea" and "A Movable Feast". In recent decades it has become increasingly popular with visitors, and since various restoration efforts is now an intriguing peephole into Hemingway's private world. To prevent theft of the objects inside, visitors can't walk inside the house, but you can get a very voyeuristic experience from the outside, with the windows open. Note, on rainy days the museum is often closed, check before you visit.

This museum requires travelling to the outskirts of the city, though this can easily be arranged by taking a taxi from the centre, which considering the distance is relatively inexpensive. There are also some tourist buses that travel out there from the centre, but best to check with a travel agency or hotel for the latest schedules, as these frequently change.

Note, in the view from the museum you can also see the dome of Havana's iconic El Capitolio building.