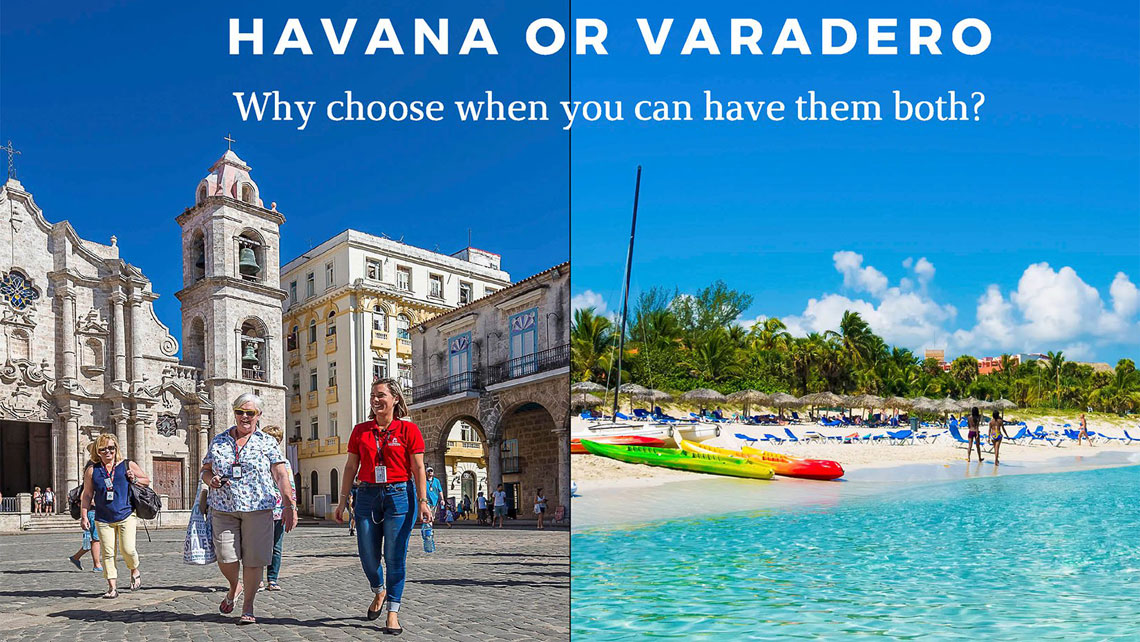 If a mix of city sightseeing followed by the Caribbean's best beach relaxation sounds like your kind of holiday, then a trip to Havana and Varadero is the next thing to check off your dream holiday bucket list. About two hours (83 miles) from each other, Havana and Varadero offer a unique opportunity to experience two holidays in one.
Itinerary suggestion for a Havana and Varadero holiday – why?
Havana is the heart of Cuba, both in cultural style and time-wrapped architecture, and is therefore the first stop on most travellers' itineraries – nearly all regular flights to Cuba arrive to Havana's José Martí International Airport. Two hours away by car, Varadero is listed among the most impressively beautiful beaches in the world. Dotted with numerous hotels along the 13-mile peninsula, Varadero offers a wide range of holiday options, both in price and facilities.
How long to stay? What's there to do? Here's an itinerary suggestion very popular amongst our clients to help you get an idea of the benefits of a Havana & Varadero holiday break.
Havana – three days to a full week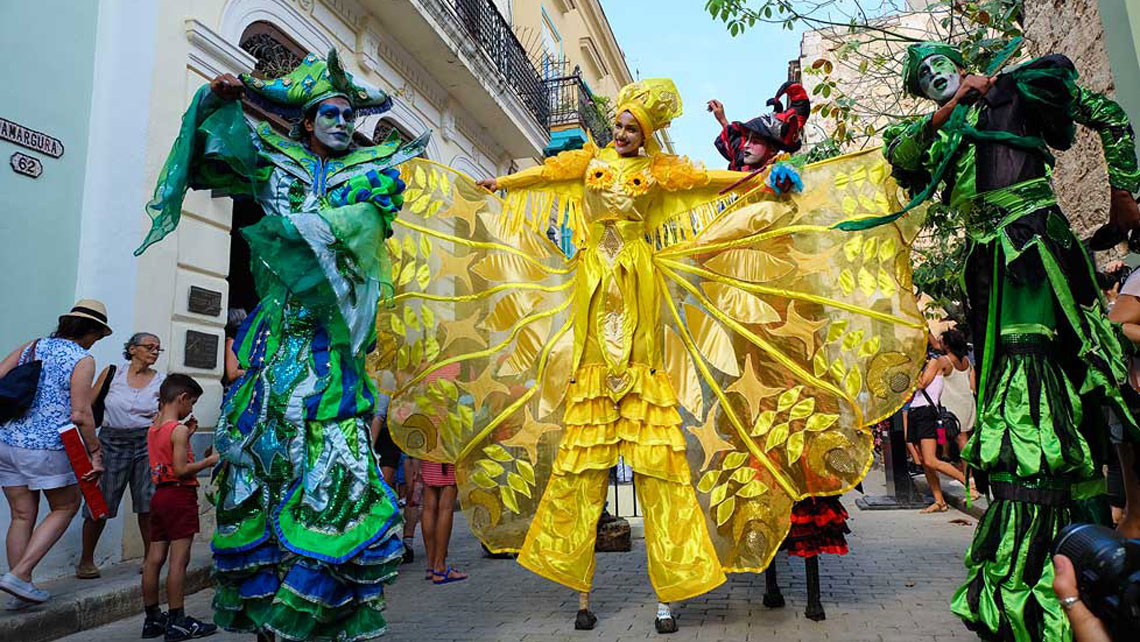 Immerse yourself in Old Havana for a dose of Cuban culture
Starting the holiday in Havana allows you to take advantage of all the energy and willingness to explore that you bring from home. Use these first days to sightsee Old Havana by foot, walking the old cobbled streets and enjoying the spectacular culture and local life at every turn.
Explore Havana's museums, which bare testimony to the 400 years of Spanish colonial rule and the pro-independence wars that finished with the 1959-revolution. If you're not as interested in the history and want to learn about modern Cuban culture, you can take part in salsa lessons, culinary tours, and day tours to the outskirts of the city. The most popular day tour for anyone staying in Havana is to the tobacco lands of Viñales (just three-hours west from Havana).
As per the nightlife, choose from cabaret-styled shows to jazz gigs to live salsa. Havana has room for every type of culture vulture.
Where's best to stay in Havana? Casas particulares or hotels?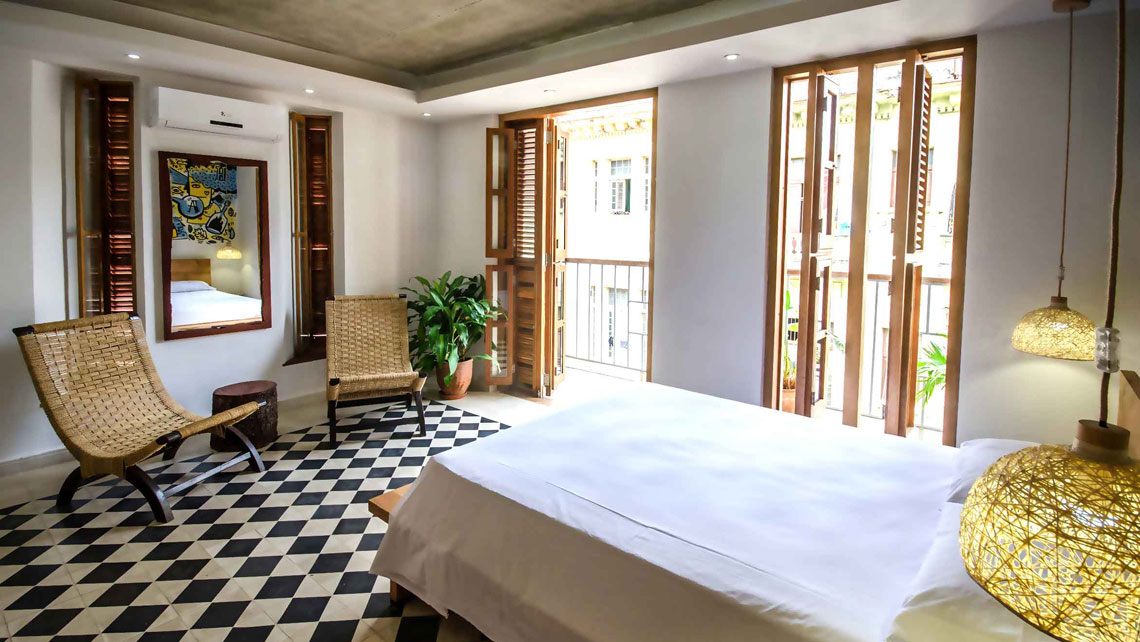 Residencia Santa Clara is one of many top end casas particulares that CubaDirectTM offers in Cuba
There's a growing selection of well-equipped hotels to choose from in Havana. From Iberostar's Parque Central and Grand Packard, located in the heart of the old city centre, to the luxurious Gran Manzana Kempinski or the more affordable NH Capri, there's an option for all tastes and budgets.
However, our Cuban-born travel consultants at CubaDirectTM usually recommend that travellers stay at casas particulares, a form of private homestays owned by locals that have become quite popular among visitors from across the world. Casas offer the local warmth and cultural insight that few hotels can match, while allowing for a more immersive experience into the real Cuba. While the idea of 'home stay' can sound daunting, all of the casas used by us are five-stars casas, equivalent to or better than a five-stars BnB.
Read more about this in our blog Cuba's Casas Particulares: 5 Reasons Why We Love Them
What's there to do in Havana?
Walking tours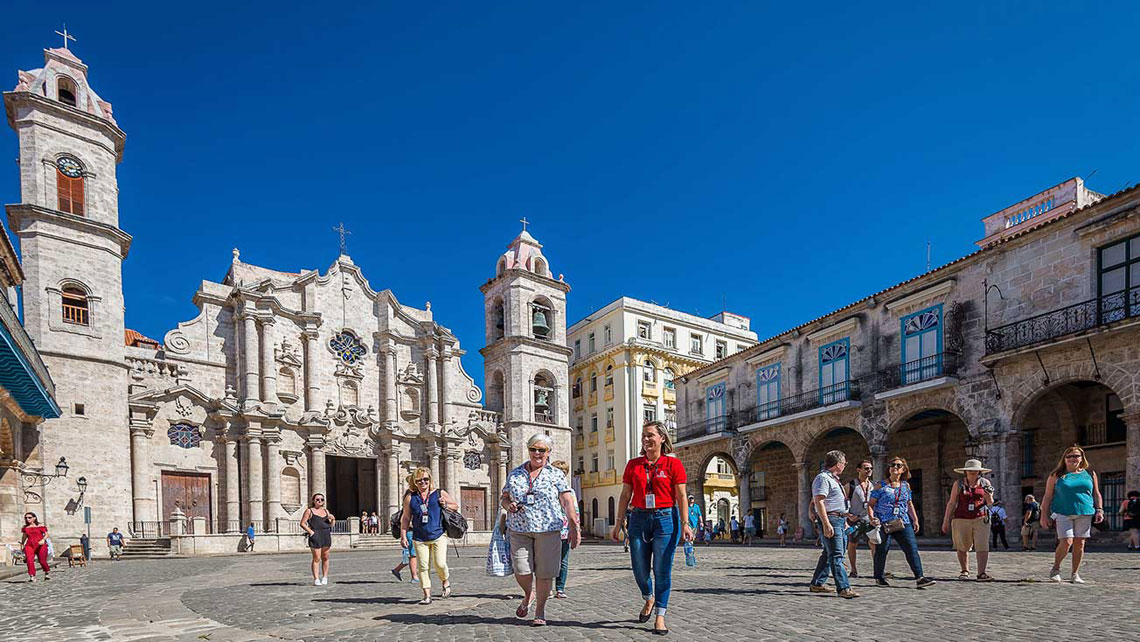 Old Havana is dotted with gorgeous colonial squares like Plaza de La Catedral
Start off your holiday with a walking tour of the city centre so you can get fully acquainted with the history of the different plazas and zones that come together to make up the wonderful city. Havana was built around four main colonial squares and military fortresses that are still standing as icons in the heart of the city. Explore at your will, either in a guided tour or on your own. If you have a particular point of interest, our team of reps can help match you up with a specialist guide. We have access to specialist architecture guides, revolutionary guides, santeria (Afro-Cuban religion) guides and many more.
City tours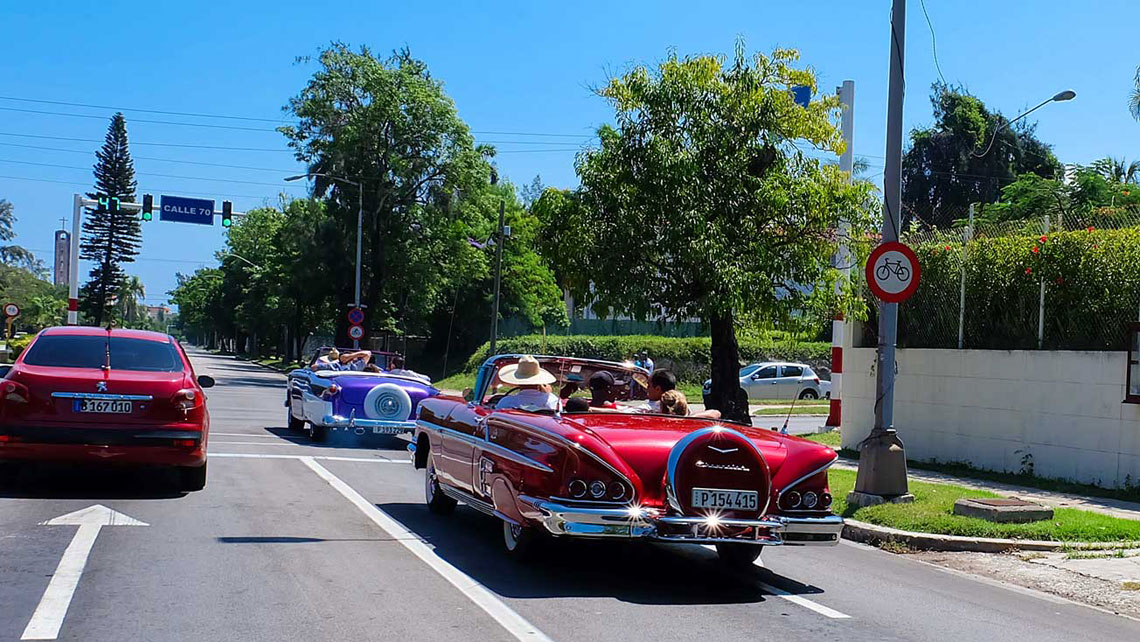 A city tour on a classic vintage car offers a glimpse of the city outside the historic zone
Once you have tasted the sultry air of Cuba's capital city for a day, book a city tour in a classic vintage car that will take you to explore other areas of Havana, such as the more modern Vedado downtown and Miramar's residential areas. This is a great opportunity to see more than the touristy centre and get a glimpse of the city outside the historic zone. Along the way you'll see the revolution square, the famous Hotel Nacional and cruise along the entire 8km-long malecón.
Day tours to Las Terrazas and Viñales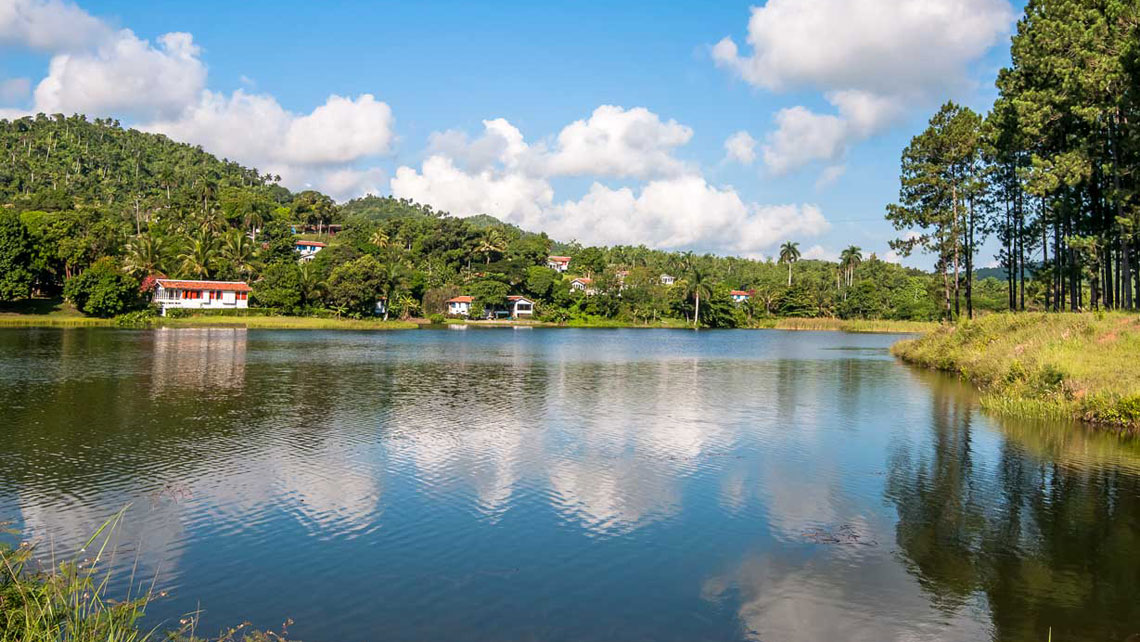 Las Terrazas' eco-community is just an hour away from Havana centre
If exploring nature is the kind of outdoor activity that resonates with you or your loved ones, then save energy for full-day tour to Las Terrazas or Viñales. These are nature-filled protected areas, just a few miles from Havana.
Las Terrazas offer a unique chance to discover Cuba's first eco-conscious community, built on the hillside of a devastated forest back in the 1960's, that was brought to life again using a terrace-by-terrace model (hence the name Las Terrazas – "terraces"). There are small ponds and rivers to explore, trekking paths with birdwatching opportunities, greenery all over, and local artists sharing their handcraft products to visitors. And it's just an hour from Havana!
Viñales is also a must-see for adventure seekers and cigar enthusiasts alike. Dotted with picture-perfect, rounded limestone mountains (known as "mogotes"), Viñales offers fun-filled adventures like zip lining across the valley, horseback-riding, trekking tours, and remarkably good local food.
Also, Pinar del Río's lands are worldly known as the best for tobacco growing. Let the locals explain exactly why it is so.
Read more about things to do in Viñales in our blog 48 Hours in Viñales
Varadero – five to ten days, depending on how badly you need a holiday!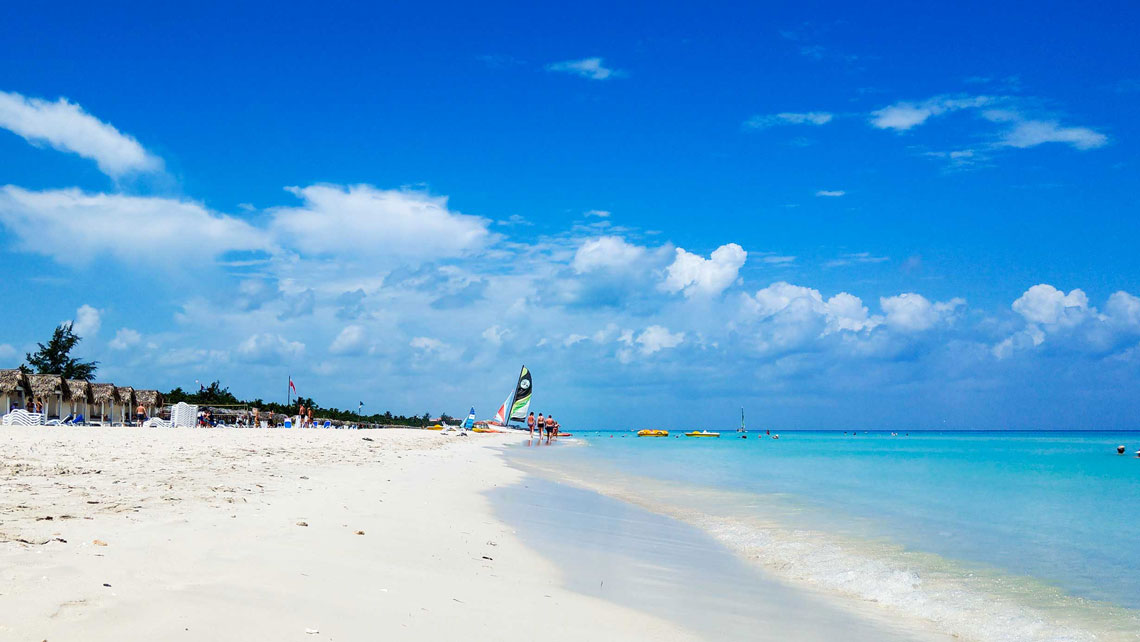 Where's best to stay in Varadero? Hotels or Casas particulares?
Although there's a small selection of casas particulares in Varadero, we at CubaDirectTM almost always recommend staying at a beach resort, not only because they provide all-inclusive amenities but also because water sports and excursions are more readily available when you're staying at a hotel. Varadero is a 13-mile-long peninsula with white chalky sands and clear sparkling waters, the perfect way to relax and unwind after a few exciting days in Havana.
Beach resorts range from the more affordable ones like the adults-only Blau Varadero or the family-friendly Sol Palmeras, to the luxurious award-winning Royalton Hicacos (sporting a spa and five specialty restaurants) or the recently inaugurated Meliá Internacional (Cuba's most modern facility with smart home technology applied in the hotel premises).
What's there to do in Varadero?
... besides nothing but rest and relax under the sun with a cocktail in hand...
Water sports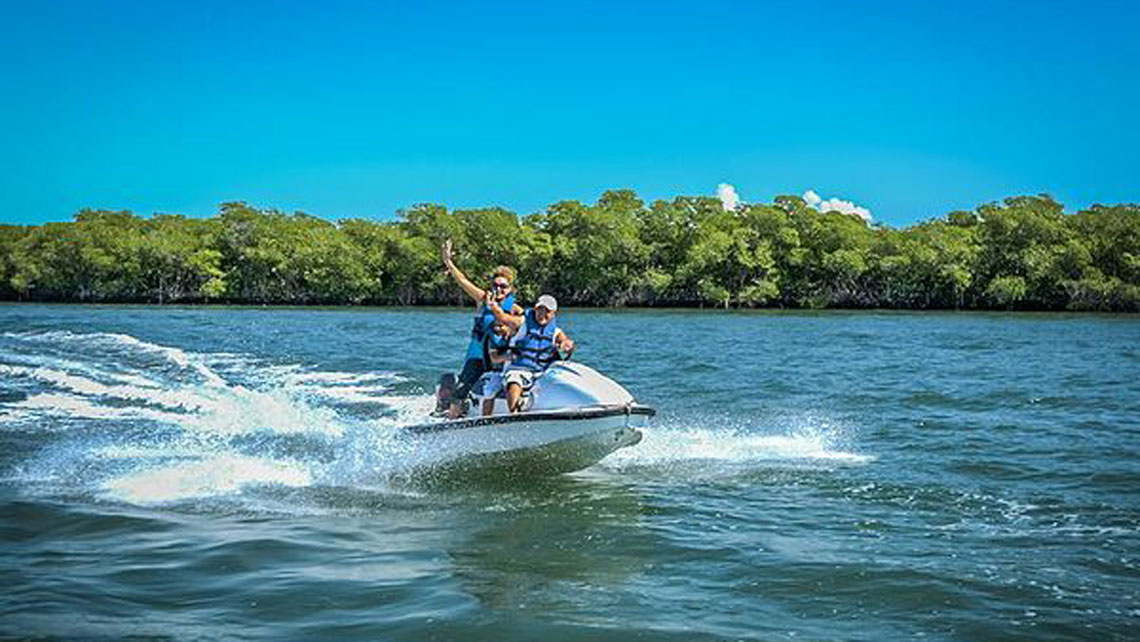 Scuba diving or snorkelling in the sea are among the favourite activities in Varadero, while you can also try and do some kayaking, water-bicycling and strolling along the beach. There are other options depending on the resort you're staying, such as skydiving or kiteboarding.
Catamaran trips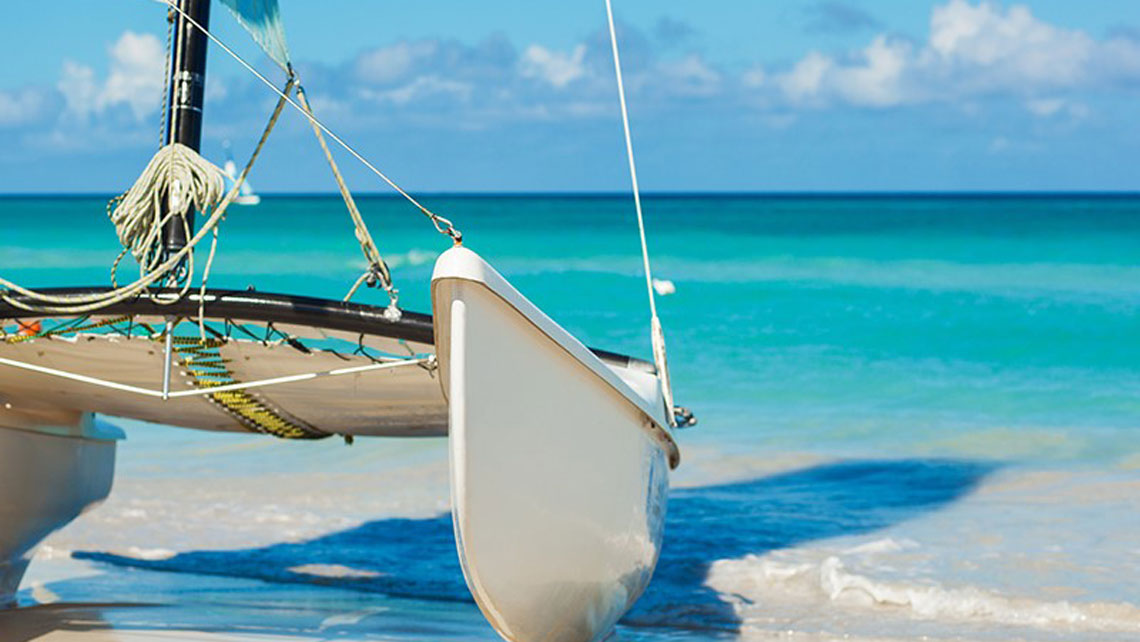 Alternatively, you may want to explore further afield with a scenic catamaran trip to the nearby smaller island of Cayo Blanco – expect powdery sand dunes and crystal blue waters. Catamaran Crucero del Sol and Seafari Cayo Blanco are among the options you can explore with your Varadero representative.
Day tours to Matanzas or Ciénaga de Zapata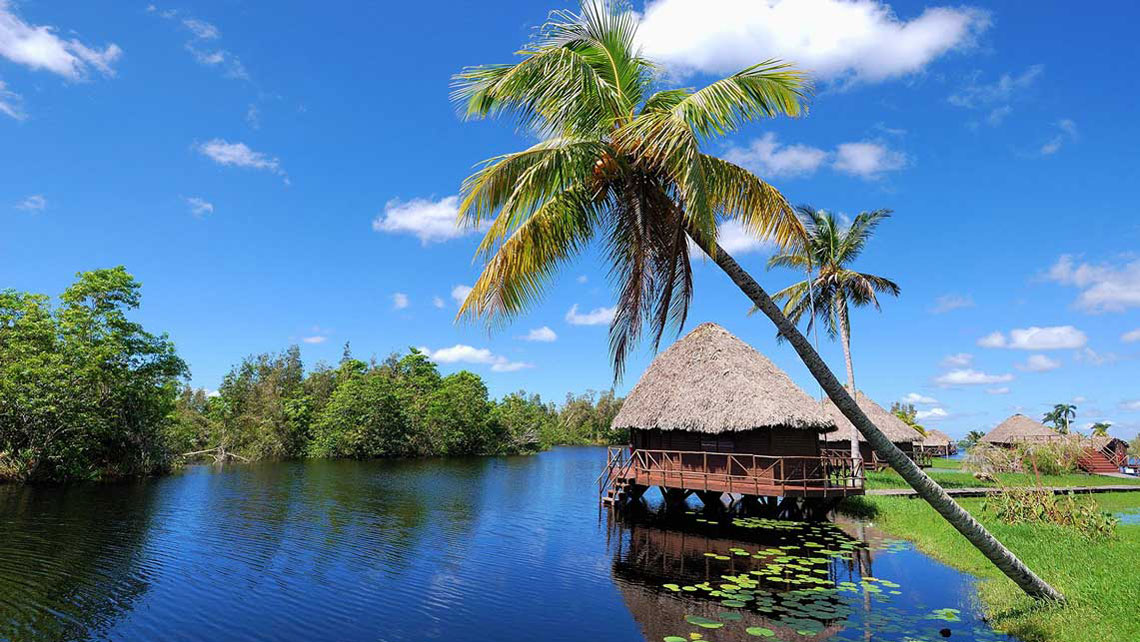 The Unesco Biosphere Reserve of Ciénaga de Zapata is less than two hours by car from Varadero
The largest wetland reserve in the Caribbean, the Ciénaga de Zapata peninsula, is just a short distance away. Come here on a day tour from Varadero and discover Cuba's best kept secret, a land of superb birdwatching opportunities, a vast selection of endemic flora and fauna, and a unique natural landscape. For culture-buffs, nearby Matanzas city is worth a half-day exploration to admire its architecture as well as its cultural expressions, rich in Afro-Cuban folklore. Known as the Athens of Cuba and the City of Bridges, Matanzas was a key point during the 17th and 18th centuries' sugar boom, hence a place of deeply rooted cultural manifestations, such as the percussion-based rumba dance and the waltz-inspired danzón rhythm.
PS: How to get from Havana to Varadero – about transfers
Taxis or coaches?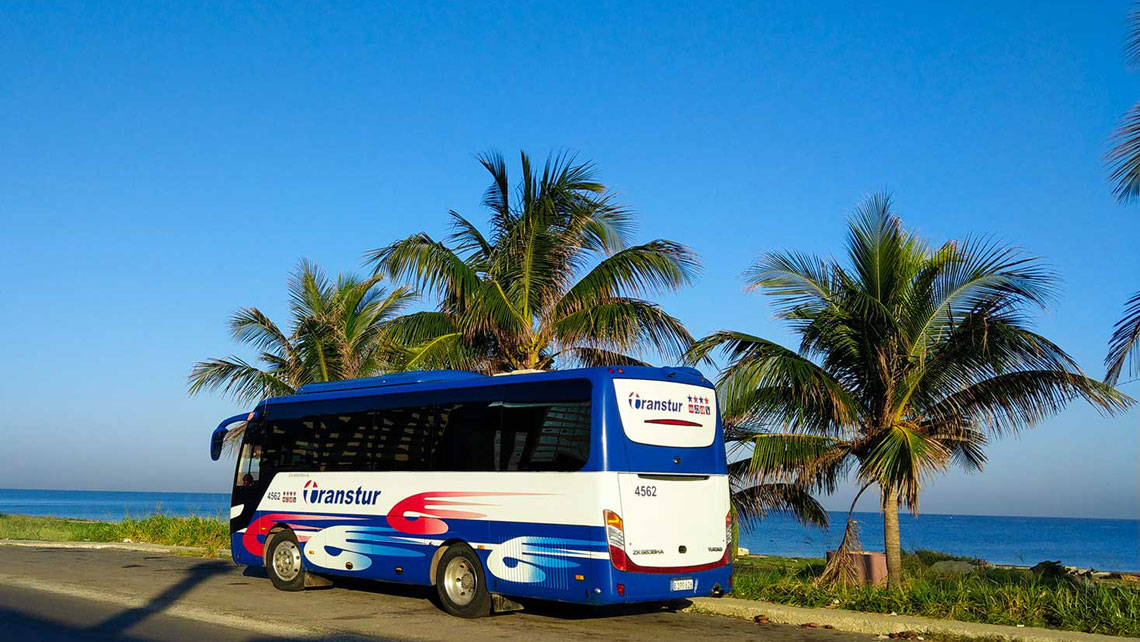 Both taxis and buses are broadly used to connect Havana and Varadero, separated by only 83 miles. Taxis take about two hours or less and shared coaches use about three hours because they collect travellers at hotels around the city before departing. Our sister brand Cuba Taxis Transfers is a one-stop shop if you need to book transfers in Cuba, but if booking your holiday package at CubaDirectTM all transfers between destinations are included.
If you still have questions about a Havana and Varadero holiday, feel free to get in touch with one of our many Cuban friends at Cuba DirectTM. Our Cuban-born travel consultants can offer you invaluable local advice and assist you in designing a tailor-made travel experience that will match your interests and budget.