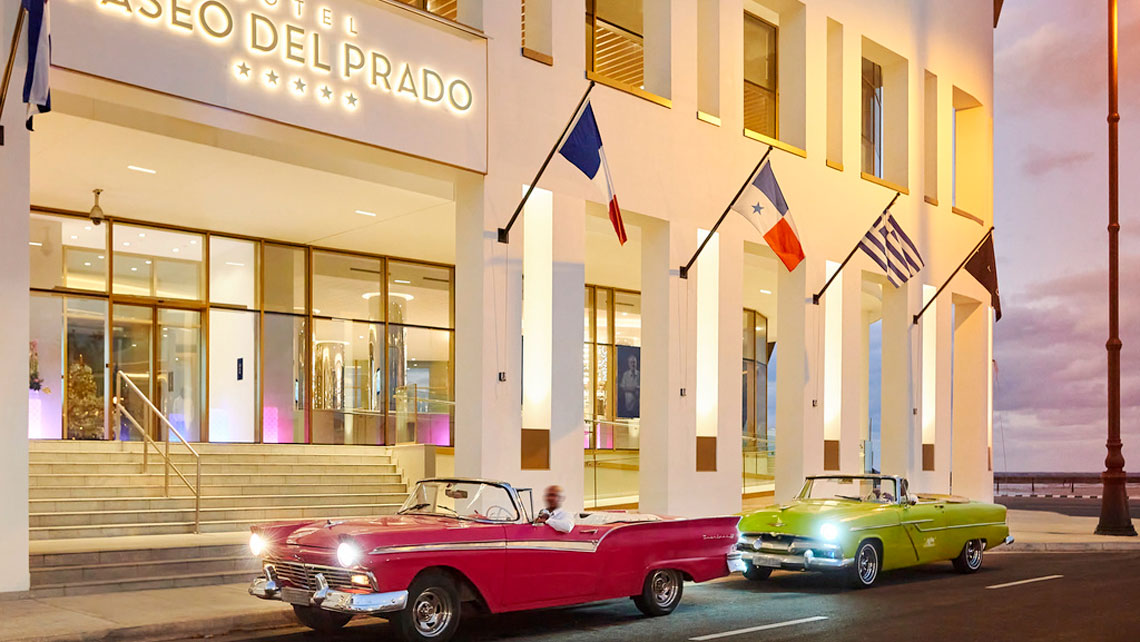 Havana has recently witnessed the inauguration of three brand new hotels that some commentators have been referring to as "5 star-plus", due to their high international standards. These are: Accor Paseo del Prado, Iberostar Grand Packard and Gran Hotel Manzana Kempinski.
This is a big change. Whilst in the past few decades various old hotels have been restored or built from scratch, what makes these latest hotels particularly exceptional is their unequivocal focus on luxury. What does this mean? Subjectively speaking they offer an ambience that aims at being a cut above the rest, especially through original interior designs and layouts. Objectively speaking, it means that all three hotels include:
Multiple swimming pools, gym facilities, spas and hairdressers.

Well-stocked shopping outlets, selling everything from necessities to souvenirs.

Multiple cocktail bars and gourmet restaurants catering to every dietary requirement.

Guaranteed top quality entertainment options every evening.

Well-located and with stunning views.

Premium hotel suites.

Business facilities and high-speed internet connections.
That last point, high-speed internet, cannot be overemphasised. Internet is still not as readily available in Cuba as in many other countries, and therefore these three hotels are some of the best locations in the country if you need to get connected.
What are these new 5-star hotels in Old Havana
All three hotels are situated in Old Havana (Habana Vieja), a UNESCO World Heritage Site. Therefore you are likely to walk past them at some point during your visit. As with other hotels in Havana, it's worth remembering that even if you are not staying at that specific hotel, you can still use some of the amenities available, such as the ground floor shops, restaurants and bars.
Accor Paseo del Prado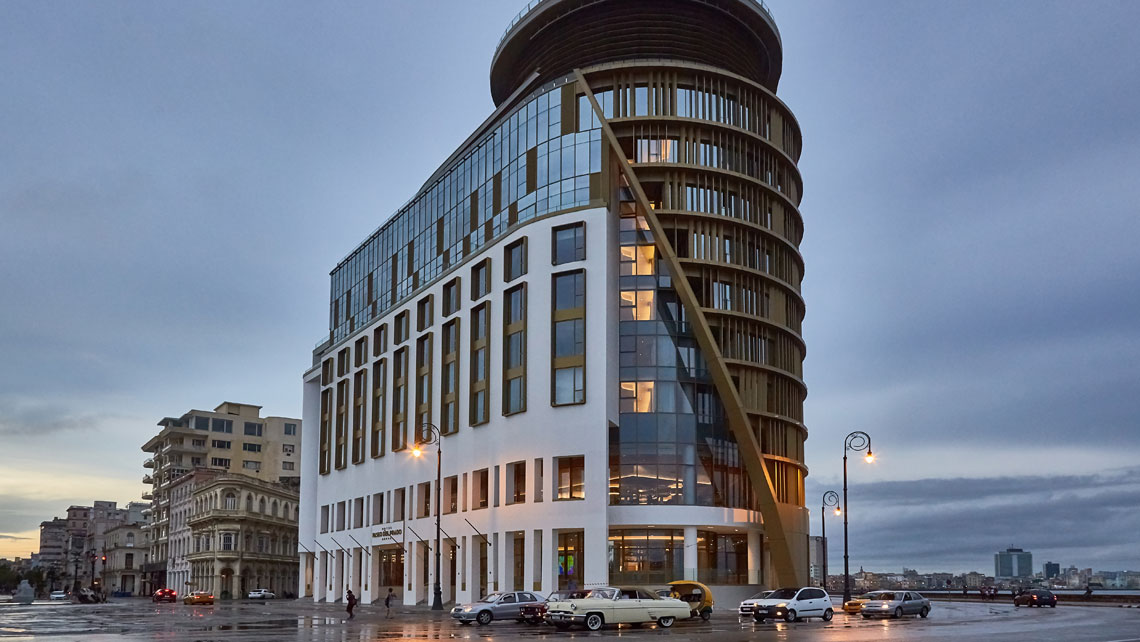 A joint venture between the Cuban state group Gaviota and the French company Accor, this hotel has 250 rooms and 10 floors. It is designed by French architect Michel Regembal, who was one of the four architects behind the Stade de France in Paris.
Interestingly, this brand new building pays homage to the past with its shape. The corner of the building is designed to look like a ship's bow, whilst the top of the building is shaped like the deck of a ship. Countless ships have passed in and out of Havana Bay, the harbour to the east of the hotel, and so the architecture can be viewed as a playful nod to the fact that Havana was once one of Latin America's busiest ports.
The hotel provides immediate views of the Malecón and the sea, with floor to ceiling windows in many of the rooms. You can take the lift to 9th floor for a higher view, and should you want to go even further up, you can take the steps that are designed to feel like ascending to the top deck of a ship. Once on the top "deck", you can enjoy one of the best 360-degree panoramas in the city.
In keeping with the architecture, either side of the hotel is an arcade walkway which corresponds with the height of the arches of some of the neighbouring buildings. Being so close to the sea, the building is made from salt-resistant materials, something of the utmost importance when one considers some of the damage that fine particles of sea spray have done to older buildings nearby.
Iberostar Grand Packard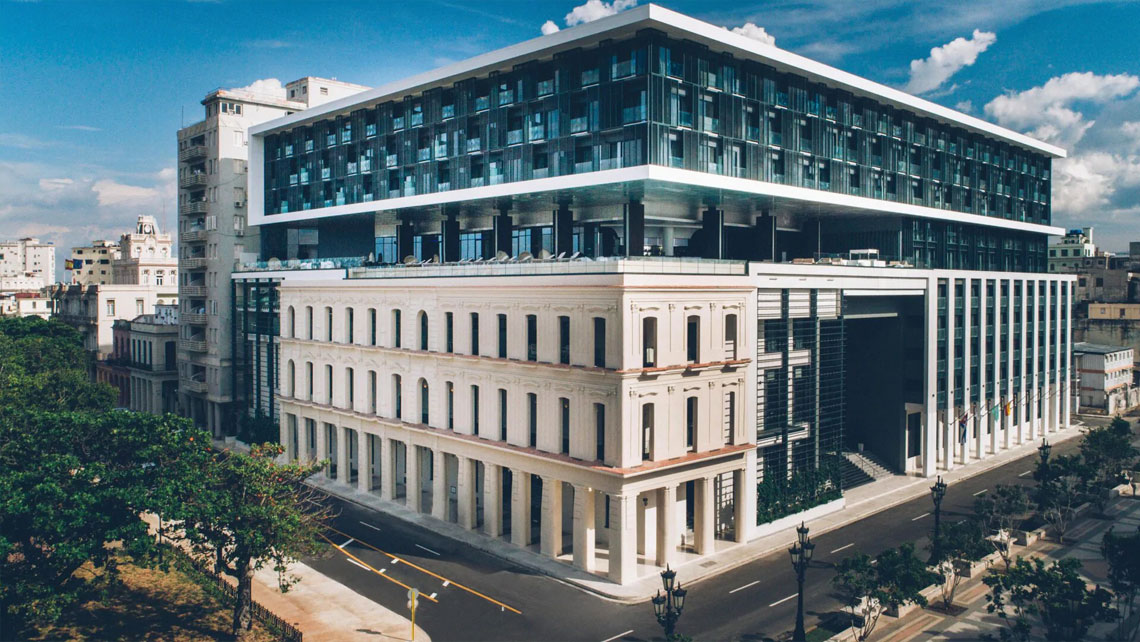 A joint venture between the Cuban State group Gaviota and the Spanish hotel chain Iberostar, this hotel has 321 rooms and 10 floors. It is designed by the Spanish Pritzker Prize-winning architect Rafael, who also oversaw enlargements of Prado Museum in Madrid and the Cathedral of Our Lady of the Angels in Los Angeles.
What makes this building particularly spectacular is the care they went through to maintain some of the facades of the original hotel building, which dates back to 1911, salvaging what they could and not just preserving it but also making it into an architectural feature of the north side of the new hotel.
The hotel has some great vistas. Go for a drink on the 6th-floor bar and you'll be facing directly out onto to some of Havana's most important historical fortresses: you can see the "La Punta" fortress in the foreground, and across the bay is "El Morro" castle and the "La Cabaña" fortress. To stay here, then, is to have the facilities of the 21st century but with a view of centuries past.
Among the outlets available on the ground floor is a room specially dedicated to gourmet chocolate, a fitting choice considering Cuba's historical cultivation of cocoa.
Gran Hotel Manzana Kempinski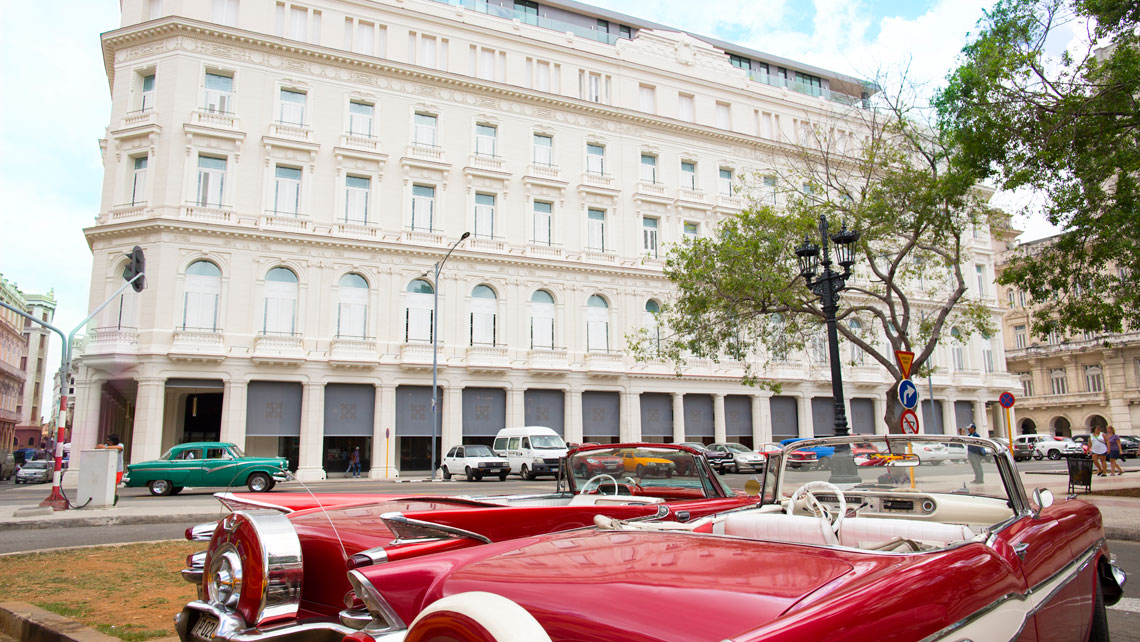 A joint venture between Cuban state group Gaviota and Swiss company Kempinski, this hotel has 246 rooms and 10 floors. It was not built from scratch, instead, it was a restoration and enlargement of a century-old former shopping arcade and commercial building. The restoration was overseen by Cuban architect José Antonio Choy López, known for his work in a range of cultural, commercial and touristic buildings in Santiago de Cuba and Havana. The original building was known as Manzana de Gomez, which is still often referred to by locals.
As part of the restoration, various eco-friendly elements were included, such as the installation of motion-activated light switches. Other new additions to the building include lifts that have three glass sides, which makes going up and down feel less like a mundane activity and more like a fairground ride.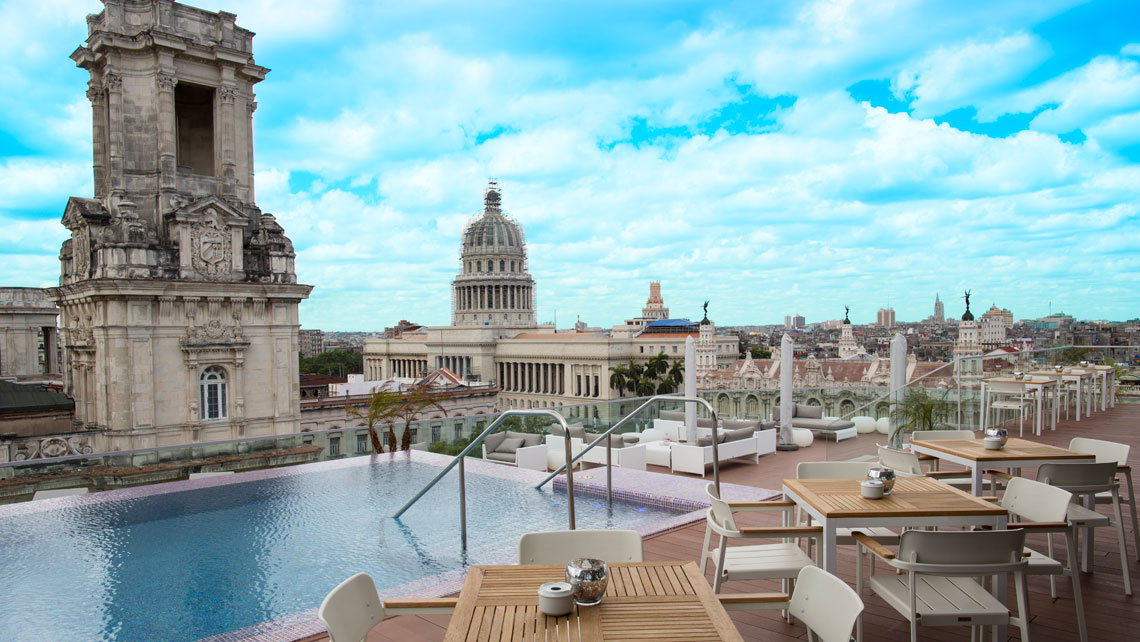 On the ground floor of the building are upmarket shops, including Giorgio Armani, Lacoste, Montblanc and Versace. Whilst having access to these shops is a new development for Cuba, interestingly it also harks back to Cuba's past. A hundred years ago the ground floor of this very building was Cuba's first shopping mall, specifically designed with arcades to enrich the shopping experience. So it could be said that this is as much a historic restoration as it is a brand new chapter.
The rooftop view provides a different panorama to the other two hotels. Whilst it doesn't allow a view of Havana Bay, instead, it gives one of the best views of El Capitolio, encapsulating not just the dome but much of the front facade too.