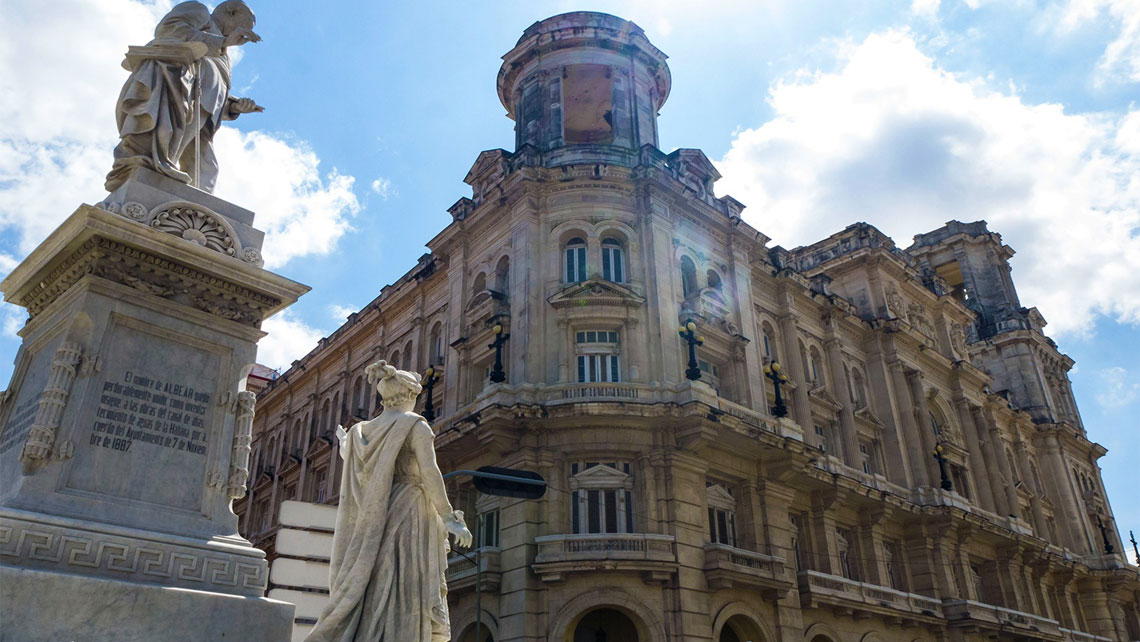 When most people think of Cuba they think of classic cars, Che, beaches and maybe even cocktails. Few people think of museums. What they don't know is that the nation's capital, Havana, is a haven for culture-vultures, history fanatics and art aficionados.
Cuba is home to a particularly impressive art collection, often missed by travellers. This is a legacy of Cuba's early-20th century wealthy elite who, instead of spending their fortunes on fine jewellery or cars, built staggering mansions styled in Renaissance, Baroque, Art Decó or Avant-Gard trends, and packed them full of European paintings, Asian porcelain or Napoleonic-era weaponry! In Havana alone, there are over 50 museums covering topics from the city's colonial history to modern art.
So, take a break from the beach and check out our list of top 10 museums, including the not-to-be-missed and the more surprising venues. Please bear in mind that though all information was correct at the time of publishing, opening hours in Cuba are prone to change ;-)
Museo de la Revolución: Cuba's rebellious history

Housed in the grandiose Presidential Palace, the Museum of the Revolution displays permanent exhibitions documenting Cuba's independence struggles from the 19th century up to the present day.

The halls alone are photo-worthy, particularly the Salón Dorado (Golden Hall) made of yellow marble, and the Salón de los Espejos (Hall of Mirrors). An elaborate chandelier in the palace's chapel is a key clue that New York's famous Tiffany's helped decorate interiors back in 1923.

Some of the walls and staircases still bear bullet holes from a failed coup d'état in 1957, when a group of university students tried to assassinate dictator Fulgencio Batista. Behind the palace, the Granma yacht sits on display, used by Fidel Castro and 81 other revolutionaries to travel to Cuba's Sierra Maestra in December 1956. A SAU-100 tank used in the Bay of Pigs battle (1961) and the life-size representations of rebel commanders Che Guevara and Camilo Cienfuegos are among the museum's highlights.

Location: Refugio No. 1 between Agramonte y Monserrate, Old Havana

Opening hours: Mon-Sun, 10am to 4pm

Museo Nacional de Bellas Artes (Cuban Arts Building): Cuba on canvas

Havana's Museum of Fine Arts should feature on any traveller's Havana itinerary and you could spend a whole day exploring its Cuban Arts' Building alone. Expect a surprising collection of colourful, euphuistic landscapes and religious representations, but also abstract sculptures and a carefully curated series of engravings.

Works of art are displayed chronologically from the third floor downwards, starting with paintings from the Colonial period progressing to the Neo-colonial and Post-Revolution years. Not to be missed are the works of Picasso-like Wifredo Lam, florid Amelia Pelaez, and Raúl Martínez' pop art from the 1960s.

Location: Trocadero, between Agramonte & Monserrate, Old Havana

Opening hours: Tue – Sat, 9am to 5pm; Sunday to 2pm

Museo Napoleónico: an important (and unexpected) Napoleonic collection

In the 1940s and 50s, Cuban sugar baron, Julio Lobo, was impressed (and obsessed) by Napoleon Bonaparte's influence in many art expressions: painting, sculpture, architecture, and woodwork, and dedicated himself to building an almost-unsurpassed collection of items from the Napoleonic era. His vast collection was given National Heritage status in 1960 and put on display at the former residence of the wealthy Italian Colonel, Orestes Ferrara.

Housed in a four-story palazzo from the 1920s, the Napoleonic Museum's collection includes one of the Emperor's death masks, made two days after his death in St. Helena by his personal physician François Antommarchi. The entire palace is filled with more than 7000 pieces, comprising porcelain, personal items belonging to Napoleon I, paintings and sculptures, books, autographed letters, arms and engravings. Don't miss a visit to the open-air terrace in the fourth floor, it offers a stunning panoramic view over the city and the University of Havana.

Location: San Miguel no. 1159, near the University de Habana

Opening hours: Tue – Sat, 9:30am to 5pm; Sunday to 12.30pm

Museo Nacional de Bellas Artes (Universal Arts Building): travel the world through art

Set inside the six-story Centro Asturiano, a magnificent piece of eclectic art in its own right, the Universal Arts Building of Havana's Museum of Fine Arts is one of the city's most impressive sights.

Start by admiring the stained-glass skylight covering the central Carrara-marbled stairway, depicting the arrival of Columbus in the Americas. The brightly-coloured piece is a superb introduction to the works found here and is particularly striking in the midday sun.

Follow a guide (if available) and enjoy paintings from Spain, Great Britain, France, Italy, Flanders, and Latin America, arranged by region of origin. There's an interesting group of Greek pottery pieces that date back as far as 500 BC, an Egyptian sarcophagus and funerary objects from 800 BC, and 2000-year-old Roman mosaics. Also worth mentioning is the British room, presenting famous portrait painters such as Kneller, Reynolds and Gainsborough. The Spanish hall displays over 700 pieces, featuring none other than Sorrolla, Lucas Velázquez, Francisco de Zurbarán, Murillo, de Ribera and Velázquez.

Opening hours: Tue – Sat, 10am to 6pm; Sunday to 2pm

Museo de Artes Decorativas: a grandiose mansion packed with antiques

A lesser-visited venue in the residential area of Vedado, the Museum of Decorative Arts was the home of the Gómez-Mena family, Counts of Revilla Camargo, who resided here in the 1940s and 50s.

Location: 17, No. 502, corner E Street, Vedado.

Opening hours: Tue – Sat, 10:30am to 5:30pm; Sunday to 12:30pm

Palacio del Segundo Cabo: a family favourite

After a five-year hiatus, the baroque Palacio del Segundo Cabo (built in late 18th century) reopened in May 2017 as a modern, interactive museum, where visitors can travel through time to understand the connections between the cultures of Europe and Cuba.

Located in Plaza de Armas, next to the Museo de la Ciudad, the museum is spread across 10 specialised rooms, covering themes such as migration flows, travellers, music and dance, cartography and classical decoration. There's also a media library covering European heritage in Cuba. Kids will enjoy learning traditional dances with animated teachers onscreen and guessing which instruments are featured in different melodies.

Location: O'Reilly No. 4, corner Tacón, Old Havana

Opening hours: Tue – Sat, 9:30am to 5pm; Sunday to 1pm

Finca Vigía: Ernest Hemingway's inspiring home

There are several must-see spots to include on a "Hemingway-was-here" tour of Havana. La Bodeguita del Medio and El Floridita were his favourite bars, while Cojímar was the port of his fishing adventures on the island. But Finca Vigía is a real highlight for anyone interested in the raucous life of this Nobel Prize winner.

About a 25-minute drive from Old Havana, Finca Vigía (meaning "lookout house") was bought by Hemingway in 1940 and decorated with the writer's hunting trophies guarding his collection of more than 8000 books. The house is well kept, with light-filled rooms and several studios, a shady swimming pool, a lookout tower with a small studio on top, and Hemingway's boat, "Pilar", sitting on what used to be the tennis court. It is said that Hemingway wrote The Old Man and the Sea here, as well as some chapters of A Movable Feast and For Whom the Bells Toll.

Location: Finca Vigía Km. 12 ½, corner Vígia & Singer, San Francisco de Paula

Opening hours: Mon – Sat, 10am to 4:30pm

Museo de la Ciudad: Cuba's colonial heritage

Residing in the splendid Palacio de los Capitanes Generales, the City Museum houses a collection of artefacts from the 19th century, when the building served as residence to the Spanish captain generals. It sports a shady central courtyard adorned with a white marble statue of Christopher Columbus.

There are steam locomotives and horse carriages on the first floor, while on the second floor, visitors can explore bedrooms and dining-rooms lavishly decorated as they would have been in 1800s.

Save time for a visit to the Sala de las Banderas (Hall of Flags) at the end of the second floor and experience the almost-creepy atmosphere of the "candle that never fades" which illuminates a portrait of Cuba's pro-independence father, Carlos Manuel de Céspedes.

Location: Tacón No.1 between Obispo & O'Reilly, Old Havana

Opening hours: Tue – Sun, 9:30am to 5pm

Castillo de la Real Fuerza: Cuba's maritime history

The Castle of the Royal Force is a massive star-shaped fortress built between 1558 and 1577 on the coastal side of Plaza de Armas, guarding the Havana bay. In 2010, it opened as Cuba's most important maritime museum, exhibiting the treasures found in sunken galleons.

The most popular hall houses a four-meter scale model of the Santisima Trinidad, with an interactive touch screen detailing its history in Spanish, English and French. The Trinidad was the largest ship of its time, built in Havana's Royal Shipyard and sunk in the Battle of Trafalgar in 1805. Don't miss the upstairs exhibit which boasts a small but attractive collection of underwater archaeological discoveries, including porcelains, ceramic vases, silver cutlery and gold coins. Ask a staff member to tell you the love story behind La Giraldilla, the weathervane on top of the castle.

Location: Plaza de Armas, corner O'Reilly, Old Havana

Opening hours: Tue – Sun, 9am to 5pm; Sunday to 12:30pm

Museo de los Orishas: Afro-Cuban deities

The Yoruba Cultural Association of Cuba, located beside Havana's Capitolio, houses the Museum of the Orishas. Come here for a closer look at Cuba's Santería ("The Way of the Saints"), the name given to the African-rooted religions developed in Cuba. Santería emerged on the island as a result of the forced migration of West African Yoruba people, brought to Cuba as slaves in the 18th and 19th centuries.

Large sculptures represent different African gods (orishas) set in painted backdrops of iconic landscapes and religious symbolism. The site serves as both a museum and a temple, organising "tambores" (drums ceremonies) on weekends and special rituals on certain dates.

Location: Prado No. 615 between Monte & Dragones, Centro Habana.

Opening hours: Mon – Sun, 9am to 5pm
Feeling inspired? Visit Havana's museums as part of your own tailor-made trip to Cuba! Simply fill in our Contact Us form or give our Cuban-born travel consultants a call.