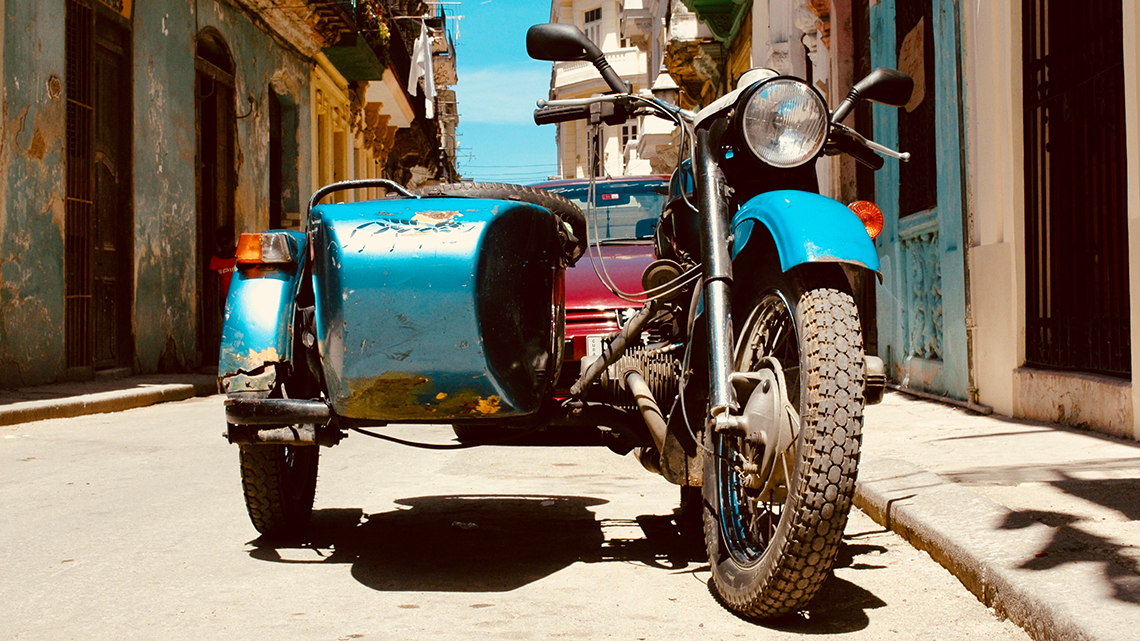 A Cuba holiday in 2020? Are you thinking about it? Dreaming about it? Planning it?
Cuba is an amazing place to visit any time of year, anywhere you go. If the island nation is in your travel plans for the near future, we're here to tell you why you should start planning now for a Cuba holiday in 2020.
This year Havana is in a flurry as it celebrates its 500th anniversary in November and despite setbacks (of both a natural and political nature) threatening to dampen this milestone birthday, nothing will stop habaneros from celebrating and tourists from enjoying the festivities surrounding this mega event. Havana's Chinatown is being revived, concerts are being lined up, street acts announced, restoration works are full steam ahead (they even want to transform my neighbourhood in Havana - el Cerro - into the mecca of Cuban baseball!) and more last-minute announcements keep pouring out as we speak. All just weeks before the big birthday bash on 16th November! The official countdown has begun…Tick, tock, tick-tock…
But that's all happening pretty much now in 2019. What if you can't make it there in time for Havana's 500th birthday? What about next year? Will this huge celebration have a longer-lasting ripple effect going into 2020? You bet it will! And that's part of the excitement!
If you can't make it to Cuba before the end of December, there are many reasons to still include the island in your travel bucket list for 2020. We'll tell you about some of the reasons a 2020 Cuba holiday is the right way to go with your travel plans.
The end of 2019 doesn't mean it's all over yet (in fact Havana's birthday plans have a third phase that kicks off in November and lasts for another year). By 2020 Havana will be in full splendour and still celebrating its 500th year with extended joy!
The timing - Cuba in 2020
For starters, one of the main reasons to book a Cuba holiday for 2020 is the fact that it can turn out cheaper than a last-minute holiday in time for (or just before) Christmas 2019. We're nearing the end of September now so if you were to book a holiday to Cuba this year (to visit before the end of 2019), you'd only be able to choose between the months of October, November and December (November and December being the most expensive in terms of flights and accommodation as it marks the start of peak season). If you can travel soon October can be a great month for finding a great Cuba holiday deal, but the closer it gets to the high winter season the more the price will escalate
What's great about planning a Cuba holiday for 2020? You'll be able to so choose from an ample calendar covering a full 12 months to find the best time for your visit; whether you're looking to make low season savings or avoid the worst of the summer heat - and crowds - or if you plan to attend a special event or performance. Plus, early birds can also enjoy discounts and special offers from hotels and airlines (or exclusive extras from us at CubaDirect!) by booking well in advance. Planning ahead in itself can add an extra set of advantages to your travel experience and also give you longer to look for things to fill up your Cuba itinerary with.
But if your heart's still set on travelling to Cuba before 2019 ends, there are some good Christmas holiday deals to be found now but time is of the essence to get the best prices (do give us a call!).
But first things first, if you can wait for a couple more months or more…. what will make a Cuba holiday in 2020 so great?
What's in store for those travelling to Cuba in 2020?
Travelling to Cuba whatever the time of year, and wherever you decide to go is an amazing experience, no doubt about it. Now more so than ever. In recent years, Cuba has been dusting itself off and looking more attractive than ever to the outside world, including Americans, who despite having it slightly more difficult to travel to Cuba now (again! Thanks to Trump's reversal of Obama's rapprochement measures) are still curious about the island and enamoured with the idea of following in Hemingway's steps and getting to know their long-forbidden fruit.
But Cuba's not just an appetising apple that's reaching its ripest moment going into 2020, it's a world of wonderment, of striking juxtapositions and puzzling history, past and present. It leaves no one indifferent. Especially not now that it's experiencing a revival (despite a suffering economy that heavily relies on tourism and has been hit hard by Trump's renewed travel restrictions and more recently, with Thomas Cooks' collapse) and more freedom has been given to Cubans to set up their own businesses, become entrepreneurs and add to the tourism industry in a fresh authentic way.
In 2020, Cubans will be enjoying legal internet access from their homes and private businesses (a slow process that started at the end of July and which we expect will be fully rolled out next year) and 2020 also marks the start of a process of decentralisation announced by the government in June this year. Oh, and Havana will welcome its first LGBT hotel also in 2020! …Long story short - Cuba is more exciting than ever, and 2020 will be a great year to discover it!
Let us count the ways in which Cuba will become an even more awesome destination in 2020. We begin.
2020 - Havana in full bloom following its 500th birthday
On 16th November Havana will be turning 500 years old and leading up to the half-a-century milestone, the Cuban capital has been sprucing up and working hard on refreshing its image. Over the last year, several projects to restore, repair and enhance several neighbourhoods in Havana have been underway. Some of this will breathe life into forgotten, little-trodden areas of the city, with a programme in place to help rid some streets of their waste management problems while other plans are more ambitious and look at not just giving maintenance to buildings and filling up potholes, but reviving an entire culture and bringing it back to live. Such is the case of Havana´s Chinatown.
Chinatown's revival
Havana's Chinatown has a long and peculiar history that not many tourists know about or become aware of during their time in Cuba. Many visitors don't take the time to explore this part of the city (it doesn't appear in any holiday brochure or travel guide) or, if they do, by chance, or through a local's recommendation for the cheap (and tasty) Chinese restaurants there, they don't recognise much of China in it. And that's because of decades of neglect and decay, as well as the fall in the Cuban-Chinese population, with the only remaining Chinese-born residents in Havana being over 70 years old now. Their descendants (the vast majority of which are mixed or afro-Chinese Cubans) have fought to keep Chinese culture alive but have lacked funds to support cultural buildings and maintain traditions.
But, on the occasion of Havana's 500th's anniversary, Cuban authorities, both local and governmental are actively working to revive and restore Chinatown's dignity and now faded splendour of bygone years.
What once was one of the biggest Chinatowns in Latin America, has been enjoying a lot of attention lately with 15 projects in place to give it a second chance to shine, including a new design with a central square that will become the neighbourhood's cultural centre. Street lighting will be fixed, parks, streets and even the pavement will all receive a makeover, with the removal of electrical wires and telephone lines from facades.
But most importantly, Chinese traditions will be rescued, among which ceramics, ornamental art, design and gastronomy will play an important role, highlight the rather unique and exciting blend of Cuban and Chinese culture. There's also the rebirth of local diary Kwong-Wah-Po, and the return of Chinese pharmacies selling traditional Chinese medicine, as well as traditional Chinese laundry shops. The entire Chinatown neighbourhood is excited, as are habaneros elsewhere in the city, they have another reason to come here beyond the popular Chinese restaurants (which are, oddly enough, as famous for their fried rice, dumplings and "maripositas" as they are for their pizzas!).
What's new in Cuba for 2020?
So, no you know that Havana will be at its prettiest and, time to find out what else makes a Cuba holiday in 2020 exciting.
Cuba's first-ever gay hotel
Axel Hotels - the LGBT community-geared Spanish hotel chain - is coming to Cuba in spectacular fashion in 2020. And it's doing so at an emblematic, centuries-old hotel right in the heart of Old Havana, Hotel Telegrafo, proudly rising at the point where it meets Centro Habana. The 1860 property will soon undergo a transformation to cater for the LGBT community and everyone in Cuba is excited, including the island's National Centre for Sexual Education, CENESEX, presided by Raul Castro's daughter and who echoed the news of the opening back in April.
And while the Telegrafo might become the first officially gay hotel in Cuba (expected to open in 2020's last quarter), but it won't be the last, as already MGM Muthu Hotels has announced that the new Rainbow Muthu Hotel being built in Cayo Guillermo as a five-star plus property will also be gay-friendly (it self-described itself as "sympathetic to the gay community" and its official website says it will offer exciting LGBT events). Gay or not, a Cuba holiday in 2020 is sounding more multi-dimensional, multi-coloured and diverse than ever!
A more decentralised economy for 2020
Yes, really, Cuba's government is taking a step back from its paternalistic approach and starting in 2020 will launch a new decentralised economy model. The news was announced in June this year by Cuba's president, Miguel Diaz-Canel, and the bold move is a clean break from old customs (and like they say, old habits die hard, so this will prove challenging for Cuba's labour force). The drastic change in hierarchical management brings about a lot of opportunity to the table with workers being the ones in charge of designing the goals of state enterprises, but Cubans working for state-owned companies will likely take some time to adjust. Still, it's an exciting time for Cuba's socioeconomic development and 2020 will mark the start of a new era.
With a decentralised economy where decisions come from the bottom up, it will be interesting to see what the renewed Cuban economy cooks up. And all of that while respecting and protecting the booming private sector, which, the Cuban president said needed more organisation but no obstacles that would slow down its performance, which is playing a bigger and bigger role in the island's tourism industry. Exciting times indeed, we wish Cuba the best of luck restructuring its economy model!
World's most prestigious cigar festival in 2020
Just four days ago the dates for the Habanos Festival 2020 were announced, with its 22nd edition due to take place from 24th to 28th February. One of the biggest, most famous cigar festivals on the planet, uniting cigar lovers and cigar experts from all the world over, will kick off once again next year and the event will include all the traditional activities it´s famous for. From visits to tobacco farms, cigar factory tours in Havana, a trade show, seminar and a gala closing dinner, the leading organisation leading the event (Habanos) has not offered any specific details regarding which cigar brands would be showcased (we´ll have to wait a bit longer for that) but they have confirmed the third edition of the Habanos World Challenge tournament. The only change announced in next year's cigar festival so far is that the farm trips would be to Partidos (closer to Havana) instead of Pinar del Río but for more details, you'll have to check Habano's official website next month, where they said they'll soon reveal more.
Cuba hosts Latin American Summit for Accessible Tourism
Yet another proof that Cuba as a holiday destination is looking more appealing than ever going into 2020, during this year's September edition of the Latin American Summit for Accessible Tourism (Cumbre Iberoamericana de Turismo Accessible) held in Montevideo, Uruguay, it was announced that Cuba would host the summit's fourth edition next year.
Right now, Cuba is in the midst of a major push to further develop its accessible tourism offering so that, in time for next year's summit, it will be able to promote itself as an accessible tourism destination for travellers with disabilities or mobility issues.
Old Havana declared one of the world's coolest neighbourhoods
Well, this is not something that's new in Cuba for 2020, but next year the Cuban capital will still be revelling in the fact that one of its neighbourhoods was chosen by Time Out magazine as one of the world's coolest. With added swag and cool factor, Havana's historic centre now ranks in the world's top 50 and after this year's 500th-anniversary celebrations and embellishing works, it will look cooler and prettier than ever!
A transformative potential
Trump may still rule the roost (though maybe not for too long if he's impeachment is successful) and he might have put a dampener on Cuba's tourism industry. The U.S. embargo may still be in place, but Cuba is not one to let intimidation rule its head or heart (as its long half-century-long feud with the U.S. has proved). Instead, it's now looking inward to see how it can heal itself from within and deal with its economic woes internally despite the external hurdles and harsh foreign climate. I believe Cuba is now at a crucial transitional time and 2020 will prove a key year in many ways for the island.
A Cuba holiday in 2020 - a win-win destination
Right now, we're less than a couple of months away from Havana's 500th anniversary, and all revival works around the city are full steam ahead to be finished in time for the big November celebration. But, as we've told you here, it all doesn't end with the unfolding of Havana's half-century birthday events. The third phase of the restoration process actually starts after the Cuban capital's anniversary in 2019 and lasts for another year until November 2020. So, going into 2020, there is still a look to forward to on a Cuba holiday.
All in all, as we've illustrated throughout this post, Cuba is sure looking like a great travel destination for 2020 or perhaps "the" travel destination of next year. And you? Do you agree? Are you planning a Cuba holiday in 2020? Let us know in the comments section!