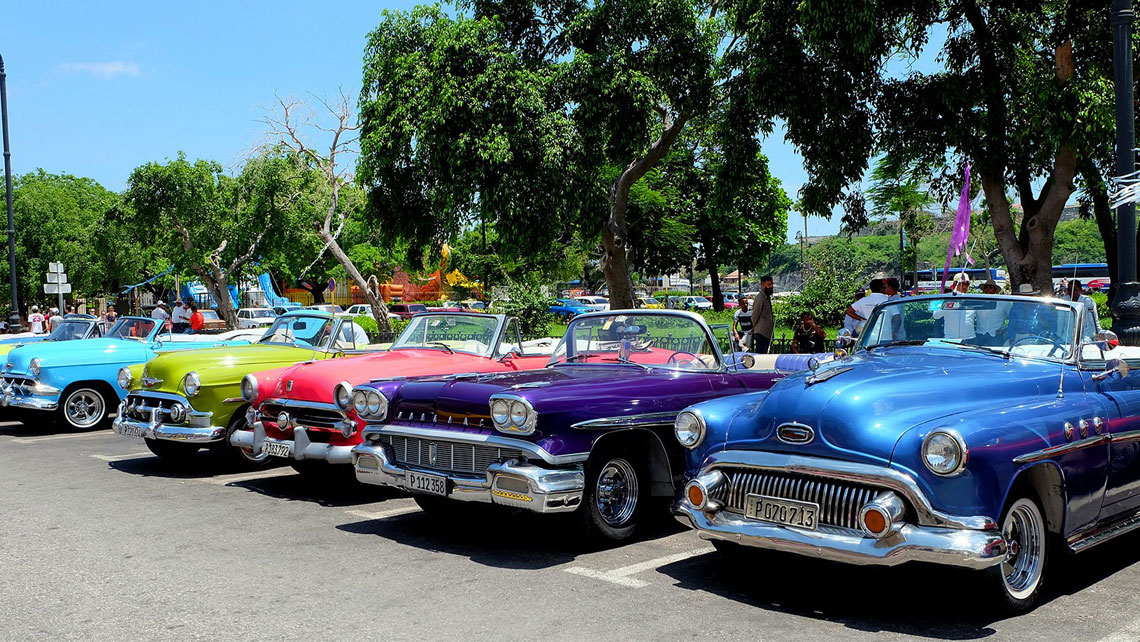 If you're looking for an exhaustive guide on LGBTQ+ travel to Cuba, then you've come to the right place. We've got you covered on everything you need to know - from travel advice, bar recommendations, and hot playlists - to the low-down on Cuba's sexual politics and an insight into gay-friendly destinations outside Havana. This is a long one, so bear with us - we promise its worth the read.
Honest Advice on Safe Travelling in Cuba

Havana's Hottest Gay Bars & Clubs

Santa Clara: Cuba's Liberal City

Mi Cayito: Cuba's Unofficial Gay Beach
A Brief History of Sexual Politics in Cuba
In recent years, Cuba has begun to feel the rumbles of a sexual revolution. With the recent appointment of Miguel Diaz Canel to the Cuban Presidency - the first non-Castro to rule in almost 60 years - there's talk of an update to the Cuban constitution that could include the legalisation of same-sex marriage. But it's been no easy feat for Cuba's LGBTQ+ community to reach this potential breaking point in Cuban history. The early years of the Revolution were nothing short of appalling with regards to LGBTQ+ rights, as homosexuality was considered ideological diversionism. An affront to the hypermasculine aspirations of the Revolution, countless members of the LGBT+ community were incarcerated and sent to work camps, along with others deemed to be diversionistas ideologicos (such as political dissenters, religious people, and hippies).
Homosexuality was decriminalised in 1979 and by 1986, the National Commission on Sex Education (CENESEX) had announced that homosexuality was a sexual orientation and that homophobia needed to be curbed through education. This led to a slow but steady sexual liberalisation in social, political and cultural spheres, epitomised by the groundbreaking release of Cuba's most internationally-regarded film, Fresa y Chocolate, in 1993 - a movie that wholeheartedly changed the discourse surrounding homosexuality for an entire generation.
Fast-forward 10 years and Mariela Castro (Fidel's niece and Raul Castro's daughter) was spearheading the fight for LGBTQ-rights in Cuba, leading to the provision of free gender-reassignment surgery under its health system in 2008. By 2010, Fidel Castro accepted full responsibility for the persecution of homosexuals in the early years of the Revolution, and by 2012, Cuba welcomed its first openly transgender politician to government. Today, Cuba enjoys an annual gay pride parade across the country, and a booming gay nightlife scene, helping to dispel some of the machista attitudes that were once deeply ingrained in Cuban society. Cuba's brave LGBTQ+ community are pulling up the flag up loud and proud - so there's never been a better time for queer travellers to join in the gozadera on the Caribbean's hottest island!
Honest Advice on Safe Travelling in Cuba
Cuba is generally a safe and non-violent country, having been awarded the title of Safest Travel Destination in 2018, and in general is more tolerant than most other Latin American and Caribbean countries. LGBTQ+ travellers will find that they can be open with locals about their sexuality during their travels in Cuba. Although it's fine to openly travel as a couple, Cuban society is still socially conservative and public displays of affection between same-sex couples are rare. Women should also take into account that the lesbian scene in Cuba is more underground than that of queer males. Trans people will be relieved to hear that, in Havana, 'travestis' (as is the reclaimed term in Cuba) have quite a high level of visibility - though this doesn't mean that you won't encounter some ignorance along the way (as you would in any country). In general, as foreigners, LGBTQ+ travellers will find that they warrant a certain level of respect and deference, regardless of their sexuality or gender. However, other provinces aren't quite as liberal as Havana (although you'll find gay havens such as the city of Santa Clara and Mi Cayito beach). While this shouldn't be a cause for concern when travelling outside the capital, it's nonetheless advisable to take each social context into account.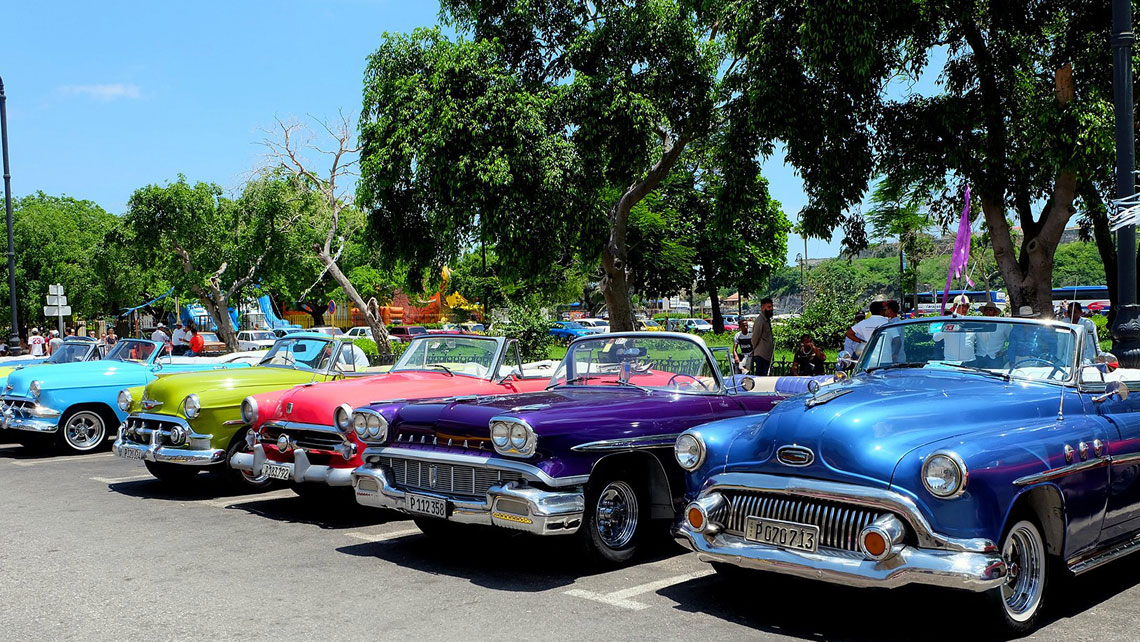 Havana's Hottest Gay Bars & Clubs On to the good stuff now - party, fiesta y perreo! Over the past couple of years, Cuba has developed a vibrant and flourishing gay nightlife scene, thanks in large part to the legalisation of private enterprises on the island. We've called up our friends in Havana to get all the latest updates on what's hot and whats not - so read on to find out about the best cocktail bars, nightclubs, parties, and drag nights in the Paris of the Caribbean!
Proyecto Divino
Each Saturday in the popular Café Cantante, housed in the basement of Cuba's National Theatre, the Proyecto Divino ("Divine Project") gives way to one of the most sensational parties in all Havana. With a sizzling array of drag , erotic dancing, and performances by Cuba's most popular artists, Proyecto Divino is a clear favourite amongst Cuba's LGBTQ+ community, with parties lasting will into the Caribbean sunrise. Just off Revolution Square, you'll be able to grab a cab the next morning beneath the glaring stares of Jose Martí and Ernesto "Che" Guevara. ¡Viva la Revolución Sexual!
Café Cantante, Calle Paseo y 39, Vedado
+53 7 878 4275
Sat: 11pm-6am
La Esencia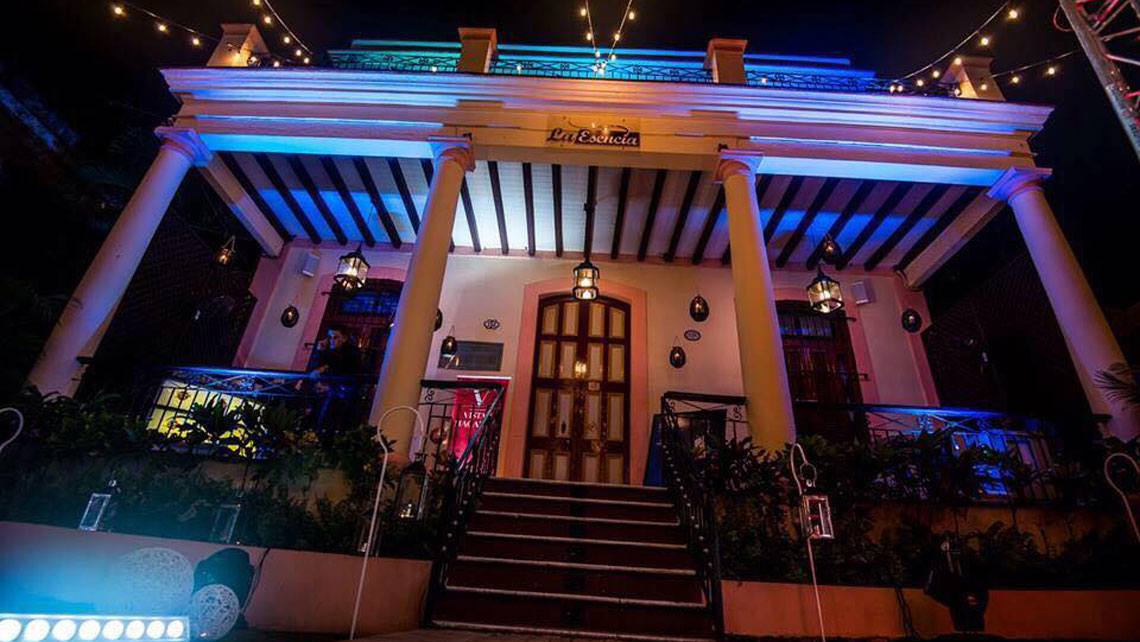 Gay-Friendly Club & Restaurant in Havana Housed within a gorgeous colonial mansion dating back to 1880, La Esencia is probably Havana's hottest clubright now. Mondays play host to "diverse parties", where you can enjoy performances by some of Cuba's most renowned Drag Queens. But the party doesn't stop there - with its gay-friendly atmosphere, La Esencia is worth a visit any other night of the week, where you'll be treated to a sexy mix of club hits, reggaeton and salsa classics. With locals dancing as if they were on the set of Dirty Dancing 2 , things can get pretty hot and heavy inside. If it gets too scorching, then grab a cocktail (as a restaurant-bar, La Esencia's mixologists never disappoint), and step outside onto the charming porch, taking a moment to admire the glistening Havana night-sky. There's something indescribably magical about this place; it promises a night you'll never forget.
Calle B no.153 e/Calzada y Linea, Vedado
+53 7 836 3031
Mon-Sun: 6pm-3am
Cabaret Las Vegas
A state-owned cabaret, Las Vegas is Havana's most emblematic gay venue, boasting regular performances from iconic Drag Queens, including Imperio, Blanquita and Ashenal. A gay landmark in Havana, this nationally-famous cabaret even featured as the backdrop of Viva , a heart-wrenching tale of the struggles of Jesus, a Cuban drag queen, and his homophobic father. Though small and unassuming, you'll find crowds queuing up round the block on weekends to get in. The clientele tends to be diverse, ranging from tourists and locals, gay men and (fewer) gay women, transgender people and (the occasional) heterosexual couple, as well as jineteros (gigolos or "sugar babies"). The drag shows and erotic dancing are highly professional, considering that the cabaret is state-funded, and resources in Cuba are limited.
Calle Infanta No. 204, esquina 25, Vedado
+53 7 836 7939
Mon-Sun 4-8pm and 10pm-3am
Madrigal Bar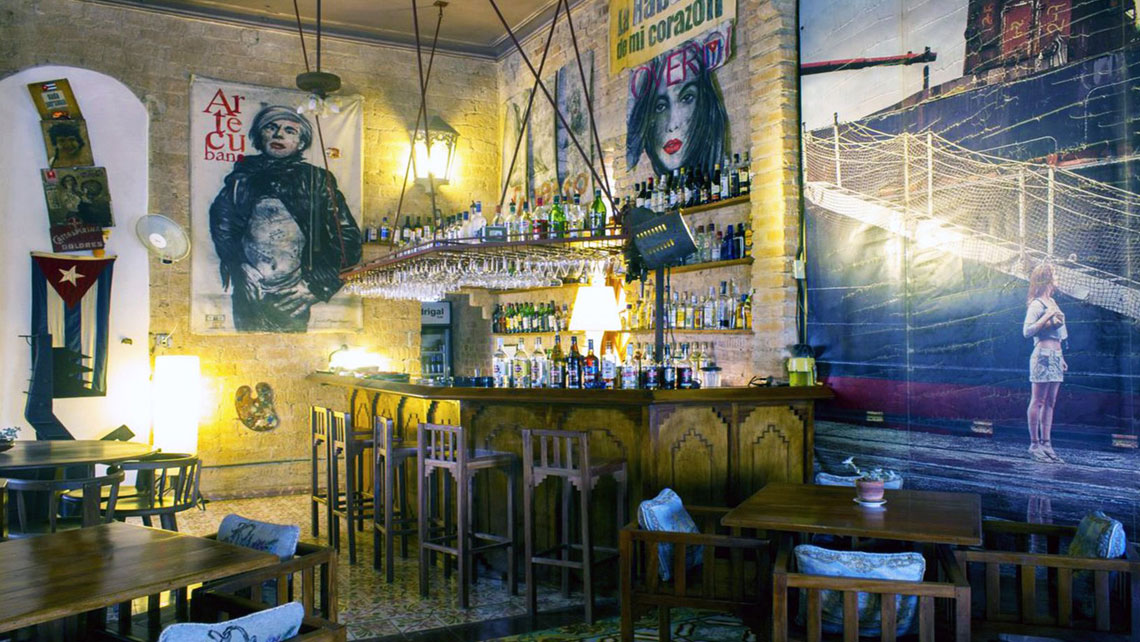 Set on the second floor of a crumbling colonial house in central Vedado, El Madrigal is an artsy and atmospheric lounge bar, plastered with old film posters and contemporary Cuban art. Owned by Cuban film-maker Rafael Rosales (known for his acclaimed film of the same name), El Madrigal offers a gay-friendly setting with an eclectic mix of tourists and locals. This is the perfect spot to relax and enjoy a delicious cocktail alongside some creole tapas, whether it be in the eccentrically-decorated restaurant or on the delightful terrace balcony. Depending on the night, you may also be treated to some live jazz music!
Calle 17 No. 302 e/ 2 y 4, Vedado
+53 7 831 2433
Tue-Sun: 6pm-midnight Fri-Sat: 6pm-4am
King Bar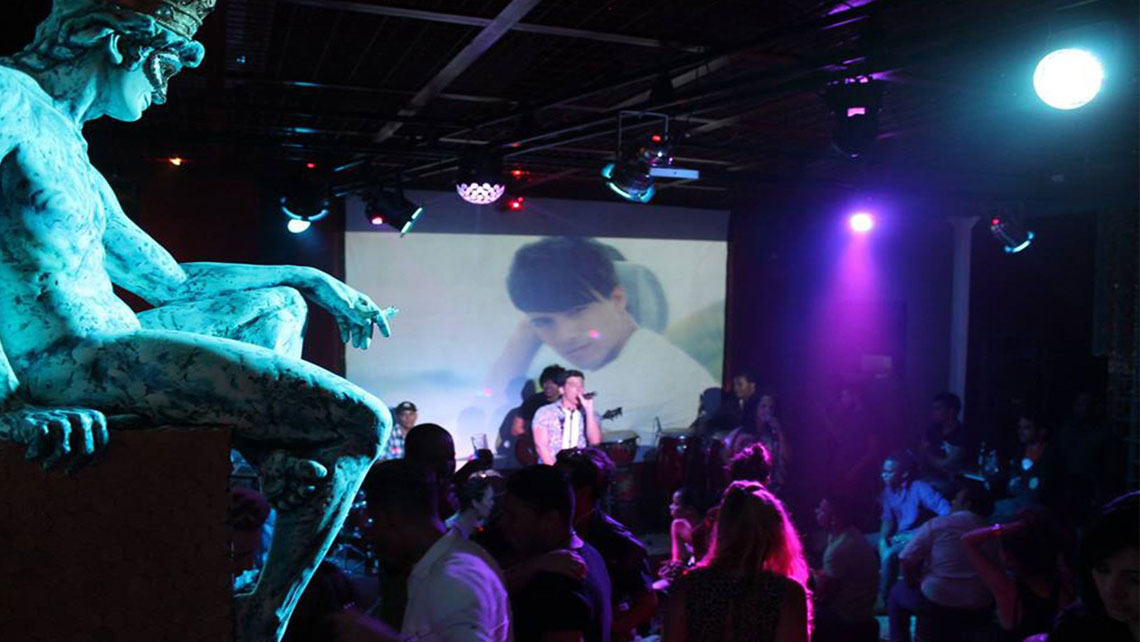 Found in Havana's trendy Vedado neighbourhood, King Bar is a popular LGBT+ friendly bar that's all about having fun and pushing boundaries. The clue is in the name - a cheeky play on the Cuban slang word "kimbar/quimbar", whose meaning you'll decipher if you sneak a peak of King Bar's salacious logo. This nightclub offers a wide range of exciting drinks, with its signature cocktail "Kingbed beta" offering up a refreshing mix of mint, milk, cacao and - of course - Havana Club rum! Drinks range between $3-5 CUC, but get there for Happy Hour (from 5-8pm) and you'll save 50% on beers and cocktails. King Bar also serves up some of the best dishes in El Vedado, with a tantalising variety of meat, fish, and vegetarian options straight off the grill. Perfect for lining the stomach before a big night out!
Calle 23 e/ D y E, Vedado
+53 7 833 0556
Mon-Sun: 7pm-3am
Fashion Bar La Habana
Fantastically camp and outrageously extra, Fashion Bar La Habana is a drag supper club/bar that gives off major Cage aux Folles vibes from the moment you step in. The hunky topless waiters that greet you at the door set the tone for the evening and will attend to your every command for the duration of your stay The show in itself offers a unique mix of drag, erotic dancing, comedy skits, interpretative dancing and amateur aerobics - also taking an important moment in the interlude to educate the audience about safe sex, politically correct terms for the queer community, and sexual discrimination issues. Fun, kitsch, and scandalously funny, this is show you won't want to miss!
San Juan de Dios, esq. a Aguacate, Habana Vieja
+53 7 867 1676
Sat: 9pm-4am
Mi Cayito: A Gay Beach in Revolutionary Cuba
Just as heavenly as the rest of Cuba's coast-line, this small but serene little stretch of sea and sand is Havana's only openly gay beach. Located near the capital, between the well-known beaches of Santa Maria del Mar and Boca Ciega, Mi Cayito is a paradise haven for the LGBT+ community, where sexual freedom is welcomed and celebrated. Though small, Mi Cayito provides all the basic services found on bigger beaches, with sun loungers and umbrellas available for hire, as well as a local restaurant, Las Palmitas, which serves delicious Cuban food and refreshing cocktails at bargain prices.
You can take the hourly (air-conditioned!) tourist bus from Parque Central in Old Havana, costing 5 CUC for a return ticket, or take a taxi for 15 CUC each way.
Santa Clara: La Ciudad Liberal ("The Liberal City")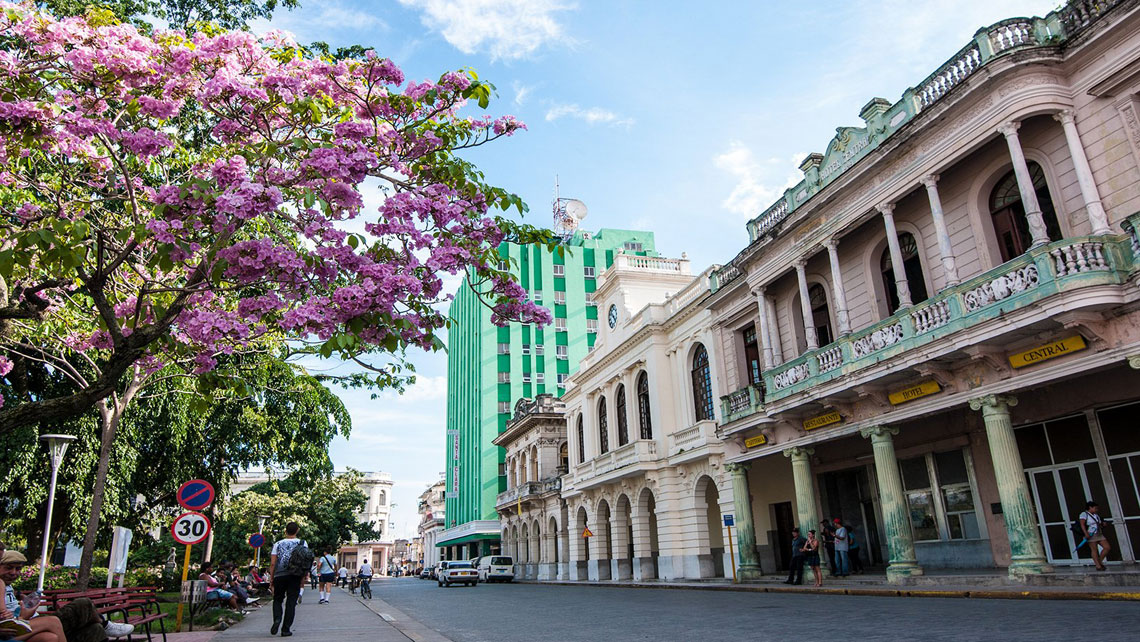 Once known as the "City of Che" due to its historical links to the late revolutionary leader, Santa Clara later made a name for itself as a gay landmark and political hub for LGBTQ+ activism in Cuba. Buzzing with electric energy and a pioneering cultural scene, the self-proclaimed Ciudad Liberal ('The Liberal City') has evolved into an oasis of sexual freedom, where gender boundaries can be pushed without so much as a blink of an eye. And it's all thanks to El Mejunje ('The Mixture'), a cultural centre that unveiled Cuba's first official drag show in 1989, causing a ripple effect that helped changed attitudes towards gender and sexuality across the island... but more on that later!
A university city, there's a fun, young and avant-garde atmosphere that adds to the already substantial allure of the Che Guevara Mausoleum and historic Armoured Train Park (El Tren Blindado). Smack bang in the centre of Cuba, Santa Clara makes for the perfect stopping point on your way to Trinidad, Cienfuegos or Cayo Santa Maria - so it's well worth a visit for at least a day or two!
El Mejunje
A visit to Santa Clara is nothing without a night at the historic Mejunje, a groundbreaking cultural centre and nightclub established by the legendary Ramón Silverio in the late 1980s. Meaning "mixture" or "hotchpotch", El Mejunje seeks to bring people from all walks of life together, providing a platform for students, intellectuals, queer people and marginalised groups in order to promote tolerance and acceptance (and to have fun!). El Mejunje is still a favourite spot amongst locals, attracting an eclectic crowd with weekly performances of drag, salsa, rock and son (traditional Cuban music).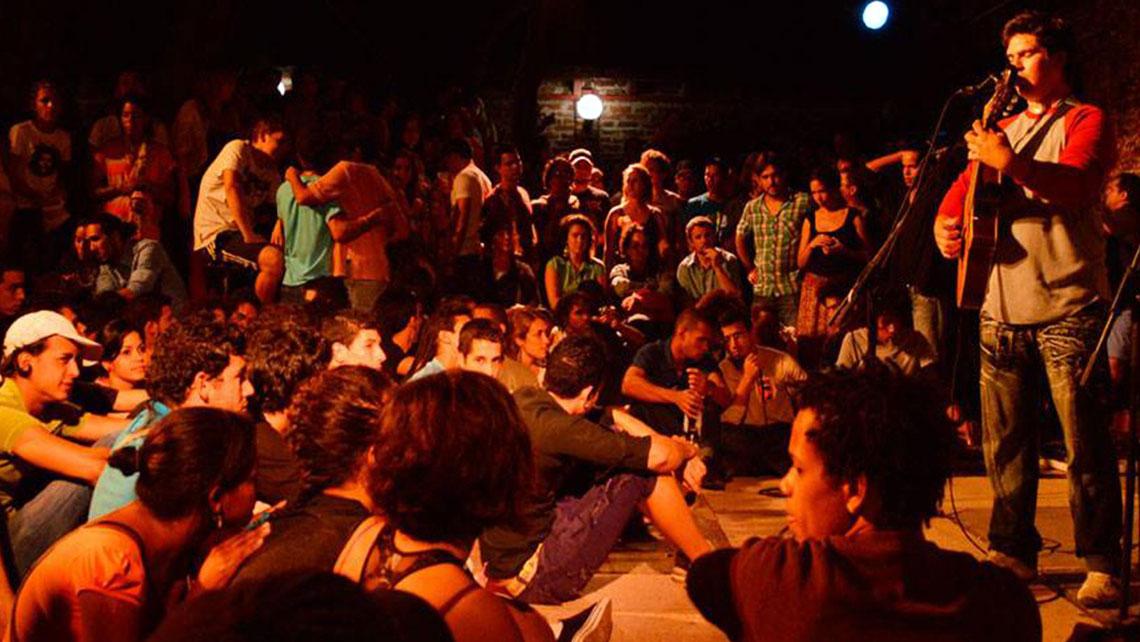 There's no better person to describe the magic of El Mejunje than the man who lived it all himself... our very own Head Travel Consultant, York Ortiz, who was the DJ - yes, DJ - and cultural promoter of this iconic landmark during his university years (a long, long time ago). According to York:
El Mejunje was a school for tolerance, not just in terms of homosexuality, but for acceptance and tolerance in general. There was a space for everyone there: for gay people, drag queens, people with HIV, trovadores (troubadours), and rockers - who at that moment in time were totally marginalised in Cuba. In fact, we used to go every year to the inner depths of the mountains, so that even farmers could have access to culture. In the same night out you'd find intellectuals, gay people, students and ex-convicts. Ramon Silverio, who ran the joint, would always say: 'in El Mejunje, anything and everything goes - except for cutting your wrists!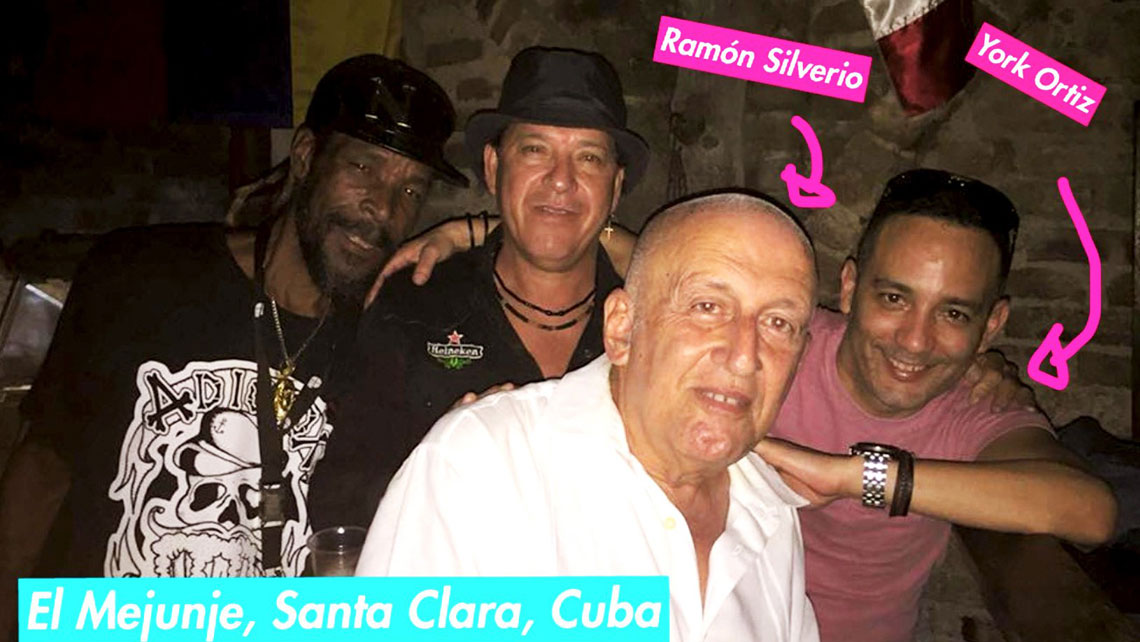 Queer Cuba: The Ultimate Playlist
To get you in the mood for your upcoming Cuba trip, we've put together the ultimate playlist showcasing Cuba's most iconic queer musicians - from the renowned 1950s pianist, Bola de Nieve - to the black feminist hip-hop group, Krudas Cubensi. You'll also find a few gay anthems by Cuban allies, including "Amor Dificil" by Amaury Perez and "Pecado Original" by Pablo Milanes. ¡Azucarrrrrr!
Looking for more inspiration? Give us call or fill in our free quote form, to start designing your holiday. Our team of Cuban-born experts will use their in-depth knowledge to create a bespoke itinerary tailored to all your needs.