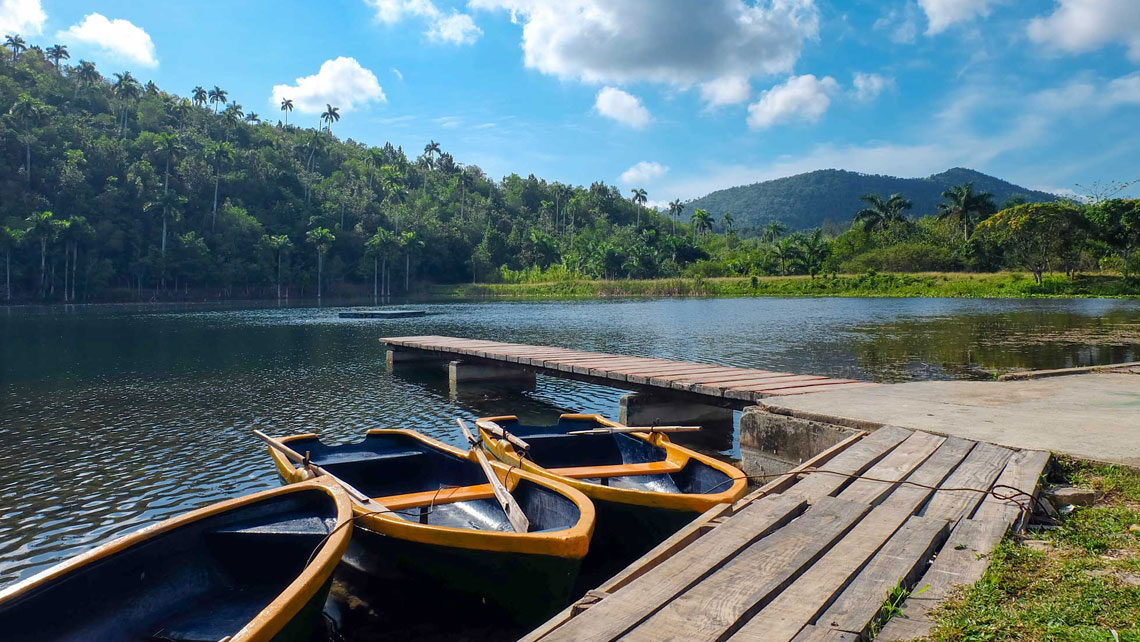 Beaches, ecotourism and scuba diving – there's more to experience on a holiday to Cuba than the charming architecture and contagious music of Havana. Taking a break from the city without sacrificing too much time in road trips is possible with day tours from Havana. Here's a list of the six best day trips from Havana, listed according to how long it takes to get there. All these tours take less than a day and do not require booking for accommodation.
CubaDirectTM offers all of these day tours as part of your tailor-made holiday itineraries to Cuba – you can reserve any of them during your booking process or at your welcome briefing with one of our Havana representatives.
Take a beach day at Playas del Este

Can you go to the beach in Havana? Yes, you can! Havana has an array of sandy beaches just 40 minutes east of the city centre. Havana's Riviera, aka Playas del Este, includes a group of beaches that are not only less crowded with tourists but are as safe and crystalline as their sisters in the northern keys or Varadero peninsula. Recharge your batteries and combine the city parties with a full day at the beach without leaving Havana and without having to spend hours on coaches or full weeks in a resort.

We did a full blog post about City and Beach Holidays Without Leaving Havana

Explore the eco-village of Las Terrazas

Located at the eastern end of the Sierra del Rosario, just an hour west of Havana, Las Terrazas is an eco-friendly community that'll surprise you with its greenery and peaceful surroundings. Save some time for trekking, zip-lining, birdwatching, and coffee tasting. The must-visit places are the Buena Vista coffee plantation, the Moka hotel(built right amidst the forest), and the San Juan River .

The local food is delicious and comes directly from the surrounding areas, with options for vegetarians as well. The cultural aspect of the community is also a highlight at Las Terrazas and most of the tours there take visitors to meet with local artists at their studios.

Discover lesser-known culture and nature in Matanzas

You might have read about Matanzas as being the province that hosts the Varadero peninsula. But beyond being a bridge city, it offers a lot more! On the way to Matanzas, which is less than two hours from Havana, enjoy a panoramic tour of the Yumurí valley before arriving to the city's oldest quarter. Admire the Teatro Sauto (1863) and the Parque de la Libertad (1800), as well as the Farmaceutical Museum and the Plaza de la Vigía.

Then, head to the Bellamar Caves and witness Cuba's most famous subterranean cave, filled with beautiful stalagmites and stalactites. After that, visit the Canímar river and enjoy a snorkelling session at the protected area of Punta Maya, host of a spotless coral reef. Venture into the flooded Saturno Cave, or visit other local points of interest, such as La Dionisia coffee plantation, dating back to 1820. Round off your visit to Matanzas with some photo-shooting at the Bacunayagua Bridge (Cuba's highest bridge), on the way back to Havana.

Lay back and relax at Varadero beach

Is there a more relaxing way to enjoy a holiday than to sit back on a sun lounger and let the sea breeze calm you? With eight kilometres of see-your-toes sparkling waters, white powdery sands, and the largest selection of beachfront hotels in Cuba, Varadero is the most acclaimed beach destination in the Caribbean island. On a day tour from Havana, opt for enough time at the beach, just chilling and sunbathing. If feeling more adventurous, go snorkelling or choose one of the many water sports available from the beach stands.

Read more about combining Havana and Varadero in a Holiday Itinerary to the Best of Cuba

Scuba dive in Playa Larga and Playa Girón

Arguably two of Cuba's most interesting diving sites, Playa Larga and Playa Girón are located about two and a half hours from Havana city. South of Guamá, you'll reach first Playa Larga and then Playa Girón - the principal landing spot of the Bay of Pigs invasion back in 1961. They're both dotted with outstanding diving spots that boast a rich marine life and well-preserved coral reefs. Playa Larga hosts the ship-wreck El Jaruco, while Playa Girón has some amazing reefs and caverns. Because of its closeness to the reef, most of the dives can be done right from the shore.

We have a full blog post here about Cuba's Best Kept Secret: Ciénaga de Zapata

Ride a horse in the tobacco lands at Viñales

A Unesco-listed natural landscape, Viñales has become an exciting destination on its own right, no longer a stopover of day tours from Havana. Actually, many of our clients choose to stay in Viñales for two days or more, because it is packed with possibilities to explore beyond the tobacco culture that made it famous decades ago. However, if you only have a day, go ahead and check it out for yourself!

About 3 hours from Havana, a typical Viñales tour starts with a piña colada at Los Jazmines viewpoint, and continues with horseback-riding or trekking at the smaller valleys that make up the mogote-filled Viñales Valley. The visit should include a stop at a tobacco plantation, with a chance to meet the producers, and you could also explore some limestone caves via a boat trip along a subterranean river.
Read more about things to do here at our blog 48 Hours in Viñales
With plenty of exciting day tours available from Havana, pick your favorites and plan a holiday itinerary that fits your interests and budget. If you have any questions, give us call, or fill in our free quote form, to start designing your dream Cuba holiday. Our team of Cuban-born experts will use their in-depth knowledge to create a bespoke itinerary tailored to all your needs. Find our rep team on facebook too!