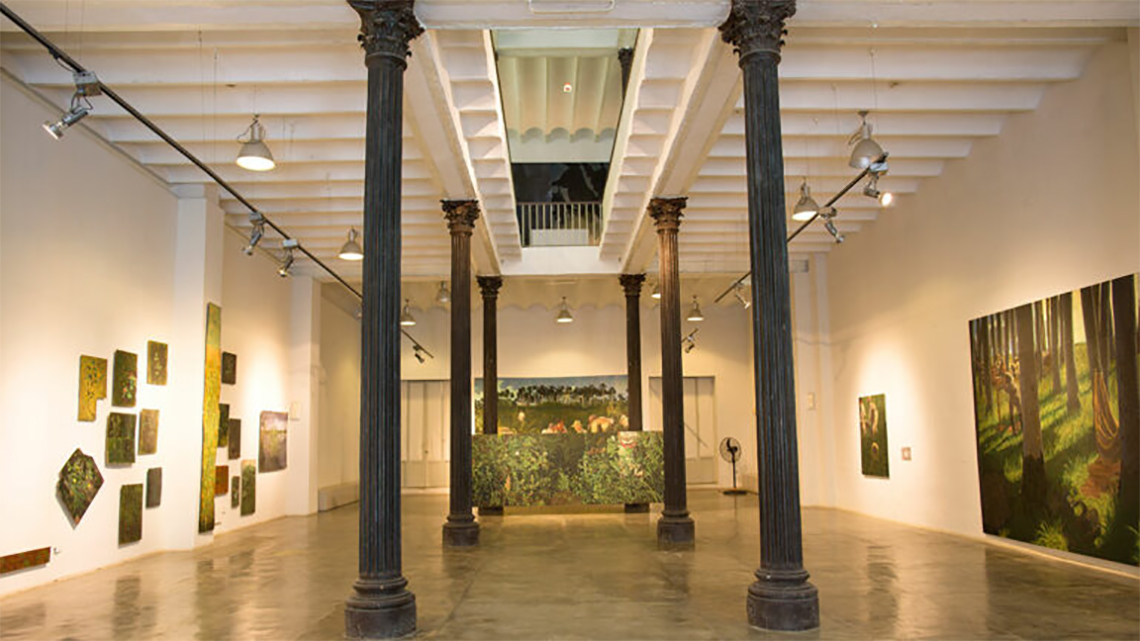 Art is everywhere in Havana. You can see intriguing works in many different settings. Street murals can be found all over the city, using a variety of styles and themes. Many bars and cafes display artworks on their walls. Furthermore, you might also encounter artistic works in people's houses, especially if you are staying in a Casa Particular.
In the article on five unmissable museums in Havana, I included the National Museum of Fine Arts (Museo Nacional de Bellas Artes). When it comes to seeing art in a gallery setting, this is one of the best places to start, especially the Palacio de Bellas Artes building, which contains by far the most extensive collection of Cuban art spanning back over the past 500 years.
As well as providing a broad historical retrospective of Cuban art, the Palacio de Bellas Artes building also has many celebrated pieces of Cuban artwork display. For example Víctor Manuel's "La Gitana Tropical", a painting that some art critics have referred to as the "Caribbean Mona Lisa". This is due to the sheer artistic talent that went into the creation of this mesmerising portrait painting, although coincidentally it has also suffered the same fate as the Mona Lisa in that the image has been ubiquitously copied onto everything from beach towels to shower curtains.
Beyond the National Museum of Fine Arts are many great galleries where you can spend a lot of time being moved by almost every type of artwork imaginable. Below are nine other options that are also well worth a visit during your stay in Havana. Note, at various times art galleries are inaccessible, sometimes due to being renovated, redesigned, or used for other functions. It's therefore always advisable to check before you go if the gallery is open.
Wifredo Lam Contemporary Art Centre (Centro de Arte Contemporáneo Wifredo Lam), Old Havana

This art centre is named after Wifredo Lam, one of Cuba's most internationally renowned 20th century artists. It was inaugurated in 1983, a year after his death. The building, dating back to the 18th century, is used for a variety of purposes, with its mission to research and promote contemporary visuals arts from developing nations in Asia, Africa, Latin America, and the Caribbean. There are multiple permanent and temporary exhibitions, as well as other amenities at hand, including an ambient cafe and a well stocked bookshop.

Fototeca de Cuba, Old Havana

If photography is your thing then this is the place to go. It was inaugurated in 1986 with the specific intention to preserve, research and promote Cuba's rich photographic heritage. There are numerous events taking place here, such as lectures, classes and competitions. The exhibition space is not enormous, so a visit here is likely to be short but sweet. That said, set over two floors, there are significant works by top class photographers covering almost any topic imaginable.

Factoría Habana, Old Havana

Inaugurated in 2009 with the intention of being a multidisciplinary centre of contemporary "experimentation". It tends to focus more on plastic arts, with temporary exhibitions changing roughly three times a year. Since its opening the exhibitions have included a mixture of locally created pieces and works by European artists, including Chanel's Karl Lagefeld in 2016.

Gallería Villa Manuela, Vedado

Gallería Villa Manuela has been going since 2004, and is the principal showcase of the National Union of Cuban Writers and Artists (Unión Nacional de Escritores y Artistas de Cuba). Displays change approximately every month, and the building has become a meeting point for some of Cuba's contemporary artists. The building has recently been renovated, and has a well stocked bookstore. Note, the gallery is not open on weekends.

Centre for the Development of Visual Arts (Centro de Desarrollo de las Artes Visuales), Old Havana

Set over three floors of an 18th century mansion, as the name suggests the centre focuses on the visual arts. It was founded in 1989 by the National Council of Plastic Arts. As a research centre it holds invaluable archives, both physically and digitally, of contemporary visual art. The exhibitions are usually a mixture of well established artists and emerging artists. The centre also has exhibitions several times a year that display the winners of various art competitions.

Galería de Arte Servando, Vedado

Created in 2003, Galería de Arte Servando is dedicated to exhibiting work by emerging artists. In order to allow lots of artists the chance to exhibit, most works are only on display for up to three weeks before being changed. It might, then, be worth a couple of visits during your stay. Incidentally, it is located near to two places named after Brits Charlie Chaplin Cinema and John Lennon Park.

La Marca, Old Havana

How many art galleries can you go to that also include a tattoo studio? Not many, but La Marca is one of them! It literally means "The Mark", and it can leave a mark on your memory, or a mark on your skin if you desire. The studio gallery has various artworks on display, and there is also the possibility to purchase several artworks too. La Marca also uses its space to host a range of artistic and cultural events.

The Eye of the Cyclone (El Ojo de Ciclón), Old Havana

This is an idiosyncratic experience, with bizarre, surreal and witty displays made from the creative use of secondhand objects. It is the work of Leo D'Lázaro, a painter, designer and photographer. The works are often playful, and as some of the works are interactive too it is one of the better options from this list if you are in Havana with children. The opening times tend to be as eccentric as the artwork, so as with all the galleries double check before you visit.

Note, this is one of many studio galleries that have been launched by Cuban artists to exhibit their own work. Other notable ones worth a visit include Estudio Taller Santacana, Jorge Gil Estudio Galeria, and Yuniel Delgado Studio.

Cuban Art Factory (Fábrica de Arte Cubano, FAC), Vedado

Ran out of time in the day to go to the galleries listed above? There is still time to experience art - the Cuban Art Factory opens in the evening, with everything ranging from conceptual art exhibitions to avant-guard music shows. It was started by the Cuban fusion musician, X Alfonso, and has since become a hub for artists of many creative fields. After seeing what's on offer you can hit the bar afterwards and dance til the early hours of the morning.