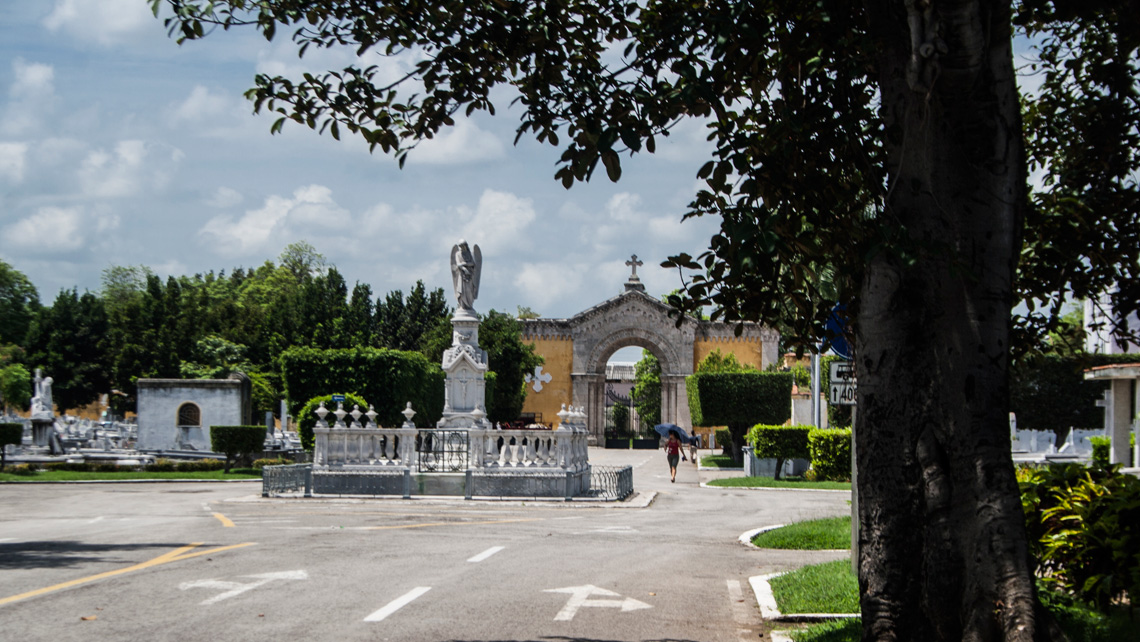 Havana is home to one of the World's most enchanting cemeteries. Walking around it is like being in an open-air museum, an unforgettable experience. Find out more here.
---
Colon Cemetery is a must-see for the curious-minded. It was completed in 1876, and has had a few alterations since then, not least the addition of more and more tombs!
Colon Cemetery, discover the beautiful resting place of Havana
In Spanish, it is known as "Necropolis Cristobal Colon" or sometimes "Cementerio Colon", named after Christopher Columbus. It is notable for being enormous in size and also grandiose and eccentric in style. Tombs are often highly ostentatious, although this is balanced by others that are more plain and humble.
It is a captivating place where you could spend several hours wandering around. Here are ten fun facts:
Over a million people have been interred in the cemetery

To date, it has over 56 thousand tombs and over 500 mausoleums. In total, well over a million people have been interred here, with some estimates suggesting it could be as high as two million.

It is filled with innumerable characters from Cuba's absorbing history

There are independence leaders (e.g. Maximo Gomez), writers (e.g. Alejo Carpentier), scientists (e.g. Dr Carlos J. Finlay), politicians (e.g. Eduardo Chibas), revolutionaries (e.g. Celia Sanchez), poets (e.g. Nicolas Guillen), singers (e.g. Ibrahim Ferrer), cooks (e.g. Nitza Villapol), the list goes on and on.

And while Cuba's national hero Jose Marti is not buried here, near the main entrance can be found an enormous memorial to his parents, Mariano Marti Navarro and Leonor Perez. The memorial also doubles up as a memorial to "Emigrados Cubanos" (Cuban emigrants) and has a large Cuban flag flying beside it.

It is home to the tomb of "The Miraculous Woman"

The tomb of Amelia Goyri is so popular that there is sometimes a queue to see it. Why? It is referred to as "La Milagrosa", meaning "The Miraculous Woman". In 1901 Amelia Goyri died during childbirth and was buried here, along with the stillborn child.

The story goes that the child had been placed at her feet, but when the tomb was exhumed a few years later Amelia's body was uncorrupted and she was apparently cradling the child. Word very quickly spread about this miraculous occurrence, and her husband commissioned the statue that you can see today of his wife holding the child.

For over a century it has been a place where people have come to pay their respects, leave gifts and pray for their hopes and dreams to be fulfilled. You may notice people performing a specific ritual for doing so.

This involves knocking on the tomb using the metal ring so as to alert Amelia of your presence, then saying your name out loud and asking in silence for the "miracle", leaving an offering, usually flowers, then walking away from the grave backwards.

It is home to the tomb of a popular spiritual medium

Along with the "The Miraculous Woman", there is another tomb that receives a high amount of visitors asking for favours and consolation, usually from the Santeria community. This is the tomb of Leocadia Perez Herrero.

She was a spiritual medium whose spiritual guide was Hermano Jose, and the tomb is generally named after him than after her. She was known for being a very charitable person, and after she passed away in 1962 her tomb increasingly became a point for people to try to reconnect with her and Hermano Jose. As with Amelia Goyri, flowers are often left, but at this tomb, you might also find glasses of rum and smoked cigars.

There is a giant chess piece on one of the tombs

There are various eccentrics to be found in the cemetery. One particularly unique tomb features a giant chess piece that is made of marble. It is the work of Cuban artist Florencio Gelabert.

Why is this here? This is the tomb of Jose Raúl Capablanca, one of the greatest chess players ever to have ever lived. Sometimes referred to as "The Mozart of Chess" and "The Chess Machine", from 1920 to 1927 he held the title as World Chess Champion, a fact that is mentioned next to his name on the tomb. He died in 1942. Fittingly, the chess piece on his tomb is a king.

It contains the enormous Firefighters Monument

The "Monumento a Los Bomberos" (Firefighters Monument) is a large memorial to commemorate the 25 firefighters who lost their lives during a fire at a hardware store in 1890. To remember their bravery, the monument was erected in 1897 and includes four large figures that represent pain, self-sacrifice, courage and martyrdom. Furthermore, the face of every firefighter that died has been carved into the base of the monument.

It contains an octagonal chapel in the centre

Unsurprisingly know as the "Capilla Central" (Central Chapel), it was completed in 1886 and sits harmoniously within the grid layout of the cemetery, marking the geometrical centre. It is one of just a handful of octagonally shaped chapels in Cuba. It is built in a Neo-Romanesque style and immediately catches the eye. To this day it is still a working funeral chapel, and its large size means it can potentially hold up to 700 people.

The main entrance is an iconic piece of Havana architecture

For locals, the main entrance to the cemetery is a familiar sight, situated as it is in a lively part of the Havana neighbourhood of Vedado. The entrance is known as "La Puerta de la Paz" (the Gate of Peace), a fitting name considering it is where so many souls are laid to rest. It features sculptures and reliefs by the Cuban sculptor Jose Vilatra de Saavedra.

It features heavily in a classic Cuban comedy film

The 1966 Cuban film "La Muerte de un Burocrata" (Death of a Bureaucrat) has multiple scenes set in the cemetery. This comedy - dark and farcical - revolves around the main character repeatedly digging up and re-burying the body of his auntie's husband to resolve the bureaucracy to help his auntie claim her pension.

In 2019 the film was restored and preserved by the Academy of Motion Picture Arts in collaboration with the Cuban cinematic institution Cinemateca. The same year it was shown at the Venice International Film Festival, as well as the Havana Film Festival. Courtesy of the New York version of the Havana Film Festival, you can now watch this film, and many other Cuban films, online for free.

It has been declared a National Monument

On 18th February 1987 Colon Cemetery was officially declared to be a National Monument by the Cuban Council of National Monuments.
Visiting Colon Cemetery
For a small fee, you can see for yourself the majesty of this unique cemetery. Due to its size, it is worth buying a paper map at the entrance. You may also want the assistance of a tour guide too, who can help you navigate the layout and also point out notable tombs and share thrilling stories.
The weather in the daytime in Havana is usually warm or hot, and you will often be exposed to the sun and the heat in the cemetery. It is therefore worth going on an overcast day or taking advantage of the cemetery's early opening time (08:00 AM) to enjoy the visit at a cooler temperature. If you've been out late the night before drinking and dancing, this is easier said than done.