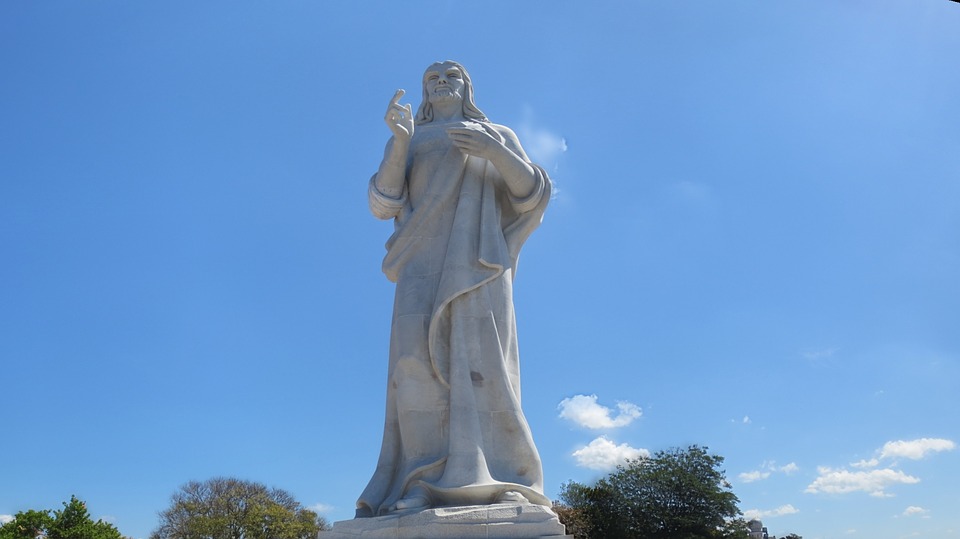 When it comes to colossal outdoor statues of Jesus Christ, Rio de Janeiro's Christ the Redeemer is often the first one that springs to mind. But Havana's own version, "Cristo de La Habana" (literally: "Christ of Havana"), is not to be missed. In fact, when you are visiting Havana it is nearly impossible to miss it, as it stands majestically on the hilltop looking down upon the city from across the bay. It is one of the city's most iconic statues, and since 2017 it has been officially classified as a National Monument. At nighttime the statue is floodlit, giving it an enchanting aura.
As well as admiring the statue from afar, you can also get right up and close to it. This can be combined with a visit to Parque Morro-Cabaña. Alternatively, if you just want to go straight to the statue, you can take the cross-bay ferry from Old Havana to Casablanca. They leave every 30 minutes from the ferry terminal in Old Havana, located opposite the Russian Orthodox Cathedral. The ticket price is very low and the ferries leave every 30 minutes or so. When you arrive at Casablanca, it is a 10-minute walk uphill.
Ten funny things I have learned about the Christ of Havana
The statue in many ways speaks for itself, but here are ten fun facts to whet your appetite to see it:
It was inaugurated on Christmas Day

On December 25th, 1958, the statue was officially inaugurated. It was a time of great change for Havana - less than two weeks after the inauguration, troops from the Cuban Revolution rolled into Havana and the city began a new era.

At the inauguration the artist of the sculpture, Jilma Madera, clarified her intention behind the statue:

Lo hice para que lo recuerden, no para que lo adoren" (I made it to be remembered and not to be worshiped).

It is the largest Christ statue in Cuba

It stands at 20 metres tall: 17 metres for the Christ figure and three metres for the base. At the time of its construction, it was one of the largest outdoor Christ statues in the world, though in recent decades it has slipped down the league tables. That said, it is still by far the largest Christ statue in Cuba and continues to dominate the landscape.

Interestingly, in the process of designing the statue, they were considering making it 35 metres tall, several metres higher than Christ the Redeemer. However, according to Jilma Madera:

"Desde el punto de vista artístico, habría sido un desastre si tenemos en cuenta la poca elevación de la colina" (From an artist point of view it would have been a disaster if one bears in mind that the elevation of the hill is very small).

Eventually, they accepted her proposal for 20 metres, which is what can be seen today.

The artist moved to Italy to carve the statue

After winning the competition to design the statue, and after further debates and modifications to her design, the plan was complete and Jilma Madera moved to Italy in 1957 so that she could complete the work closer to the quarry of the marble. The stone comes from Carrera, Tuscany, and is the same type of Carrera stone that was used by the Ancient Romans to build The Pantheon.

Estimates generally conclude that the statue weights around 320 tons. To be shipped from Italy across the Atlantic Ocean it was sent in 67 different pieces, ready for assembling after its arrival in Cuba.

It received the blessing of the Pope

Before the marble blocks were shipped from Italy to Cuba, they were personally blessed by the then Pope Pius XII. This was to be the last significant contact between a Pope and Cuba for several decades, as various restrictions were placed on religious activity in the years that followed the statue's completion. These were relaxed in the 1990s, and to date, three Popes have visited Cuba: Pope John Paull II in 1998, Pope Benedict XVI in 2012 and Pope Francis in 2015.

The sculpture is not modelled on anybody

Many sculpture artists use models to help create a lifelike representation for their statue. Jilma Madera took a different approach, instead deciding to make the image of Jesus Christ have a blend of different facial features and racial mixtures to be a generalised image of a man who is full of "vigour and strength". According to Jilma, the expression on his face is important to her philosophy too:

"Al rostro le imprimí serenidad y entereza, como para mostrar a alguien que tiene la certidumbre de sus ideas" (On his face I printed serenity and integrity, so as to show the certainty of his ideas).

The base is also a time capsule

Various newspapers of the time were placed inside the base, as well as a few gold coins.

The eyes are empty

Take a closer look at the statue and you will notice that the eye sockets have not been filled in. It is generally assumed that the purpose of this was to give the effect that Christ is looking to everyone in Havana, rather than with a fixed gaze focused on one part of town.

He is wearing flip flops

The flip flops are very much in keeping with the desire of the artist to portray Jesus as down-to-earth. She stated during an interview in 1998:

"No lo vi como un angelito entre nubes, sino con los pies firmes en la tierra" (I didn't see him as a little angel in the clouds, but with his feet firmly on the ground).

These flip flops themselves are identical to those worn by the artist. To this day flip flops are still popular footwear in Cuba, especially indoors.

It has been struck by lightning at least three times

In 1961, 1962 and 1986. The first lightning strike in 1961 was particularly damaging, though Jilma Madera was wise to have had the forethought to ensure that an extra spare block of marble had been shipped, and she spent five additional months repairing the damage. It is unlikely that the statue will be struck again, as after the 1986 lightning strike it was decided to place a lightning conductor on it.

Is he holding a cigar and a mojito?

A classic story told by tour guides and locals to visitors and each other is that the statue is crafted in such a way that Christ is holding an invisible cigar in his right hand, and an invisible mojito in his left hand. Unlike the 10 fun facts above, this is a myth rather than a fact, but will no doubt continue to get told again and again as it is such a fitting Cuban tale!