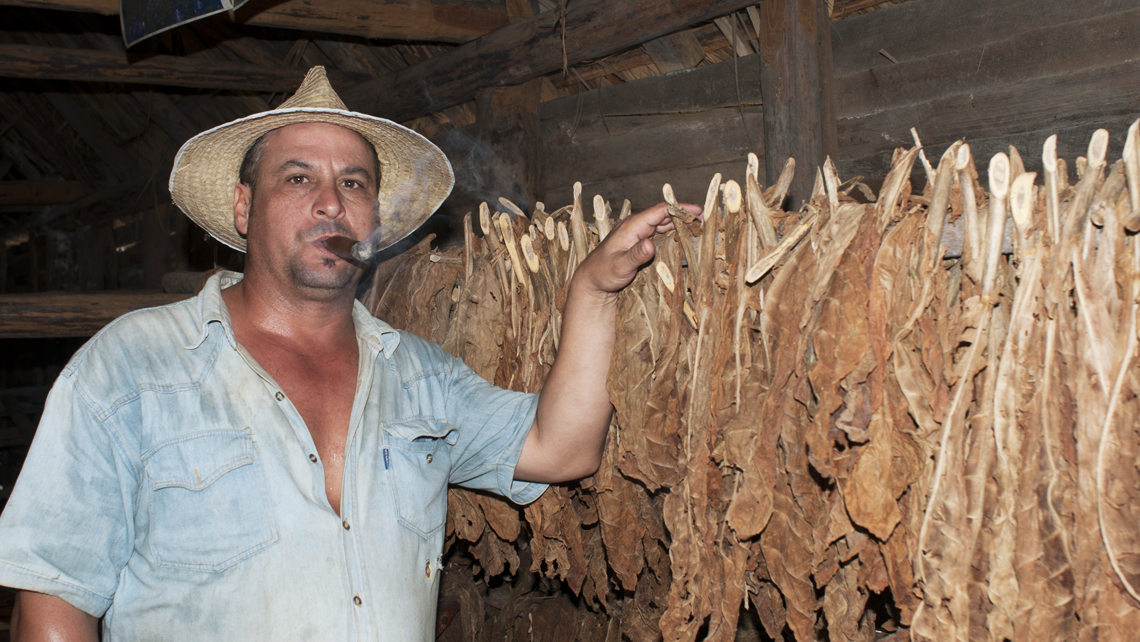 Cuba is famous worldwide for the quality of its cigars. Did you know that they have been smoked on the island for well over 500 years? Find out more here.
---
Ten fun facts about the most highly rated cigars in the world
When many people think of the country of Cuba, one of the first things that pop into their heads is the cigars. The image of cigars and Cuba are so connected that it's hard to avoid seeing photos of Cuba without someone in the foreground or background holding or smoking one of their most celebrated products. This tobacco product has enchanted the island for centuries and will undoubtedly play a role in your visit to Cuba.
To enlighten you further, here are ten fun facts:
Cigar smoking in Cuba has a very long history

Tobacco smoking has been a part of Cuban culture since records exist, dating back well before Christopher Columbus' arrival in 1492, when he reported indigenous islanders smoking it in various forms. While cigars are closely associated with Cuba, it is thought that the very first rudimentary cigar was probably smoked somewhere in Central America - archaeologists base this on images found on a 10th-century Mayan pot showing a man smoking something similar to a cigar.

Over the centuries, cultivating and rolling cigars in Cuba became art, and since the 19th century, it developed into a full-blown industry. The country is still considered by many to produce the finest cigars in the world.

Cigar bands are a 19th-century invention

While cigar smoking in Cuba has a very long history, the usage of cigar bands - the paper ring placed near the tip of the cigar with the brand and a pattern - is a relatively new phenomenon. There are various theories and stories as to why this came about, and you'll probably hear some interesting anecdotes from tour guides about this. Historians generally agree that it was most likely started by a Dutch immigrant to Cuba in the 1830s. Gustave Bock was a cigar maker, and he started putting paper rings with his signature on them to try and highlight their quality and prestige to the European market. In the following years the practice took off, and by the 1850s, it had become ubiquitous.

The best are still rolled by hand

In Cuba all the premium cigars - usually referred to as "Habanos" - are crafted by professional cigar rollers, known as "torcedores" (twisters) in Spanish, some of whom are known to produce more than 200 cigars a day. You may meet cigar rollers in various tourist locations rolling cigars in public, and it's a joy to watch the speed and method by which the tobacco leaves all bind together, and appreciate the art of the roller.

Cigars are often paired with rums

Throughout Cuba, local connoisseurs can be found debating not only the merits of the various cigars but also which cigar pairs well with which rum, known as "el maridaje" (marriage). In various tourist experiences, you can also have the opportunity to try these combinations. Pairing the right cigar with the right rum is comparable to pairing the right wine with the right food. And when it's right, it's a mesmerising sensation for the senses.

Winston Churchill was a Cuban cigar aficionado

Winston Churchill was rarely seen without a cigar, and it is thought that he first developed this passion when he was spent a few months in Cuba in 1895, at the age of 21. It became a lifelong habit, and on occasions, he was known to have smoked up to 10 on the same day. "Romeo y Julieta", one of the top Cuban cigar brands, ended up naming one of their most famous cigars after him.

A few years ago, during the filming of British World War 2 film The Darkest Hour, around 400 Churchill cigars were used in total, costing almost £15,000! During a visit to Cuba, Churchill is said to have remarked:

"Cuba will always be on my lips."

And if you are a cigar aficionado, then you will undoubtedly feel the same.

Cigars are one of Cuba's biggest exports

Cuban cigars make up an important part of the export economy. Estimates vary, but roughly $500 million worth of cigars are exported annually, representing around a quarter of Cuba's total exports. Sugar, medical services and nickel are usually the next biggest exports.

You can visit cigar factories and tobacco plantations

In places like Viñales, visiting a tobacco plantation is one of the top things to do there. Viñales is just a few hours away from Havana and makes an enchanting trip for a couple of nights. As for cigar factories, there are several possibilities, but by far the most popular is in Havana, known as the "Real Fábrica de Tabaco Partagás", a cigar factory and museum and cigar outlet that also offers up-close tours of the laborious cigar making process.

There are lots of counterfeit Cuban cigars around the world

Not surprising considering the price, Cuban cigars have been counterfeited around the world, as well as in Cuba itself. It is therefore highly recommended that if you are approached by anyone offering to sell you cigars, always refuse. Trying to deal on the black market in any country is a dubious experience, and Cuba is no exception. Even if you are streetwise and able to hustle a great price, the cigars you end up with will probably be of low quality. Tourists have even been spotted parting with their money on the street for "tabaco de la bodega", the super low-grade machine-made cigars that are sold to Cubans in state grocery shops for just a few cents.

Official cigar shops in Cuba are known as "Casa del Habano"

The best places to buy Cuban cigars are in these official state-run stores, known as "Casa del Habano". These specialised tobacco outlets are in plentiful supply in the towns and cities that you are likely to visit. Often they are located on the ground floor of hotels. If they are not in the hotel, then ask the hotel staff where to find the nearest one. They are also in places like the Tobacco Museum in Havana, and the cigar factory mentioned in fact 6.

You can pack up to 50 cigars to take from Cuba to the UK/EU

Cigars can be bought singularly, or in boxes, especially boxes of 25. Therefore, you cannot take more than two full boxes of cigars back with you without committing an offence with both the Cuban and the UK/EU customs.

Note that if you are taking more than 20 cigars out of Cuba, you may need to show official receipts of purchase when exiting the country. This measure was introduced to try and stop the illegal selling of cigars to tourists, so remember to keep your receipts. If, during your trip to Cuba, you don't have time to buy cigars, don't worry. You can still buy them at the airport. More info on that here.