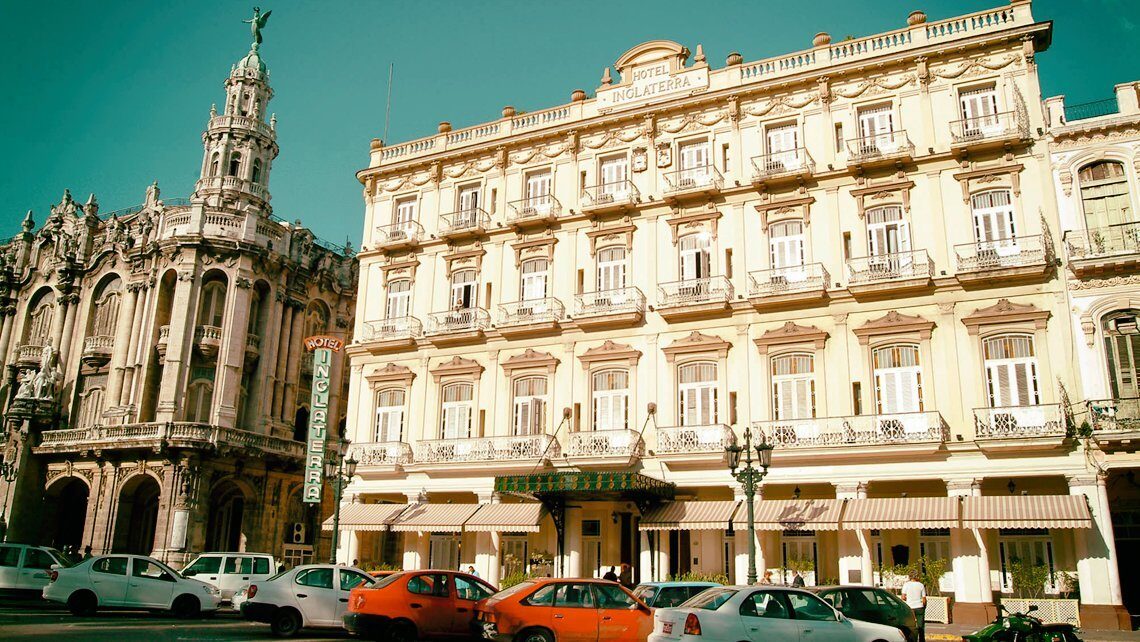 Situated in the heart of Havana is an iconic old hotel where you can experience the splendour of Cuba's past. Known as Hotel Inglaterra, find out more here.
---
Cuba is home to many atmospheric and charming classic hotels, and in the capital city of Havana, there are a whole host of gems. Hotel Inglaterra is a particularly iconic place, one that rarely fails to leave an impression on anyone that stays there.
Hotel Inglaterra is a building steeped in history that gives off the ambience of a bygone age while also being a well equipped four-star hotel with reputable restaurants and bars. Whether you end up sleeping there, dancing there, popping into the cafe to use the wifi or simply admiring the building from afar, you may be curious to know more about Hotel Inglaterra.
What do you need to know about Hotel Inglaterra?
Well, here are ten fun facts.
It is Havana's oldest hotel

Hotel Inglaterra first opened its doors in December 1875. Back then, it was a two-storey hotel. In 1886 it was sold to new owners, who added a third storey. A fourth storey was added in 1914, and the hotel has been remodelled and renovated numerous times since then, usually with a focus on modernising while also maintaining the timeless charm of the building.

In English, it means "Hotel England"

"Inglaterra" is the Spanish word for England, and you might see the occasional nod towards England in and around the hotel. For example, on the street beside the hotel, San Rafael, you'll see a London Underground sign with the word "England", and you might come across the odd British or English flag too.

Winston Churchill stayed here

Continuing with the England theme, this was the hotel of choice for Winston Churchill in 1895. Back then he was 21 years old and there to report on military developments during Cuba's War of Independence. It is thought that during this trip he picked up his love of Cuban cigars. This is not the only time that Winston Churchill was in Cuba. Churchill returned in 1946 when he remarked:

"Cuba will always be on my lips."

Churchill's connection with Cuba is cemented by the fact he has a prestigious cigar named after him.

It has played a role in Cuba's history

Books could be written about this hotel's role in various events of Cuban history. But to give one example, back in 1890 General Antonio Maceo stayed here for six months. Maceo, along with figures such as Carlos Manuel de Cespedes and Jose Marti, was one of the important heroes of the Cuban fight for independence from Spain, and there are various statues, parks and street names in his honour across Cuba.

American novelist Elmore Leonard featured it in one of his novels

In "Cuba Libre", a historical crime novel published in 1998 but set in 1898, Elmore Leonard features Hotel Inglaterra. If you end up staying in the hotel this might make an intriguing bedtime read, but be warned, in the novel two people get shot in the hotel!

It was closed between 1931 and 1939

The effects of the Great Depression drastically affected the number of American tourists going to Cuba in the 1930s. Consequently, the hotel was forced to close, but by the end of the decade, it was back on its feet. Today, as one of Havana's most iconic hotels, it is unlikely to close due to lack of demand any time soon.

The interior and exterior of the building don't match

An interesting idiosyncrasy of Hotel Inglaterra is the contrast between the exterior and the interior. The facade is in a classical order - refined, symmetrical, harmonious. Considering the name of the hotel, it wouldn't look out of place in England.

However, step inside and the interior is lusciously decorated in an exuberant style that far more Moorish than European classical. It is not uncommon in Havana to see this mismatch between the exterior and the interior, another good example of this is Havana Cathedral.

It has a rooftop terrace open to visitors

Want to see some of the best Cuban live music in Havana? The rooftop bar of Hotel Inglaterra is a safe bet. Both the ground floor terrace and the rooftop bar have bands every night, usually with some of the city's top musicians playing classic Cuban music. As is the nature of the style of music, and Cuban culture, expect to see plenty of dancing too.

The ground floor music is popular with locals

Want to see a classic Havana spectacle? Walk past Hotel Inglaterra during the evening. The ground floor arcade has a seated area for drinking and live-music aimed at entertaining tourists. However, as the music can just as easily be watched and enjoyed from the pavement outside, locals often gather outside to socialise and sing and dance along to the music.

The rooftop allows you to get up close to the Grand Theatre

The Grand Theatre of Havana Alicia Alonso is a sight to behold from any angle. It is particularly worth checking it out from the Hotel Inglaterra's rooftop, or even the south-facing hotel room balconies if you happen to be staying there.

This is because from a higher vantage point you can see the stunning detail that went into some of the theatre's exterior statues, the work of Giuseppe Moretti and his assistant Geneva Mercer.