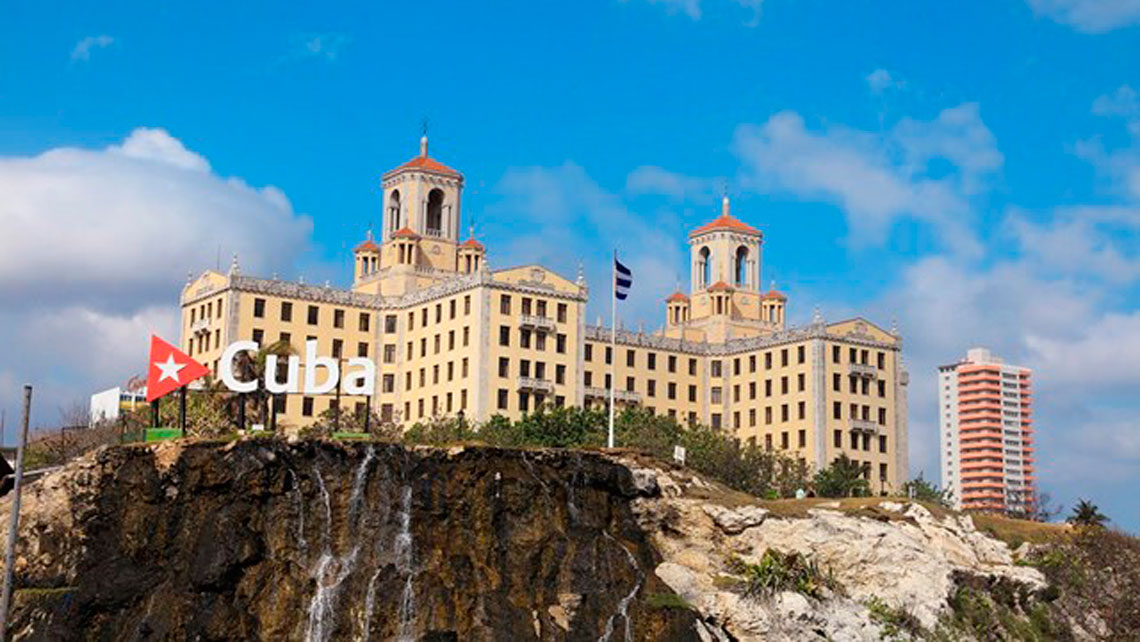 Hotels in Cuba don't get much grander than this. Built in 1930 when Cuba was firmly on the map as the place to go, it has plenty of stories to tell. Find out more here.
---
Since its completion in 1930, this has been one of Havana's grandest and most prestigious hotels. It is possibly the most famous hotel in Cuba, and as the "national" hotel it can probably lay claim to having hosted the greatest amount of famous guests who have come to the island.
As well as the people who have step foot inside, it is also a place renowned for its architecture, and also for the relics of the past that can be found on the grounds at the back, including a mysterious cave and a plethora of disused canons.
Nacional de Cuba Hotel, all you need to know
Nacional de Cuba Hotel is not a place where you could get bored in a hurry! Here are ten fun facts:
It has hosted an exhaustive list of notable faces

Over the years innumerable well-known people from around the world have chosen to stay at Hotel Nacional de Cuba. Prior to the Cuban Revolution in 1959 notable guests included Marlon Brando, Walt Disney, Frank Sinatra and Ava Gardner.

Following the revolution, it hosted famous people who were sympathetic to the cause, such as the author Gabriel Garcia Marquez, and the Soviet astronaut Yuri Gagarin. In recent years it has hosted the Russian President Vladimir Putin, the Chinese President Xi Jinping and former US President Jimmy Carter.

It has a Winston Churchill bar

As well as the well-known names mentioned above, Winston Churchill was another famous face who stayed at the hotel in 1946. In his previous visit to Cuba, way back in 1898, he had stayed at Hotel Inglaterra when he was less well known, but in 1946 shortly after World War Two, he was a well-recognised face, and consequently, photos are on display of his visit at the Winston Churchill Bar.

Unsurprisingly, Churchill was also smoking Cuban cigars during his trip, a habit it is thought that he had picked up during his earlier visit to Cuba.

It has a room named after Jean-Paul Sartre

French writer and philosopher Jean-Paul Sartre and his wife Simone de Beauvoir - also a writer and philosopher - stayed here shortly after the Cuban Revolution in 1960. They both interviewed Che Guevara, and both wrote about their experiences in Cuba on their return to France. While there is a room named after Sartre, as of yet there does not seem to be any rooms named after Simone de Beauvoir.

It is a mixture of architectural styles

Part of Havana's charm comes from its eclectic architecture. Not just how one building differs from the next, but also how a mishmash of styles can be used on the same building. With regard to Hotel Nacional de Cuba, elements from Art Deco, Moorish, Roman and Sevillian styles can all be found.

The building layout is based on two Greek crosses

It is thought that they chose to design the building in this way not for any overt religious connotations but instead, it would enable a greater number of rooms to have a sea view.

Due to the shape of the seafront along this part of Havana, this design is one of the most efficient ways of enhancing the sightlines, and also adds a certain elegance to the hotel from the outside as well. The building has a total of 457 rooms spread across eight floors.

The hotel backs onto The Malecon

If you are visiting Havana, it is inevitable that at some point you will be walking, driving or even dancing along The Malecon, the long promenade and road that winds for nearly five miles along Havana's seafront.

The hotel is located in the district known as Vedado, and being situated by the Malecon means that for visitors wanting to visit Old Havana, a leisurely stroll east along the promenade will take them there. Alternatively, for visitors staying in Old Havana, Hotel Nacional is a landmark to look out for as you walk west.

It hosted an infamous gangster summit in 1946

Gangsters from the United States met at Nacional de Cuba Hotel in 1946 in what has become known as the "Havana Conference". Notorious villains came from New York City, New Jersey, Buffalo, Chicago, New Orleans and Florida, and decisions that were made during the summit had an influence over gangster activity in the United States for decades to come.

As a cover story for the conference, Frank Sinatra was flown in to perform in a gala party, to try and give legitimacy to the event. In the film The Godfather Part II, there is a nod to the Havana Conference when Michael Corleone travels to Havana to meet with some mob bosses.

The grounds of the hotel are part of Havana's UNESCO World Heritage site

Step out into the gardens of Hotel Nacional and you'll discover that you are standing on the historic Taganana Hill. "Hillock" might be a better English word, for it is a rather small hill. But its height was significant enough that in 1797 it was chosen to have coastal artillery stationed there known as the "Santa Clara Battery."

Despite the construction of the hotel in 1930, some of the artillery (including some enormous canons) is still on display on the grounds at the back of the hotel. Consequently, when Old Havana was added to the list of UNESCO World Heritage sites in 1982, this was included as part of it.

Underneath the hotel's grounds is a famous cave

Known as the Taganana Cave, for hundreds of years, this has been the source of various legends in Cuba, most notably that in the 16th century it provided shelter for a native Cuban girl who was fleeing Spanish persecutors. The cave is now home to museum displays, and you can even do guided tours to visit the underground tunnels that were built under the hotel.

It combines five-star modern facilities with old-style charm

One of the reasons why lots of visitors find the hotel so enchanting is that while it has some of the best hotel facilities in Havana, it also still retains much of the original decor and ambience from when it was first opened.

The lobby is adorned with the original Cuban mahogany and antique clocks, while much of the furniture is well in keeping with the age of the hotel. It is somewhere that a tourist might enter to either travel back in time or to travel forward in time!