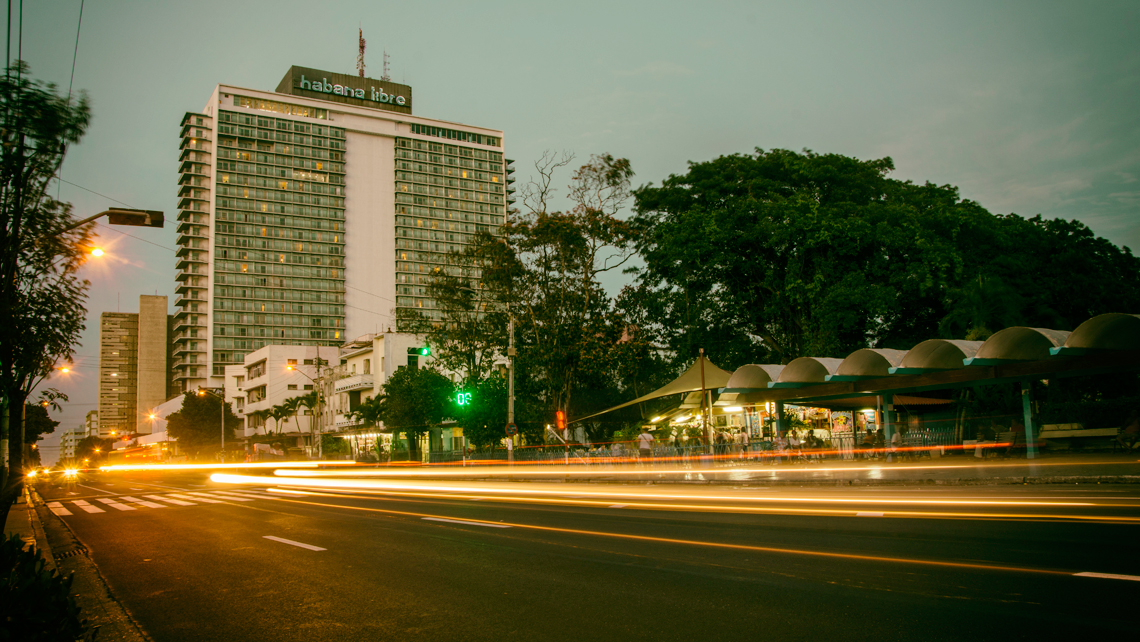 Hotel Habana Libre is a Cuban hotel steeped in history. Both a visual landmark on the Havana skyline and one of the city's top hotels, discover more here.
---
Hotel TRYP Habana Libre has been a prominent feature of Havana's skyline ever since its completion in 1958. With 572 rooms inside, it is possible that if you visit Havana, then this could be where you stay.
As well as its popularity with tourists, it is a landmark well known by locals, especially as a focal point. It is situated in the district of Vedado by an important transportation hub and near to the famous Coppelia "Cathedral of Ice Cream". Cubans in the city are known to use this hotel as a reference point.
Ten quick facts about TRYP Habana Libre, an iconic hotel in the centre of Havana
With it being so prominent, if you ask for directions, then a local might start by saying that such-and-such is near Hotel Habana Libre.
As a building that has accumulated so many stories since its construction, there are innumerable fun facts that could be written, but here are ten to get started:
It is the tallest hotel in Havana

Measuring at 127 metres in height, upon its completion it was actually the tallest (and largest) hotel in the whole of Latin America, and to this day is still the tallest hotel in Havana. Despite the recent construction of new hotels in Havana, with more expected to be completed this year, Hotel Habana Libre will still keep this title in 2021.

It is not, though, the tallest building in Havana, finishing second to the nearby FOCSA building which is just three metres taller.

It was originally known as Habana Hilton

The original hotel was operated by the American hotel group Hilton. After the Cuban Revolution the property was nationalised and in 1960 renamed Habana Libre, a name which it retains to this day. The hotel is now partly operated by Melia under the brand TRYP, and it is also known as Hotel TRYP Habana Libre.

Despite the renaming, its history has not been forgotten by the Hilton family. In 2015 Paris Hilton visited Cuba. As the great-granddaughter of Conrad Hilton who founded the hotel chain and who was present for the opening of this hotel back in 1958, she felt compelled to take a photo for Instagram with Hotel Habana Libre in the background.

The building features an iconic mural by Amelia Pelaez

Amelia Pelaez was a Cuban avant-garde painter who won numerous prizes during her lifetime. She was 61 when the mural that adorns the outside of Hotel Habana Libre was completed. It was at this stage in her artistic life when she had the most success.

She had often struggled to sell her paintings when she was younger but eventually got more recognition. This commission for the hotel was representative of the respect that she was getting later in life for her talent.

It contains notable works of art inside

As well as the iconic mural outside, inside the hotel, there are gems of Cuban art to be found. Alfredo Sosabravo, who recently celebrated his 90th birthday, has a mural on the first floor of a surreal car made of up of 555 pieces of ceramic. This was added to the hotel in 1973.

Back when the hotel opened, a mural consisting of eleven panels was created by Rene Portocarrero. It is called "Historia de Las Antillas" (History of the West Indies), and you can see it today in the bar named after the work.

The ground floor has an extensive collection of old photographs on display

If you want to see a visual slice of the hotel's colourful history, there are plenty of photographs on the back wall of the lobby.

It hosted the 17th Chess Olympiad

In previous articles, I have written about Cuba's World Chess Champion Jose R. Capablanca and also one of the potential Cuban inspirations for the Queen's Gambit. Chess is very popular in Cuba, and it is small wonder that the country was chosen to host the 17th Chess Olympiad.

Between October 23rd and November 20th 1966, Hotel Habana Libre was the place to see some of the most famous chess players in the world, including Bobby Fischer and Boris Spassky.

It hosted over 2,000 reporters from around the world for the Pope's 1998 visit

Hotel Habana Libre was very lively in January 1998 as it teamed with reporters covering the historic visit to Cuba by Pope John Paul II. Part of his trip including going to the iconic Havana Cathedral.

It has been climbed by "The French Spider-Man"

On February 4, 2013, Alain Robert, sometimes known as "The French Spider-Man", climbed the outside of the hotel without any ropes or safety nets.

He has climbed many buildings in various countries, and in an interview, he expressed how happy he was to accomplish this feat in Cuba finally. Various videos can be found on YouTube showing how Alain Robert scales the building.

The original hotel had a casino

Gambling in Havana was rife during the 1950s, especially among the mafia gangs around in that era. The casino in Hotel Habana Libre (then Hilton) was not the most notorious spot. However, it was not immune to the dark side of the casino culture of the time.

After the Cuban Revolution in 1959, the casinos were gradually closed down, and to this day there are no casinos in Havana.

You can use many of the hotel services even if you are not a guest

The ground floor of Hotel Habana Libre has numerous facilities available for tourists. You don't have to be staying at the hotel to enter (though, of course, you do if you want to go upstairs to a room!). Inside you can find shops, currency exchange, cafes, bars and other amenities. You can also arrange excursions, transport, and many other services.