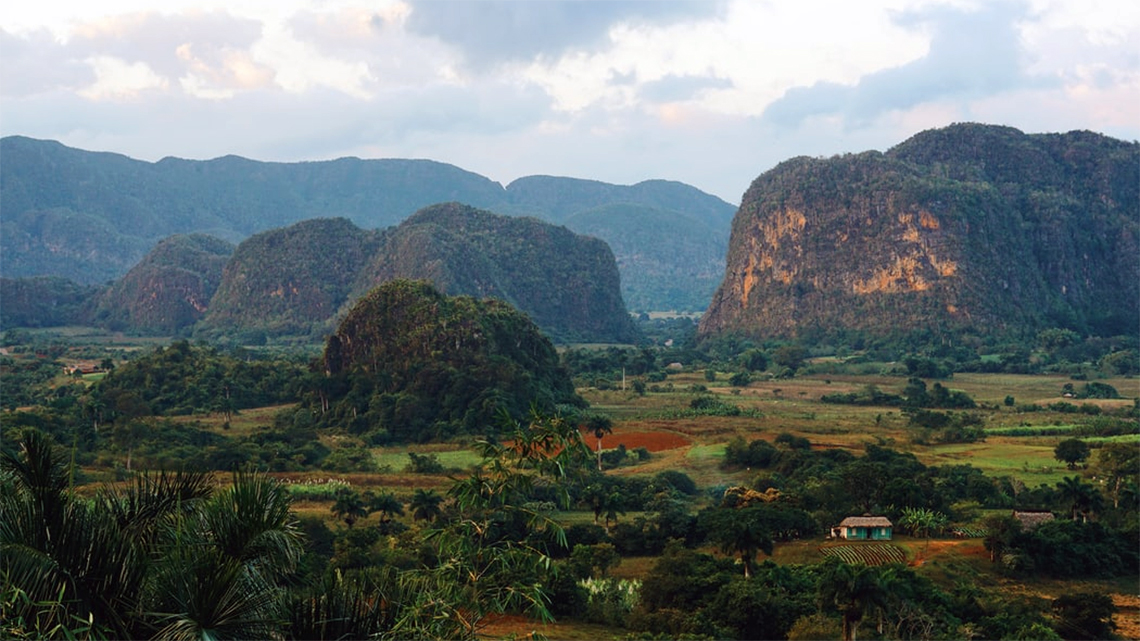 Viñales receives far fewer visitors than Cuba's stunning beaches and enchanting capital Havana. But if you have the time, it is well worth making the trip to Viñales. Here are ten reasons why:
Ten reasons why I love Viñales and you will too
The journey to Viñales is beautiful

Situated in the Viñales Valley in the province of Pinar del Río, the journey to Viñales encompasses some of Cuba's most picturesque landscapes. There is usually very little traffic on the road, and throughout the journey, there are multiple views that are worthy of making beautiful photographs. If you are travelling in a private or a shared taxi, you are welcome to ask the driver to make a few brief stops along the way should you feel it necessary.

The pace of life

Just as the journey through Viñales Valley shows a different side to Cuba, the pace of life once you arrive in Viñales is also effectively the polar opposite to Havana. No more hustle and bustle, instead everything seems to be on a relaxed slow motion speed. Indeed, the pace of life and the accompanying culture of the Pinar del Río region is so distinct that it is often satirised and made the butt of jokes in other parts of Cuba.

The "mogote" hills

One of the biggest draws to the area is the "mogote" hills. These are natural karst rock formations that are dotted across the landscape. They were originally formed around 160 million years ago by Jurassic-era erosion. They look rather surreal as they stand isolated surrounded by land that is rather flat. This makes them very photogenic, especially when matched with the bright green of the vegetation. The most frequently photographed mogotes are known as the "Mogote Dos Hermanas" ('Mogote Two Sisters'), two enormous rocks that stand proud, having survived millions of years of weathering.

Viñales Valley is a UNESCO World Heritage Centre

It was designated not only due to the uniqueness of the landscape but also due to the farming methods. To this day traditional agricultural techniques are still in use, with horses, ploughs and human hands still doing much of the work. On the one hand, this provides a "back-in-time" glimpse into old fashioned farming methods. On the other hand, these methods have also been praised by some for being more eco-friendly than other modern farming practices.

The multitude of activities available

Over the past couple of decades, Viñales has adapted to the growing number of visitors by offering a range of activities. Hiking is particularly popular. Going with local guides is the best way to encounter the optimal routes (and also travel safest). If you fancy something faster-paced than hiking, the town now has various bike rentals. Alternatively, for an experience that seems to match the traditional feel of the area, horse-riding can be easily arranged. The terrain of Viñales is well suited for rock climbing, something that has grown in popularity in recent years. All of these activities can easily be booked through local travel agencies or through your accommodation.

There are also museums, an old church, botanical gardens and various other things to do, should you be staying for quite a few nights.

The local food and drink

Viñales has earned a reputation for having delicious food, in the restaurants, the guesthouses and in the local's homes. One of the main reasons for this is that much of what is served on your plate was grown nearby. The area is extremely fertile, so fruit and vegetables are grown in abundance, and usually organic. It is, therefore, an ideal region of Cuba for vegans and vegetarians to eat their heart out. But if you are a meat-eater, don't worry, you'll easily find the spit-roasted pig.

As for drink, this is a coffee-growing region. Cuban coffee has long been enjoyed by coffee connoisseurs, and in Viñales you can drink coffee that has been grown and roasted just a stone's throw from where you are seated. The coffee is usually organic too.

The tobacco plantations

Cuban cigars for centuries have been highly prized possessions, and all around the Viñales Valley, you can see where the story begins with the cultivation of the tobacco leaves. The tobacco plantations add extra colour to the landscape, adding a mix of green and emerald. For cigar connoisseurs, this is the ultimate pilgrimage, but even if cigars are not your thing, going for a hike around the tobacco fields can still be an appealing experience.

The natural wildlife

The rural flora is enhanced by the presence of a variety of animal species. Most abundant and visually present are the array of colourful birds, including hummingbirds, mockingbirds and "tocororos". Note that tocororos, also known as "Cuban trogons", are native to the island and therefore considered a national bird.

The "Mural of Prehistory"

This gigantic work of art was painted on the side of one of the mogote hills in the 1960s. It was designed by Leovigildo González Morillo, and took eighteen people a total of four years to complete. As the name suggests, it depicts prehistory up to the ascent of humanity. Various animals are represented in the story, including dinosaurs and a huge snail.

The "Indian Cave"

Known as "Cueva del Indio" in Spanish, this was an ancient dwelling for indigenous inhabitants of Cuba, known as Guanajatabey. Today it can be entered by a speed boat, making it particularly fun for visitors with children. They may also get treated to scary stories. The inside of the cave is well lit with artificial lamps.
So, how do you get to Viñales from Havana?
It's very easy to get to Viñales from Havana. You have several options.
There are Viazul buses that leave for Viñales three times a day from Havana's central bus terminal (Estación Central de Ómnibus Nacionales). It is generally recommended to book several days in advance, either online or via a travel agency.
If you miss the bus then outside of the bus terminal there are lots of shared and private taxis which are travelling to Viñales, or you could also just approach one of the taxis that are situated outside Havana's hotels. Remember to agree on the price before setting off. If you would rather get assistance obtaining a taxi, then Havana's travel agencies and hotels can also help book one for you. The bus journey takes around three hours, taxis are usually slightly faster.
Note, there are also shared taxis running between Viñales and other destinations. That means that when you are ready to leave Viñales you'll find plenty of taxi drivers offering rides to popular tourist towns, such as Cienfuegos and even as far as Trinidad.