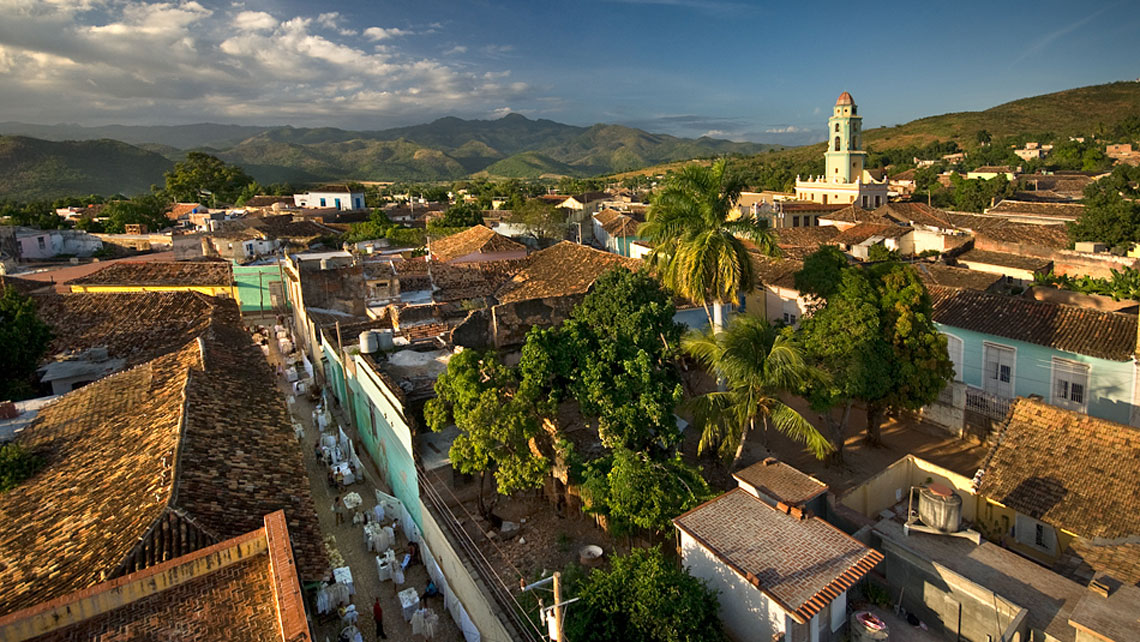 Though most of us tend to envision Havana when we think of Cuba, the island is home to other, lesser-known cities that encapsulate the essence of Cuba in an altogether different manner. One of them is Trinidad, a UNESCO World Heritage site and one of the best-preserved colonial cities in the entire Caribbean. Located on the Southern coast of Cuba, Trinidad offers the perfect blend of city, beach and nature – all within a short distance. Not that you'll need much convincing, but here's 10 reasons you have to visit Trinidad...
The entire city of Trinidad is a UNESCO World Heritage Site

Frequently described as a "living museum", Trinidad is one of the best-preserved colonial cities in Caribbean. Its rich historal and architectual offering earnt the city UNESCO World Heritage status in 1988.

View of Trinidad

The Plaza Mayor plays host to some of the most magnificent buildings in Cuba

As is typical of Spanish colonial cities, a grand square dominates Trinidad's centre. Many of the buildings on the Plaza Mayor originate from the 1700s, originally belonging to wealthy landowners. Their opulence provides an authentic glimpse into Trinidad's golden age.

The Iglesia Parroquial de la Santisima Trinidad (below) has stood at this site since 1620, though the current structure was officially completed in 1892. It boasts a number of fascinating religious artifacts, including an 18th-century statue of Jesus Christ.

Plaza Mayor in Trinidad Cuba

Horse Cart in front of Holy Trinity Church in Trinidad

The Municipal History Museum is a colonial dreamscape

This gorgeous museum is housed within the Palacio Cantero, home to the influential Borrell family from 1827 until 1830, when it passed to German planter Justo Germán Cantro. The Municipal History Museum displays Cantero's immense wealth, housing Cuba's finest collection of colonial furniture in its 14 neoclassical rooms.

A legendary character shrouded in mystery and hearsay, it is reputed that Cantero acquired vast sugar estates by poisoning his close friend, Don Jose Mariano Borrell, and marrying his widow, who also suffered an untimely death.

Courtyard of Municipal Museum in Trinidad

Interior of Municipal Museum in Trinidad Cuba

Trinidad's colourful streets make the perfect place for an afternoon stroll

The architectural delights of Trinidad are not limited to its mansions and churches. Homes and local businesses are responsible for a large part of the city's appeal. They sport a distinctive and unmistakably Cuban uniform, with their bright contrasting colours. Both residential and commercial properties tend to be single-storey and mirror the preference of Trinidad's colonial elite for large grilled windows and terrocotta-tiled roofs.

Cute streets in Trinidad, Cuba

Colourful Streets in Trinidad, Cuba

The Escambray Mountain range is just a 20-minute drive away

Cloaked in thick woodland, the gentle peaks of the Escambray Mountain range serve as a popular retreat from the city. Topes de Collantes National Park is the highlight, where caves, waterfalls, canyons and rivers provide excellent hiking and adventure sport opportunities.

Escambray Mountain Range.

Waterfalls in the Escambray Mountain Range

Trinidad boasts a surprisingly lively nightlife scene

The tragic intertwine of the sugar and slave trades left Trinidad with a rich African heritage, particularly evident in its music. The city is therefore a great spot to catch an Afro-Cuban rumba performance or to go out for a sensational night of dancing. One of the most popular spots for an evening of mojitos and music is Casa de la Música, or rather the steps that lead to it. Professionals and first-timers alike are encouraged to shake their hips to live salsa tunes on the open-air dance floor.

You can tour the Valle de los Ingenios on a steam-train from 1906

Just 7.5 miles outside of town, the Valle de los Ingenios (Sugar Mill Valley) was the centre for sugar production from the late-18th century until the late-19th century, and the source of much of Trinidad's wealth. At their peak - when Cuba was the world's biggest producer of sugar - over fifty sugar cane mills were in operation and over 30,000 slaves worked in the mills and plantations. Today, you can tour the UNESCO World Heritage site by a steam-train built in 1906. The train was built to transport sugar rapidly and prevent it from spoiling.

Steam Train from 1906 in Valle de los Ingenios

Manaca Iznaga Tower in Valle de los Ingenios.

El Pilón Waterfall is just a horse-ride away

Just outside the city of Trinidad, this cool, shaded waters of El Pilón waterfall are the perfect place for a refreshing dip. Unsurprisingly, it is a popular stop on many horseback and hiking tours.

El Pilon Waterfall

Trinidad offers some of the best casas particulares in all of Cuba

With just a limited number of hotels on offer, the city of Trinidad has developed a high standard of casas particulares (private homestays), where guests can indulge in a truly authentic Cuban experience. Trinidad's casas are renowned for their friendly hosts, as well as their delicious offering of home-cooked food, and colourful, breezy terraces.

Casa Osmary Alberto in Trinidad

Casa Jesus Pineda in Trinidad, Cuba

You can visit Playa Ancon and its underwater archaeological reserve

Just 7.5 miles south of Trinidad, Playa Ancón offers long stretches of powdery-soft white sands and a beautiful coral reef. With more than twenty dive sites, the beach is perfect for snorkeling and diving enthusiasts. This area is also an important archaeological reserve, with countless boats and galleons scattered along the seabed, sunken as a result of privateer warfare!

Playa Ancon near Trinidad

For more information on visiting Trinidad, check out our full destination guide. For some tailor-made itinerary inspiration, have a look at our award-winning holidays, such as Enchanting Cuba or Open Roads and Colonial Retreats.