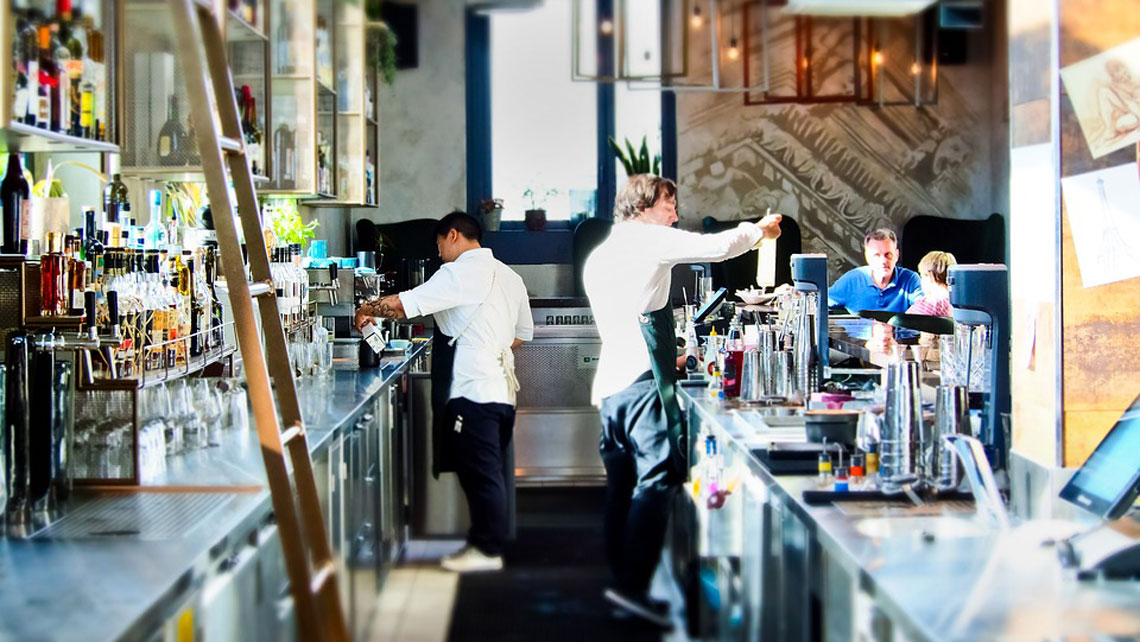 When it comes to going out, Havana has it all. A unique place to dance and drink the night away, Havana's bars give so many reasons to celebrate being alive. Whether you feel like relaxing or getting energised, there really is something for everyone.
No wonder the bestselling writer and renowned drinker Ernest Hemingway made this city his home. Until he passed away in 1961, he could be regularly spotted drinking and sharing anecdotes in places such as "El Floridita" and "La Bodeguita del Medio". But there is far more to Havana than Hemingway's footprint. Dotted across the city are a whole host of idiosyncratic and quirky bars giving visitors the chance to let their hair down and have a memorable experience.
Here are ten superb bars NOT visited by Hemingway
El Chanchullero de Tapas

Hemingway has been used to get visitors to go to all kinds of places in Cuba, but this bar has decided to use reverse psychology. Outside the entrance reads a sign:

"Hemingway was never here."

Once inside, one is confronted with more signs saying:

"No Wi-Fi, talk to each other instead."

And what an arena to chat. This place has an atmosphere where a nice mixture of locals and visitors that tend to come here for its convivial vibe. But don't worry, if you run out of conversation the walls are so filled with graffiti that you can treat the place like an art gallery, and slowly ponder the meaning of the artwork as you sip your way through a cocktail or two. The mojitos and daiquiris in this place never fail to please.

Mojito Mojito

The clue is in the title - this bar prides itself on mojitos. A drink invented in Cuba, the word origin is thought to be linguistically connected with the word "mojo", and make no mistake, this is a great place to get your mojo back!

Most nights there is live music, and when the place gets busy impromptu conga lines are known to snake around the bar. If you get too hot and sweaty dancing then the bartenders are at hand to serve you a frozen mojito to cool you down. Should you need refuelling, the menu is wide-ranging and the portions are enormous. It is a place that you could spend many, many hours in, something that is encouraged by the bar, which displays a sign saying:

"Avoid hangovers, stay drunk!"

La Farmacia

All over Havana, you will see the word "farmacia". Meaning pharmacy, these medication collection points are an essential component of Cuba's healthcare system. But this pharmacy is different - the medicine they prescribe is coffee and cocktails!

This is a smaller bar, set in a charming part of old Havana, a place to relax and unwind rather than dance and spin. If you sit outside it's also a good place to people watch. Pick a good seat and you effectively have a live street theatre of Havana residents going about their business.

Cerveceria Plaza Vieja

Fancy a night without cocktails? Cuba is also a place to drink beer. Go to most bars and you will find "Cristal" and the stronger "Bucanero" available, both of which are brewed on a large scale. This bar goes one step further, it brews its own small-batch beers on the premises. For those of you that can handle your beer, you can buy giant yard glasses of the stuff!

Set in the historic Plaza Vieja, live music is played outside, especially traditional Cuban son, sending you back in time. And if time warp is your thing, check out the old truck inside, of which you are allowed to jump inside and take photos.

El Almendron

"Almendron" is one of the many Cuban slang words used for the vintage American cars that still populate the city. This is a great bar to go for simple food and drink - especially a wide range of rum - presented with elegance. As well as a well-painted bar, the bathroom facilities are a curiosity, where they have cleverly recycled old tyres. In a country where Wi-Fi is lacking and expensive, this place has become popular for its free Wi-Fi. Indeed, you'll sometimes spot people lingering near the entrance to load up!

Go there between 4 pm and 7 pm and there are happy hour prices on the drinks.

Bembe Tapas & Bar

While tapas is more commonly associated with Spain, serving small snacks with drinks has been just as historically common in Cuban history. Should you be wanting something more substantial, this bar does some of the best "Ropa Vieja" in the city. The atmosphere here, just like much of Havana, changes between night and day.

During the daytime, it feels like a relaxed cafe, a perfect pit stop to recharge from the hustle and bustle of the street life. But at night it has a more decadent feel as neon lights and rhythmic music fill the place.

Art Pub

Calling itself a pub, this place is an interesting hybrid between a Cuban bar and a British pub. The walls have an eclectic combination of Cuban photography and international memorabilia, including an English football scarf and a picture of the rock group U2. For die-hard football fans, this is one of the bars in Cuba that shows the big European games.

Check out the happy hour between 6 pm and 7 pm, half-price drinks.

El Rum Rum

Rum was an essential part of Cuba's history, from the cultivation of sugar to the distilleries that can be found across the country. This bar specialises in the stuff, especially blending different types together. Their mojitos, for example, are made with two types of rum, which gives them a unique flavour.

The place is cleverly decorated with recycled rum memorabilia - check out how they've turned old rum barrels into shelves. This is another good spot to hear authentic Cuban son music. The place is so small and cosy that you may find yourself chatting to band members between songs!

Sia Kara Cafe

The front of the drinks menu declares:

"If Hemingway were alive today he would love it here!"

Sure enough, this place has the vibe of Hemingway's dear "El Floridita' but without the tourist, hoards passing through. The bar includes large artworks ranging from paintings of obscure figures to witty interpretations of classics, such as the Mona Lisa. Modern art also features, including a colourful piece of pop art with the word "love". The place also has a piano, and anyone is allowed to get up and show their skills. If they get an applause, they are allowed to remain for another song!

Azucar Lounge

"Azucar" - meaning sugar - is a word often heard in Cuba, not just because of it's a ubiquitous presence in the daily diet, but also multiple other meanings the word entails. It was also shouted in songs by the legendary Cuban singer Celia Cruz, a scream that is thought to have its origins as a battle cry by slaves who worked in Cuba's sugar plantations.

In the context of this bar, the name seems to be indicative of the sweet feeling one is meant to feel in its ambient rooms, or perhaps the white colour, as it is like walking inside a giant sugar cube! If you have visited the more traditional looking Havana bars, this place offers a much more modern feel, with a slicker layout, a modern drinks list and contemporary music.