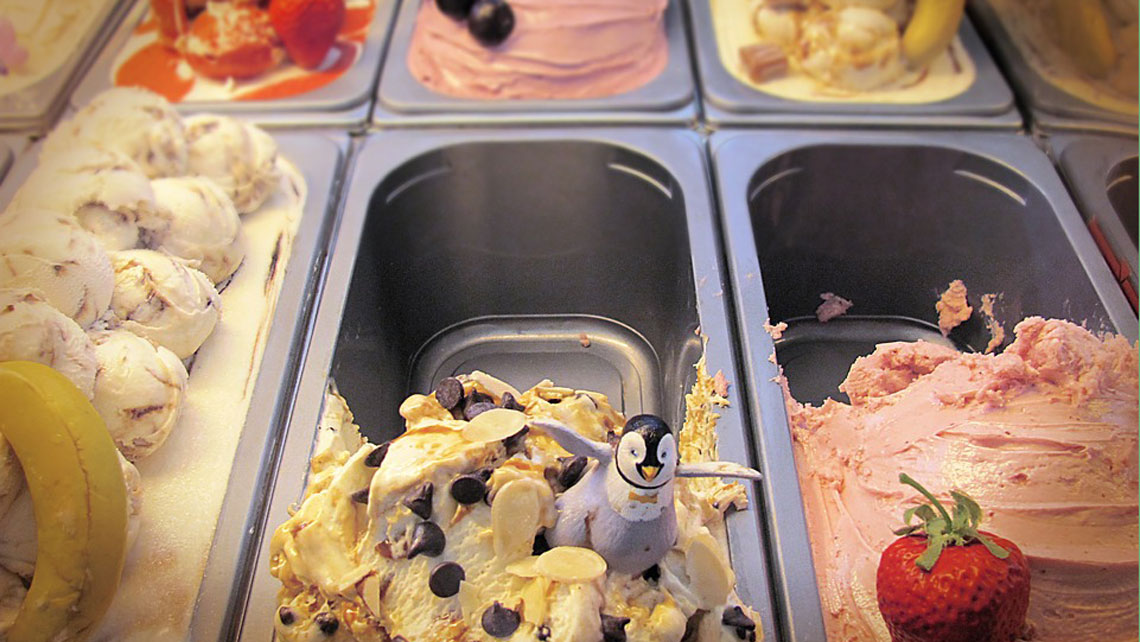 Ice cream has been popular in Cuba since the beginning of the 20th century, when vast blocks of ice were imported to the island to make cold drinks, cocktails and ice creams for both locals and tourists. Since then its popularity has never waned, and is still enjoyed by every level of society. You can pick up a scoop for just a few cents, or try more exuberant artisanal ice cream in some of Havana's newer "heladerias" (ice cream parlours). A particularly worthwhile treat on a hot day, here are five ice cream parlours not to miss.
Coppelia

If you only go to one place to understand the importance of ice cream in Havana, this is it. It's estimated that up to 35 thousand customers are served every day at was has been termed "the cathedral of ice cream".

Built in the 1960s with a quirky almost spaceship-like design by Cuban architect Mario Girona, it was build by the government to provide an affordable, communal setting to enjoy ice cream, and to this day still seats a thousand people at full capacity. Back when it was built the Cuban leader, Fidel Castro, was frequently photographed with an ice cream cone in his hand. The Columbian writer Gabriel Garcia Marquez claimed to have witnessed him once eat 18 scoops after lunch! Small wonder, then, that he supported the building of Coppelia.

Coppelia has played a role in many people's lives in Havana. Grandmothers often take their grandchildren there. Teenagers gossip inside and outside. And it is where countless married couples had their first date. A million stories could be written about the goings on of Coppelia, and it remains for many people a beloved institution. It is small wonder that Coppelia was chosen as a crucial setting in the 1993 Academy Award nominated Cuban film "Fresa and Chocolate" (Strawberry and Chocolate). Indeed, the title itself is a reference to two of the most popular flavours available there.

Coppelia is notorious for its long queues. One could say the place has been a victim of its own success. One of the reasons for the queues is the sheer popularity of the experience, the other is the very low cost that the ice cream is sold for. Note, as tourists you'll probably be directed to the much shorter line for the ice cream sold in the pricier CUC currency. You have the right to join the cheaper queue, but bear in mind that waiting times can be over an hour. Yet for a once in a lifetime experience at the world's only state owned "cathedral to ice cream", why not?

Helad'oro

Whilst Coppelia is the place to go to experience an idiosyncratic part of Cuban history, Helad'oro is the place to go if you want the highest possible quality artisan ice cream. All made on site, there are over a dozen flavours to choose from. One unique flavour well worth a try is "mamey". This fruit is native to the island, and works perfectly as a natural flavour for ice cream. Also on offer is "timba" - this flavour uses both fresh guava and soft cheese, and is a match made in heaven.

The atmosphere inside is very welcoming, with friendly staff and a cosy ambience. The one thing lacking is any outdoor seating, but as Helad'oro is situated in Old Havana it is a good spot to get a takeaway cone and wander around the old streets.

Bim Bom

This is another ice cream parlour that makes its own ice cream, served at remarkably cheap prices considering the quality. The great draw of Bim Bom is that it is situated right next to the Malecón. Thus, whilst the atmosphere inside is not the most convivial, it's a handy spot to grab an ice cream to take with you and sit on the sea wall, either looking out to sea or facing back towards the city, depending on your mood.

The peanut flavoured ice cream here is delicious, served with a fresh sprinkling on top. Peanuts are grown in abundance in Cuba. If you just want peanuts without the ice cream, you can find street sellers called "maniceros" (peanut vendors), some of whom still sing the classic old Cuban Peanut Vendor song that was written back in 1930. When ordering a peanut ice cream in Spanish, remember to use the Cuban Spanish word "Maní". Sometimes using the other Spanish word "cacahuete" causes children to snigger, as "caca" is another way of saying "poo", which would definitely not be a desirable ice cream flavour!

Amore Helado Italiano

This is a fantastic place to go if you want to avoid the queues of Coppelia, it's situated just a few blocks around the corner and offers a delightful artisanal ice cream experience. It's housed in a quaint old building, and there is also relaxing outdoor seating terrace if you'd prefer to take in the breeze.

Whilst its name hints at the strong Italian influence, it still retains a Cuban flare, with flavours including local pineapple and guava. There are a range of desserts available to accompany the ice cream, which tend to be served on the plate with some creative and colourful presentation. It is also a great spot to go for breakfast, served with fresh juices and Cuban coffee.

El Gelato

If you are looking for the most upmarket ice cream parlour in Havana, this is it. Pitching itself as a glamorous place to go, the glamour comes a higher price tag than the other options. Located in the district of Miramar, it is an example of the new culinary venues that have been opening up due to the relaxation of rules on private dining establishments in recent years.

Whilst the name indicates that this place makes gelato, it also has a fine selection of sorbet. The fruit cocktail sorbet ("sorbete de coctél de frutas") is particularly pleasing, made with a mixture of locally grown fresh tropical fruit. The menu here is so extensive that you can work your way through 34 flavours of ice cream and sorbet, or alternatively devour a range of other sweet treats and savoury snacks.