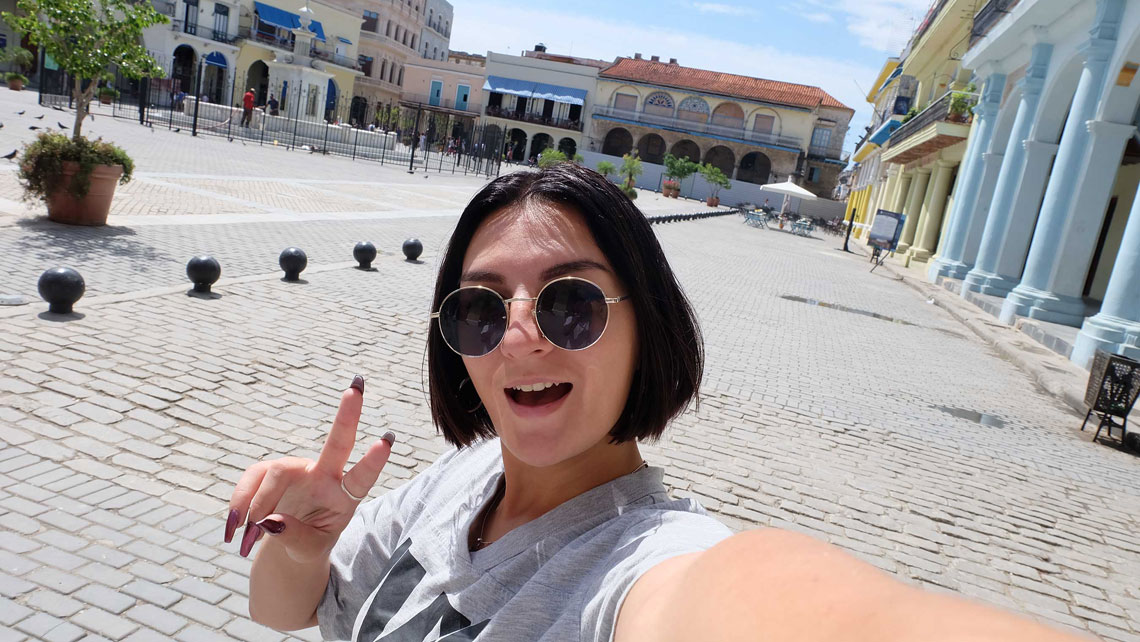 Attention selfie fans! We've searched all over Havana to make this quick guide for all our snap-happy travellers out there. Here you'll find the top ten spots our dedicated team of local representatives recommend for those unforgettable holiday pictures.
Have you ever heard "a picture is worth a thousand words"? Some would even argue that in this day and age if you didn't take a picture of a place you've visited or a meal you've loved then it wasn't really that remarkable. Well, we at Cuba Direct TM believe that a once-in-a-lifetime trip to a city like Havana needs to be commemorated.
Besides, even if you're not Instagram-crazy, we all need those special snaps to send back to our loved ones at home, or to frame above the fireplace to remind us of the warm when winter hits. Luckily, Havana is an amazing city, with photo opportunities around every corner so that you're never too far from a photo to remember. But if you're looking to get those special snaps that capture the Havana magic, here are our top 10 recommendations.
Capitol Building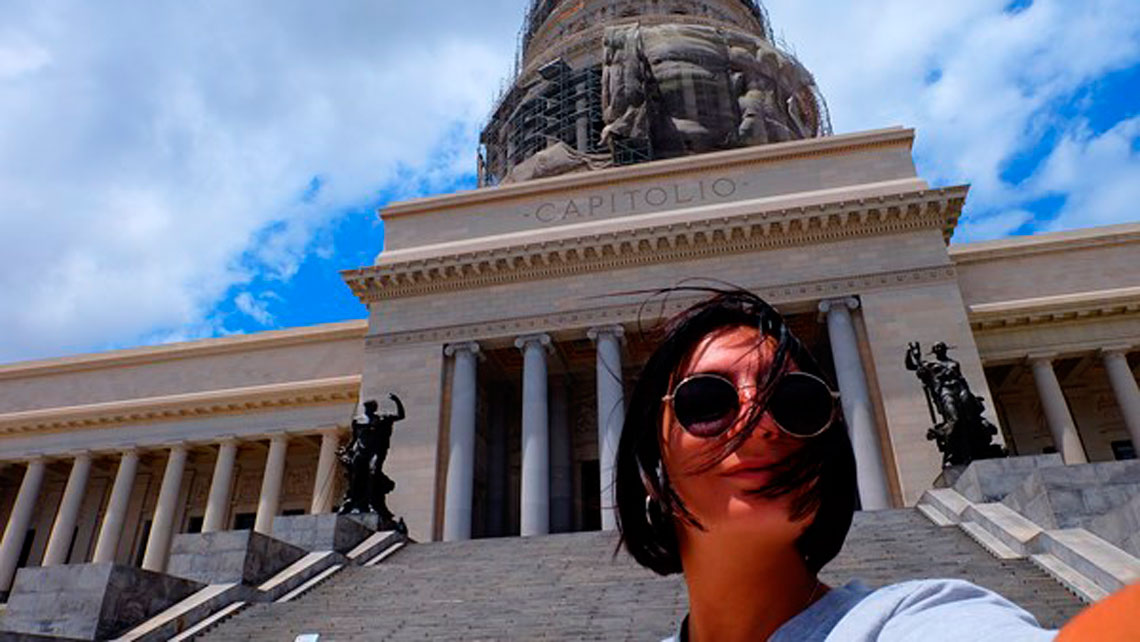 The author at Havana's Capitolio Nacional
Havana's world famous Capitolio, or the National Capitol Building (Capitolio Nacional de La Habana) is a must-see for anyone visiting Cuba's capital city. An important historical landmark, it is located in the exact centre of Havana on the Paseo del Prado (another great place to visit). This impressive building is such an important part of the Havana skyline that it is nearly impossible to miss, and absolutely perfect to snap a selfie in front of to show you've delved into the heart of the city.
Top Tip: The Capitolio can get quite, so try and head by in the early evening to get a photobomb free snap and a great backdrop of the Caribbean sunset.
Malecon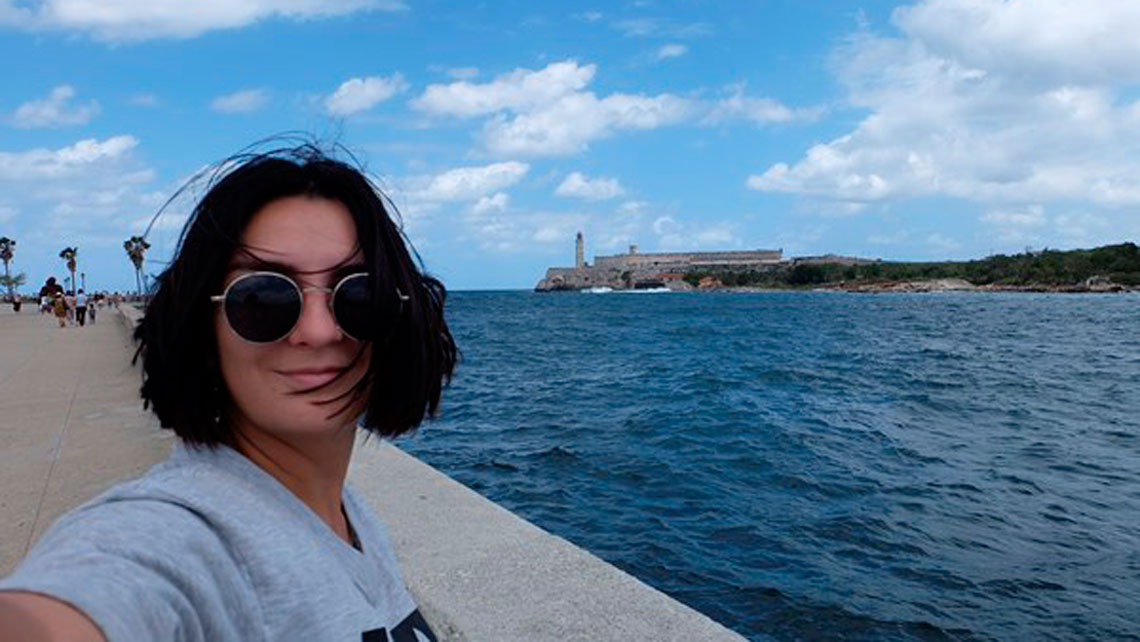 The author at the malecón sea-drive. Castillo del Morro on the backgrounds
Feel the sea breeze on your hair and the sun on your back at the Malecon. This seawall twists and turns its way along the capital city's coast and is a great place to go for a wander. Along the way you'll see the famous Hotel Nacional de Cuba (where royal members Edward of Windsor and Winston Churchill stayed back in the 1940's), and the Salsa Bar 1830 along with plenty of other selfie-friendly spots.
Top Tip: If you're brave enough, head down on a windy day and see if you can capture a wave leaping over the wall.
John Lennon Park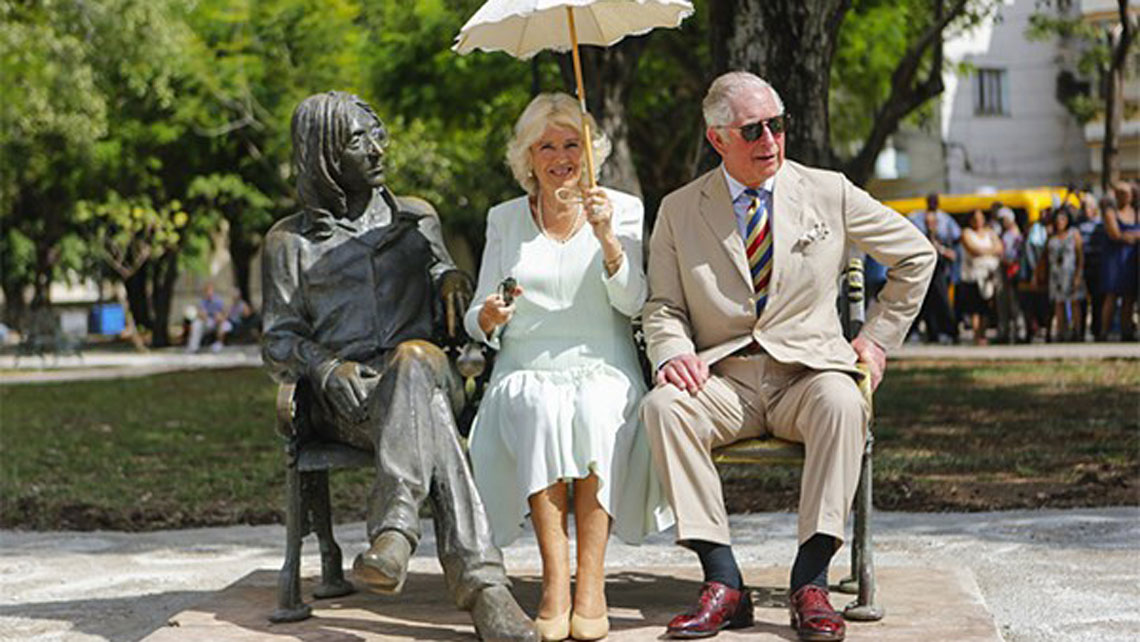 TRHs Prince Charles and Camilla, Duchess of Cornwall at Park John Lennon during their visit to Havana in March 2019
Tucked away in Havana's Vedado neighbourhood, the John Lennon Park is frequently missed by visitors to the city. However, if you take a wander through this trendy quarter, direct your feet to the corners of 18 street and 15th avenue, and you'll be able to take a picture with the famous statue, much like Prince Charles, who visited the park and the statue during his visit to Cuba in march 2019.
Top tip: If you're friendly to the guard, they might just let you wear his glasses.
Kempinski Rooftop Bar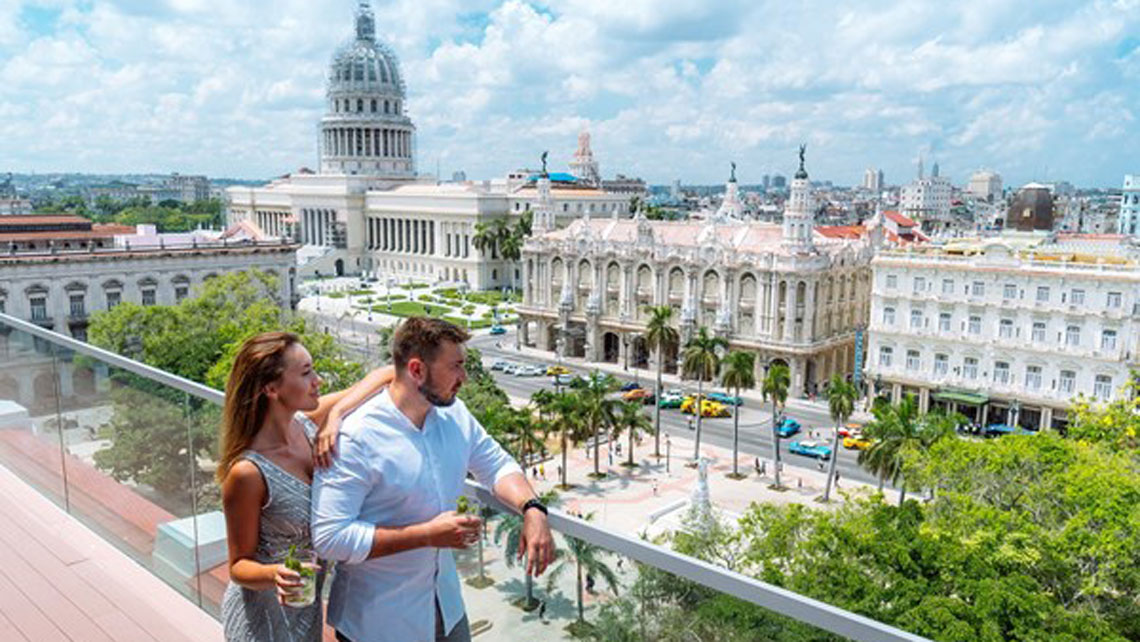 The rooftop bar at Hotel Gran Manzana Kempinski allows for amazing views over the Parque Central
Is there anything more idyllic than watching the sun set over a Caribbean city with a mojito in your hand? Well, the Hotel Gran Manzana Kempinksi's rooftop bar can provide just that. With some of the best cocktails in this breath-taking hotel will look after you while you soak up the last of the sun rays as it disappears over the Havana skyline. A magical experience perfect for a selfie you'll cherish forever.
The 4 Squares - Old Havana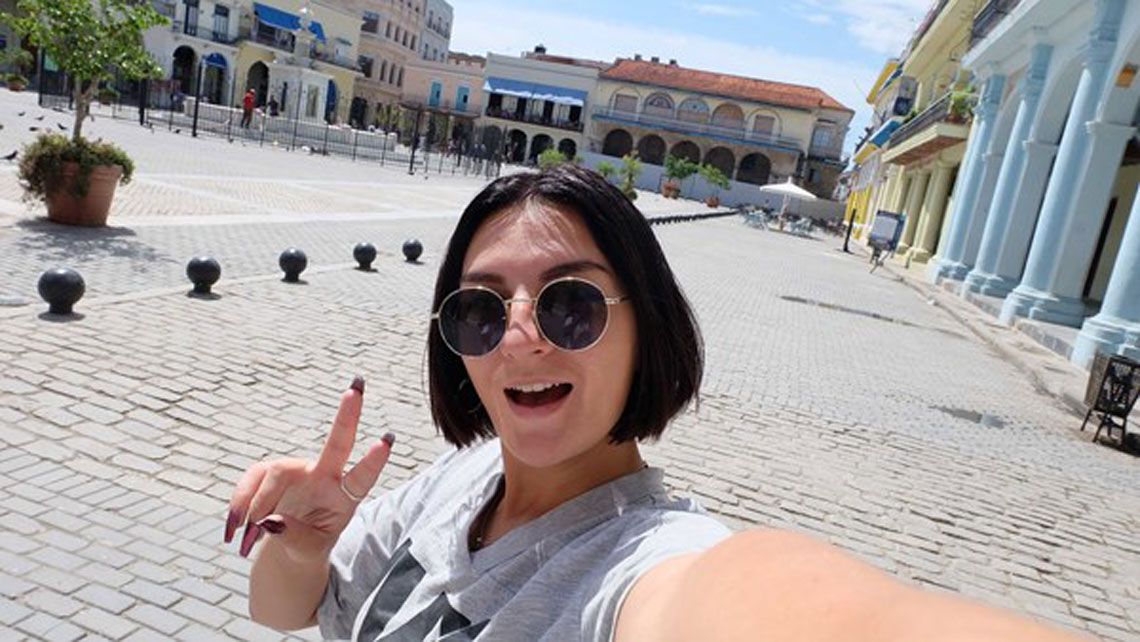 The author at Plaza Vieja
Technically these are four different locations -- Plaza De Armas, Plaza de San Francisco Asís, Plaza Vieja, and Plaza de la Catedral
Havana is famous for its deep, rich history and one of the best ways to soak it all up is to visit the four famous city squares. Dotted about the old quarter, each tells a different story about how the city grew into the buzzing, culture-packed metropolis we see today. So take a wander around the old town and snap some pics of times gone by.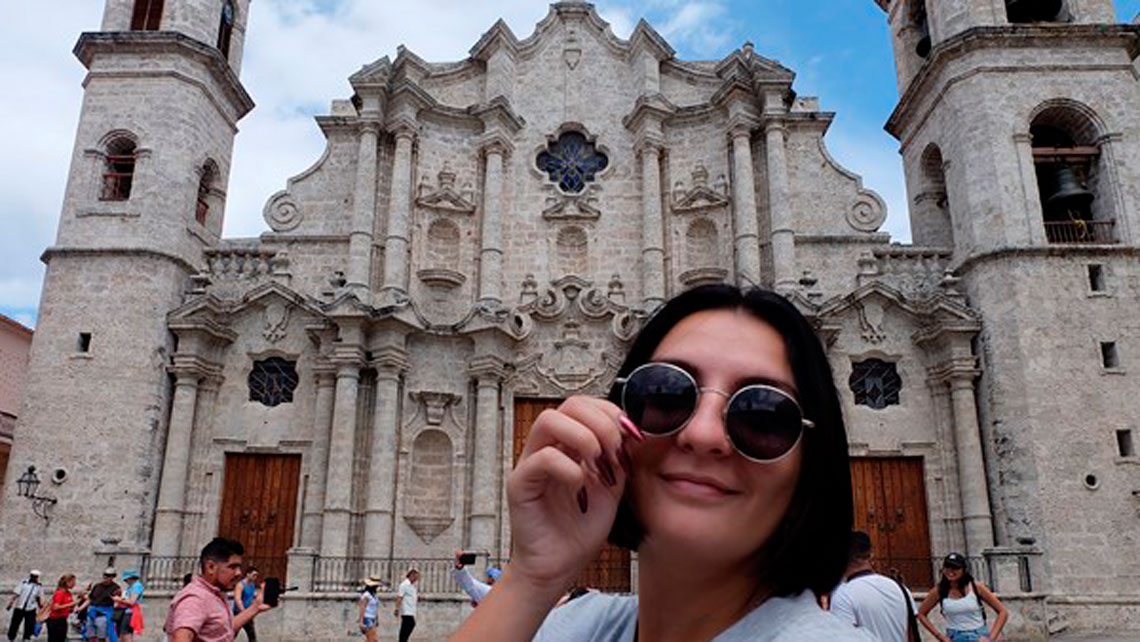 The author at Plaza de la Catedral
Revolution Square & Paseo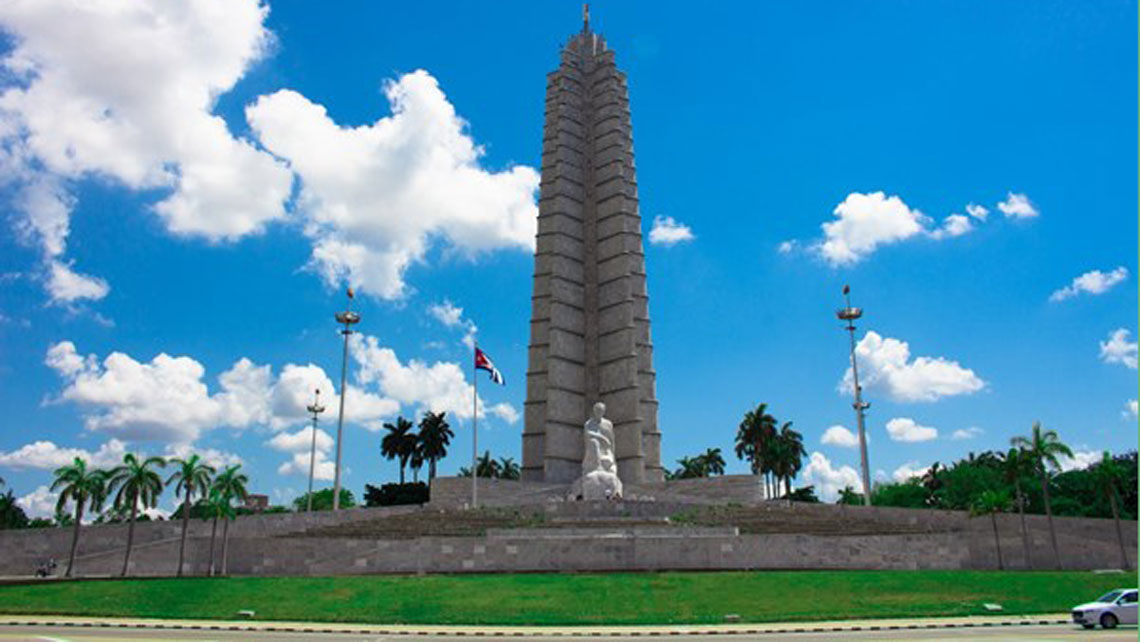 The Revolution Square and Monument in Vedado neighborhood
It is impossible to speak of Cuba without speaking of revolution and there is no better way to embrace Havana's revolutionary past than to stroll up Paseo into the Revolution Square and see the famous steal memorials of Che Guevara and Camilo Cienfuegos, alongside the Jose Marti monument. This place is selfie ready at every angle and is a great way to show that you've visited the famous revolutionary island.
Old American Car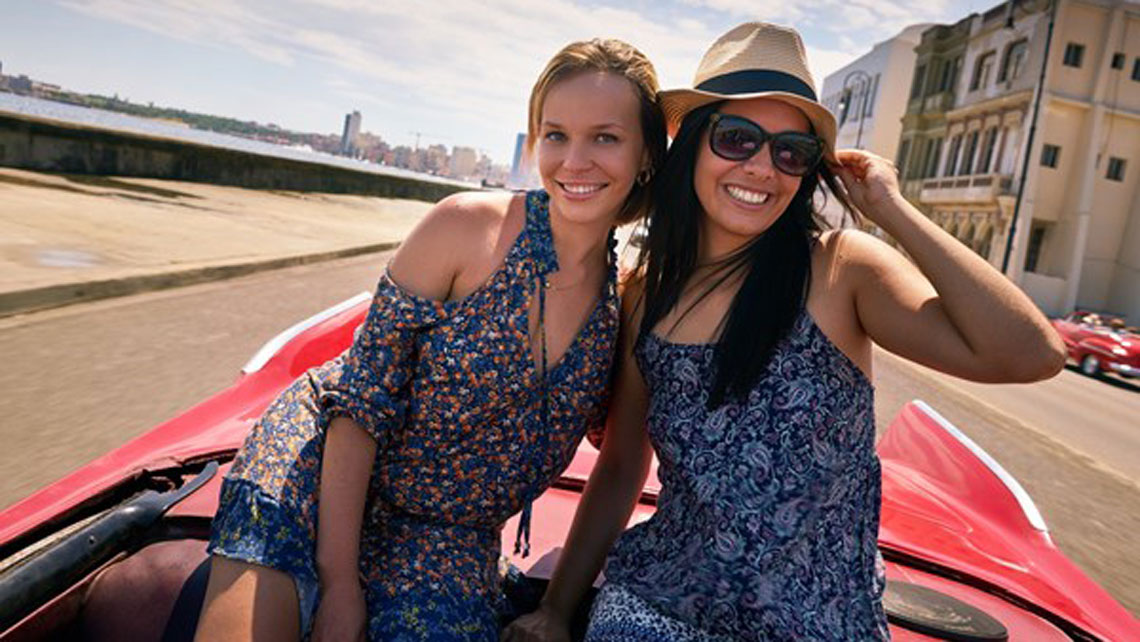 Last but certainly not least – the famous old American cars. To this day the old Chevrolets, Fords and Cadillacs are an iconic part of the magical island and we believe there is no better way to sum up a trip around Cuba than a selfie with an old American car. You'll feel like you've travelled back in time.
Want to take that perfect selfie soon? Start planning your tailor-made trip to Cuba with our Cuban travel experts. For more information and advice, feel free to personally contact our team on 02039305057 or through our Contact Us form. With more holiday experts of Cuban origin than any other British tour operator, our specialists really do know Cuba inside out.