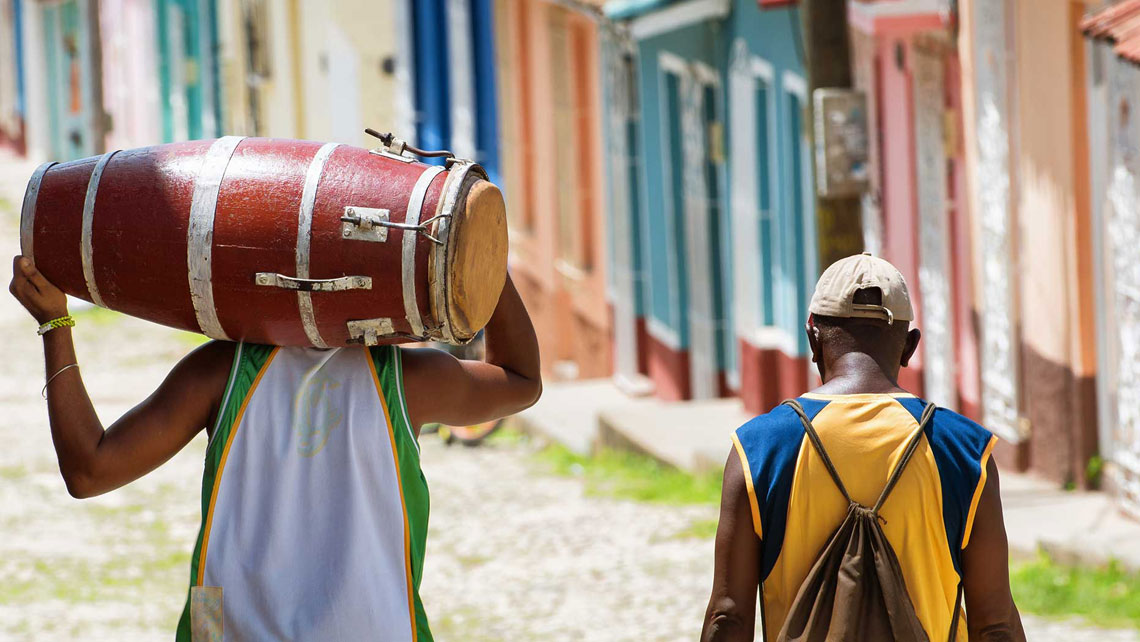 Whether you find yourself in drizzly London, bustling Barcelona or frenetic Hong Kong, you can't help but sail away to a sunny Caribbean beach when you hear the mellow and rounded beat of bongos. Cuba is the land of percussion: life on the tropical island is soundtracked by the Afro-Cuban rhythms of rumba, Son, Timba, Guaguancó and everything in between. All these percussion-based musical genres meet at Fiesta del Tambor, a Havana festival and competition that showcases the work of both famous and debutant instrumentalists eager to show off their skills on the tambores (drums). If your feet (or at least your heart!) vibrate to the beat of batás, bongos, or drums, this is the event for you!
The Fiesta del Tambor
The Fiesta del Tambor (literally "Drum Party") invades Havana every March with percussionists, singers and dancers of all ages and skill levels. In the spirit of inclusiveness, the event's rules specifically state that there is no age limit or specific qualification required to participate in any of the contests. The six-day event (5-11 March) includes three competitions: one for percussion and two for dancing in which individual participants and couples delight crowds with their best and most elaborate performances. Festival-goers can also enjoy a number of concerts, including top-notch jazz jams and popular music presentations.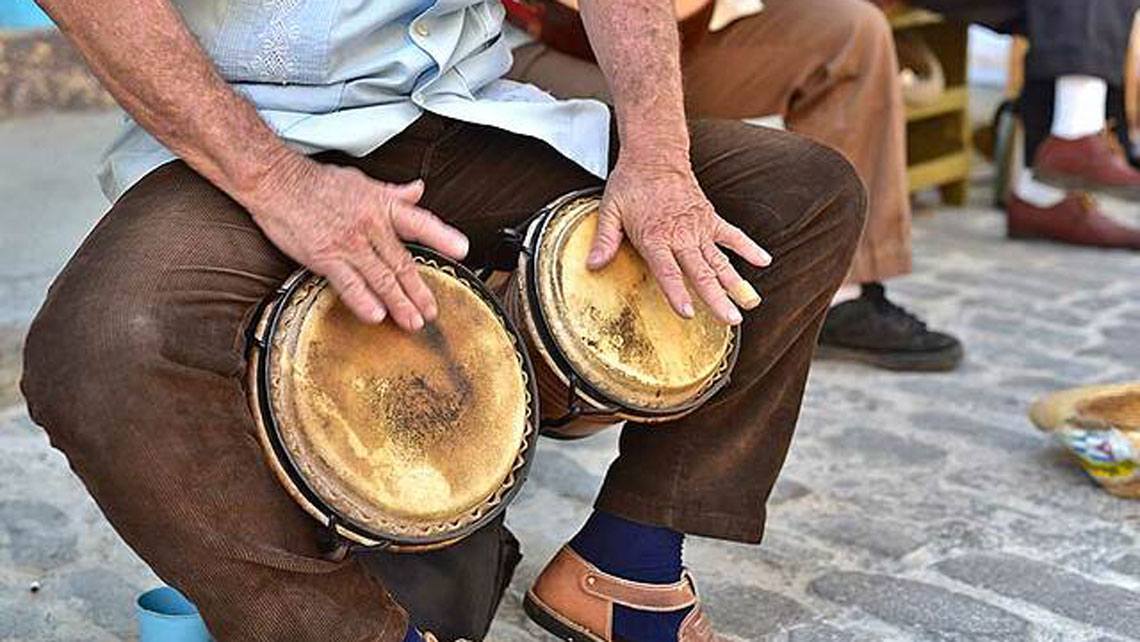 What happened in 2018? Brazil!
In its 17th edition the festival paid tribute to Brazil, chosen due to "its culture and its telluric musical force" according to the organisers. It was a fantastic opportunity to not only experience Cuba's musical culture but discover numerous Brazilian artists visiting Cuba to share their contagious passion for bossanova, samba, and Brazilian jazz.
Artists and special guests
Cuba's rich musical culture is on full display during the Fiesta del Tambor with performances from award-winning Cuban bands such as the Lopez-Nussa family, Pupy y los que son son, Rumbatá Folckloric Group, Alexander Abreu & Havana d' Primera, and Maykel Blanco y su Salsa Mayor. International guests also draw huge crowds. This year João Donato (Brazil), Nanny Assis (Brazil), Fabiana Cozza (Brazil), Janis Siegel (New York) and Antonio Sánchez (Mexico, from the Pat Metheny Group) are all making an appearance.
Venues and how to attend
The festival's main location is the Teatro Mella and its attached garden area which can be found in Havana's Vedado neighbourhood on Calle Línea . However, concerts and contests take place across the city, including at Fábrica de Arte Cubano, Salón Rosado de la Tropical, Sala Avenida, Casa de la Música EGREM and the Casa de la Cultura de Plaza.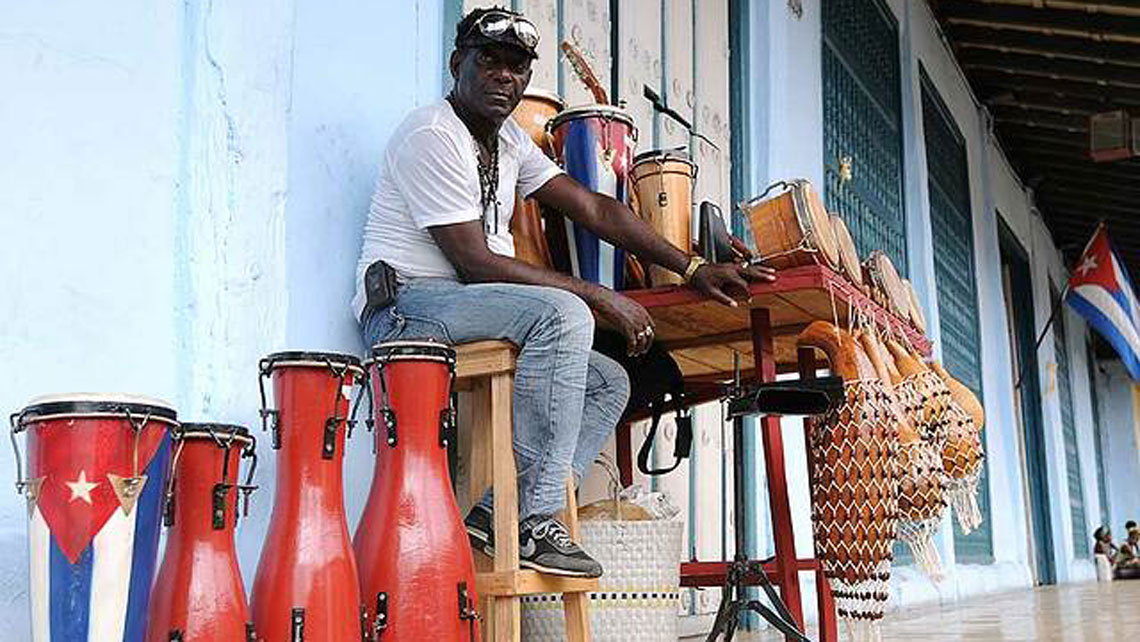 Cuba's musical heritage
Cuban music represents the country's mixed heritage and culture with a wide range influences, notably Africa and Spain. The African influence, which originates from slaves forcibly taken to the island, is most evident in Cuban percussion. Drums, such as the batá drum, play a fundamental role in the ceremonies of many African religions practised in Cuba. Adherents of Santería (an Afro-Cuban religion) believe that certain scared rhythms performed on the batá can summon Orishas, a spirit that reflects one of the manifestations of the supreme divinity. Though African slaves were forbidden from practising their religions in Cuba, they were able to preserve many traditions, beliefs and practices by merging and disguising them with Roman Catholicism.
These are among the reasons why rumba was declared by UNESCO to be part of the world's Intangible Heritage. The UN organisation explained that "Rumba in Cuba, with its chants, movements, gestures and music acts as an expression of resistance and self-esteem while evoking grace, sensuality and joy to connect people." So, if you find yourself in Havana in the first week of March, don't miss the opportunity to experience the joy, passion and vibrancy of Afro Cuban music!
Cuba is a lively nation with a superb array of events all year round. Get in touch with one of our travel consultants to start planning your trip. Call 0207 148 3042 to chat with a Cuba expert.