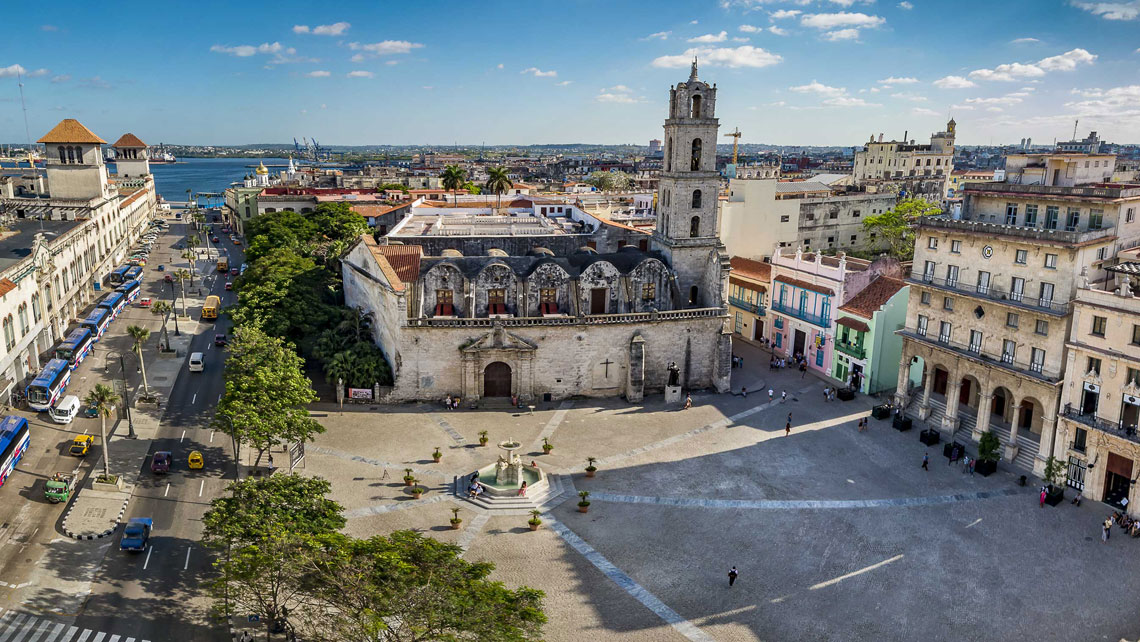 Whether you're planning a day or a week in Havana for your next holiday, one thing's for sure, well, five maybe – you'll be wanting to make the most of your time and experience the things that, once you get back home, will make you say "I was in Havana!". Don't know where to start? Here's the lowdown of the top five unmissable things to do in Havana while on holidays, dissected by two of the most common questions we get from our clients: Why do you think I'll enjoy it? What makes it unique?
Cruise the city in a vintage 1950s car

Why?

It's like going back in time (when seatbelts and airbags weren't mandatory), with a private chauffeur taking you to the highlighted places in the city. How cool is that?

The city of Havana has a rich history, stretching back over 500 years just waiting to be discovered– as you cruise along, passing by colonial facades, crumbling buildings and grandiose cathedrals, you'll witness Havana's contrasting charm. Also, each car has a story on its own. If you're a car aficionado, don't hesitate to ask the driver about how he keeps his sixty-year-old antique on the road. You'll be surprised by Cubans' ingenuity.

What makes it unique?

Classic, old, antique, vintage... there are a few adjectives to recall the elegance of heydays. Sixty-plus year old cars in Cuba are not a rarity, and are not a tourists-only experience. Cubans use them on a daily basis as taxis, although those are usually less shiny ones and are more on the 'rundown' side. You won't need to walk much before stepping into a classic one. Photo opportunities are, literally, on every corner – you get to take the best selfies, ever!

Also, you get to see most of Havana in a couple of hours, and then it's easier to pick the places or experiences you want to do next.

Stroll through Old Havana

Why?

It's the best way to discover the 500-year-old city, as Havana is packed with several architectural wonders, colonial mansions, stunning plazas, and quirky coffee spots. Strolling at your own pace through cobbled alleys is the best way to discover small stores and unique art galleries.

Also, the time capsule applies not only to the buildings but to the warm kindness that Cubans share with visitors. Amongst economic hardships, Cubans' contagious joie de vivre is best experienced if taking a walk around Havana's oldest quarter.

What makes it unique?

Live music, literally everywhere. Mellowy sounds from bongoes and maracas spice up almost every corner of Havana's oldest quarter. You'll either notice the crowd around a guitarist from the distance or you'll trust your ears and follow the percussion-lead beat to the nearest al-fresco eatery.

Needless to remark that amazing photo opportunities lie in plain sight as you walk around town, with such colourful facades and a contrasting city landscape.

Dance salsa with a Cuban

Try your moves at Casa del Son in Havana.

Why?

When in Cuba... just dance! It's the best way to feel Cubans' passion for music in your bones and a great way to mingle with locals if you're interested in learning a few steps. Also, dancing is guaranteed to sweat out the stress and help you get into your holiday spirit.

What makes it unique?

World-known salsa steps like that of Cuban dancers are best embodied (or at least tried!) while visiting the island and not in a dance studio abroad. Cuba shares the love of salsa, son, guaracha and other Latin rhythms with Puerto Rico and the Dominican Republic, but the Caribbean's largest island is known to mix them with Afro-Cuban rhythms like rumba and guaguancó. Give them a try at Casas de la Música or at any of the music hotspots around town. Ask our dedicated CubaDirectTM representatives on your welcome briefing about the best places in Havana to enjoy a good dance session.

Stay in a casa particular

Why?

Homestays in Cuba are small-scale accommodation alternatives that can be found throughout the island. They are not hotels in the strictest sense of the word –the majority of casa owners rent the rooms as an additional source of income to support the family economy rather than to making a highly profitable business out of it. That's why you'll find casas to be a home away from home, even if staying in the city's lively downtown.

What makes it unique?

Hostal Madero B&B is a casa particular in Havana's lively oldest quarter.

Staying in a casa particular is one of top things to do in Havana while on holidays because there's no better way to access the best source of truly local knowledge. Casas offer a chance to spend some valuable time with locals, sharing cultures and stories. If you are travelling with children or teens, Cuba homestays are the perfect accommodation; they offer safety, and family warmth. Plus, you will be supporting the local community.

Read more about Havana with Kids: 5 Must-Do's

Buy local goods - not cheesy souvenirs!

Why?

If you want to avoid the crowds and the one-size-fits-all souvenirs, make better use of your time (and budget!) by heading to a local store where hand-made crafts will indulge your senses in a unique way. Personalised perfumes, handmade soaps, statement t-shirts, eye-popping jewellery, or truly inspiring clothes, you name it! Havana hosts a group of emerging boutique-like places that are full of character and creativity. Venture into Old Havana and visit the likes of Clandestina, Dador Havana or Psicolabis.

What makes it unique?

By buying unique, limited-edition articles, you'll be pampering your shopping bug with a gift that's just for you. If you enjoy doing non-touristy things in Havana, then be sure to visit a local store and take home a piece of your holidays by actually owning a part of Cuba's creativity.

If you still have questions about a holiday in Havana, feel free to get in touch with one of our many Cuban friends at Cuba Direct TM. Our Cuban-born travel consultants can offer you invaluable local advice and assist you in designing a tailor-made travel experience that will match your interests and budget.