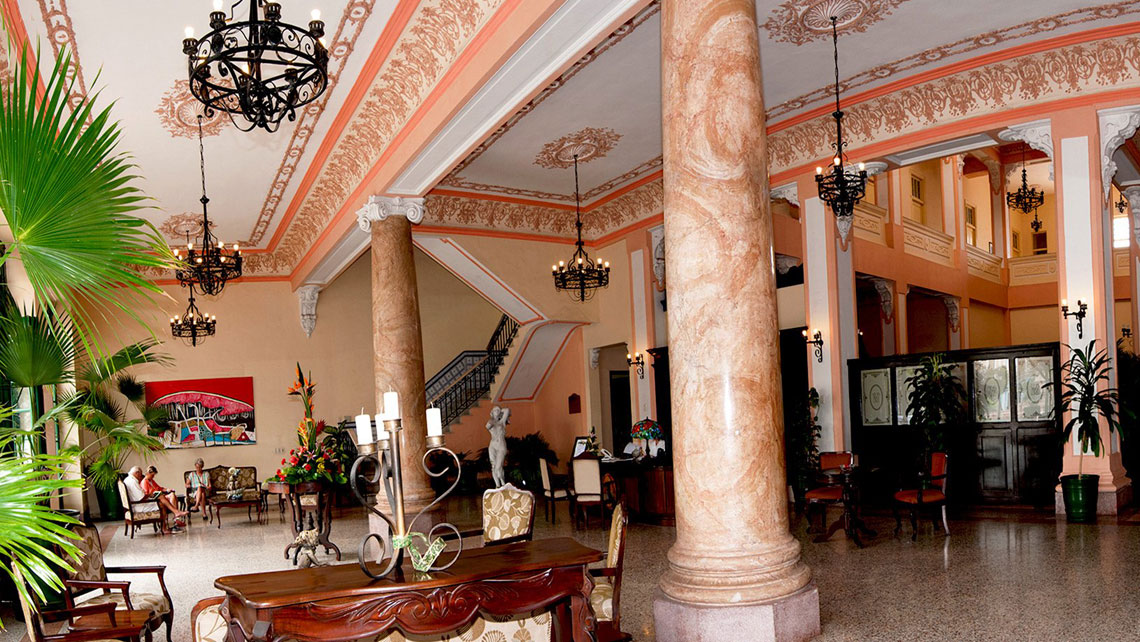 Like echoes of a bygone era, boutique hotels in Cuba are all about provincial warmth and historical charm. Compact and exclusive, each hotel featured on this list boasts less than 30 rooms (even as few as six!). Several are restored mansions from the 19th and early 20th centuries, featuring sunlit courtyards and high ceilings effortlessly combined with modern, top-of-the-line facilities. So take a break from all-inclusive resorts and step back in time with a stay in one of Cuba's Unesco-listed cities' historical treasures. Read on to discover our top 10 picks of lesser-known boutique hotels throughout Cuba.
How did we select the hotels?
The following hotels were chosen due to their location, historical charms, value for money, and reviews from Cuba Direct's clients. We've covered all of Cuba's most popular provinces so you can get a good sense of the options available across the country.
Meliá Hotel Palacio Azul, Cienfuegos

A little blue palace perched on the southern tip of Cienfuegos' Jagua Bay, Palacio Azul is home to just seven highly-coveted rooms. The iconic building was built in 1921 in an eclectic style serving as an estate for one of region's wealthiest tobacco barons. After the revolution, it served as the headquarters for several state entities before finally being transformed into a hotel in 2004, still oozing the style and character of its heyday. Each room is named after a flower and boasts sea views, original tiled floors, and an ensuite bathroom. Marble stairs, high ceilings, and mosaic-tiled floors are highlights of the interior, but don't miss a visit to the rooftop terrace, offering a panoramic view over Cienfuegos' French-inspired town centre.

Read more in our blog Eight things to do in Cienfuegos

Hotel Del Rijo, Sancti Spíritus

Once the private mansion of 19th-century Sancti Spiritus' most esteemed doctors, this charming hotel sits in the Honorato del Castillo Park. Built in 1818, it was meticulously resorted and opened as a hotel in 2001. Its 16 spacious rooms feature high ceilings, wooden colonial furnishings, and colourful mural paintings. Several enjoy their own plaza-facing balcony. Visitors can pass through the building's arched colonnades for a bite at the elegant courtyard café. Furniture and decoration resemble the Spanish-influenced residential style that was in vogue in the 19th century. Breakfast is included, served in the inner patio. You can view a statue of the former owner, Doctor Rijo, outside in the park.

Hotel Velasco, Matanzas

Considered one of Matanzas' architectural gems, the eclectic Hotel Velasco features neoclassical colonnades and large halls decorated as they would have been in the early 20th century. The hotel is well worth a visit even if you haven't booked a stay in one of its 17 rooms; the bar, offering excellent cocktails and snacks, faces the town's main square (Parque Libertad), and is the perfect pick-me-up stop when visiting nearby attractions. Impressive in every detail, the Velazco offers intimacy and glamour right in the heart of a city that gave birth to the Afro-Cuban music genre rumba, a Unesco-listed World Cultural Heritage.

Read more about Cuban music in The Sound of Cuba: Fiesta del Tambor

Hotel Caballeriza, Holguín

Known as the City of Parks, Holguín is Cuba's third most important city, and among the richest culturally. Its historic centre dates back to the 17th and 18th centuries, which is when Hotel Caballeriza was built – originally as a stable. Despite its humble beginnings, the 1810 building has been restored to a new splendour featuring Baroque and Mudéjar styling. The 21-rooms (including a junior suite) are large and come equipped with modern amenities such as air conditioning and cable television. Guests can use WiFi in the lobby. Music venues are within walking distance, including Casa de la Música, Casa de la Trova, and the Teatro Suñol.

Read more about Holguín in Romerias de Mayo: Holguín's Cultural Showcase

Hotel Ordoño, Gibara

An hour away from the white-sand beaches of Guardalavaca, Gibara is a small fishing town that oozes the kind of laid-back relaxation one can only find in such remote, non-touristy areas. The peach-hued Hotel Ordoño features colourful stained-glass windows and a cosy, yet elegant decoration that keeps its original neoclassic style from 1927, but with up-to-date amenities. There are just 27 rooms, so expect personalised service with the local warmth characteristic of the region. Hotel Ordoño is the tallest building in sleepy Gibara so don't miss a visit to the rooftop terrace to enjoy the beautiful bay views.

Read more about non-touristy Cuba in Five Ways To Travel Cuba Like a Local

Hotel San Basilio, Santiago de Cuba

Probably the cosiest hotel to feature on our list, Hotel San Basilio feels like an authentic Santiago home, with just eight rooms and a small courtyard filled with ferns. It is conveniently located in the city centre, just off the main square Parque Céspedes. As well as its striking façade, the hotel boasts elegant interiors with large windows, columns and beautiful lobby area featuring colonial-style furnishings. Guests can enjoy a pleasant rest in the comfortable rooms, well-appointed with modern amenities. A small restaurant onsite serves breakfast and lunch. Enjoy Cuba's hottest city (in terms of weather and atmosphere!) from the refreshingly peaceful San Basilio.

Read more about Travelling to Cuba: Your Questions Answered

Hotel El Marqués, Camaguey

Named as a tribute to Camagüey's rich noble heritage, El Marqués (The Marquis) is as elegant and refined as its title suggests. Originally constructed in 1920, it features just six rooms, each with high ceilings and colonial-style wooden furniture. Along with its stylish decoration and excellent service, the hotel benefits from a fantastic location in the heart of the city's Unesco World Heritage-listed centre. Enjoy a walk to the nearby cathedral and Agramonte Park, or venture further to the other charming squares, Plaza San Juan de Dios and Plaza del Gallo.

Read more about Camaguey in our blog Five Hidden Gems in Cuba

Hotel Central, Santa Clara

Dating back to the glamour of 1920s pre-Revolution Cuba, Hotel Central was re-inaugurated in 2017 after a meticulous restoration process which involved every detail of its architecture and decoration. The jaw-dropping Carrara marble staircase, Sevilian ceramic tiles, and original mosaic floors have all been preserved along with a mural painting and Italian lamps. The furnishings are inspired by the Imperial style of the 1920s and original bronze sculptures decorate some of the 26 rooms. Santa Clara's Hotel Central sits right on Parque Vidal, the capital city's main square, with easy access to the Teatro La Caridad and the Martí Library. The rooftop terrace offers spectacular sunset views over the city.

Hotel Barcelona, Remedios

Located less than 30-miles from Santa Clara, Remedios is a 500-year-old village overflowing with colonial charm and famous for its raucous December festivities (Parrandas de Remedios). Built in a classic colonial style around a delightful plant-filled courtyard, Hotel Barcelona dates back to 1926 but was fully restored in 2012. Though the property has been modernised considerably for guests' comfort, it has retained its stunning stained-glass windows in the reception and dining area. Perfectly positioned, the 24-room hotel sits in the town's central Plaza Mayor, conveniently close to sights such as the Church of San Juan Bautista and the Museum of the Parrandas. We recommend you combine a stay here with a relaxing stint on the sun-bathed keys of Cayo Santa María, Las Brujas, or Ensenachos, just 43-mi from Remedios. Make sure to pay a visit to Hotel Barcelona's bar which, as well as serving killer cocktails, regularly hosts dance troupes.

Hotel Central, Viñales

With its elegant design and façade of wrought iron columns, Hotel Central boasts a refined atmosphere and fantastic location directly in front of the Plaza Principal, Viñales' most important square and a popular meeting point for locals. Newly opened in December 2017, Hotel Central is a rare breed in Viñales where casas particulares (homestays/guesthouses) dominate the accommodation scene. The boutique property features 23 rooms, including three singles and two junior suites, as well as a relaxed lobby (complete with stunning wooden bar), Carretero, and breakfast bar, Amanecer.

Read more in our blog 48 Hours in Viñales
Looking for more inspiration? Subscribe to our newsletter for more tips about your travel to Cuba or fill in our free quote form, to start designing your holiday. Your dedicated Cuba specialist will use their in-depth knowledge to create a bespoke itinerary tailored to you.