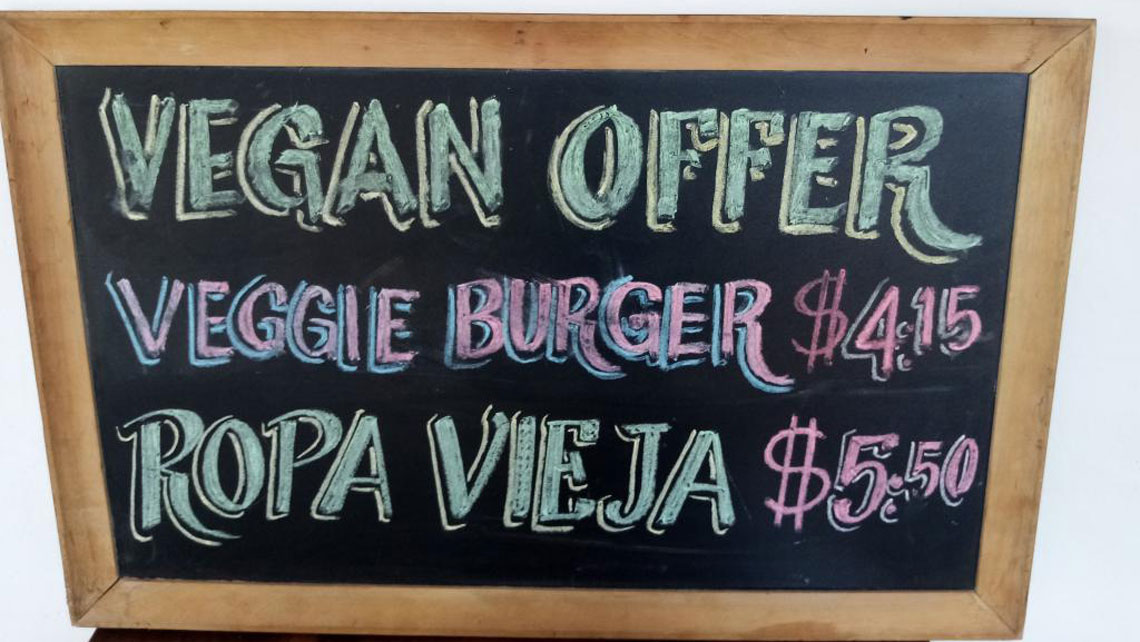 When it comes to eating great food in Cuba, Viñales has to be a contender for being the country's most delicious location. What makes Viñales so special is that almost all the elements on the plate are sourced from within a mile or two from where are you seated. Indeed, if you go on a hike, a cycle or horse-riding in Viñales, you'll be able to see with your own eyes the vast amount of crops that are growing in the region, making full use of the tropical climate and fertile soils.
Viñales has whole streets of good restaurants and cafes competing to get your service. This competition is no doubt another factor that has put Viñales on the map as a foodie destination. Additionally, if you are staying at a "casa particular" (Cuban B&B), of which there are many, they normally offer their own dining options too. Eating at a casa particular tends to involve large portion sizes and a cosy ambience. Breakfasts include an array of tropical fruits that might even be grown in the garden of the house, or of the neighbour.
Restaurant El Olivo in Viñales
Whilst Viñales offers great tourist services, you may find the speed in the restaurants to be quite slow. This can partly be put down to the pace of life of the region - Viñales is rather laid back (making it a great place to see another side to Cuba after you've experienced the restlessness of Havana). Waiting a bit longer for your food might also be due to the fact that much of what is being cooked is being freshly prepared. In some of the cafes and restaurants, the kitchen is visible, so you can watch the cooking. It is also handy if you want to say compliments to the chef directly as you depart!
Viñales is full of different vegan and non-vegan culinary options. Here are some of them to give you a taste.
Vegan Specialities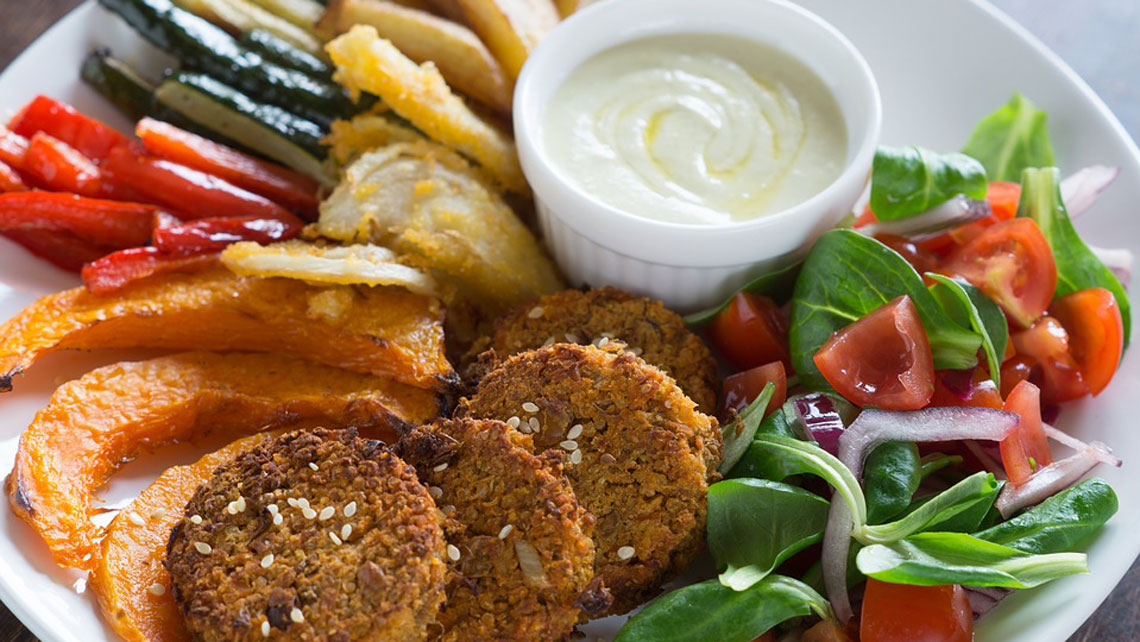 Vegan patties with vegetables and salad
Viñales has been at the forefront of developing vegan dishes in Cuba. The combination of being a favourite spot for tourists and also having an abundance of fresh fruit and vegetables to hand has led to some creative innovations. One, in particular, is a remix of a Cuban national dish known as "Ropa Vieja". Traditionally it is made with stewed shredded beef, but at the restaurant Jardin del Arte Sano they have developed a vegan version using the fibrous part of Swiss chard. Their vegan burger is also very popular, and they have vegan rice dishes and even homemade vegan cheese.
Almost every menu in Viñales has a "vegetarian" or "vegan" section, and there will also be other things on the menu that could well be vegan-friendly. For example, a side dish of stir-fried vegetables can easily be converted into a main dish. You'll find most waiters to be well-accustomed to catering to vegans and can usually confirm which dishes are vegan-friendly. Another addition to the plate that is common to add in Cuba is a "vianda". In Cuban Spanish this is a category of starchy vegetables that includes potatoes ("papa"), sweet potatoes ("boniato"), cassava ("yuca"), pumpkin ("calabaza"), taro ("malanga") and plantain ("plátano"). You'll also find cold meat-free salads, and if you're in Viñales between July and December then it is the avocado ("aguacate") season.
Meat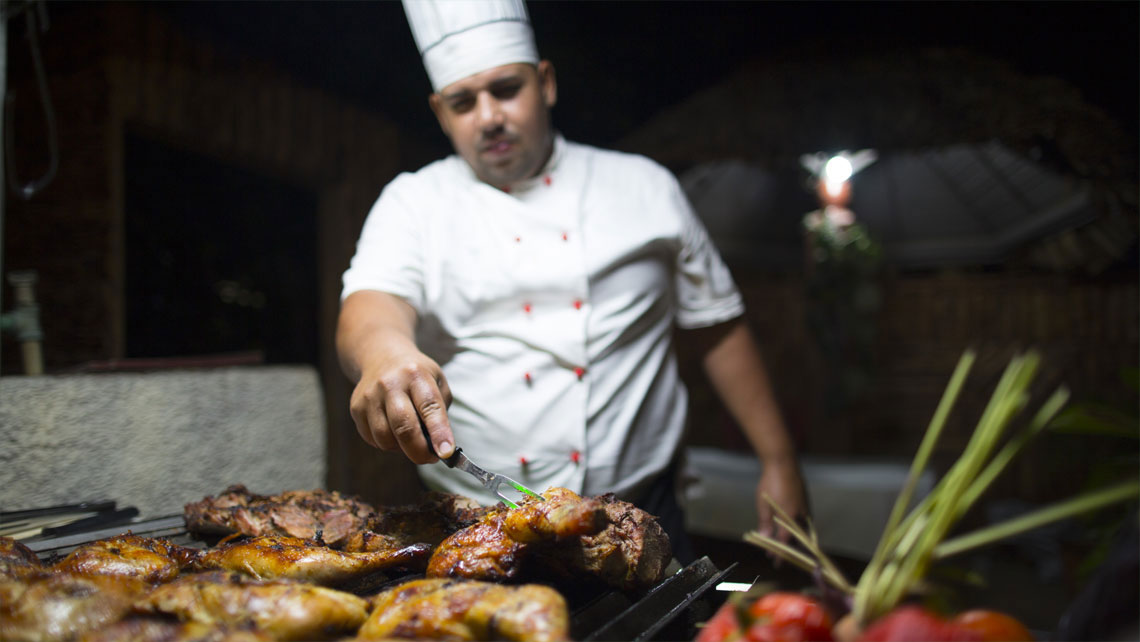 Chef of Restaurant 1920 in Viñales
Locally reared pork and chicken is readily available in many shapes, forms and sizes. This is relatively easy to navigate as most menus have an English translation. Unlike other Caribbean islands, the meat you'll find will almost never be heavily spiced nor have any hot pepper, although most restaurants will have a hot pepper sauce that you can request if you want to get a heat kick.
The national dish of "Ropa Vieja", mentioned above, is on most menus. It literally translates as "Old Clothes" (and on a few menus they translate it literally!) but fear not, it is a hearty stew of shredded beef mixed with tomatoes, bell peppers, onions and garlic. It is usually served with rice, as are many Cuban main courses.
One particularly celebrated dish you'll come across here, and in other parts of Cuba, is the spit-roasted pig. Pardon the pun, but for meat eaters, this really is a dish to pig out on. Some restaurants have it spit-roasting in plain sight, enticing you to come in.
Seafood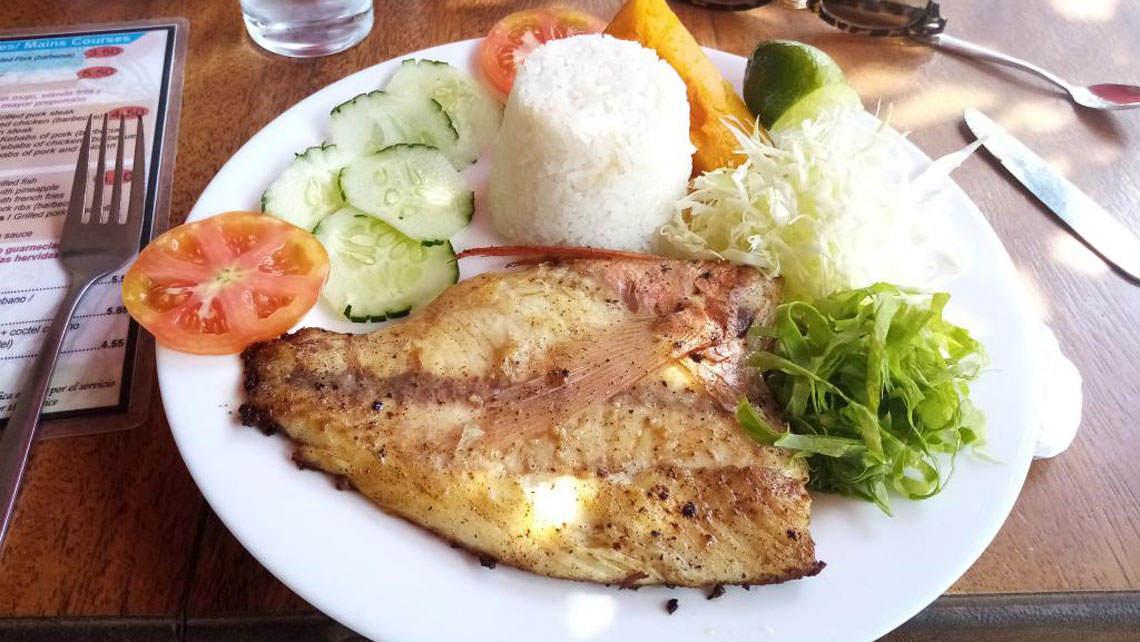 Fresh fish from a nearby fishing town
Viñales is not by the coast, but it is less than 20 miles from the Gulf of Mexico, and therefore a range of seafood arrives daily from the nearby fishing town of Puerto Esperanza.
In terms of fish, you'll find grilled "pargo" on lots of the menus. Known as "red porgy" or "common seabream" in English, it is a little bit bony but has a lovely taste and is normally served in a large portion. Lobster and shrimps are available in most restaurants at a remarkably low price compared with Europe. Each chef has their own way of making their sauce, so you could eat lobster and shrimps every night in a different restaurant and have a unique experience each time.
Soups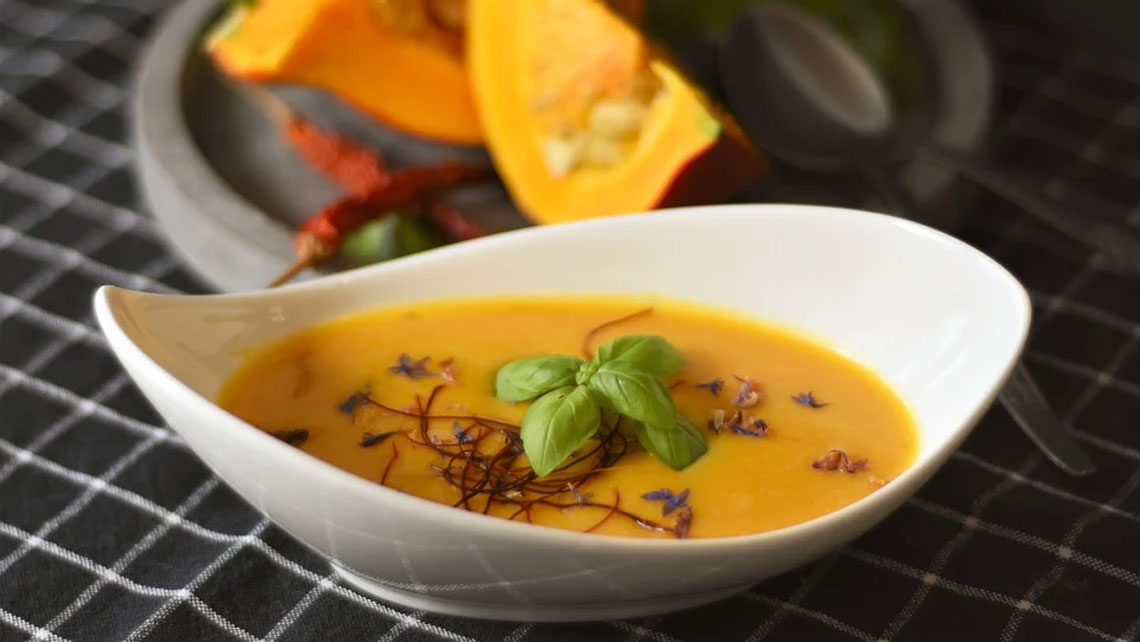 Organic Pumpkin Soup
Soup somehow lacks the glamour of lobster, but make no mistake, the concoctions being produced in Viñales can still feel like a gourmet experience. Whether you choose a meat or a vegan option, it will tend to be loaded with lots of chopped up fresh vegetables. Cuban pumpkin, known as "calabaza", is a regular feature. Restaurants are stocked up with bread that is baked in the local bakeries, and it is a great way to mop up the liquid of the soup and replenish after doing some hiking and cycling trails.
Drinks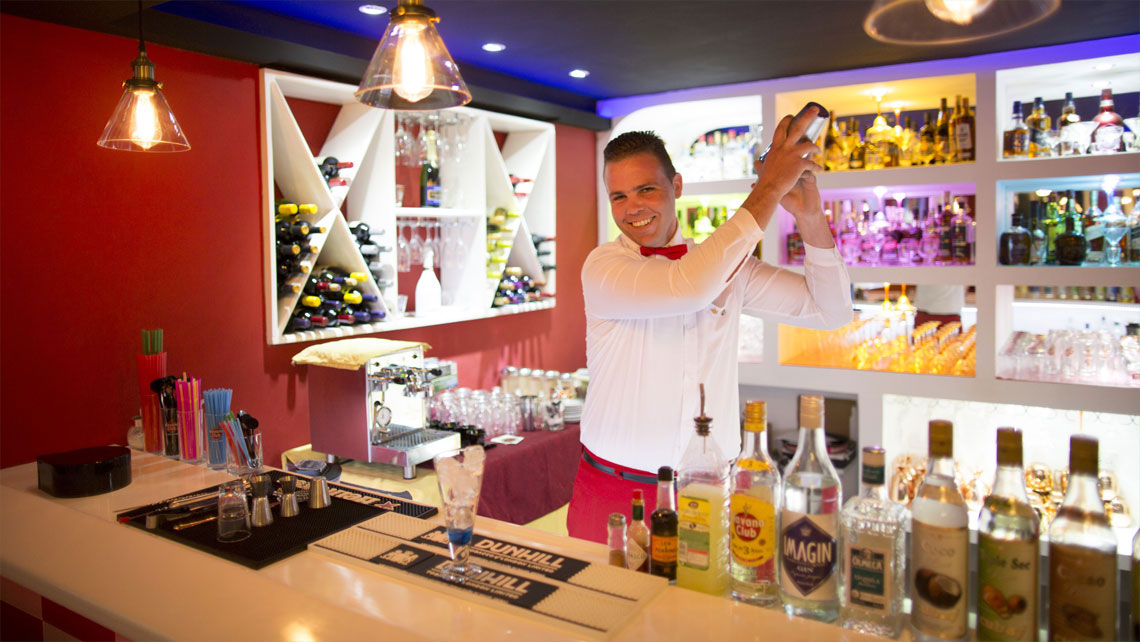 Bartender in Charlys restaurant, Viñales
All around Viñales you'll find "mojitos" being advertised at ridiculously low prices, especially considering the large measures of rum that is added. Beware, they can be deceptively strong, and at such a low price you may be tempted to neck loads of them in a short amount of time. Pace yourself!
Viñales Valley has lots of apiaries where bees produce honey. These apiaries often feature as part of local tours of the area. With the ubiquity of honey, lots of bars and restaurants offer mojitos made with honey instead of sugar. This is well worth a try.
Each establishment in Viñales has the typical Cuban drinks options you'll find elsewhere on the island, as well as various international beverages. But there are also a few local options too. One specifically to look out for is "Guayabita del Pinar", a rum that dates back to 1892 that is made in Pinar del Rio with local guava ("guayaba").
With plenty of food and drink options, it is understandable why Viñales has become a foodie destination. And when combined with the amazing activities you can do in the region, it is definitely a must-see part of Cuba.