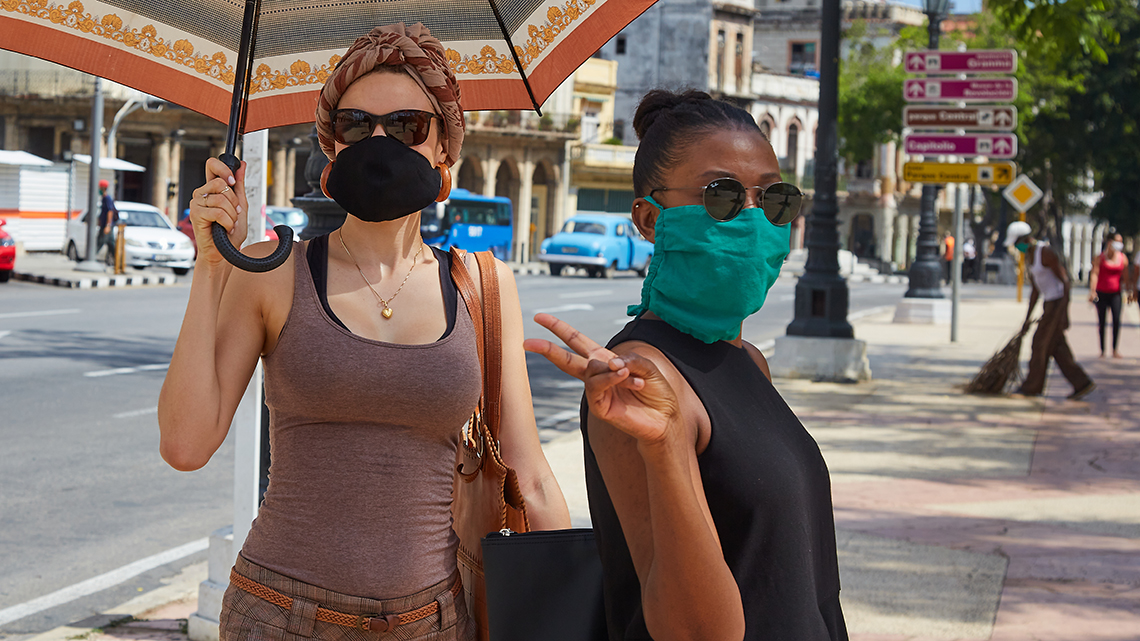 If you're worried that the increasingly worrying coronavirus pandemic will ruin your chances of enjoying a warm winter holiday escape to tropical Cuban shores, think again!
Hailed for having managed the coronavirus pandemic far better than other Latin American countries and notoriously better than some of its Caribbean counterparts, Cuba stands out as one of the safest holiday destinations to escape to this year all things considered.
Of course, right now it's extremely hard to find a coronavirus-free zone in the world that's also an exciting place to escape and where one can hope to regain some sense of normality and "joie de vivre", and whilst Cuba has endured and battled the pandemic like many other countries, it has succeeded in controlling its spread and continues to closely watch and monitor the situation. Not only that, for such a tiny and limited (resource-wise) nation, it's also developing its own coronavirus vaccine, the only country in all of Latin America to do so!
For these and many other reasons that we will proceed to illustrate in this blog, Cuba has now been included in the UK government's FCDO list of COVID-19 travel corridors that you can visit without having to quarantine after your return from holiday.
The contained coronavirus situation in Cuba
As of 20th September, Cuba has a total of 5,055 people that have been diagnosed by COVID-19 and 113 deaths in a country with a population of slightly over 11 million. A death rate not to be overestimated considering the fact that Cuba has the oldest population in all of Latin America (thanks to the island's long-life expectancy – one of the highest in the Americas, surpassing that of the US - and its well-known universal healthcare system). What the country's healthcare system may lack in infrastructures and resources, it makes up for in workforce and preventive care measures.
When it comes to the island's response to the coronavirus pandemic, the first imported cases (four Italian tourists in Trinidad) were immediately put in isolation and all contacts traced, tested and quarantined. The same has happened with all subsequent cases, and the island continues to keep a close eye on the situation with a very good tracing system that succeeds, in huge part, thanks to the island's doctor-per-patient ration, the highest in the world, with 8.19 per 1,000, compared to other developed nations' 2.6 per 1,000 (US).
The government has also been praised for acting early, as according to Amilcar Perez-Riverol from Sao Paulo State University, they prepared the system for diagnostics two whole months before detecting the first case.
The strict measures in place to make tourist visits safe
As of the date of this publication, Cuba has carried out some 531,928 PCR tests since the start of the pandemic (7,554 right at the onset), and after having closed off its borders for four months, starting in April, it started to welcome back international tourists a month ago. Shyly at first and restricted to the island's northern and southern keys only (Cayo Coco, Cayo Santa María, Cayo Guillermo and Cayo Largo del Sur), which it declared safe coronavirus-free zones. Cuba has now mentioned plans to expand and open tourism to other areas of the country like Trinidad. Nevertheless, regardless of the location and your final holiday destination in Cuba, upon arrival to the island, all tourists are given a PCR test at the airport with results given within 24 hours. After the test is done you can go straight to your hotel with no need for a special certificate. However, you do need travel insurance but that has been commonplace in Cuba for all foreign arrivals since 2010. If you come to Cuba without the right travel insurance you will have to buy COVID-only insurance for $25 CUC per person on arrival.
Furthermore, as of early September Havana has a new curfew in place to curb the rate of contagion. From 7 p.m. to 5 a.m., people must stay indoors or risk fines. The Cuban capital has taken this more extreme measure in the hope it can end the outbreaks that resurged in late August (after having previously reported zero new daily cases as of 20th July) and safely welcome back tourists again. Havana has, since the beginning, been the epicentre of the pandemic and as such is the one place with stricter rules, frequent police patrols and (even more) limited public transport. Wearing a mask outdoors is also mandatory in the Cuban capital.
The pandemic's impact on Cuba's fragile economy
The fact that Cuba has been able to, so far, contain and control the pandemic reasonably well, should not be taken to mean that the pandemic hasn't affected the island. In a country that heavily (almost solely) relies on foreign tourism as its main source of income, the coronavirus has seriously damaged an already ailing economy. Hence why authorities and locals (owners of casas particulares and paladares, particularly, whose entire sustenance depends on tourists) are deeply worried about whether visitors will return to the island and how quickly they will be able to recover from the blow.
How your Cuba holiday could, safely, help
We're not insinuating that travel to Cuba is 100% safe for visitors and locals, but going to coronavirus-free zones and beach resorts in Cuba can be safer than heading down to your local supermarket, taking the tube or having a pint at your local pub. In comparison to Cuba, you're far more likely to get infected in London or virtually any other city in the UK, minus the sunshine and dreamy beaches, of course. Plus, Cuba is actively encouraging tourists to visit while following a series of safeguarding measures and trying to minimalise the inconveniences that some of these rules could cause for a truly stress-free holiday experience.
"Casa particular" hosts and "paladar" owners are eagerly awaiting your visit. Your trip to Cuba now could not only give you a chance to relax, chill and try and forget about the dire global situation. It could also help the country get on its way to what will undoubtedly be a long and painful recovery.
Travel to Cuba now... how?
While many charter flights and routes operating between Europe and the Caribbean have been cancelled, some commercial long-haul airlines continue to fly between Cuba and the UK unaffected. Not only that, some airlines, like Virgin Atlantic, have come up with a way to put travellers' minds at ease when booking a flight to Cuba.
Virgin Atlantic has now drafted a new travel insurance policy covering incidences related to COVID-19 and which it now includes free with all its flights. So, even if the worst happens, you will be covered at no added cost to you.
Is it really safe to travel to Cuba now?
Is it really safe to enjoy a drink at your local café? What about a trip to your hairdressers? Taking the bus? Eating out? Travelling to Cuba is just as safe (actually, more so) than doing most of the daily activities you do at home and a holiday to Cuba can be a smooth and amazing experience if you follow the rules and take precautions. From Cuba Direct we definitely encourage you to check our COVID-19 advice and start planning a Cuba holiday now and if in doubt ask one of our very knowledgeable agents!