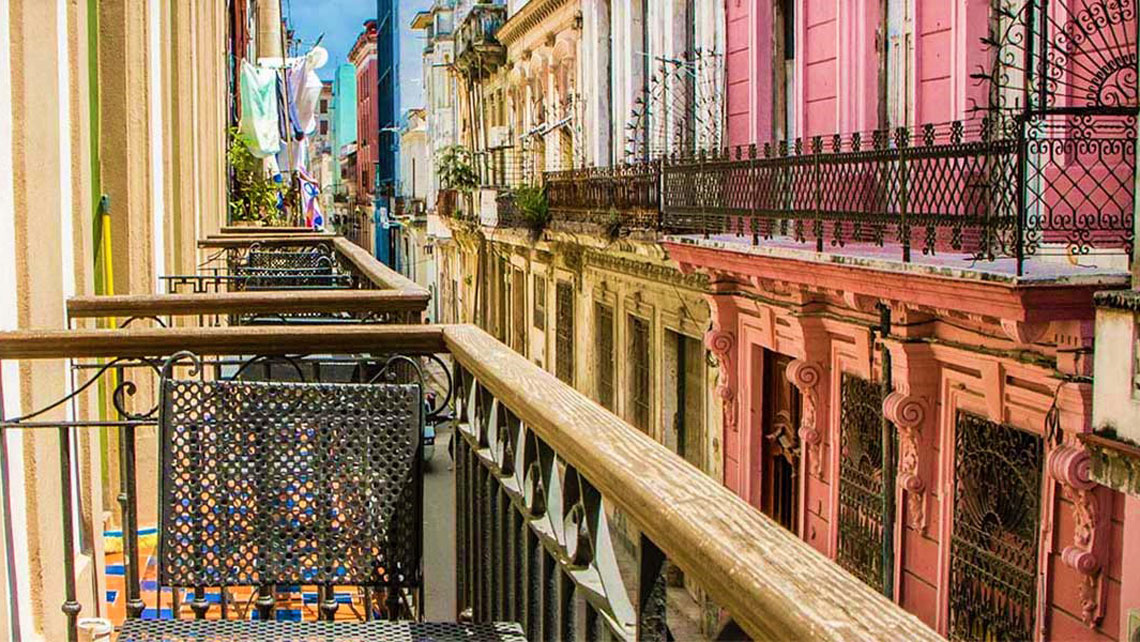 What is it about casas particulares in Cuba that has caused their popularity to be on the rise? Are they really better than hotels? If so, in what ways? Should you really favour a stay in a Cuban casa particular over a hotel or beach resort? If you're wondering the answer to these and many more questions, in this blog we'll give you the top 15 reasons why you should stay in a casa particular as well as discuss the cases when it might not always be the best option.
Perhaps you've heard about casa particular accommodation in Cuba but are not really sure what they're about, the level of comfort they provide, the advantages and the shortcomings. We're here to lay it all down for you, but first things first, what is a casa particular?
What is a casa particular in Cuba like nowadays?
In case you didn't know already, "casa particular" is the Cuban term for B&B accommodation with a few peculiarities here and there. Also known as homestays because of the fact that initially they meant staying at a local's home and sharing living space and facilities with the hosts or hosting families (not always the case anymore), casas particulares have evolved to the point that some function as home rentals (where you book the entire property, whether that's an entire colonial house, a modern flat or a penthouse apartment with rooftop plunge pool).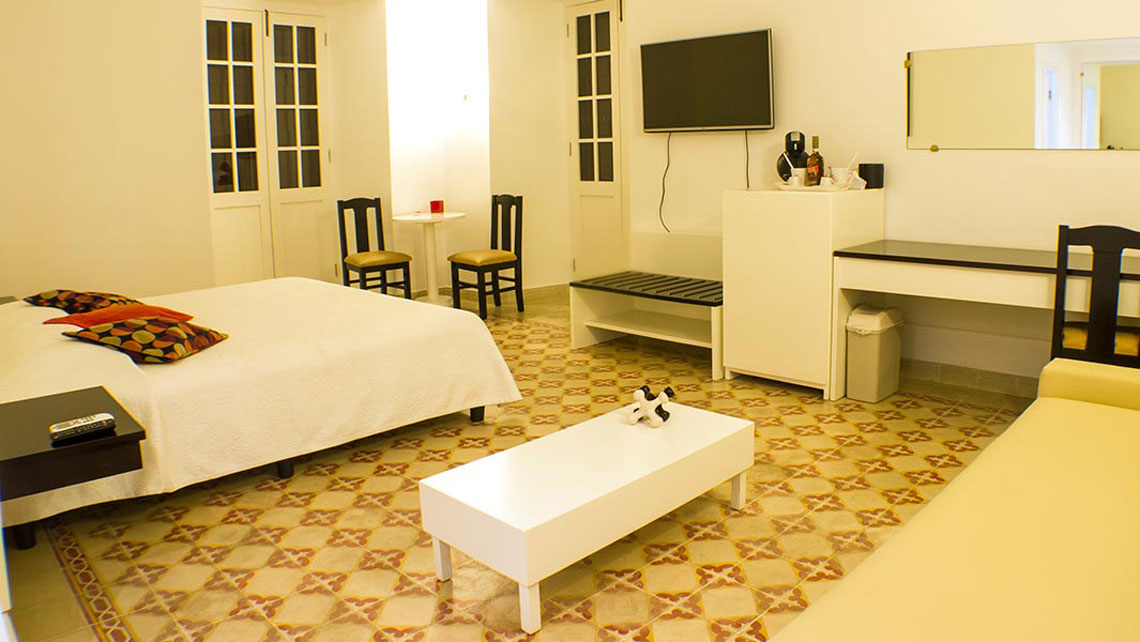 The term casa particular has stretched to keep up with the times and the evolution of casas as Cuba's tourism sector developed over the years and Cuban entrepreneurs were given more freedom to offer more of their homes for private rental, thus also enabling to transform their private lodgings to follow recent travel trends. There are casas particulares where you will still share some facilities with live-in hosts but overall this kind of home rentals have evolved to meet world-class standards of what you would consider independent bed and breakfast accommodation AirBnB style, with private ensuite bathrooms, guaranteed air conditioning, hot water, in-room TV and fridge, while some include extras like private kitchenettes.
Top 15 reasons to stay in a casa particular
They're more sophisticated than ever

Forget about the Cuban casa particular of the 90s, which almost always consisted of a makeshift spare room sparsely upgraded with a few additions and amenities to accommodate tourists. They provided authentic Cuban experiences in the most basic, no-frills way possible, lacking pretty much in every other aspect, from dire décor to old mattresses. The Cuban casas particulares of today have evolved significantly and although the most sophisticated and chic are in Havana, other popular cities in Cuba like Trinidad and Cienfuegos have upped the ante and spruced up their offerings to better compete with the higher standards offered in the capital.

Some casas particulares (in Havana especially) have achieved such levels of refinement that they look, feel and function like boutique hotels (in fact, that's what they call themselves) with between two to five rooms and offer every hotel service you can think of, which takes us to the next point.

They're better than hotels

Seriously, the statement above is not to be taken lightly, some casas particulares outdo hotels in quite spectacular ways. In Havana's neighbourhood of Vedado, for example, you can find some swanky apartments with prime sea views over the Malecon or luxurious penthouses complete with rooftop plunge pools. The most sophisticated casas particulares often come as standalone properties that you can rent entirely for your travelling party while many offer special services (from laundry to daily housekeeping) much like a hotel would, but with better personalised services tailored to your exact needs in a way that no hotel in Havana or anywhere in Cuba can match! (in fact, many hotels in Cuba have a terrible reputation when it comes to customer service).

They're cheaper than hotels (and often swankier than hotels that charge a similar room rate!)

Part of the reason they've grown so much in popularity is the fact that casas particulares, even the most luxurious ones are still cheaper than some five-star hotels with rooms or facilities that are often nicer than what you'll find in hotels! It's no secret that some hotels in Cuba have a reputation for having tired décor or facilities, even five-star ones. Meanwhile owners of casas particulares constantly strive to improve the feel, look and facilities of the rooms they offer for rent. Therefore, you can trust that they are well looked after, frequently spruced up with no abusive room rates.

To put it into perspective, a lovely, perfectly equipped room in a modern casa particular in the heart of Vedado will cost you around 35 CUC while a more luxurious one in the same location but with rooftop pool set you back 80 CUC per night. The minimum you'll spend for a night in a Cuban hotel is around 60 CUC...and we're talking about often bland and uninspiring, rather drab two to three-star properties.

You get to discover Cuba from a Cuban home and a Cuban's perspective

Indeed! One of the highlights of staying in a casa particular is actually getting to soak up the destination from a local's perspective, from a Cuban's own home, whether you share your space with a live-in host or family or you get full access to an entire home that you'll have all to yourself.

You can choose between a live-in home or a standalone property

The majority of casas particulares in Cuba still function as rooms offered for rent inside a host or hosting family's home. But there is a growing minority of casas particulares that are rented out entirely with no live-in host to share anything with. Even casas particulares with live-in hosts often have separate quarters for the hosting family (either they live on a separate floor or have adapted their home with structural divisions or conversions) to allow as much privacy and autonomy for guests as possible while still being on hand to cook breakfasts, meals, do housekeeping or help in any other way possible.

You can choose whether to stay in a casa particular with a live-in host or live-in family, in which case you'd rent a private room with every hotel facility and amenity you can think of (except toiletries perhaps!) or go for the more expensive option of renting out an entire casa particular, which can come in the form of a chic flat, a colonial house, a modern mansion or a Bohemian apartment full of contemporary Cuban art.

It adds the "real" factor to your Cuban experience

Honestly, what's more real than staying in a Cuban house to get a real Cuban experience? Not only will you be interacting with locals (even if it's just during the welcome service) but you'll get the chance to explore the city from a residential location, with real Cuban neighbours you can strike casual conversations with (providing they can muster some English or you some Spanish) and you can even be involved in the process of selecting the locally-grown or raised ingredients for your breakfast or lunch. 100% Cubanness overload!

Casa owners or live-in hosts are full of tips and helpful insights you would probably miss out on when staying at hotels

This is another of the great advantages of choosing to stay in a casa particular. Whether your hosts are live-in or not, they'll be on hand to give you tips and insider knowledge on the trendiest bars, help you with restaurant reservations, recommend attractions, etc. Some casa owners even offer cooking classes, salsa classes or organise personalised guided tours. Seriously, those staying in Cuba hotels are missing out!

"A home away from home"

When you're staying in a casa particular, you're staying in a real home, whether it's been adapted to cater to tourists, or altered in some way to provide in-room private bathrooms, it will still be a home and feel like a home. It might be full of vintage art and period furniture with original colonial features or it might be contemporary, hip and cool, Bohemian or luxuriously chic, but it will still, invariably be, a home.

You can cook your own meals or opt for a homemade feast

In some casas particulares you'll share the kitchen with hosts, meaning you'll have to work it out amongst yourselves to make use of it, but the majority will provide separate cooking space for guests (you might have to share with other guests) while others provide fully functional in-room kitchenettes for your added convenience. In any case, staying at a casa particular means you'll have the freedom of cooking your own meals. Or, you can take the evening off one day and opt for a homemade Cuban feast cooked by your hosts (for an added fee, oscillating between 10 and 20 CUC per person and often featuring fresh lobster!).

You'll be located at the heart of the action

Many casas particulares are perfectly located at the heart of the action, whether that's downtown Vedado, within walking proximity to jazz venues, nightclubs and the scenic Malecon or right in the midst of Old Havana and Centro Habana, within walking distance to famous squares, historic landmarks and iconic locations. Staying in a casa particular doesn't mean staying in the suburbs, although there are many luxury casas particulares – more like mansions! - in Miramar if you prefer the quietness of elegant residential neighbourhoods. But the most popular casas particulares in Cuba are bang in the middle of all the action!

You get personalised attention

Ditto! A casa particular means another level of truly personalised attention and careful attention to detail. From how you like your eggs at breakfast or which are your favourite tropical fruits (provided they're in season) to whether you require special help or added extras, everything is negotiable with a casa particular host.

You can bring in guests

Of course, it's common courtesy to let the host know first if you're sharing common living space with your hosting family, but most casa particular owners are happy to let your Cuban friends or part of your travelling party come and hang out with you for a while. In some instances, they'll allow a guest of yours to spend the night. Casa particular owners are known for being exceptionally accommodating!

You'll escape the crowds

Forget about big queues at breakfast in hotels or beach resorts, or having to wake up extra early to secure a pool chair. You might share your casa with a few more tourists staying in a different room, but they won't be more than a handful. A casa particular means no big tourist crowds.

They all meet a minimum set of standards

By law, ever since the government fully legalised this type of accommodation in Cuba, all casas particulares have to meet a minimum set of standards and offer the following to guests: air conditioning, hot and cold water, as well as individual bathroom facilities. In addition, many casa owners throw in added extras like TVs, in-room safes, mini fridge and even kitchenettes or whirlpools!

It's a great way to meet locals

Last but not least, there is the very obvious fact that, at least during check-in and check-out you'll meet the friendly hosts. Even if they don't share living space with you they'll be at your beck and call for anything you need and if you happen to share with a live-in family or host you'll have ample time to get to know them, get an insider's perspective on the daily struggles, hopes and dreams of average Cubans and generally feel like you've really gotten to know your destination, leaving the island convinced yours has been 100% authentic Cuban experience!
So, is staying in a casa particular better than a hotel?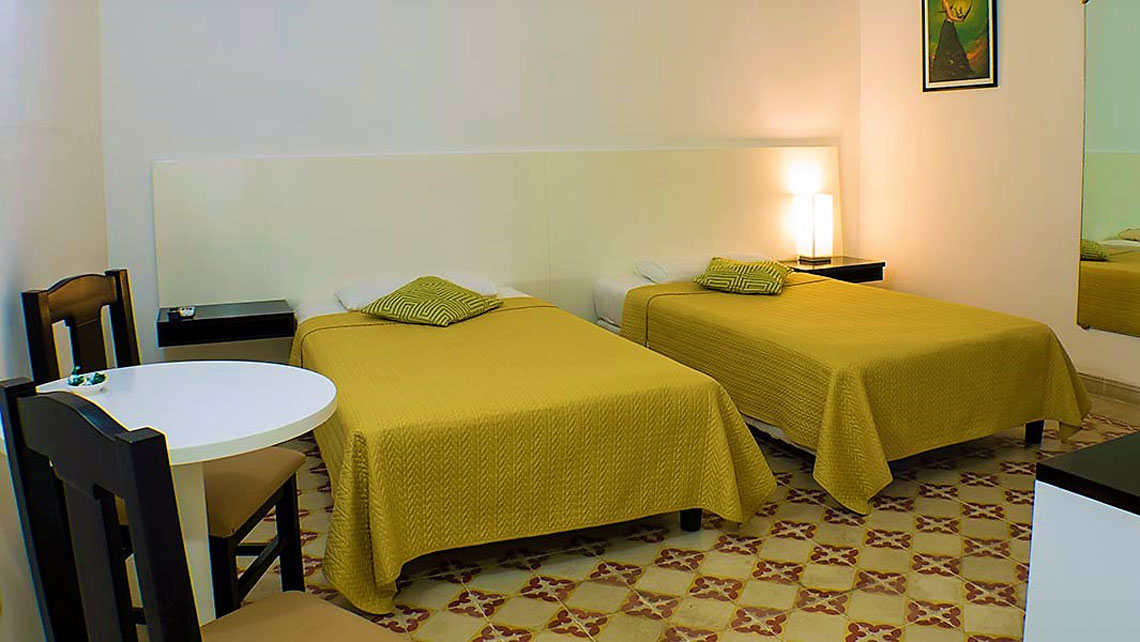 The answer is not always ...While the advantages of staying in a casa particular are many (and win by majority), with most of them having been clearly laid out in this post, the answer to whether a casa particular is always preferable to staying in a hotel is not as clear-cut as you might think. There are some cases where a hotel might be the better option, however, and we proceed to outline a few of them below.
When to choose a hotel over a casa particular
When is booking a casa particular perhaps not so ideal (although still a good alternative)? Well, an example is if you want a beach getaway where you'll be pampered to the core with all-inclusive service of if you want the heights of luxury with infinity pools and butler service.
BUT those who hate the beach resort vibe and the tourist crowds might still opt for a casa particular close to the beach if they're willing to forgo the convenience of being mere footsteps away.
A casa particular might not be for you if:
You want a prime beach location

Even when there are casas particulares in prime beach destinations in Cuba like Varadero, these, unlike resorts, are not found directly facing the beach and you'll have to walk for a bit to get to and fro your casa and the beach. Not the case with beach resorts, where you'll have the white sands mere footsteps away and you'll also enjoy privileged beach stretches.

You want a big pool

The truth is that the majority of hotels in Cuba boast swimming pools while there is only a minority of casas particulares that have pools. Still, that's not to mean you should cross out a casa particular stay entirely if you're dead set on having a pool, you'll just have to narrow down your search to those that offer them.

You're after all-inclusive service

As good as many casa particular hosts are at cooking up delicious breakfasts and meals, it's not quite like enjoying all-inclusive service in a hotel or beach resort where drinks are on tap throughout your stay and free-flowing mojitos come your way throughout the day, so if that's the kind of experience you're after you might want to rethink staying in a casa particular. Having said that, there might be some casas willing to offer a Full Board option or you can negotiate having all your meals and drinks included in the room rate.

You want breakfast included in the room rate

Although many casas particulares function as bed and breakfast properties in essence, some do not include breakfast in the room rate and charge an additional fee for it (typically 5 CUC per person). That's not to say, however, that all casas particulares do not provide inclusive breakfasts, many do! We just want to clarify that that's not always the case.

You live for hotel amenities like toiletries

Or you consider them an essential part of your holiday experience. As sophisticated as many casas particulares in Cuba have gotten...the truth is that the vast majority won't offer mini toiletries like shampoo, conditioner or shower gel. There are some fabulous exceptions, like the casa particular in Havana pictured above – yup, that´s its ensuite bathroom! - of Hostal Conde de Ricla, which by the way you can book with us as part of a multi-centre Cuba holiday combining Havana and Varadero. The vast majority, however, do provide soap, in bars or in gel form and all of them provide towels. If you need other essentials like shampoo or conditioner, it can't hurt to ask!