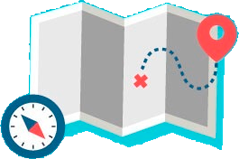 Viñales
What to see
What to See
Limestone caves, Cueva del Indio and the Cuevas de Santo Tomas, play host to a fascinating array of fossils, butterfly bats and albino fish that swim in underground rivers and streams. One of these subterranean rivers is large enough to take boat trips on – an exciting experience not to be missed.
The Casa del Veguero tobacco plantation, just outside of town, provides a fascinating insight into the tobacco production process. Masses of tobacco leaves are cured in its secadero (drying house) from February to May. You can also buy loose cigars at reasonable rates.
The local Casa de la Cultura, set in a restored mansion overlooking Viñales' central square, is the place to go for art and culture. Along with regular exhibitions and shows, there's an excellent gift shop for picking up souvenirs.
People tend to love or hate the Mural de la Prehistoria, a 120-metre painting adorning one of the valley's mountains. The mural, which took 18 people four years to complete, was designed in 1961 by Cuban artist Leovigildo Gonzalez, a pupil of Diego Rivera.