---
Celebrated travel writer and Cubaphile Claire Boobbyer has written an article in The Independent, stating that if it's authentic Cuba you seek, Baracoa's the place for you. Read on and find out more about one of Cuba's most beautiful hidden gems!
"One of the most beautiful sights I've ever seen"
Legend has it that this is what Christopher Columbus exclaimed in 1492 when he saw Cuba for the first time. Although the history experts and purists may mention that Columbus actually landed in the Bay of Bariay a few kilometres west of Baracoa, the truth is that this phrase could easily be applied to Baracoa too. Even over 500 years later, it rings true.
The town is situated in the "Bahia de Miel" (Bay of Honey) and is surrounded by a wide mountain range including the Sierra del Purial, which causes it to be quite isolated, apart from a single mountain road, "Viaducto de la Farola", built in the 1960s. The mountain range outside the town is covered with lush green forests and Cuban pine, giving it a timeless, ageless look.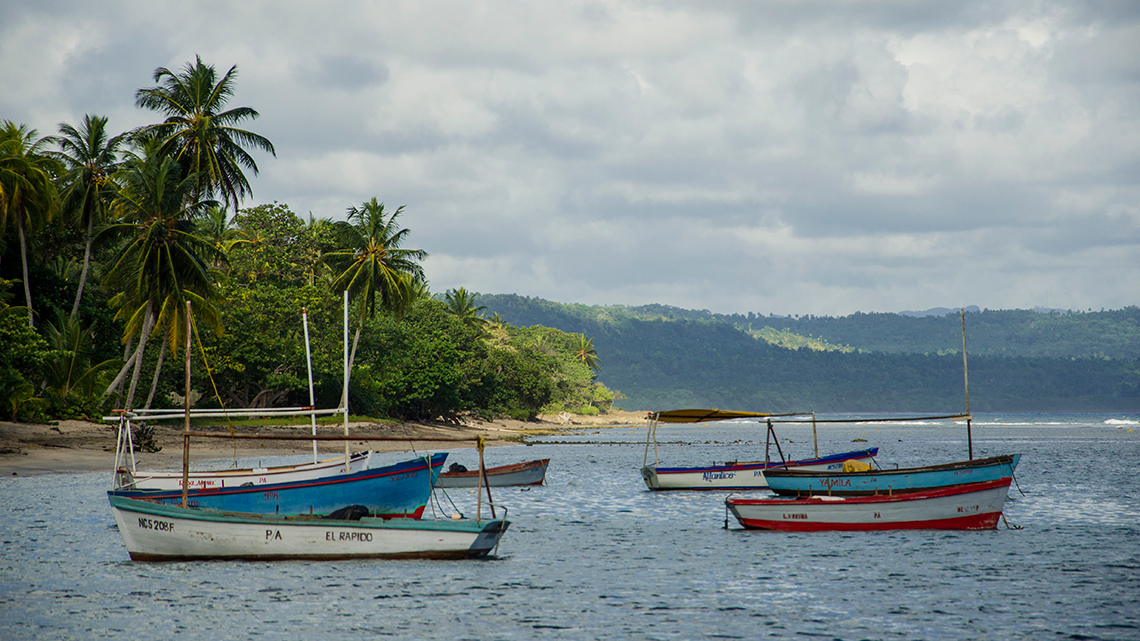 If you're really going to get to know and understand Cuba and all the fascinating nuances that make it unique, it's essential to visit places like Baracoa.
Now, renowned travel writer Claire Boobbyer has written an article in The Independent, stating that if it's authenticity you seek, Baracoa's the place to be.
Between five hundred and a million miles from Havana
If you look up online how far Baracoa is from Cuba's party-animal capital Havana, you'll find that it's 500 miles away, give or take. Take the main Cuban motorway eastwards and head towards the right-hand tip of the island.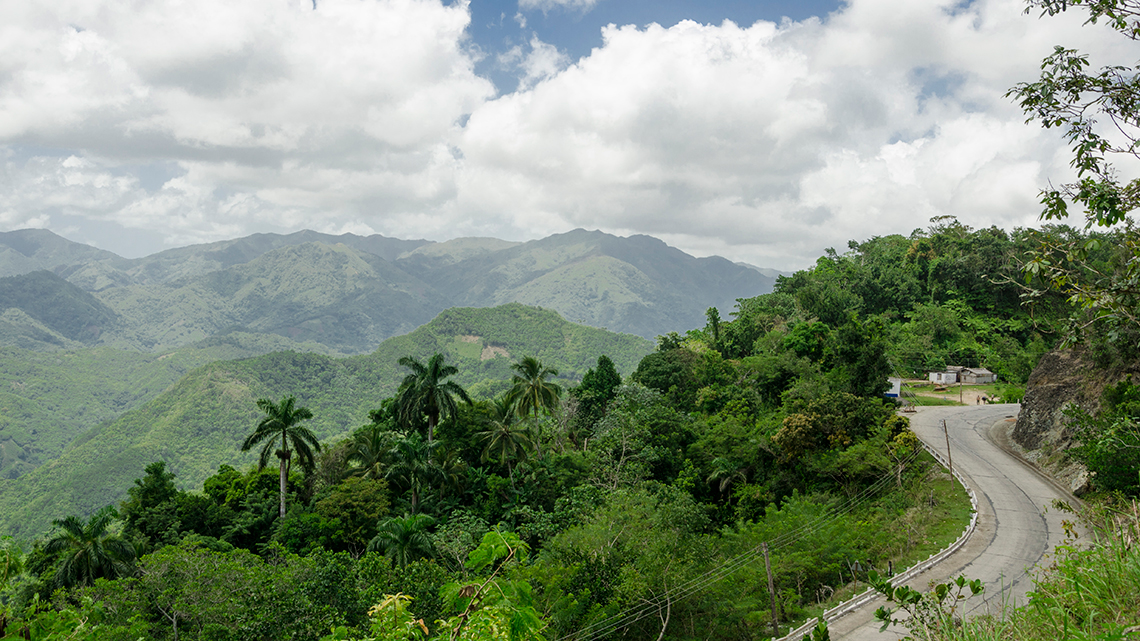 However, it may as well be a million miles figuratively speaking. You see, when someone tells you that they're visiting Cuba, it's tempting to drift towards the cliches. People think of Havana, with its bright colours, American classic cars, its non-stop music and excellent cocktails.
Alternatively, others think of sun loungers by the pool, airport novel slipping slowly from dormant fingers as the lunchtime "Mojito" lulls them into sun-kissed slumber. After all, Cuba is seeing a boom in luxury 5-star all-inclusive tourism around the paradisiacal beaches of Varadero and Cayo Coco.
However, Cuba is, more than ever before, a multi-layered destination that offers something for everyone. There's culture here in abundance, and it starts in Baracoa.
Go east, where the grass is green
Although it may be hard to imagine, this coastal corner of Cuba is flushed by no fewer than 29 rivers. The hills are full of royal palms, chocolate trees and coffee bushes, and the wildlife wins world records: the planet's smallest bird, bat and frog all choose to live in the Baracoa postcode.
The tiny city itself, Cuba's first city and capital, is strung out in a rectangle of wonky streets. The residents that are lucky enough to live here are proud of their mystical home and base their local culture on fables and tales.
"Here, on the rain-lashed Atlantic coast, the country's oldest settlement grips to its easternmost ledge. Daily life, squeezed to the coastline by cool water, rivers and coconut palms, rolls under the shadow of a table-top mountain jungled with rare trees. Baracoans are especially proud, being the first town founded by the Spaniards in Cuba. Years of isolation from the rest of Cuba have nurtured glorious fables and fairy-tales." - Claire Boobbyer
Feasts from the forests
While most visits to Cuba focus on the white-sand northern beaches and islands, or the crumbling charms of Havana and Trinidad, Baracoa serves up a more complex and alluring platter. Here, in a few days, you can climb mountains, swim in cool rivers, bathe on beaches, explore Indian remains, and gorge on chocolate and coconut.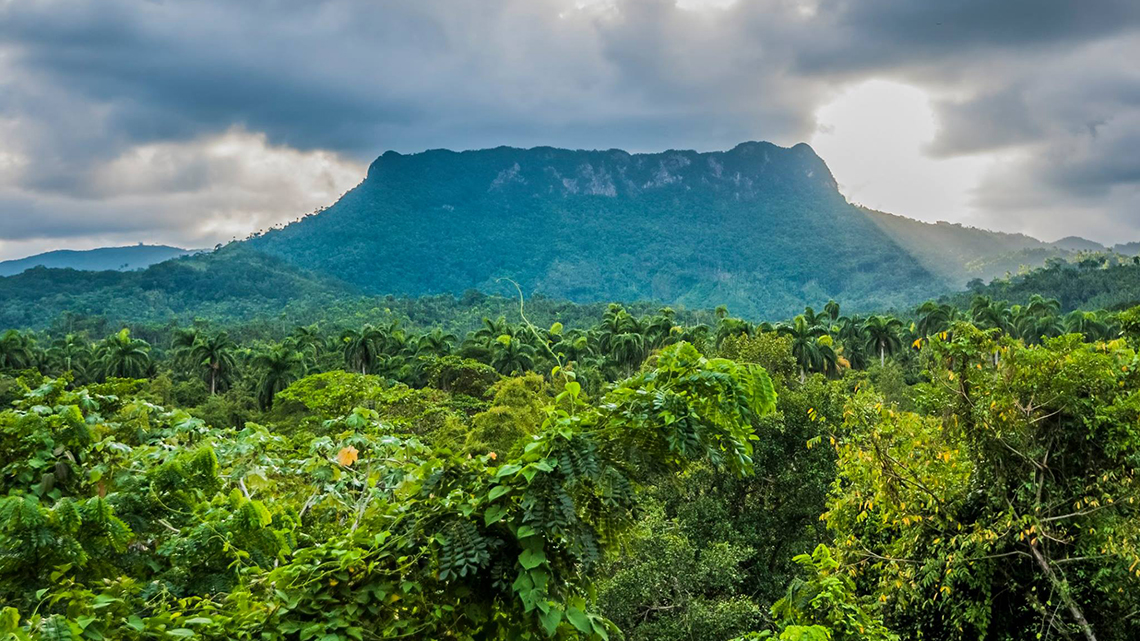 And talking of chocolate and coconut, as the town is surrounded by so much of Nature's bounty, the gastronomy in Baracoa is second to none.
"The islanders' relationship with vegetables is complicated. Black beans and salad do not a meal make. Juicy beef steaks, out of reach for the 99%, have pervaded the dreams of Cuba's 11 million souls since it was struck from most menus decades ago. When the island contracted following a severe economic shock caused by the fall of the Soviet Union and its cash lifelines, its cows, starved of grain, perished in their thousands. Eating beef in Cuba has been tricky ever since." - Claire Boobbyer
But tastes are changing on the island and one of Baracoa's best-known restaurants, the "Baracoando", is a trailblazer. There's organic food, vegan food, free meals to city kids, and teaching locals how to cook with plants grown on rumpled mountain slopes.
Here, guests can dine on cassava bread, rice infused with guava fruit, "bacan perdido" (green banana tamales defrocked of their customary banana leaf wrapper), coconut, cinnamon, local honey, refreshing "pepinillo" cucumber and cacao nibs, and salads of spinach, tomato and hibiscus flower with a dressing whisked up from a secret recipe. You won't find that on your local high street back home!
Where life is snail-pace
The rhythm of life is tranquil in Cuba, more so outside the swinging cities of Havana, Santiago de Cuba, Holguin, or Cienfuegos, but nowhere is it as tranquil as in Baracoa. That's because here things tend to go at snail-pace - literally!
Baracoa is home to Polymita picta, the famous Cuban snails with the most colourful shells in the world. They're so staggeringly beautiful, they look as though they must have been painted by expert painters with tiny brushes. However, this is all Nature's work. As the people from Baracoa will tell you:
"When the polymita arrived, he was colourless and lonely. But in Baracoa he found his paintbox of colour and traits. He dipped his shell in the yellow of the sun to court happiness; rusty red from the earth for strength and valour; green from plants to capture hope; brilliant white from the crest of waves and thus purity; and black from the night sky where he'd take refuge to protect local souls from pain. The polymita rebuffed the peace and calm of sky blue, as he'd not found love when he first arrived." - Baracoan myth about how the snails found their colours
Chocolate as you've never tasted it
Just when you think Baracoa couldn't possibly become more intriguing, it throws a chocolate factory into the mix. However, although it might just look like a simple factory of little interest, the factory has more history to it than you would actually think.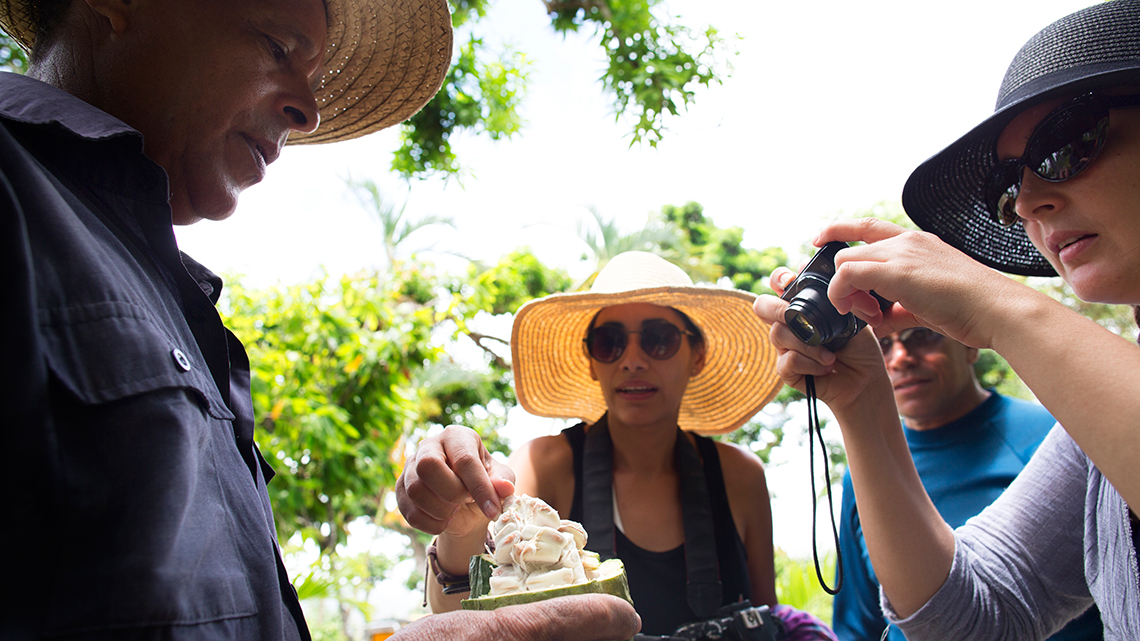 It was opened in 1963 by Ernesto "Che" Guevara when he was the Minister of Industry, and since then has become Cuba's biggest chocolate production chain ever.
Cuba's cocoa beans, encased in pods of ruddy red and butterscotch yellow, are grown in small plots all around the city of Baracoa and the surrounding area. What's more, the chocolate produced is of such quality, it fetches an eye-watering £126 a kilo.
"Christopher Columbus steered right into Baracoa's main, tighter harbour in his seafaring search for Japan. His wrong turn changed the fortunes of Cuba forever. He wrote in the logbook how there were a great number of palms, the tallest and most beautiful that he had seen, and how the small birds and the greens of the fields made him want to stay there forever. Exactly so. And I dream of chocolate, hummingbirds, beaches, and the rainbow-like, lovelorn snails." - Claire Boobbyer
One of the Caribbean's most beautiful outposts
Although most travellers visiting Cuba will be encapsulated by Havana, Varadero, Vinales, Trinidad, and the white sandy beaches on the north coast, only a few more will branch out and search for Cuba's real soul. But where is it found?
Try Vinales in the west, where the limestone mogotes litter the valley like nature's haystacks at harvest, and rock-climbers, hikers, bikers, and thrill-seekers make the most of the forest trails, subterranean caves and deep lagoons.
You could even try colonial Trinidad, a town so beautiful it has been granted UNESCO world heritage status, where little has changed since the Spanish walked the streets and the rumble of horse-drawn carts is more prevalent than motor-engines.
Or, go east to the tip of Cuba, to Baracoa, where the island peers suspiciously back across the Atlantic to Europe, whence its history was so irreversibly altered.
Baracoa is Cuba's best keep secret and offers travellers all the magic, history and charm that they probably crave after the long journey made to get there.