---
After several months of enforced hiatus due to the global COVID-19 pandemic, El Nicho Nature Park, deep in the Escambray mountains and 30 miles from the city of Cienfuegos, is due to re-open its doors to international tourism. Read on and find out more about this Caribbean paradise!
A much loved natural paradise is back
As the Coronavirus slowly ebbs away and the Cuban vaccine rollout gathers momentum, travel restrictions are slowly being eased. A happy consequence of this is that international tourism is not a too far distant possibility.
However, as a recent article published in Granma, a Cuban national newspaper, informs us, most of the tourists who have chosen the Caribbean island of Cuba as their Spring getaway are arriving from Russia.
Most people will know that throughout the latter half of the 20th century, Cuba had strong links with the Soviet Union, so it's not as though these tourism links are a huge surprise.
Coupled with this, Europeans are having to wait until the Summer months in order to see what travel restrictions will be in place.
"Seven weekly flights from Russia arrive in Varadero, with an average of 500 tourists each. From here, a variety of cultural and leisure options are processed for guests under strict compliance with health protocols." - Granma Newspaper
Now, to cater for this influx of Russian tourism, the two travel agencies Cubanacan and Cubatur promote numerous excursions from Varadero down to El Nicho Natural Park in the south of the island.
There are plenty of attractions for ecotourism and according to local sources, more than 100 visitors book every few days, and that number is expected to continue to grow over time.
El Nicho - A paradise amongst forests and clear waters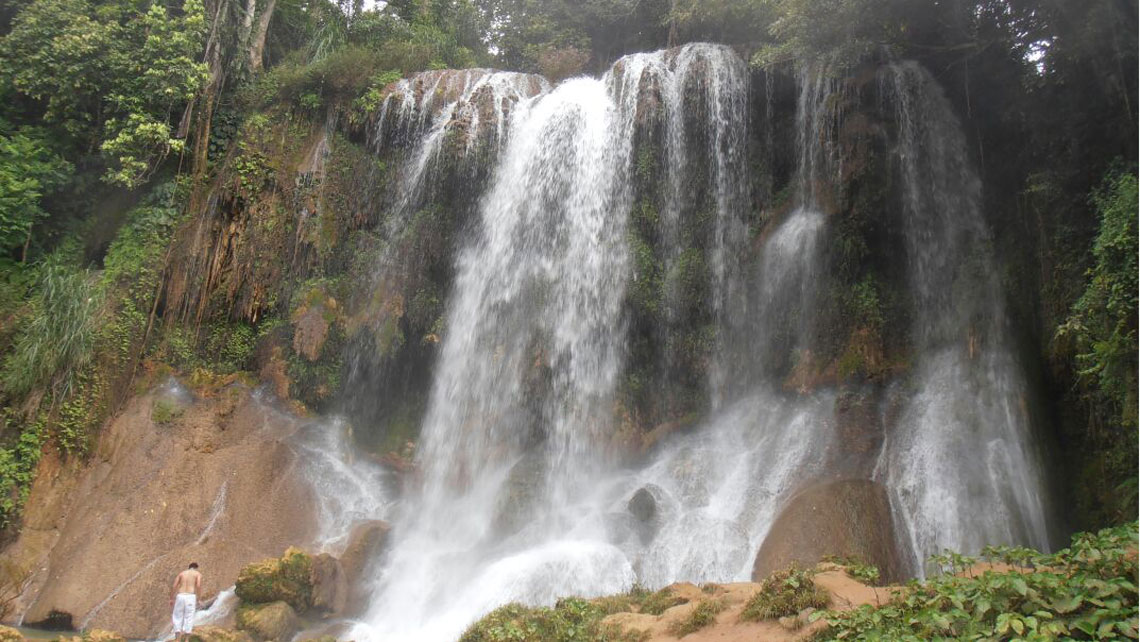 If you've never heard of "El Nicho", it's known as one of the most beautiful places on the whole island of Cuba. It's a place where you can be in direct contact with myriad forms of nature, relaxing away from the bustle of the cities.
It's located in the Cumanayagua municipality, in the south-central province of Cienfuegos - an Eden of dense vegetation, transparent waterfalls and natural pools, and home to some of the planet's most fascinating flowers and birds.
Some of these birds include the wonderfully named zunzun, the tocororo (Cuba's national bird), the muleteer, various types of parrots, as well as flamingos and other marine birds.
A mythical and magical location
El Nicho is cool and humid, which is quite a contrast to the usual high temperatures of the island. For this reason, especially in Summer, many people choose to escape the towns and cities in order to come to this welcoming and refreshing Nature Park.
Apart from the lower temperatures and cool, crystalline waters to swim in, there are many unforgettable things to see. One of these is Martín Inferno cave, with its 67-metre stalagmite, the largest in all of Latin America.
Alternatively, visitors can go to "La Poceta de los Enamorados" (Lovers' Springs), with its luxurious, transparent water, perfectly complimenting its leafy surroundings. According to local legend, if two lovers bathe in the waters together, they will remain together for life.
Finally, if you are lucky enough to visit El Nicho, the "Desparramaderas" waterfall is a "must-see". It gives itself away well before you're able to see it with the roaring sound of water falling from over seven metres high.
It stands out for its incredible beauty and is an ideal place for budding photographers to capture the crystalline waters plunging into refreshing foaming pools from the dense vegetation, high above. It's a sight that has likely remained unchanged for countless millennia.
Trying the local authentic cuisine in the paladares
After a day's exploring, you may want to sample the local Cuban cuisine at Los Helechos restaurant, located at the entrance of the park.
Alternatively, for a taste of real Cuba, you can also eat at the nearby private restaurants, or paladares El Caney and Las Yaguas.
The latter comes highly recommended by TripAdvisor and is known for the impressive variety of dishes it offers, the reasonable prices, and the friendly atmosphere.
Its menu combines battered fish, lamb meat, "ropa vieja", chicken, boiled meats, vegetable salad, different types of rice and fried banana, among other delicacies.
Making Cuba your choice for 2021
With El Nicho Natural Park re-opening to tourists again, it's hoped that many other of the island's stunning hotspots will follow suit. A number of all-inclusive hotels and resorts have already re-opened in Varadero and with two vaccines being developed by Cuba alone, the signs are encouraging.
With everything Cuba has to offer tourists, it's likely that there won't just be Russian tourists for too much longer.