---
An article published by the Financial Times has listed the best boutique hotels in Havana, and how they've continued to evolve from humble beginnings to the chic residences they've become. Read on and find out what are the best boutique hotels in Havana!
Boutique hotels in Cuba, a bit of history
When Cuba opens up for international travel on 15th November, there will be a vast selection of great places to stay for very affordable prices. This is thanks to the boutique hotels all over Havana. If you're unsure about what a boutique hotel is, it's a small and stylish hotel, typically one situated in a fashionable urban location.
Fashionable and urban is something that sums up Havana pretty accurately, and the evolution of the city's boutique hotels is an interesting one.
Originally they started off as "casas particulares", humble B&Bs set in Cuban people's own dwellings, where tourists could rest their heads and enjoy some humble home-cooking. It was a great symbiosis as "Habaneros" looking to make some extra money enjoyed a secondary income, and travellers on a budget got to experience authentic Cuba.
Any business mind will know that success plus time equals growth, and grow they did. Although they have traditionally offered a unique insight into the full assault of Cuban family life, with all the black beans, bad plumbing, eccentricity, and love that you simply don't get in the luxury five-star hotels dotted around the capital, they're now representative of Cuba's capital. Chic, cool, rough around the edges - princes in pauper's clothes.
As someone once beautifully said:
"...the difference between the luxury hotels and the casas particulares is that they are sanctuaries from the city, rather than a portal into it."
Despite decades of sanctions and embargos from the United States, in 2016, President Obama offered the prospect of a new détente between Cuba and the US. As it turned out, Donald Trump would later try to crush those hopes, but fortunately, the process of turning some of Havana's most exquisite architecture into high-end guesthouses had by then begun and it is still in place.
The best boutique hotels in Havana
Gardens Havana, 403 Villegas, Old Havana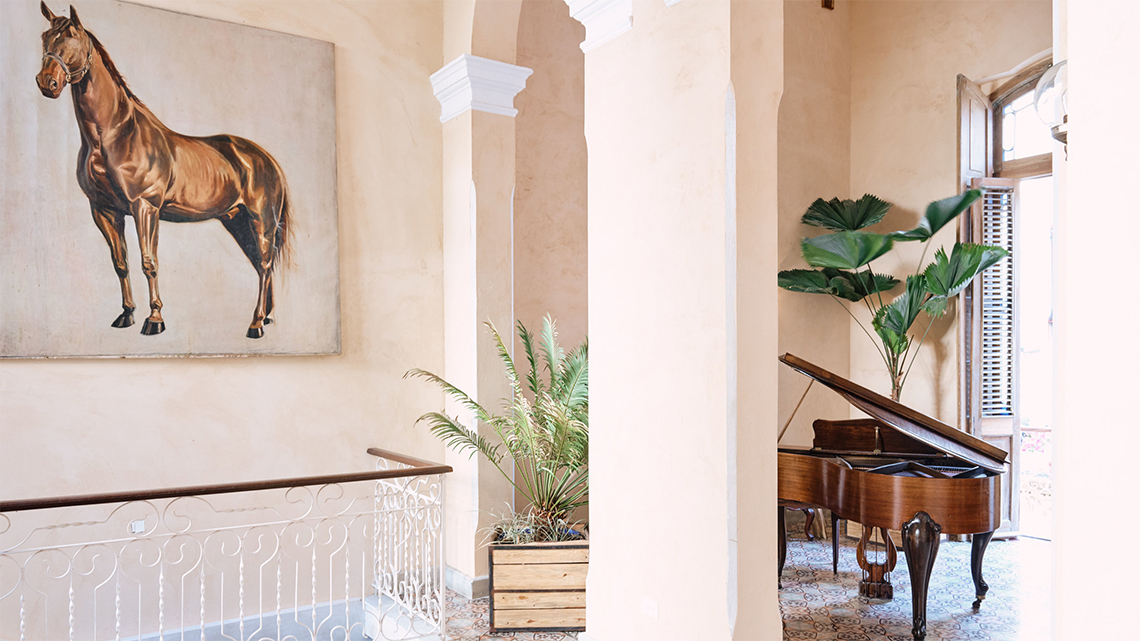 Gardens is a beautifully restored four-bedroom boutique hotel in the heart of Old Havana. As the article in the Financial Times states:
"It is one of the loveliest 'casas particulares' you can rent in Cuba. It is in the middle of a barrio that in any other city of the world would be frightening to the outsider. I feel a little intrusive looking out, good coffee in hand. Yet what is certain is that I am safe. Cuba is safe, whatever Cubans tell you about a friend of a cousin who had their pocket picked a year ago." - The Financial Times
Economia 156, Old Havana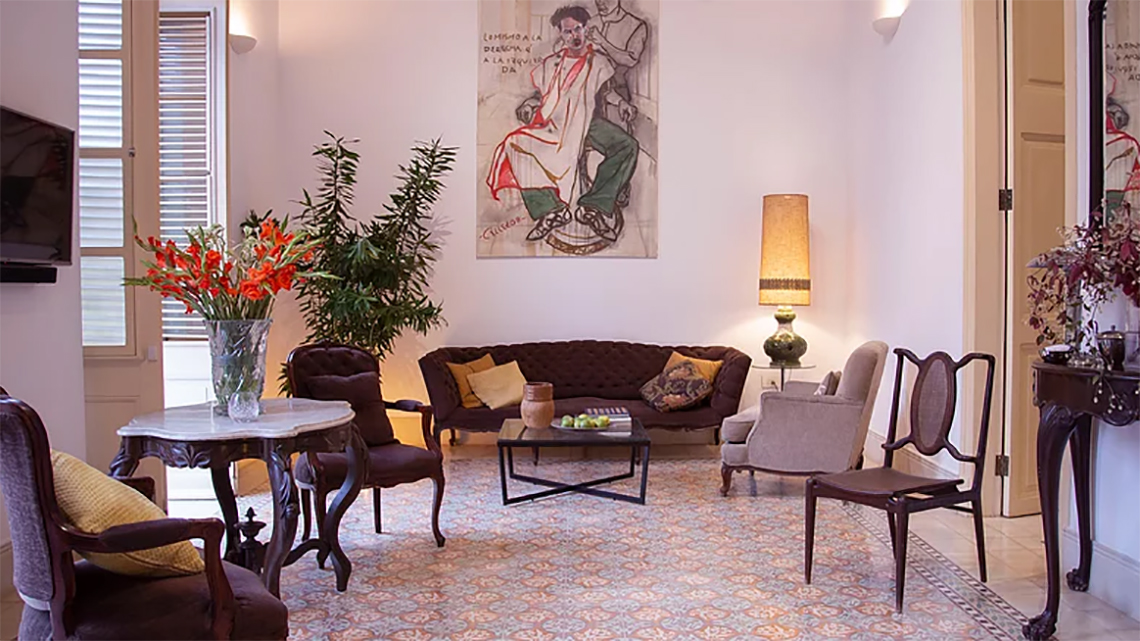 Economia 156 is a beautifully restored apartment in the heart of Havana's old town. Its elegant interiors marry together vintage with modern to create an elegant and homely environment.
Airy with high ceilings, the timber-beamed rooms are arranged around a quiet interior courtyard and feature a selection of antique and modern furniture. The tiled floors are reproductions of the originals, and the 110-year-old ironwork and woodwork have been carefully restored or reproduced.
"In most high-end 'casas particulares', you have the place to yourself, but Economia 156 is more like staying with friends. On the roof is a garden, with basil, rosemary and tomatoes. The owners invite us friends over to dinner and include us. We drink Chilean carménère over a spread of vegetarian stews and salads." - The Financial Times
JM7, Jesus Maria 7, Inquisidor y San Ignacio, Havana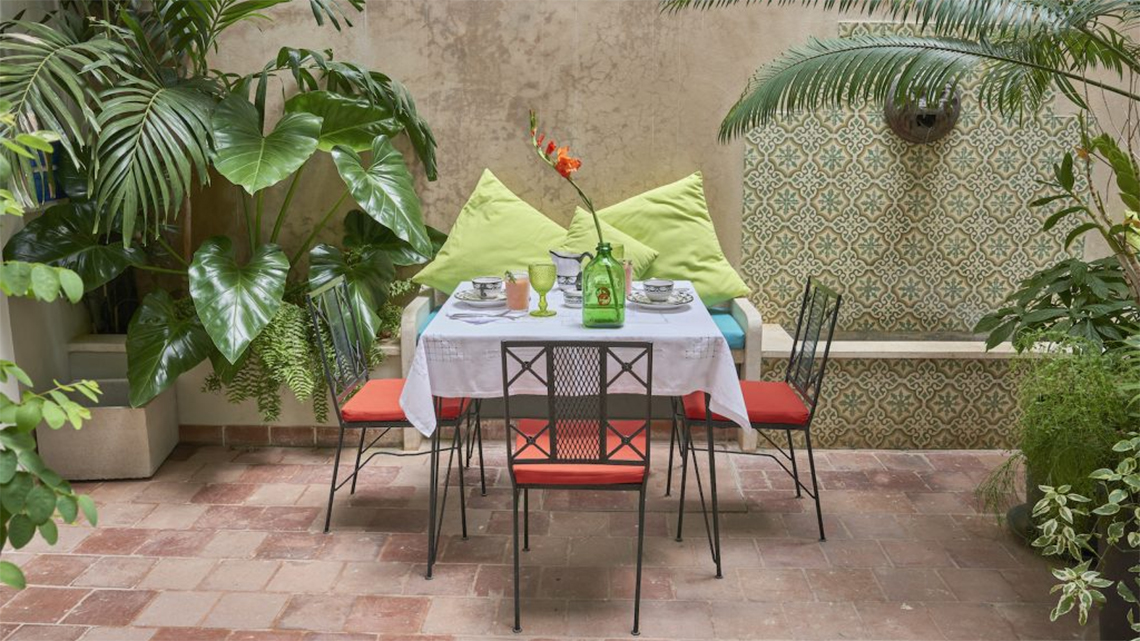 Located on the edge of the port bay and near the heart of the old town, this stunning boutique hotel is the ideal place to explore the city's cultural heritage on foot.
Lately, they have been renovating two new and astonishing rooms that look across Havana Bay, the vast sea pool where Spanish treasure galleons used to gather before sailing across the Atlantic.
History and modernity tesselate rather than clash on this island, and the past and the present live side by side, easily, like an old married couple.
In tandem with this, Jesus Maria 7 offers suites full of space and light combining comfort and antiquity. The services provided courtesy of the house include a welcome cocktail, and breakfast can be enjoyed on the terrace overlooking the bay, on the relaxing interior patio or in the privacy of the dining room of the house.
Finca Tungasuk, Caimito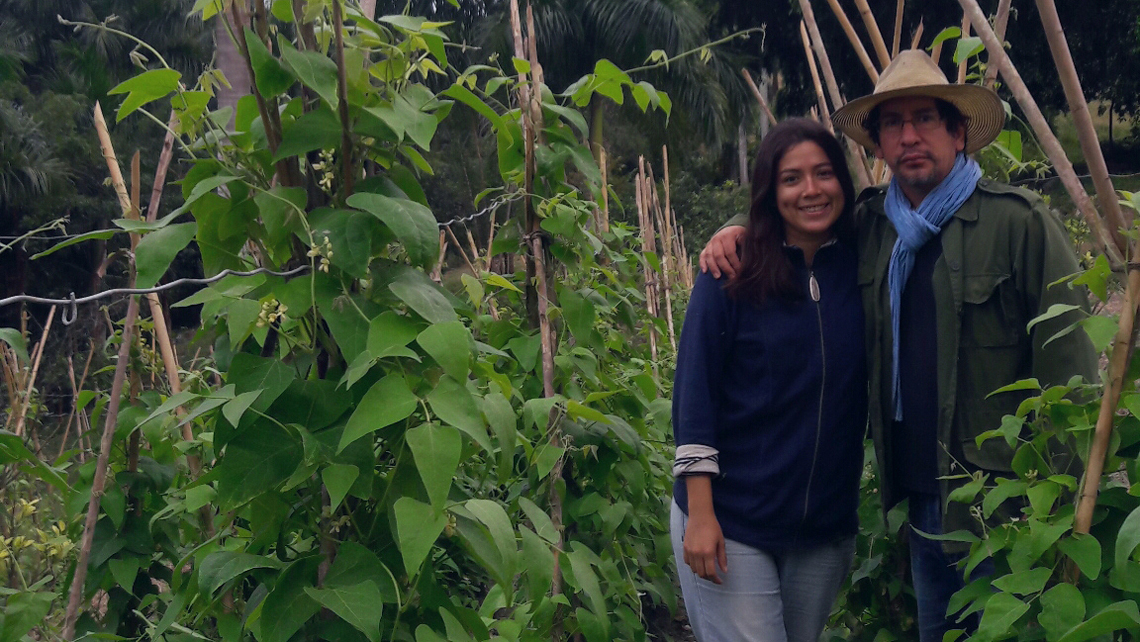 Described as "a million mile stone's throw from Havana", Finca Tungasuk is an organic family farm, lightyears from the swinging music bars and teeming Malecon just a few miles away.
Run by Nicaraguan Annabelle Cantarero and Peruvian Alfredo Wilson, an illustrious chef and a UN election monitor respectively, a love of the Cuban countryside has brought them both to this 32-acre patch of land where they grow the ingredients to cook inventive dishes influenced by their own countries.
Now, it's one of the best places to eat in all of Cuba. They combine Latin American ingredients with the luxurious gastronomical creations Annabelle learnt whilst a chef in Paris and guests are now encouraged to contact the farm two days in advance so that their dining experience is totally authentic.
"Under avocado trees they put on an astonishing feast of gazpacho, causa limena and chocolate cake. It's food Annabelle calls "cocina del mundo aplatanada", drawn from a mixed world. Afterwards we swim in the reservoir, washing off the dust of the city and the road, while a white egret watches us from the bank." - The Financial Times
Villa Flora, Vedado, Havana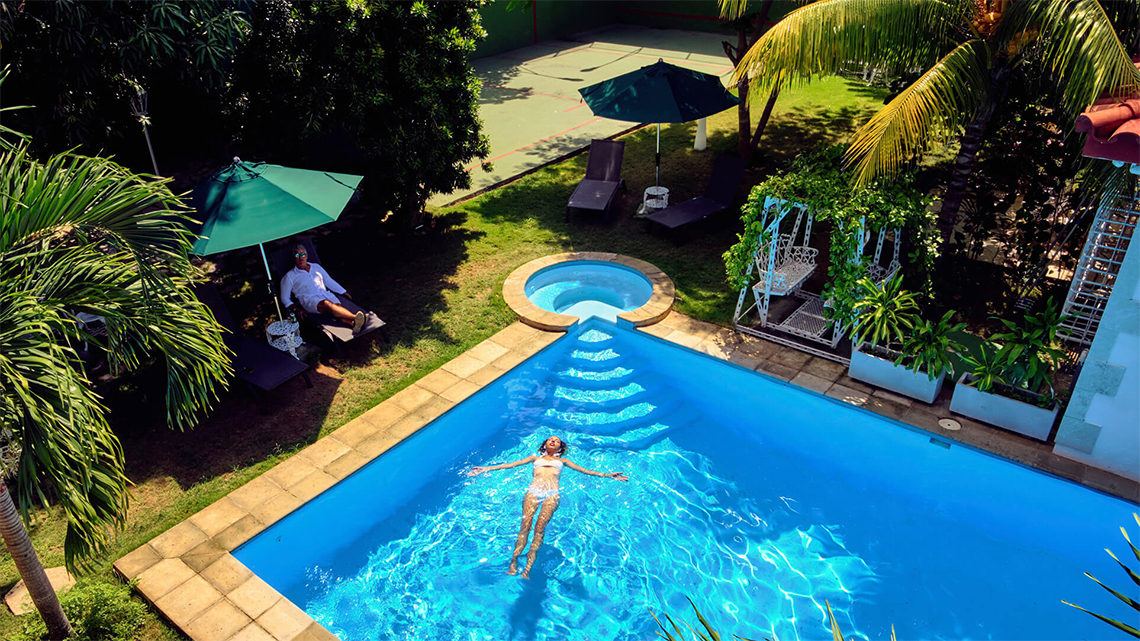 Villa Flora is the property of a family of Catholic Lebanese jewellers who arrived in the 1940s and is possibly one of the loveliest places to stay in Havana. It can take 14 people at a time and is surrounded by the city's most fashionable discos, clubs, bars, and restaurants.
"The manager, Nidia Guerra Vega, drops by and tells us that the Fabrica de Arte - an old factory turned over to drinking, live music and dancing - is only a short walk away. We sleep deeply in a vast bed of heavy mahogany and soft sheets until dawn." - The Financial Times
The one that got away!
Residencia Santa Clara, Old Havana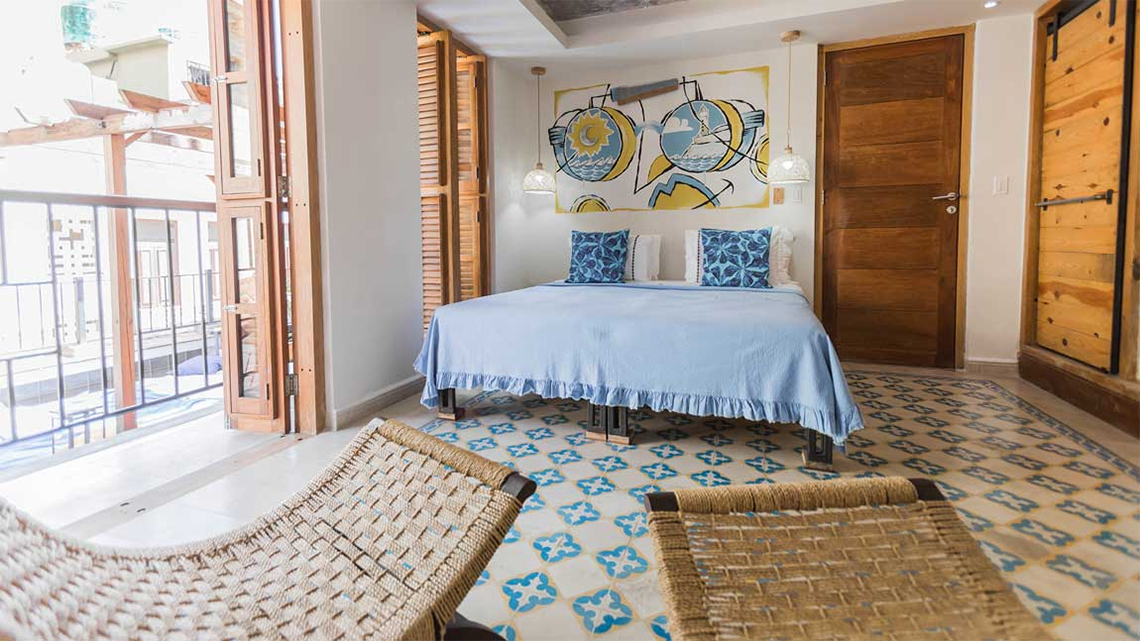 Although not mentioned in the Financial Times' list of the best boutique hotels in Havana, it's impossible to draw this piece to a close without mentioning the Residencia Santa Clara, in La Habana Vieja, Havana's old town.
Residencia Santa Clara is not your typical "casa particular". Although you will find the same warmth as most Cuban hosts offer, the building, the service, and the experience are on a different level.
Residencia Santa Clara has been featured in "Fabrica de Arte Cubano" (FAC) as an exceptional example of modern architecture within the constraints of Old Havana. It also enjoys an excellent location barely 20 metres from Havana Bay, where you can stroll along the Paseo Alameda de Paula, the oldest sea-side walk in Havana, or walk inland towards the old town.
This beautiful boutique is actually rated as the best hotel in Havana on TripAdvisor and is another fine example of how the humble casas particulares have flourished in a city where time so often seems to stand still.
Visiting authentic Cuba in style
Havana, and indeed right across the whole island, is full of beautiful places to stay. From the luxury 5-star hotels dotted around Havana and Varadero, where you can want for nothing, to the charming, rustic dwellings located in Trinidad, Baracoa, and Vinales.
Cuba has seen tough times over the last five decades. Shunned by the Western world, sanctioned by super-powers, and neglected by allies, Cubans know what it is to suffer and make do. Even the COVID-19 pandemic has been a huge backwards step for the economy, just when there was a boom in the last decade.
What is certain, however, is that this island is resilient. The 20th century has hammered away at Cuban shores but they remain largely untouched, paradisiacal, home to unique flora and fauna not found anywhere else on the globe.
Tourists appreciate uniqueness in the truest sense of the word, and that's found here. Visiting Cuba and staying in "casas particulares", and the boutique hotels they have evolved into is the authentic way to get in close and live this island the way it's meant to be lived.
On 15th November, when Cuba opens up again for international tourism on a large scale, you can rest assured that these boutique hotels will be waiting to host you with a "mojito", some rum, and some steaming home-cooked food on the table, with a pink and orange sunset overhead too.
To say you should visit Cuba seems trite. Live Cuba, and Cuba will live in you.