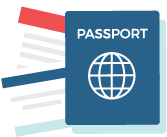 Cuba Tourist Card
Cuba Tourist Card
We are the UK's number one Cuba travel specialist and in more than 15 years of operation we have sold thousands of visas and tourist cards to Cuba.
We are rated as a Gold Trusted Service by hundreds of satisfied clients on Feefo.
We love Cuba and helping travellers explore and discover Cuba is our passion.
Our service and prices are second to none, we are the leaders in selling visas to Cuba online.
We use DHL and Royal Mail so you can rest assure that your visa will get to you without delays.
If you are travelling from the USA to Cuba, you cannot travel using one of our visas. You should contact your airline, or go to the Cuban Embassy to obtain your pink visa – we are sorry we can't help.
All foreign citizens travelling to Cuba are obliged to buy a visa or tourist card before entering the island. Currently these visas are not valid for people travelling with passports issued by the following countries:
Afghanistan, Bangladesh, Cameroon, Eritrea, Ethiopia, Ghana, Guinea, India, Iran, Iraq, Kenya, Nepal, Nigeria, Pakistan, Philippines, Sierra Leone, Somalia, Sri Lanka, Syria, Yemen.
If this is the case, please visit the Cuban Consulate.
Tourist cards are not valid without the seal of the company who issue them. They are also not valid if they have scratches, or other visible amendments or alterations. Full names shown on the visas should be identical to those appearing in the passport of the travellers. If your trip to Cuba is for leisure purposes your visa or tourist card will be valid for a maximum stay of 30 days, extendable to 60 days in total, from the day you enter the country.
You should keep your visa till the end of your trip as you will have to show it when leaving the country.
All you need to travel to Cuba
We can help with whatever you need to organise the most amazing trip to Cuba, whether it be hotels, tours, tourist cards, flights or excursions. Just give us a call and one of our specialists will gladly help you design the holiday you need.
Don't know where to start?
Check out some of the most popular holiday destinations in Cuba, each offering very unique travel experiences.